PANOSETI is a space exploration array designed to detect natural and artificial sources of infrared and optical light. The system will be able to scan the entire sky, which will drastically improve the chances of scientists to detect alien laser signals emitted by aliens. The construction work is set to commence in 2021 and experts expect it to expand the possibilities of finding extraterrestrial life.
What is PANOSETI?
The system has been in development since 2018 and currently consists of two prototype telescopes stationed at the Lick Observatory near San Jose, California. The goal is to collect raw data that will allow a team of researchers, led by astronomer and physicist Sheely Wright, to test the array. The name PANOSETI stands for Pulsed All-sky Near-infrared Optical SETI.
The project is a collaboration between several world-famous institutions such as UC San Diego, Harvard University, UC Berkeley, and the University of California Observatories. Their goal is to build a specialized optical SETI observatory capable of scanning the entire observable sky. Apart from helping with the search for aliens, PANOSETI will also enable scientists to observe a wide range of natural phenomena such as fast radio bursts, outer-galaxy energy pulses, pulsars, evaporating primordial black holes, and more.
How Aliens Will Be Detected?
Unlike the traditional radio SETI, which is used to detect radio leaks and deliberate radio signals, this optical system will focus on locating powerful flashes of lights, as well as quick bursts of infrared radiation. Since laser light doesn't degrade over distance as radio waves do, scientists believe that looking for it will increase the chances of humans finding their extraterrestrial neighbors.
The ultimate goal of the system is to answer the eternal question – are we alone in the universe? While there are no guarantees for first-contact with aliens, the construction of the optical SETI will surely allow us to learn more about space and other celestial bodies.
Photos Of The Royal Family Acting Particularly "Un-Royal"
While you might think that they simply do as they please, travel to wherever they want, and live a life of luxury, it's actually quite difficult to be in the royal bloodline. The royal family is extremely noble. They are always in the public's eye and can never have even the slightest of slip-ups. Because they never know who might be watching, it's important for members of the royal family always to appear reserved, classy, respectable, and elegant. It's important for us to remember, however, that each member of the royal family, is actually just a regular person born into royal circumstances. With this in mind, we've put together a hilarious list of rare un-royal moments caught on camera. Join us as we explore this hilarious collection of photographs.
Long Hair, Don't Care
The wind was just a bit much for the Duchess of Cambridge on this afternoon. Unfortunately, a cameraman captured the exact moment when Kate attempted to blow her hair out of her face, leading to this hilariously-timed photo.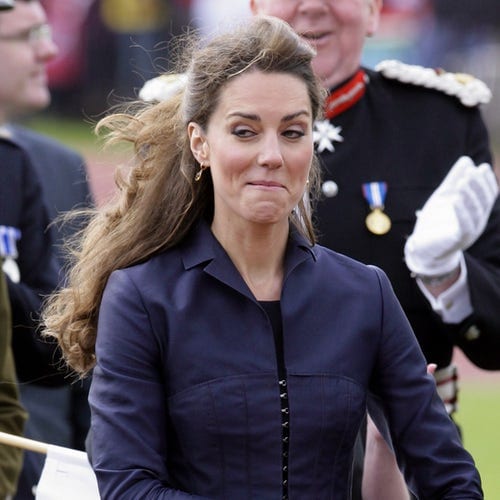 As Kate can attest, contrary to popular belief, it's not easy being a member of the royal family!
Admiring The Arts
There's really no activity more royal than a trip to the museum to admire some classy works of modern art. Unfortunately, a cameraman caught Prince Charles admiring this sculpture just a bit too much.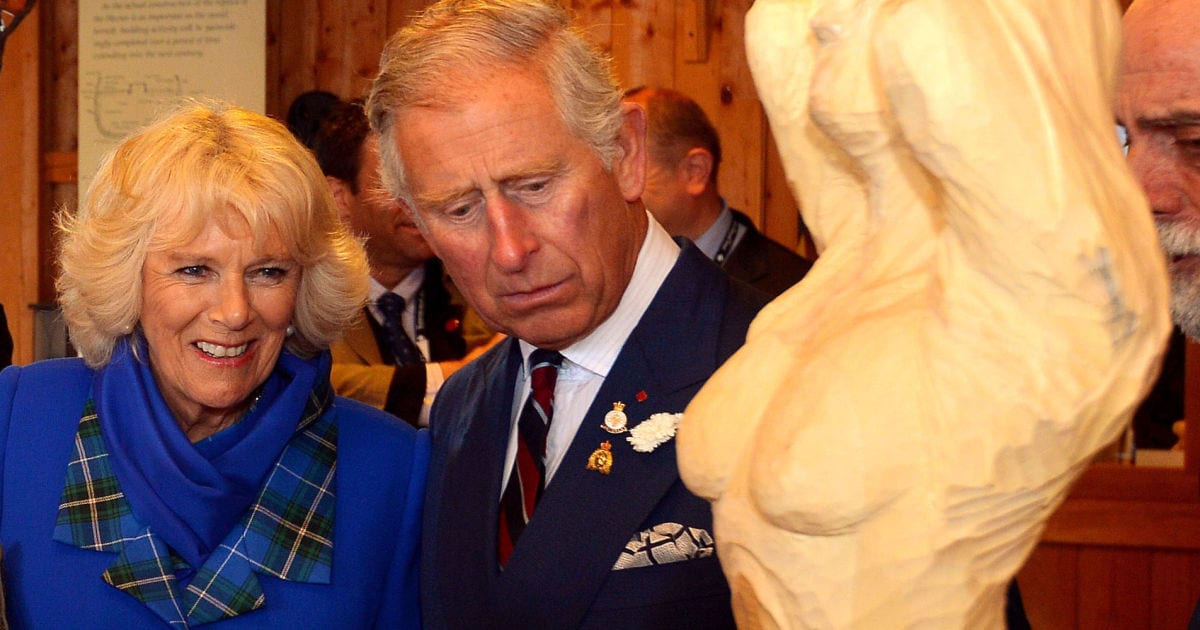 While Camilla seems to be enjoying herself and taking in this masterpiece, the Prince of Wales has a look of pure confusion on his face. Perhaps he was just reading information about the artist, or maybe this royal couple has more of a taste for abstract artwork.
Flawless Technique
One of the biggest reasons why Prince William chose Kate Middleton to become the Duchess of Cambridge is for her incredible athletic abilities. While she never managed to make it to the big leagues, Kate has always been a fan of the great game of Cricket and has maintained her impeccable form, as demonstrated in this photograph.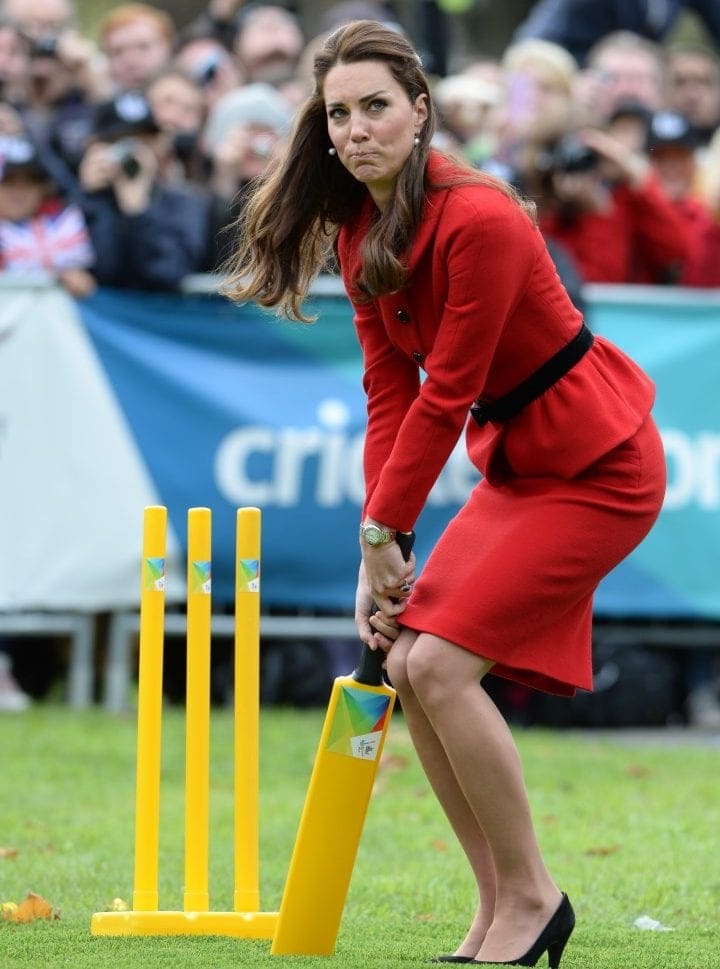 Even though she's not exactly dressed in the traditional Cricket attire, she still manages to make it look easy; high heels and all.
Making Momma Proud
Prince Harry has always been a bit of a wild child. Even when he was just a kid, he was wreaking all kinds of havoc. All Princess Diana wanted was one decent photo with her two sons, with all three royal family members wearing matching green outfits.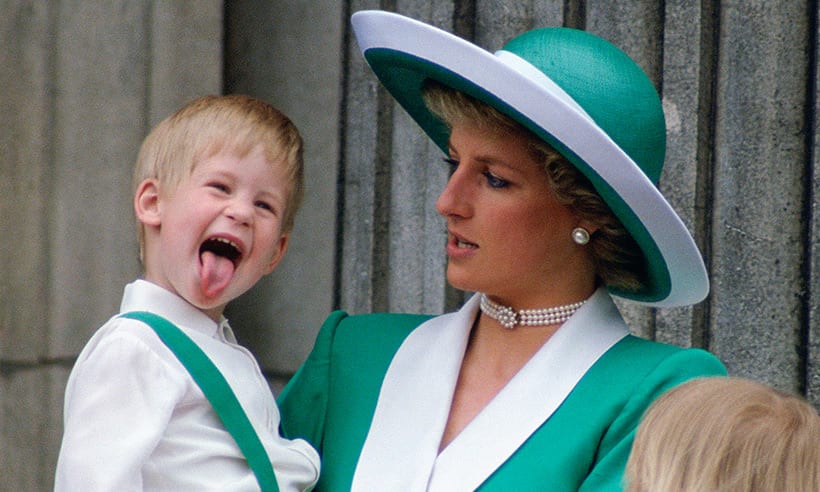 Unfortunately, the young royal prince had other plans in mind. He maintained a smile until just one moment before the camera flashed. Then, at the last possible second, he pulled this silly face.
Temper Tantrum
Even though Prince Harry has grown up quite a bit, he has always held onto his boyish charm. While most members of the royal family try their best to maintain a professional and composed appearance in public, Harry does what he wants.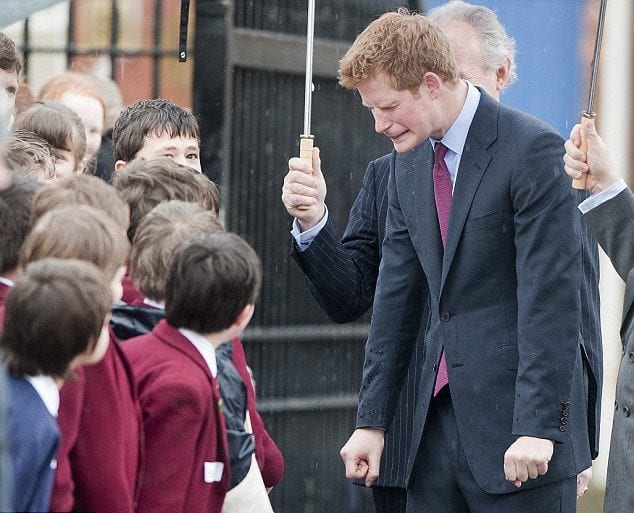 In this photo, we see Harry during a visit with some elementary school children. The royal prince is evidently upset about the unfortunate weather and decides to throw the royal version of a temper tantrum in from of the kids.
Spit-Take
Prince Harry has always taken sports very seriously. After Harry and his polo team took home the victory, he decided to add insult to injury and spit water onto his losing opponent while holding the trophy he just won.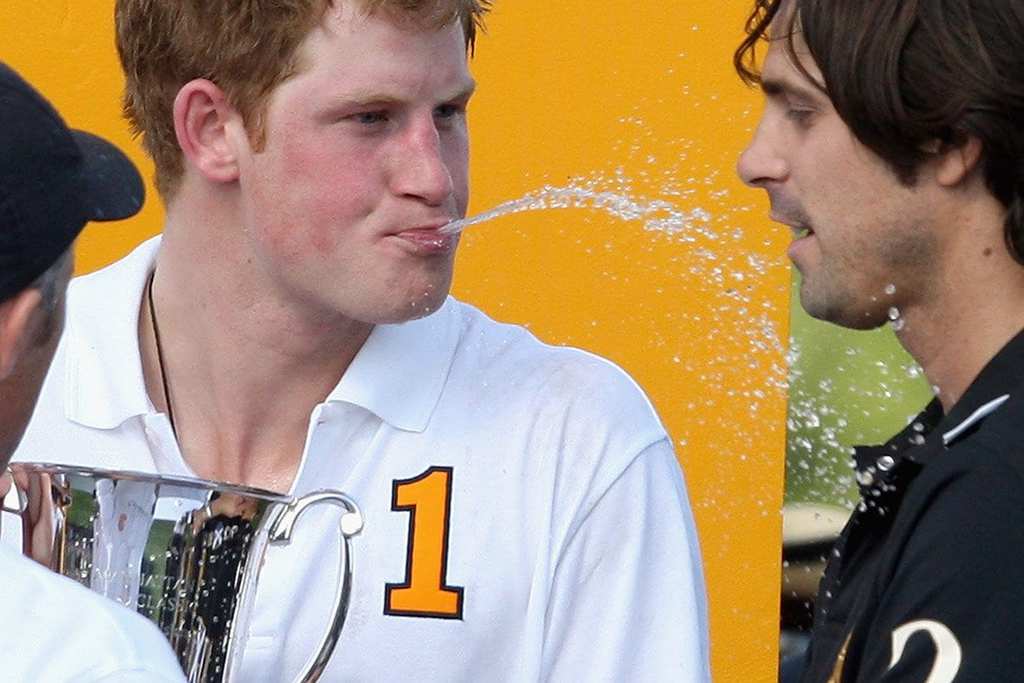 Even though it probably wasn't the best look for a member of the royal family to be caught in the middle of a seemingly-unsportsmanlike act like this, Harry would later apologize, saying that it was all in good fun.
Bullseye!
No one has ever had more fun participating in archery than the Duchess of Cambridge. As soon as she lifted the bow and arrow, Kate Middleton knew that shooting a bow and arrow was her calling. After a few warm-up shots, Kate shot a bullseye.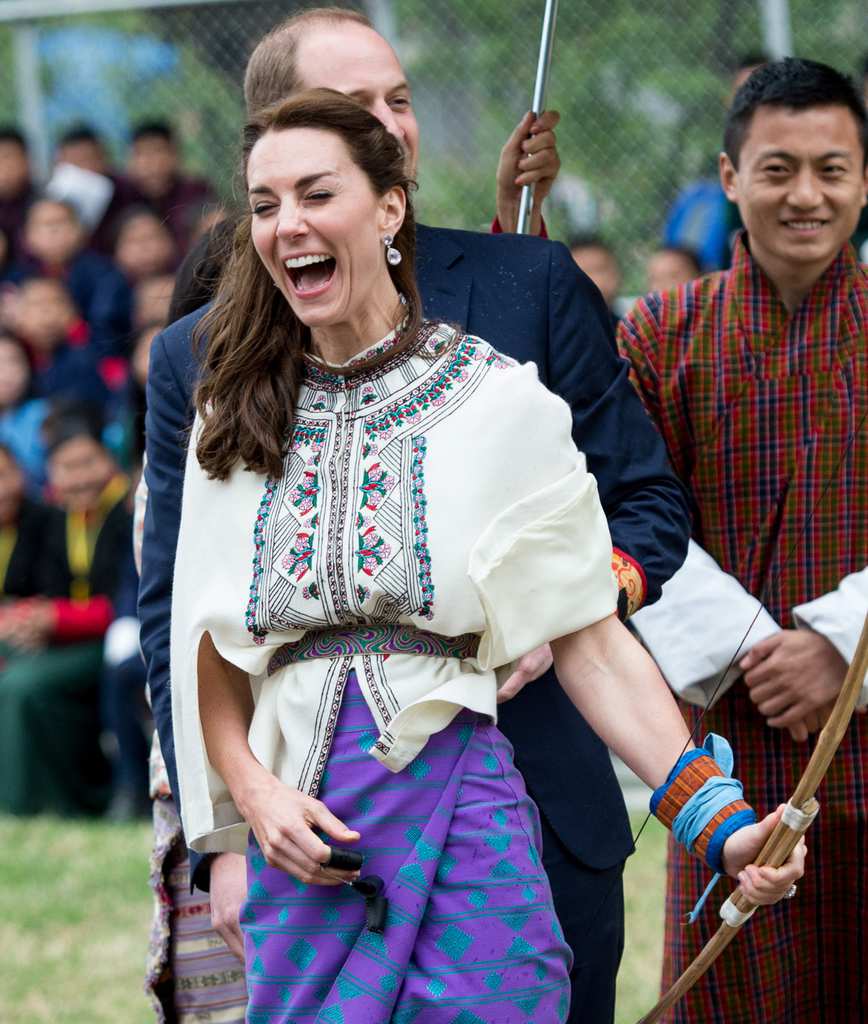 She simply couldn't contain her excitement, and let out a royal fit of laughter. Kate was so excited about her new-found love for archery that Prince William needed to physically drag her away from the archery range.
Time-Out!
Prince Harry got a little bit too rowdy while watching a football match with some of his buddies. All he wanted was for his team to call a time-out. He shouted and even signaled for a time-out with his hands.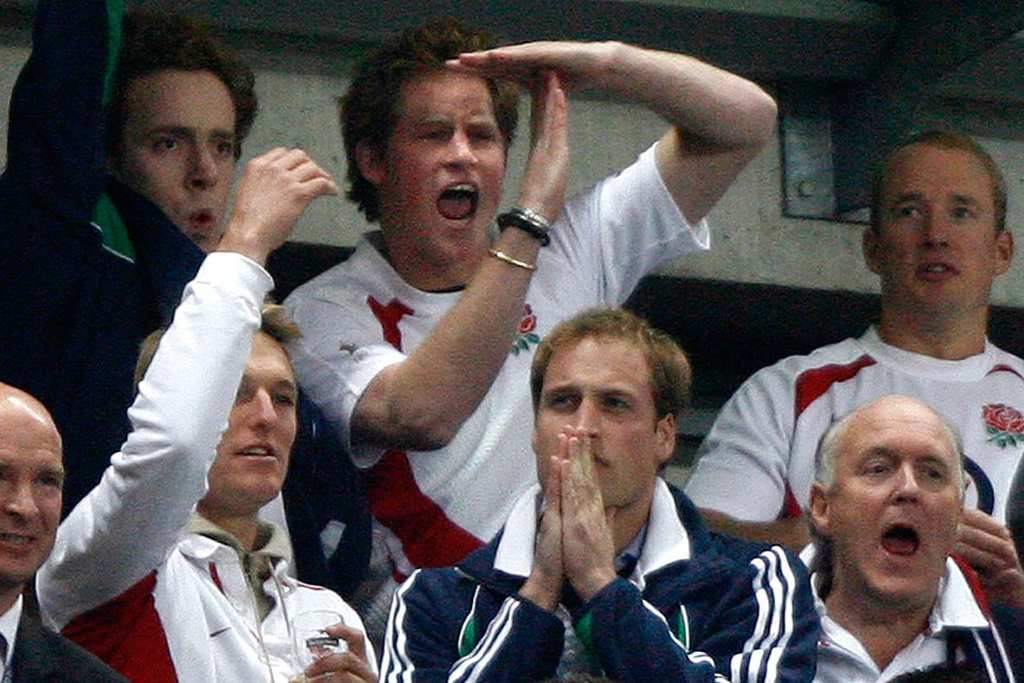 Unfortunately, he was sitting in the box-seats, so his yelling fell on deaf ears, and his team didn't manage to call for a timeout in time. They ended up losing the match by just one goal.
A Magical Photo
Even the royal family has a wild obsession with J.K. Rowling's popular book and movie series, Harry Potter. When William, Kate Middleton, and Harry took the famous Harry Potter tour in London, they couldn't resist the opportunity to capture this magical photo.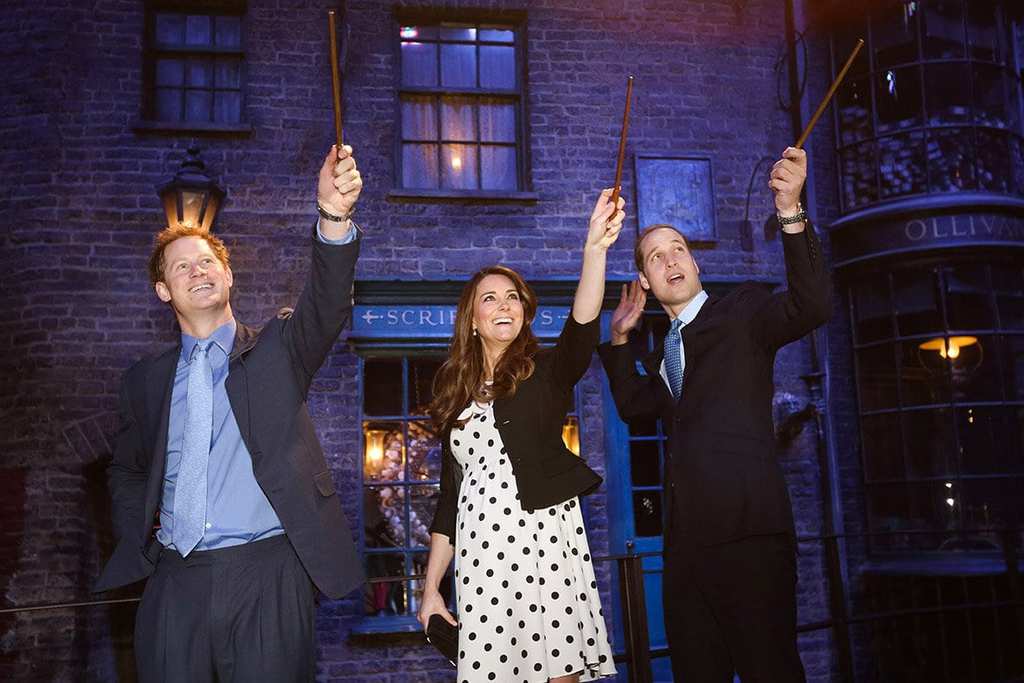 With wands in hand, these royal goofballs posed as if they were casting a disarming spell on Voldemort. Just before this photo was captured, Prince Harry actually shouted "EXPELLIARMUS!" at the top of his lungs.
Facing the Royal Wrath
These images were captured at a wedding the Sussexes attended in Jamaica, back in 2017. Meghan wasn't yet an official member of the Royal Family, as she and Harry hadn't yet married, and it shows.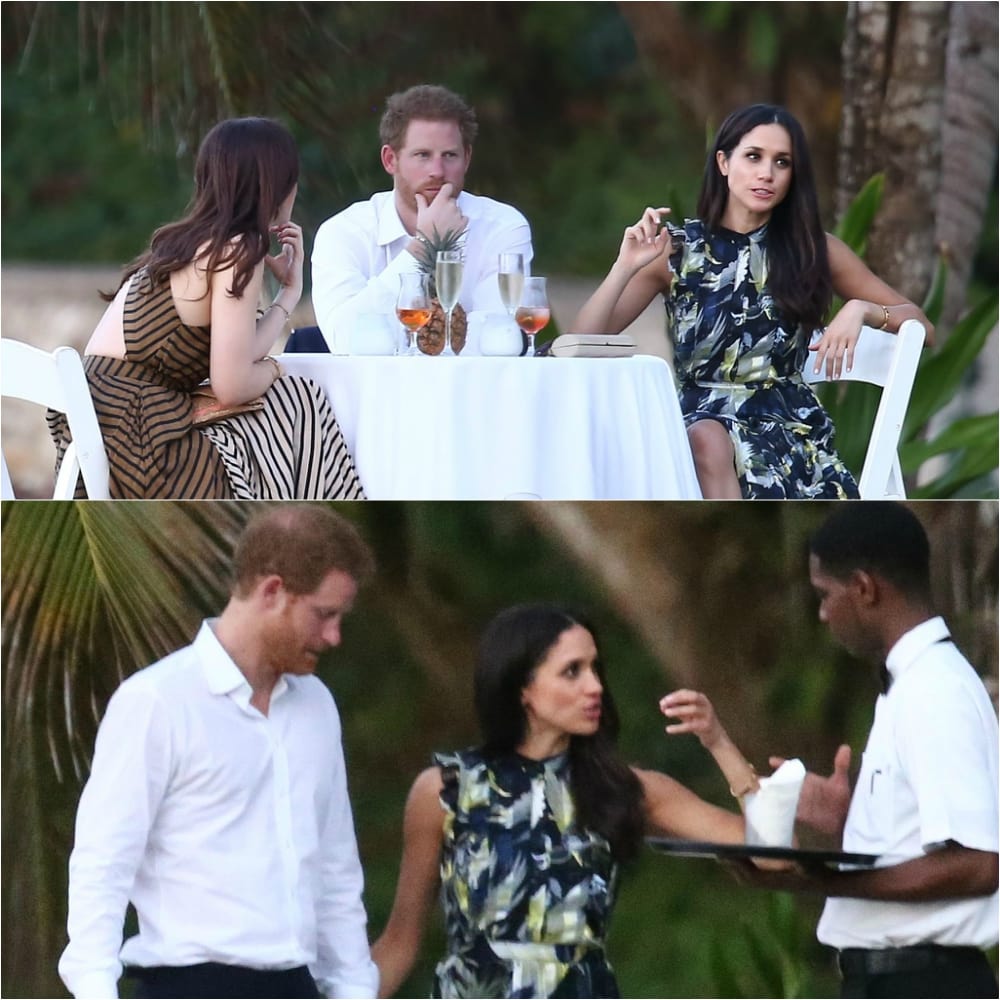 From the looks of it, Harry is taking the back seat as Meghan unloads her rage on the poor server: perhaps he's surprised at her outburst. Even if we can't know what she said, it's not very Royal behavior to gesture with hands in such an animated manner, regardless of how upset you are.
Snack Time
It turns out that Prince William is a huge animal lover. During his last visit to the royal petting zoo, the Duke of Cambridge couldn't pass up the opportunity to feed a giraffe.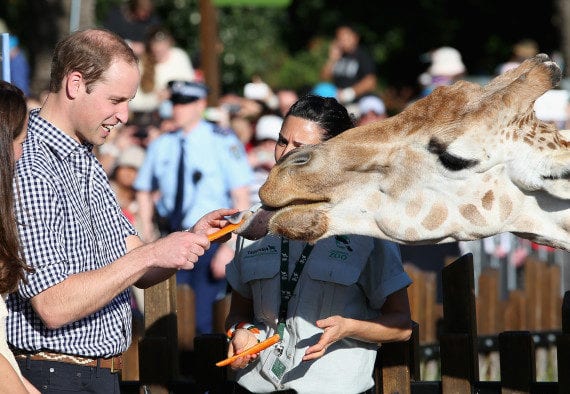 The zookeeper handed him a tasty carrot and warned him to be careful of the giraffe's teeth. William held out the carrot and called for the giraffe to eat. The giraffe bent down, stretched out its long tongue and gently took the royal carrot from William.
Save The Last Dance
Prince Harry is highly involved in various charity projects in Jamaica. During one of his many visits to his favorite island country, Harry heard music and simply couldn't control his urge to dance.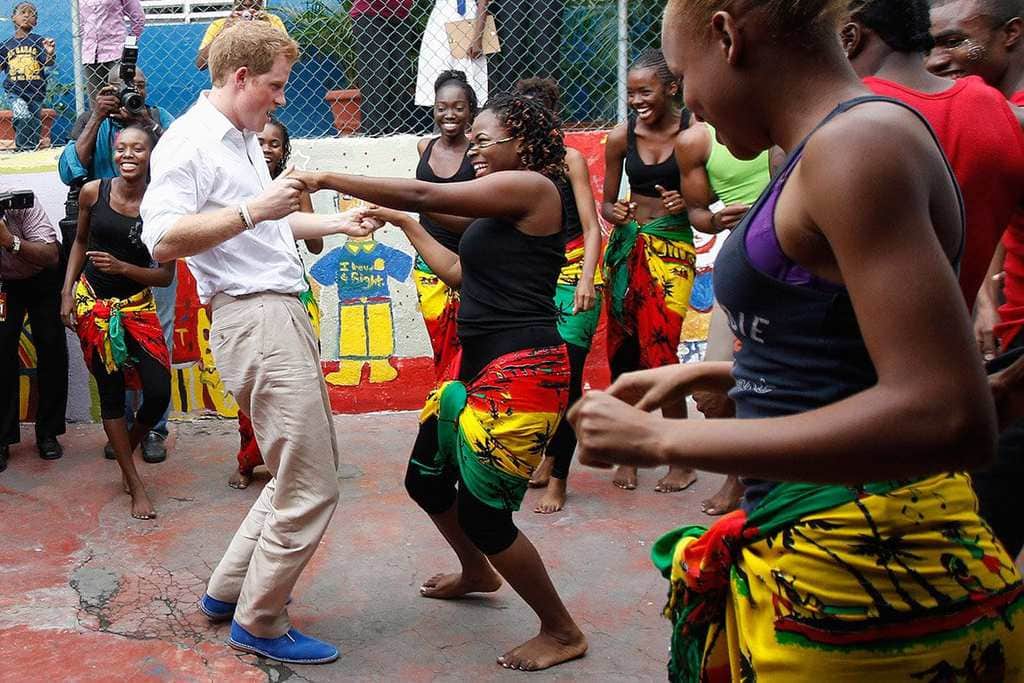 He decided to join some of the locals in their celebrations by busting a royal move. Just about everyone in attendance was surprised with Harry's impressive dancing abilities. After all, it's not every day you see a member of the royal family cut loose.
Day-Dreaming
This moment, captured during the very long Queen's Jubilee ceremony, proves that even members of the royal family struggle to stay attentive during prolonged speeches or lectures. We've all been there before.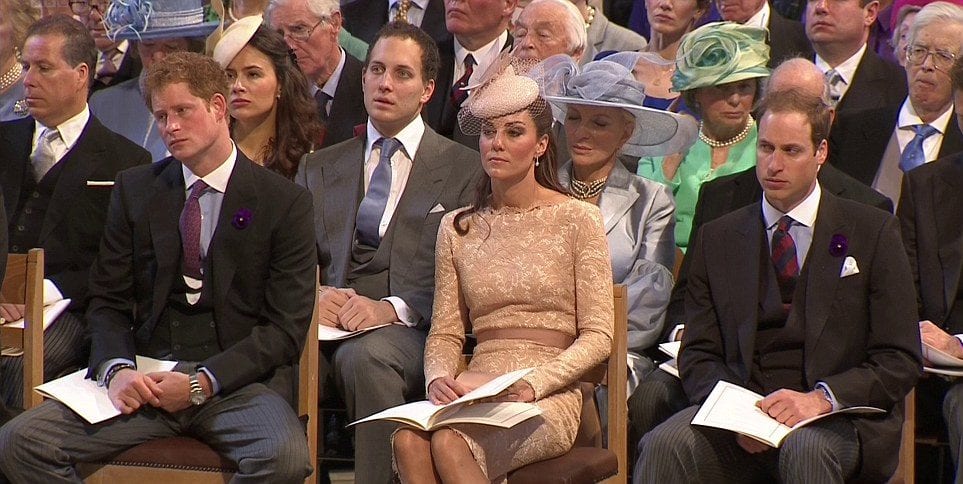 You're sitting in a college lecture, and all of a sudden you notice your eyelids start to feel heavy as you begin to doze off. It's pretty clear to us that Harry, William, and Kate were all feeling the exhaustion during this lengthy speech.
Keeping The Queen Entertained
This photo was captured during the 2010 Braemar Highland Games. While observing the unique track and field style event, Queen Elizabeth and Prince Charles clearly got a kick out of something that happened down on the field.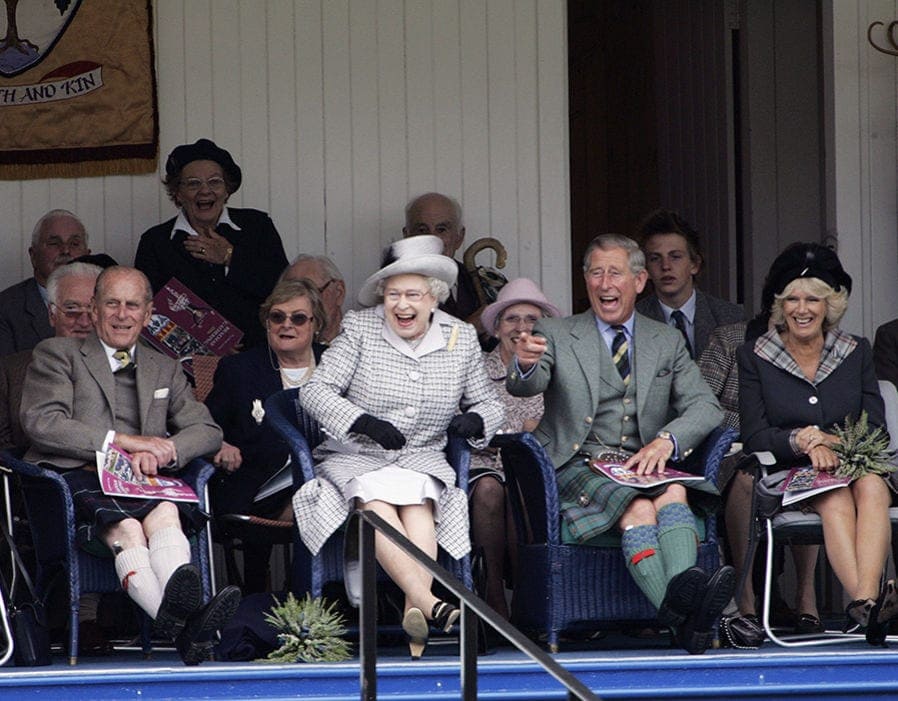 Perhaps one of the runners competing in the 400 meters took a comical spill. He may have lost both the race, as well as his pride, but at least he was able to provide the Queen of England and Prince of Wales with some entertainment.
The Queen Of Pranks
Apparently, the Queen once pranked some American tourists who she bumped into outside Balmoral Castle, Scotland. However, they didn't know who she was. Seeing that the Queen was wearing a headscarf, her identity was somewhat hidden.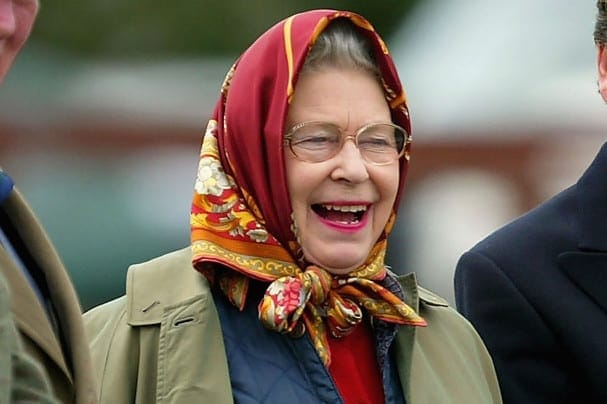 When the tourists asked the "old lady" if she lived nearby, she simply said yes. She went on to say that although she had never met the Queen herself, the "policeman" next to her, who was actually her royal guard, had met her.
Kid-Friendly
Prince Harry simply has a way with kids. Whether he's posing for funny photos, volunteering, or participating in kids' sports games, Harry always has a smile on his face from ear to ear.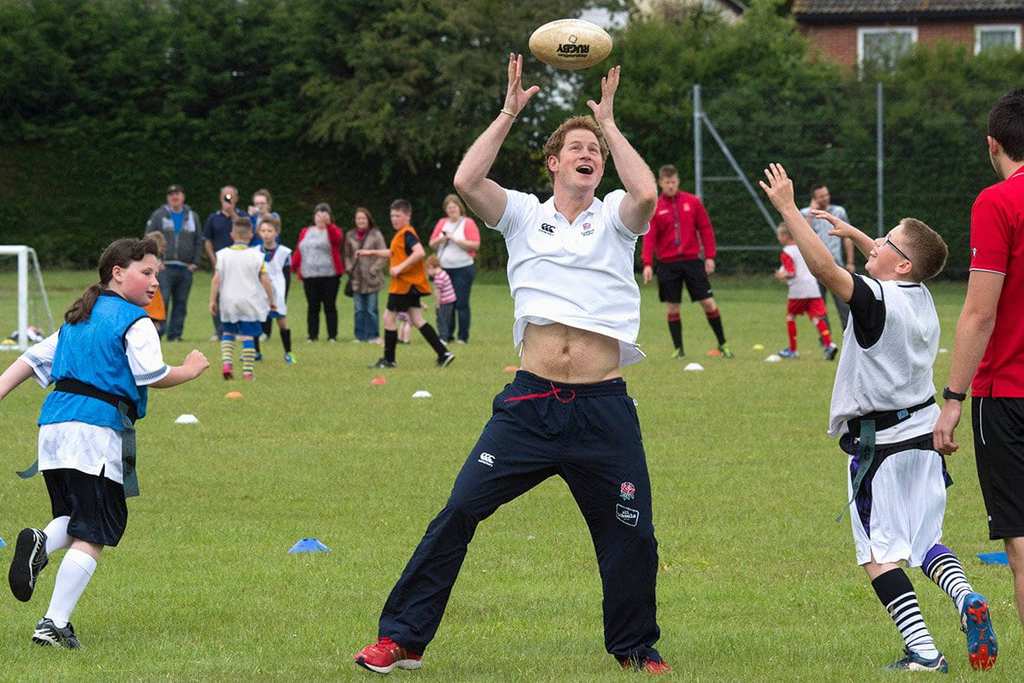 In this photo, we see Harry taking on a group of children in a non-contact game of rugby. Even though he's playing against a bunch of 10-year-olds, Harry maintains his competitive nature, and we would expect nothing less from someone in line for the throne!
Bolting To The Throne
Harry's connection to Jamaica runs much deeper than his charity work. The royal prince is also good friends with many Jamaican natives, including the record-setting Olympian track athlete, Usain Bolt.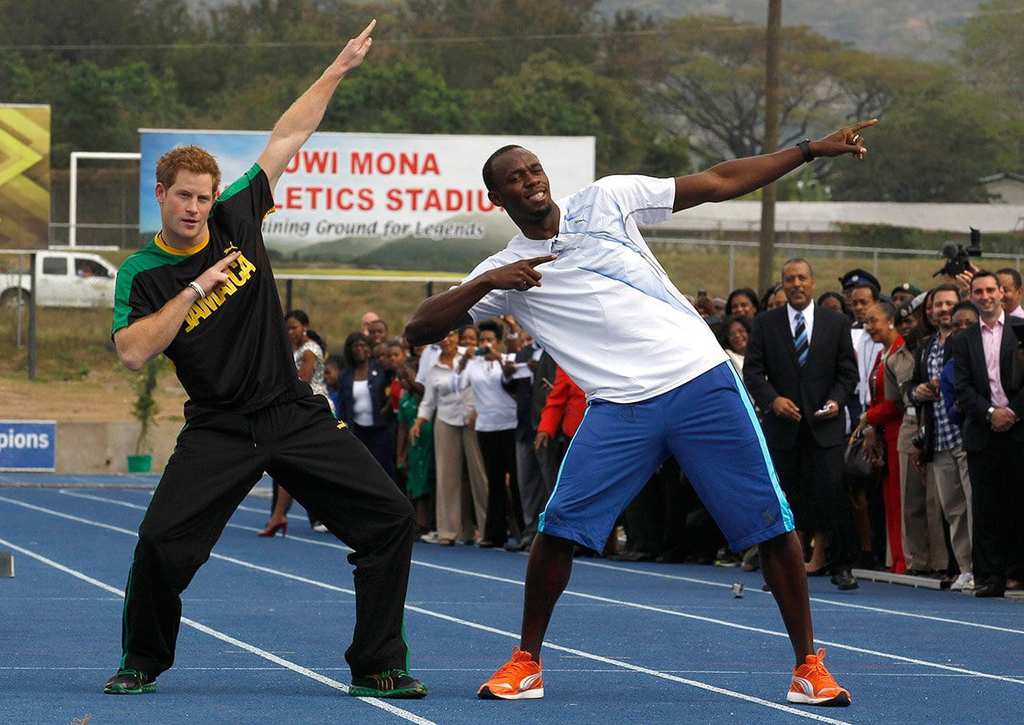 One day, Harry and Bolt decided to visit the track for an impromptu training session in front of a crowd. The two even raced against each other in a 100-meter sprint and Bolt won by just a few strides. Did we mention that Harry had a 50-meter head-start?
Cold Feet
Kate Middleton must have gotten cold feet on her wedding day. Either that or the pressure of marrying into the royal family was just too much for her, as she fell to the floor for a brief moment while the newly-weds were posing for photos.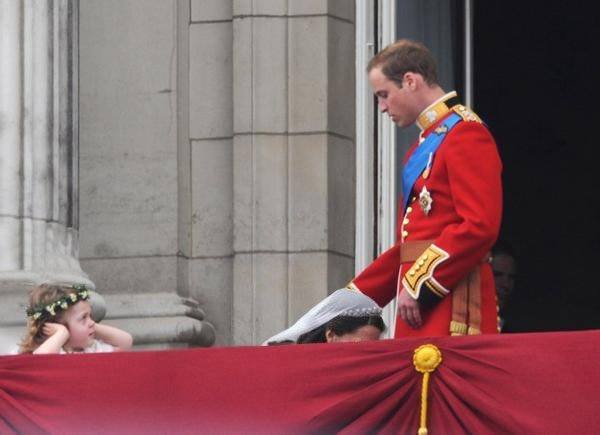 Meanwhile, the poor flower girl was so overwhelmed by what was going on that she needed to cover her ears. Luckily, Kate's husband, Prince William, was there to help her back to her feet.
But First, Let Me Take A Selfie
Usually, Queen Elizabeth II isn't a fan of taking selfies. But ever since she downloaded the latest version of Snapchat, and discovered the dog filter, her attitude about selfies has done a complete 180.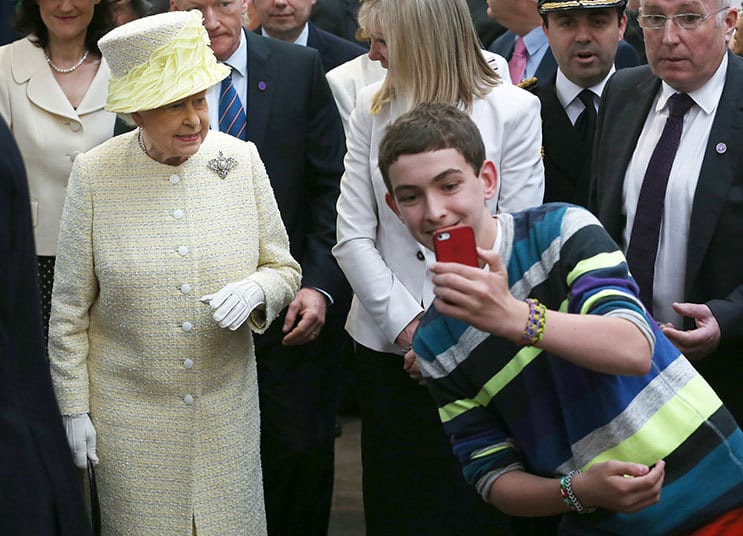 When this young brit wanted to take a selfie with the Queen, her Majesty requested just one thing- put the dog filter on. Now it's only a matter of time before this kid's dog-filter selfie with the queen makes its rounds on the internet.
Bustin' A Royal Move
When Prince William and Prince Harry visited Lesotho on a charity trip, Harry decided to teach his big brother a thing or two about dancing. Soon enough, Prince Seeiso of Lesotho decided to join in on the dance lesson, hoping that some of Prince Harry's swagger would rub off on him.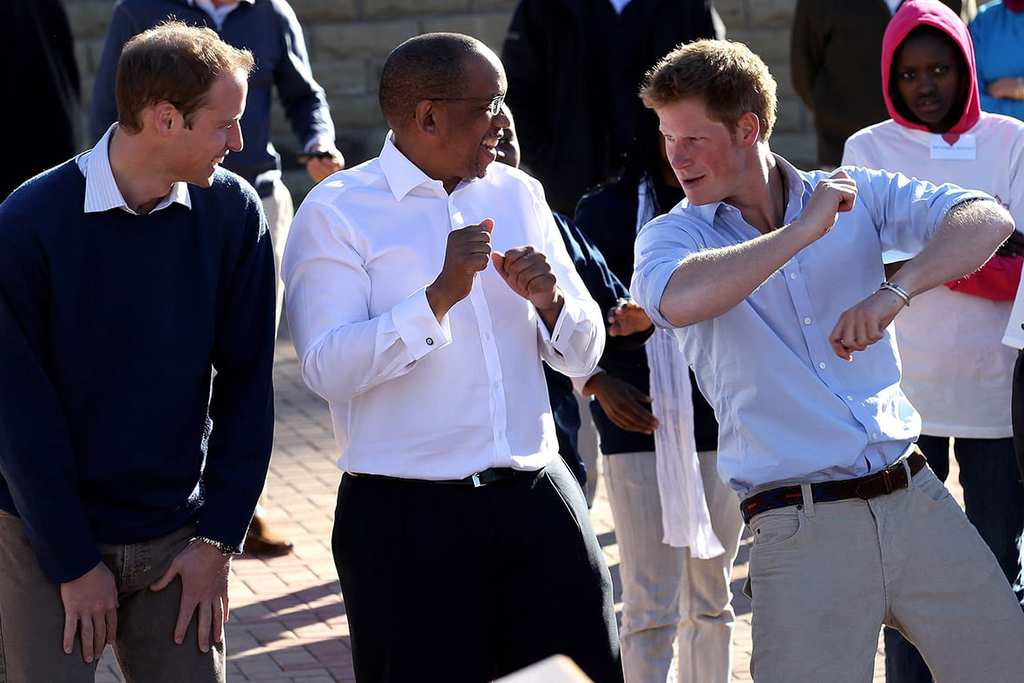 William still has a ways to go before his skills are up to par with his younger brother, but the Duke of Cambridge is a work in progress.
Harry Takes A Tumble
Many people don't know this about Prince Harry, but the sixth heir to the throne is actually an incredibly talented polo player. In June 2010, Harry competed in the Veuve Clicquot Manhattan Polo Classic on Governor's Island in New York.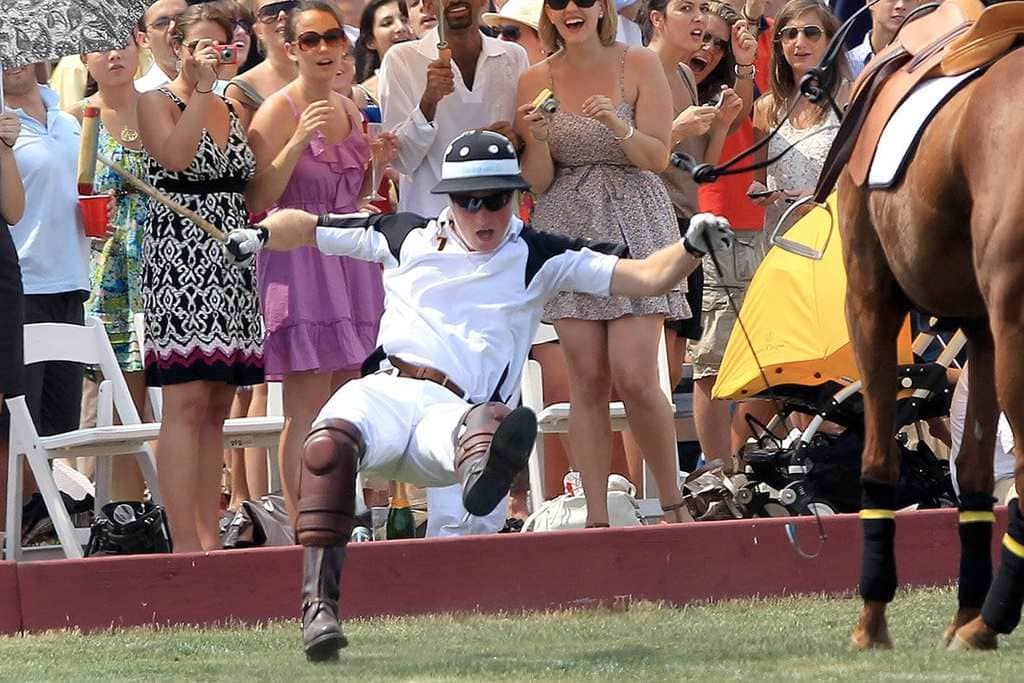 While he put on an impressive performance and his team did extraordinarily well in the tournament, this embarrassing photo, which shows Harry falling off his horse as onlookers laugh from the sidelines, made it to the internet and went viral.
The Royal Cringe
While Kate Middleton usually appears elegant and composed, this photo clearly took the Duchess of Cambridge off guard. Unfortunately for Kate, she had just eaten a very sour piece of candy right before she was asked to pose for some pictures.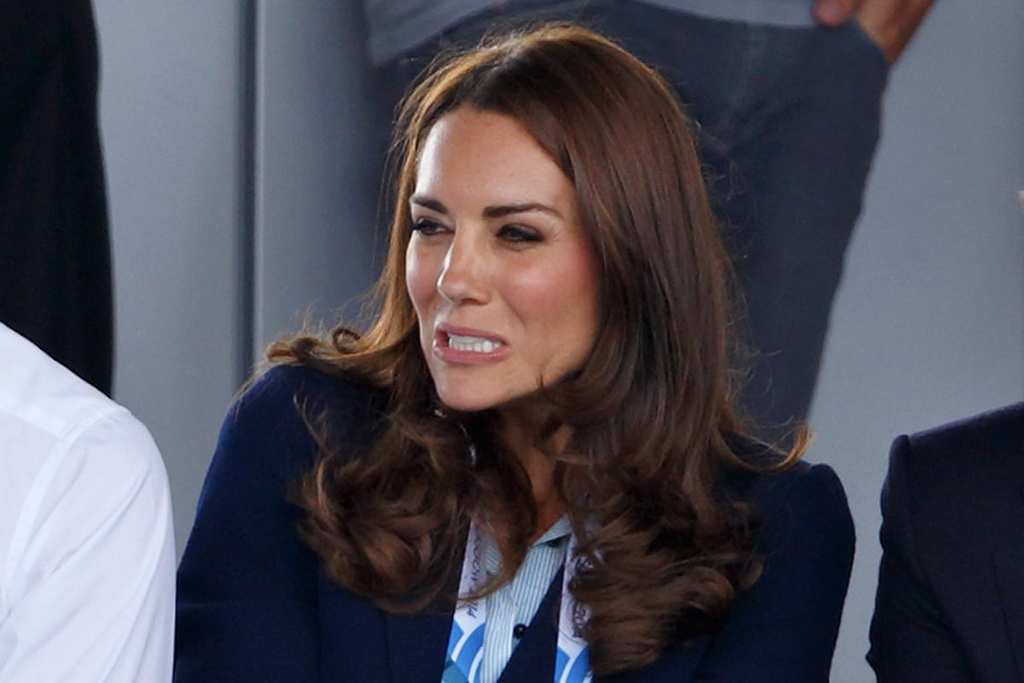 Without any time to compose herself, Kate was forced to do her best to pull it together for the camera. She tried to smile, and this awkward photo was the result. Ever since, Kate has avoided eating sour candy while in public.
Baby-Face
Prince Harry couldn't resist this opportunity to strike a silly pose while meeting this adorable baby. While most members of the royal family would simply offer a greeting and a semi-reserved smile, Harry prefers to play by his own set of rules.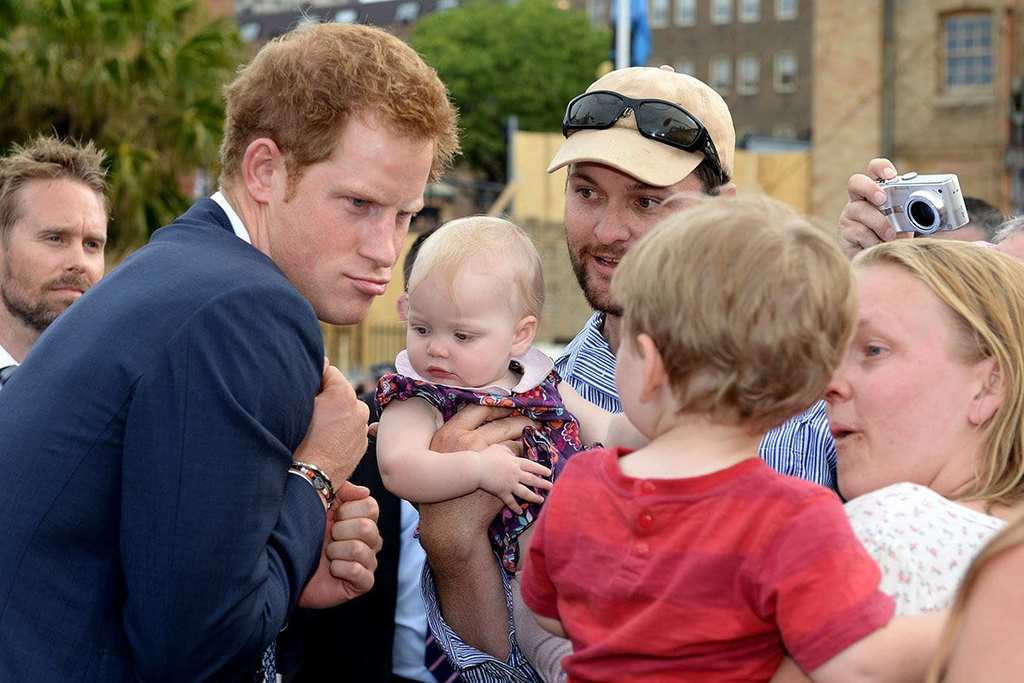 The young prince clearly has a soft spot for kids. This is most likely because, deep down, he's just a big kid himself, as demonstrated by the hilarious face he put on for this photo.
Blowing Off Some Steam
Prince Harry was in good cheer after graduating from military school. He was in such a good mood, in fact, that he decided to start his celebrations early and blow this air horn as he was leaving the ceremony.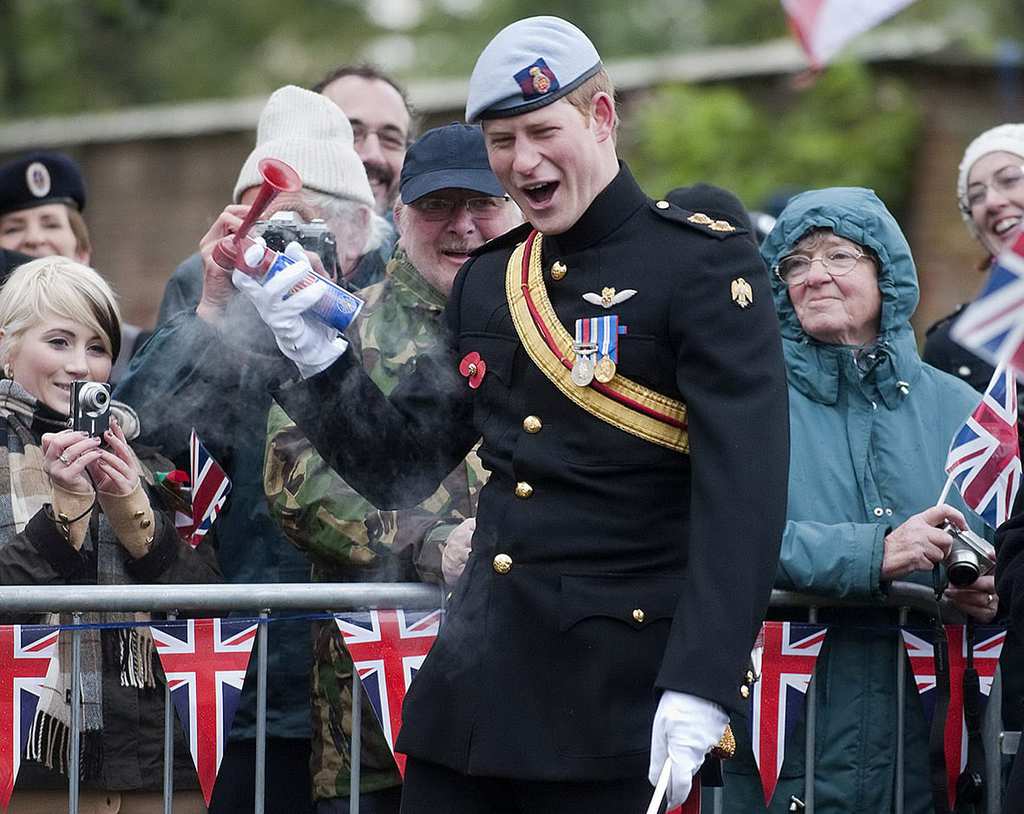 Harry didn't even offer a warning to anyone around him before doing so. Luckily, all of the citizens in attendance were so star-struck from seeing the royal prince in person that they barely even noticed the loud piercing noise from the air horn.
Mirror Image
Who could forget this adorable scene? While enjoying a basketball game, Prince Harry noticed that a little girl sitting to his right was discreetly eating from his popcorn as he spoke with some friends. At first, Harry ignored the girl's snacking.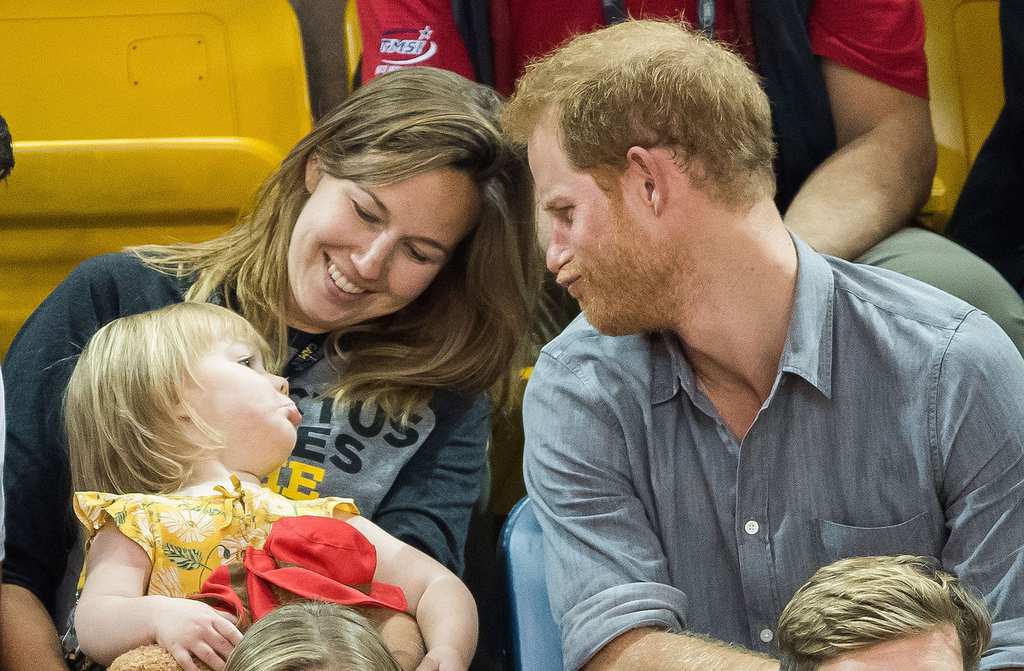 Then he began to jokingly pull his popcorn away every time she reached for more. When the little girl became upset with Prince Harry, he turned to his signature funny faces. Luckily, the whole ordeal was captured on video.
King Of The Photobomb
He might be a royal prince, but it our book, Harry is the king of funny faces. In this photo, we see Prince Harry showing off yet another one of his many talents- his impressive ability to photobomb.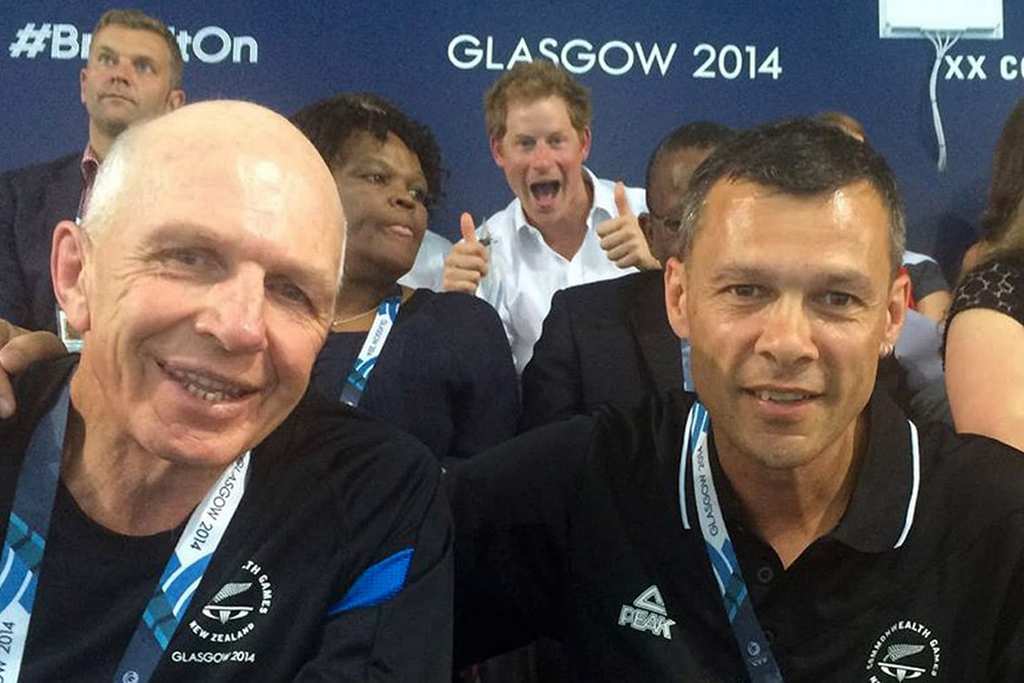 While attending a rugby tournament in Glasgow, Harry noticed someone taking a photo with Gordon Tietjens, coach of the New Zealand rugby sevens team. In a split second, Harry saw and seized the opportunity to execute a flawless photobomb. This was the result.
Say Cheese
In recent years, Kate Middleton has mastered the art of taking proper and elegant photographs. This picture, however, was taken long before she had perfected her royal smile.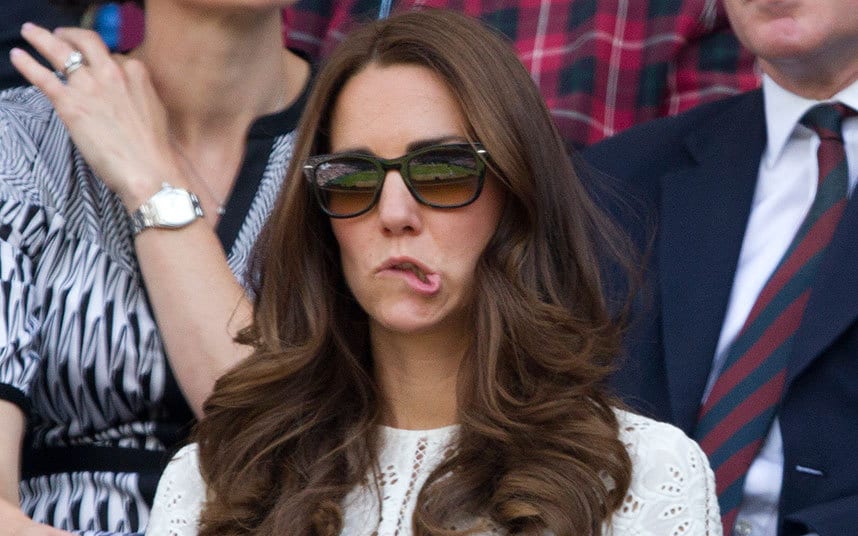 There was a pretty steep learning curve for the Duchess of Cambridge, but luckily, Queen Elizabeth II was able to show her a thing or two about what it means to be a member of the royal family. These days, Kate takes nothing but flawless photographs alongside Prince William and the rest of the royal family.
Crazy For Cupcakes
This photo shows exactly why we love Prince Harry so much. Even though he may be a proud member of the royal family, Harry is also just a regular guy who happens to have quite the sweet tooth.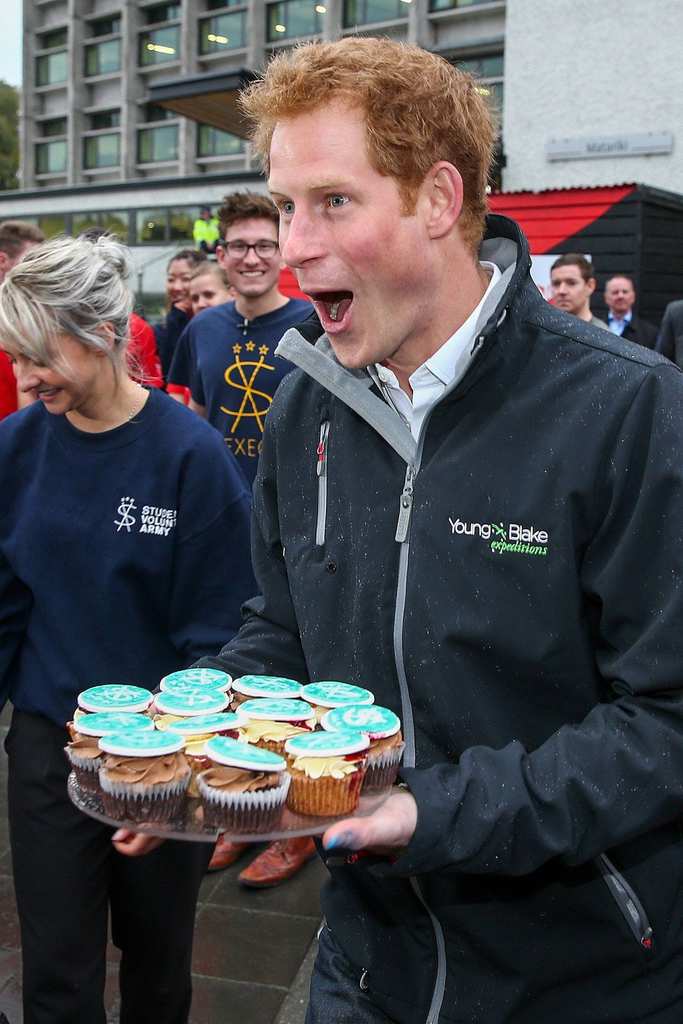 During the moment this photo was captured, Harry simply couldn't contain his excitement over this plate of delicious frosted cupcakes. Can you blame him though? Those tasty treats truly look like they were baked for royalty. Hopefully, Harry shared some with Prince William!
Pulling Her By A String
Prince William may have thought he was subtly trying to get his wife's attention when he gently tugged on the lanyard holding her name tag that encircled her neck, but the gentle motion failed to produce the desired outcome.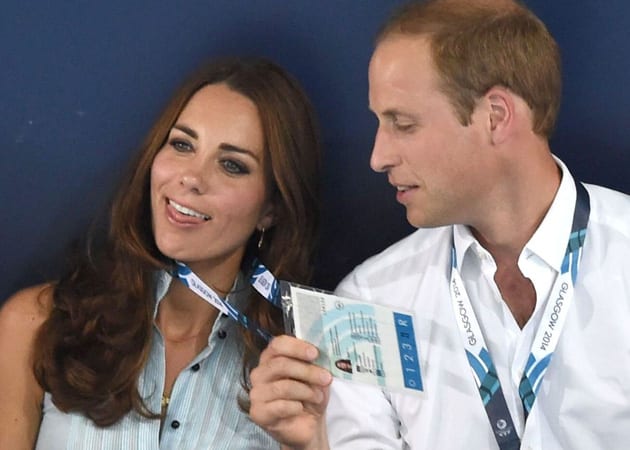 As William tugged again, a little harder this time, Kate reacted with humor, showing to the entire audience, as well as the camera, that she noticed what he was doing and he wasn't going to get away with it unscathed.
Birds Of A Feather
You might expect Prince Charles to be well acquainted with birds of prey, given that falconry has traditionally been a royal pastime. Clearly though, Charles was startled by the bird taking flight, and he was captured leaning back in surprise as the majestic bird extended its massive wings.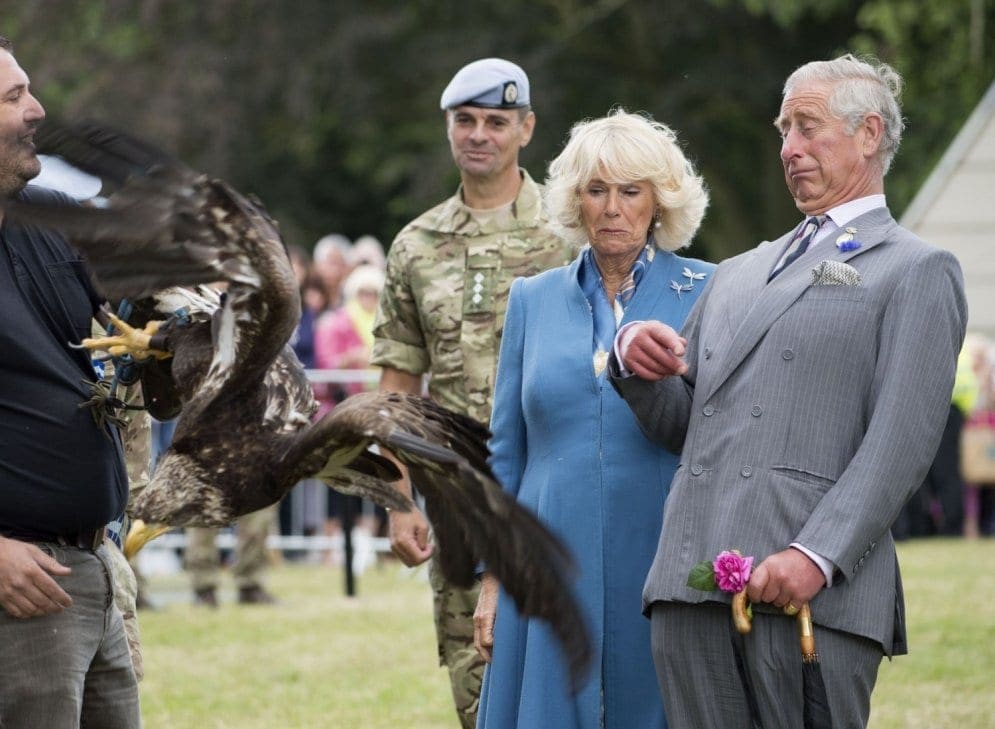 Hawks and falcons are nothing to bat an eye at, of course, with massive talons that can crush through bones. Charles definitely didn't want to get in the way of this bird!
Mining Precious Gems
While Queen Elizabeth II is known for her steadfast composure, even in the face of difficult times, it doesn't mean she can't have more human moments now and again.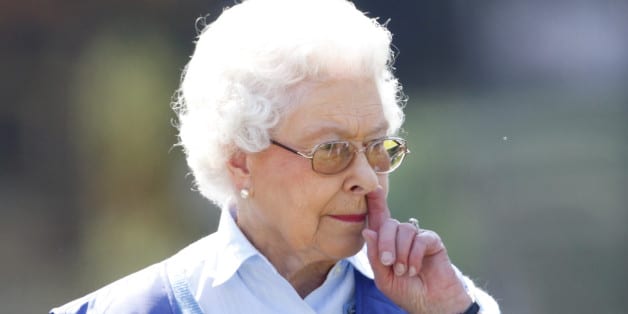 As everyone has surely experienced, sometimes you just have an itch that needs to be scratched, and even a queen may succumb to that urge time and again. The real surprise is that someone as composed as the Queen doesn't have a royal hankie on hand at all times.
Sleeping In State
Queen Elizabeth may almost always be on high alert when making public appearances, but being a prince hasn't stopped her eldest son from falling asleep regularly at state functions.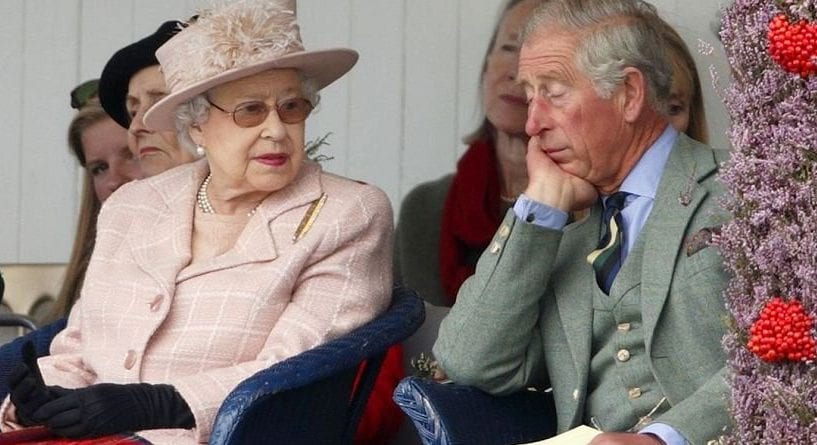 Elizabeth is looking at Charles with the kind of resigned disappointment only a mother can have for a child she knows won't ever change. Given that Charles won't be able to drift off if he sits in the throne in his own right, he might want to work on this habit now.
Let's Take A Selfie
Prince Charles hasn't exactly mastered the art of technology like his two sons have, but that doesn't mean he can't laugh at the silly pictures the boys show him from time to time.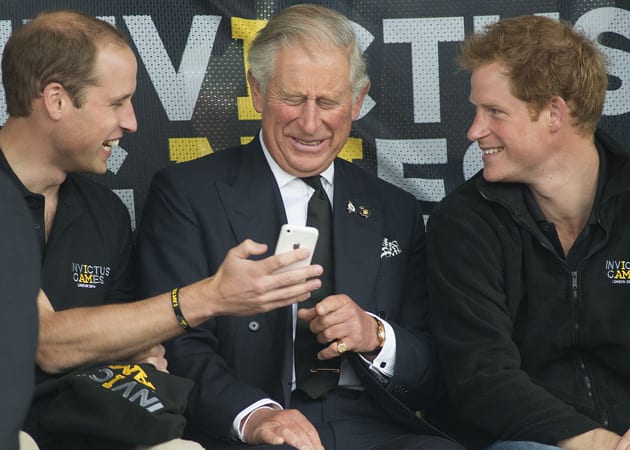 Luckily, Charles has a good sense of humor when the pictures they show him happen to be funny snapshots of the elder prince himself. William especially found this photo hilarious, but Charles realized it would have been more enjoyable if he'd brought his glasses.
A Long Night
As we are all well aware of, no matter how beautiful someone may be, they're bound to take an unflattering photo or two. Kate Middleton learned this lesson the hard way. Back in her college days, the Duchess of Cambridge was already surrounded by attention from the media.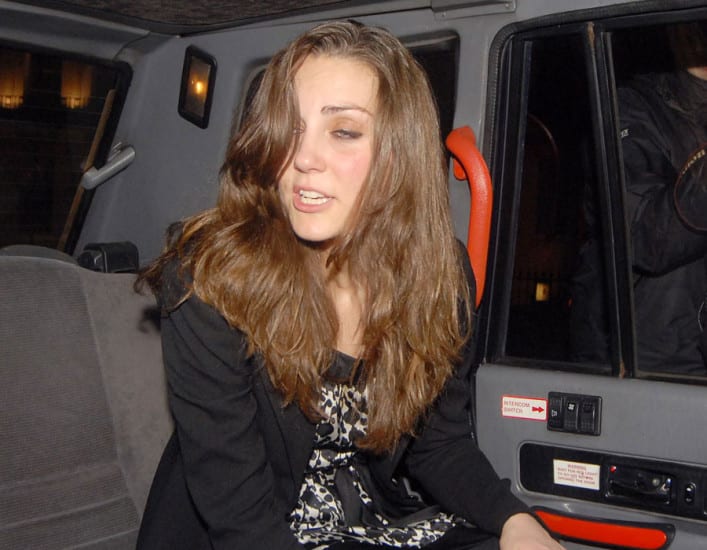 On this night, she was feeling particularly exhausted from a long evening of studying and really wasn't in the mood to take a photograph for the paparazzi. Unfortunately, they had other plans.
Turn That Frown Upside Down
This photo was taken all the way back in 2005 following the marriage blessing for Prince Charles and Camilla at St George's Chapel in Windsor. It appears as though Prince Harry is giving Queen Elizabeth II his best impression of his father, the Prince of Wales.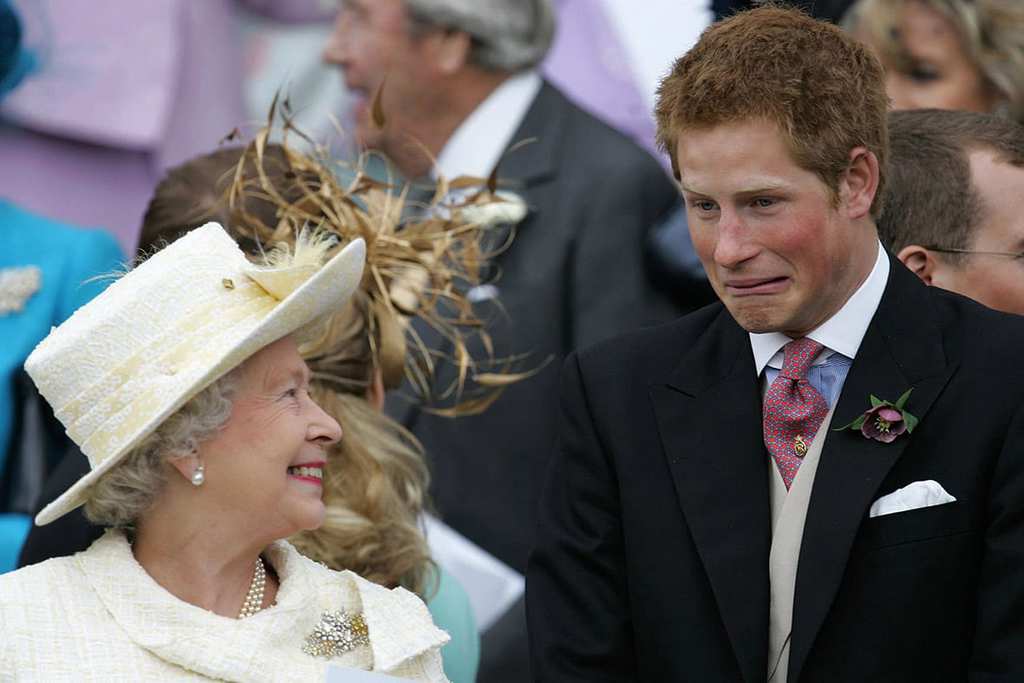 Of course, everything was done in good fun, and it seems that the Queen even got a kick out of it. Harry's silly faces always manage to put a smile on our faces!
Back In The Day
Back when was a youngster, she could be found out and about with her friends. However, the crown likely does not like it when old photos of her doing such activities surface – even something as honest as this.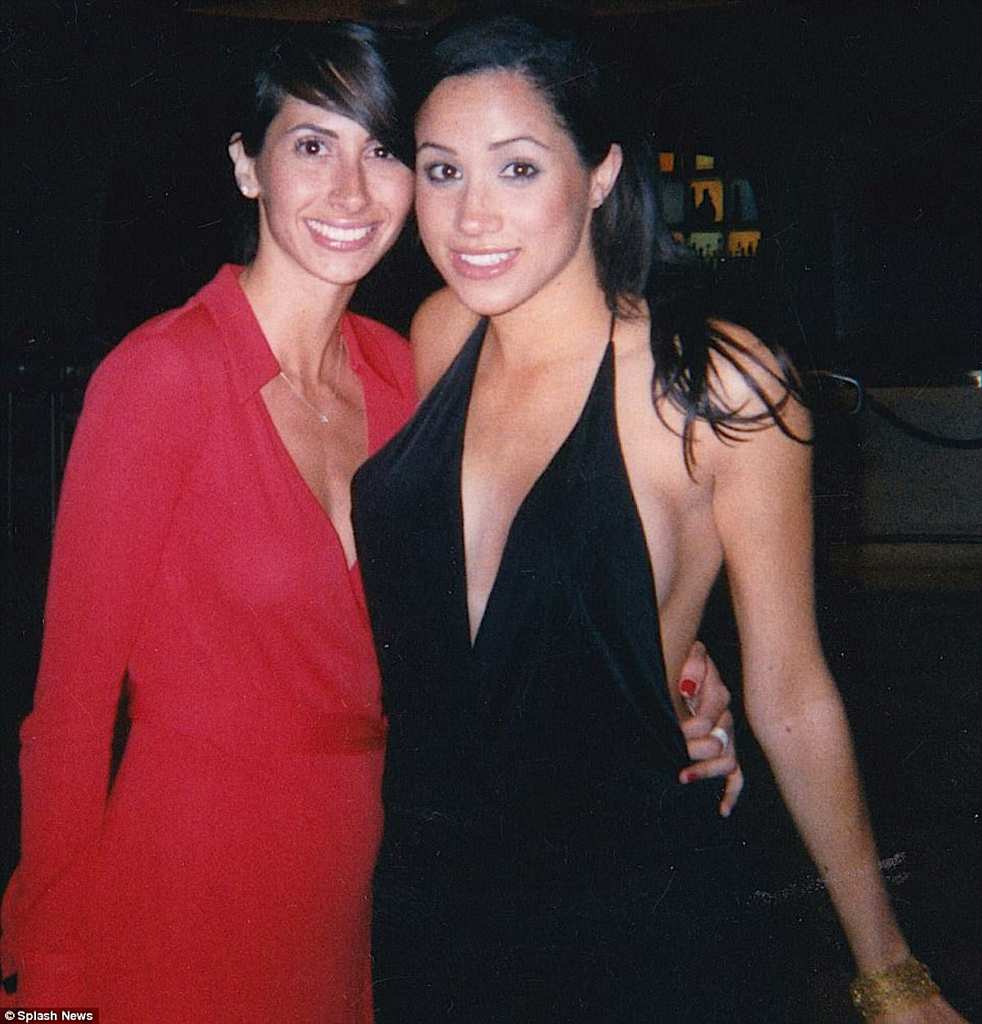 The Royal Appetite
We all have those foods that we simply cannot tolerate. Even just the sight of them causes us to feel queasy. It turns out that the Queen of England is just as repulsed by the food she doesn't like as the rest of us.
When Queen Elizabeth was offered the two foods she hates most in the world; this was her response. She didn't even need to tell her butlers to send them back because her facial expression said it all.
We All Fall Down!
Kate Middleton looked the picture of elegance when she turned up to the Royal Ascot's opening day in a stunning white lace dress that resembled her wedding gown.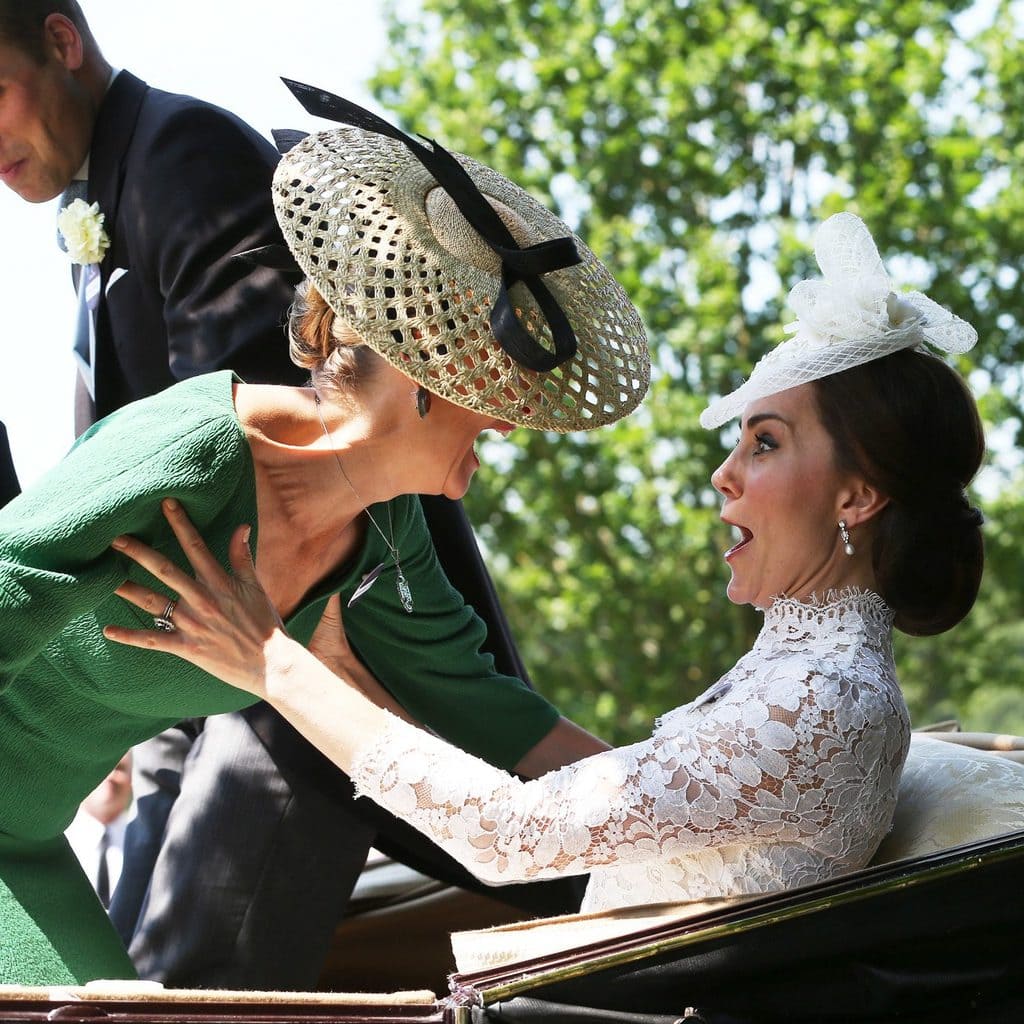 We All Fall Down!But when she and William took a traditional horse-drawn carriage ride and Sophie, Countess of Wessex almost fell right on her, Kate pulled this hilarious, albeit very un-royal expression as she caught her aunt-in-law. This photo is proof that Kate really is just a normal, good-natured woman who can laugh off any embarrassing moments with the best of us.
Royal Cone
The Duchess of Cornwall, for all her royal-ness, just can't seem to look elegant while eating an ice cream cone. But that might be explained by the fact that this wasn't just any old ice cream parlor – she and Prince Charles got to sample some delicious vanilla ice cream with raspberry sauce at Brostraede Flode-IS, Denmark's oldest ice cream shop, during their eight-day tour in Scandinavia.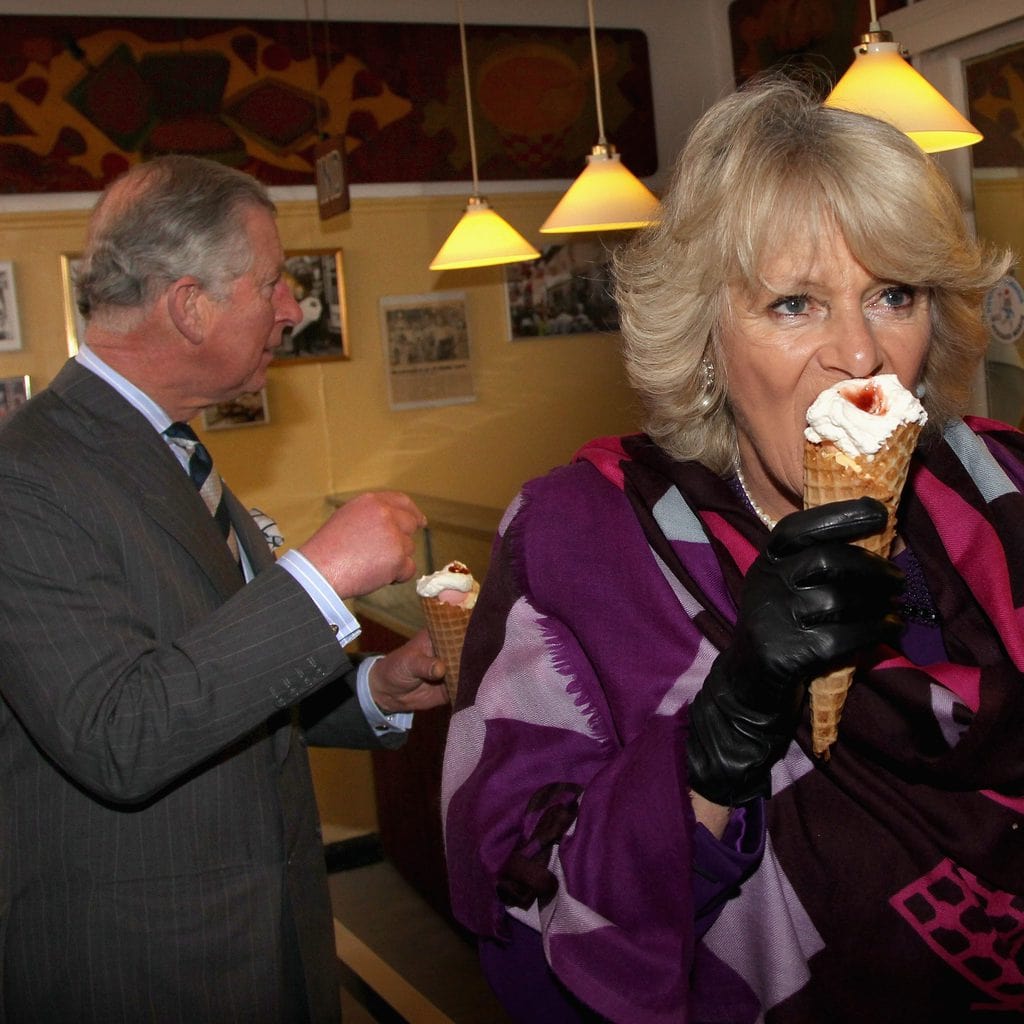 There are few things more satisfying than biting into a delicious ice cream cone, but seeing a photo of Camilla going to town on one is definitely up there.
Incredulous Smirks
It's impossible to know what Meghan and Kate were witnessing here, but we can imagine that it was probably one of their husbands, doing something utterly ridiculous.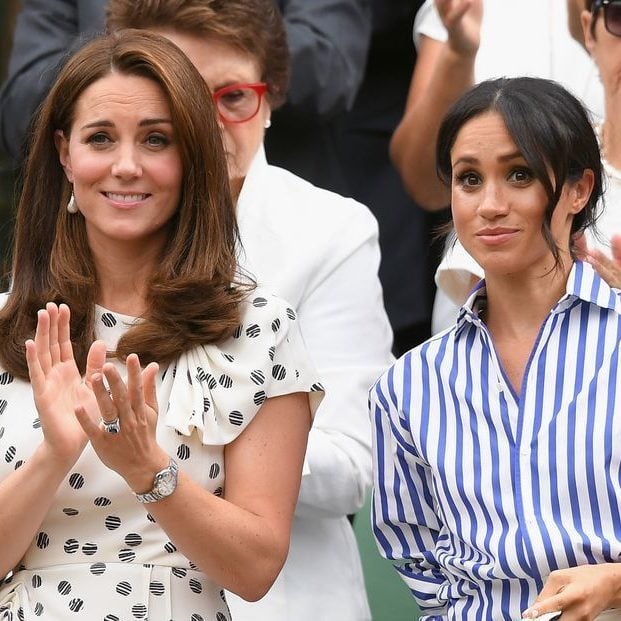 It's comforting to know that these wives, although they have gone through years of training on how to be as prim and proper as the Royals and stay composed at all times, still let their senses of humor peek through once in a while. We've all made that face at someone before, and we all know what it means.
Downward Facing Prince
If seeing Prince William, second in line to the throne, inexplicably on the ground in his white jeans doesn't show you that the young generation of royals is radically different than previous ones, then what will?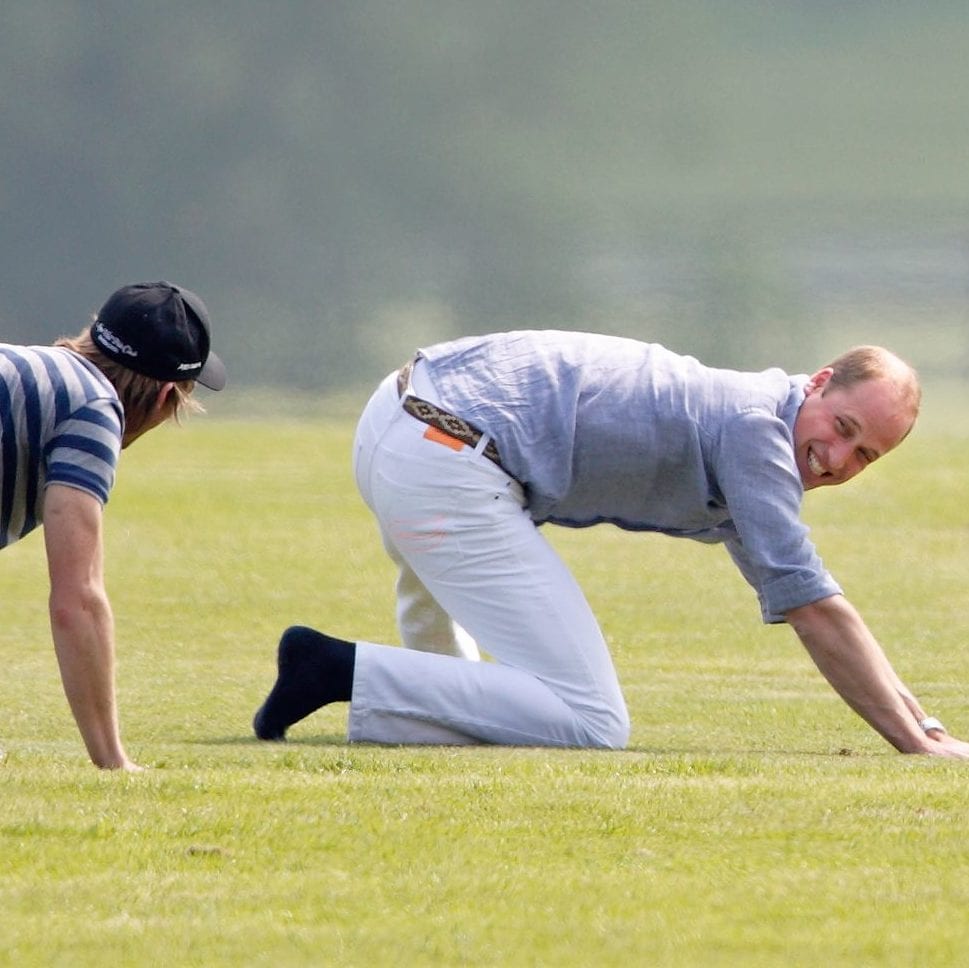 Apparently, the Duke of Cambridge was warming up with some yoga stretches before playing in a charity polo match – and before changing into his gear. There you have it, folks – even Royals gotta stretch! At least this goofball is having a good time.
Like Father & Mother, Like Daughter & Son
It's astonishing how much these royal cutie-patooties really take after their parents. Just like Kate, Princess Charlotte manages to be the picture of composure in every situation, smiling cutely and keeping her royal composure.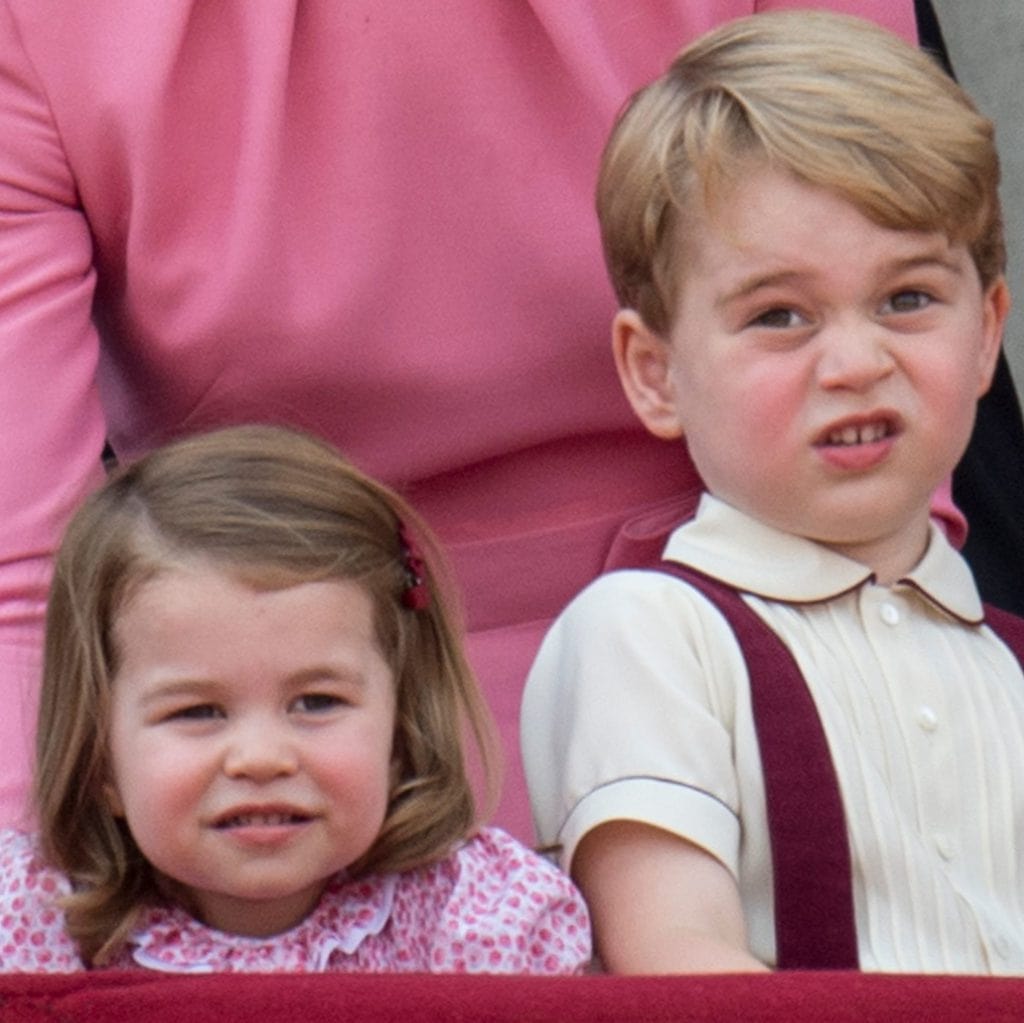 But during the annual Trooping the Colour, Prince George, much like his father Prince William, could not hide his emotions. Whatever was going on at that moment, this adorable royal was not impressed!
Why So Shellfish?
The Royals notoriously have a whole rulebook about how to act in public. But did you know that eating shellfish in public is one of the big no-no's on the list? Clearly, someone forgot to tell Kate, because here she is tossing back an oyster like it's no big deal.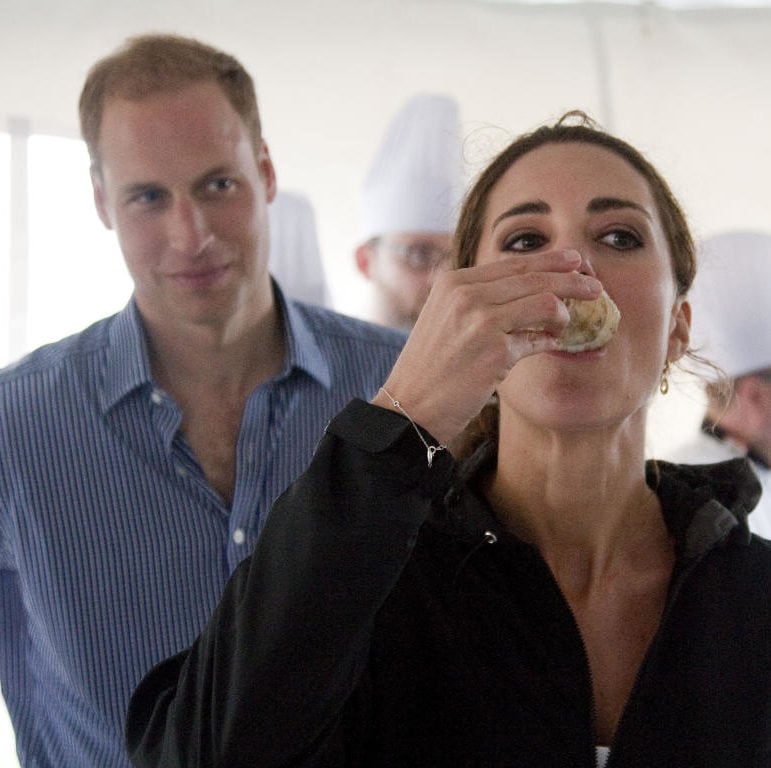 She must have forgotten momentarily and slipped back into the carefree eating habits of her non-royal days; however, her royal-born husband gives her a bemused glance behind her, probably thinking, "oh man, am I gonna hear it from Grandma after this."
They Went That Way!
Meghan, Duchess of Sussex has been turning the royal family upside down since she joined it, breaking rules and conventions left and right for a more relaxed, American approach to life.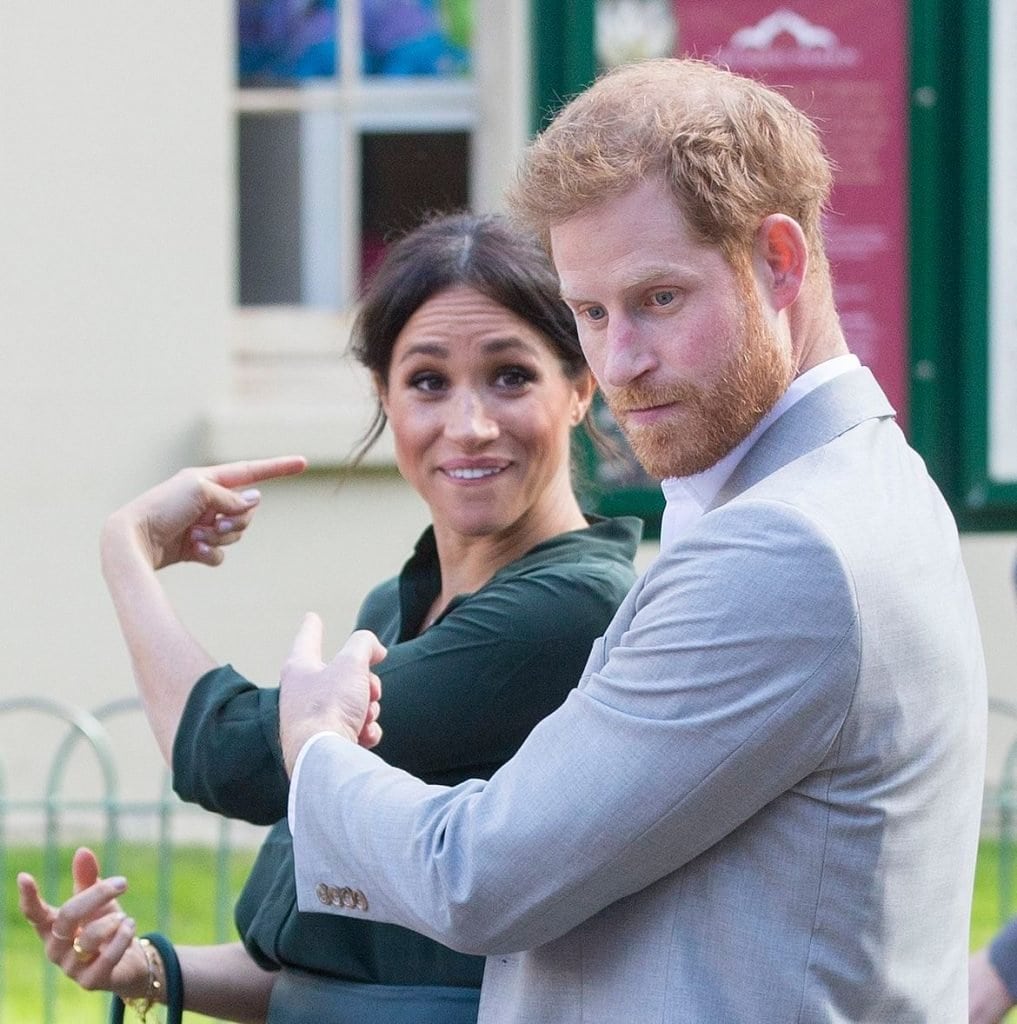 She and Harry usually manage to keep up appearances these days, but there was a moment during their visit to Sussex where they were caught goofing around, pointing at seemingly nothing while making silly faces. We're not sure what the joke was but we would have loved to know!
Something Stinks
The great thing about babies (besides the chubby legs, tiny hands and feet and all-around cuteness, of course) is that they have no filter. They are not expected to play by the adult rules; no matter what, babies are going to be themselves.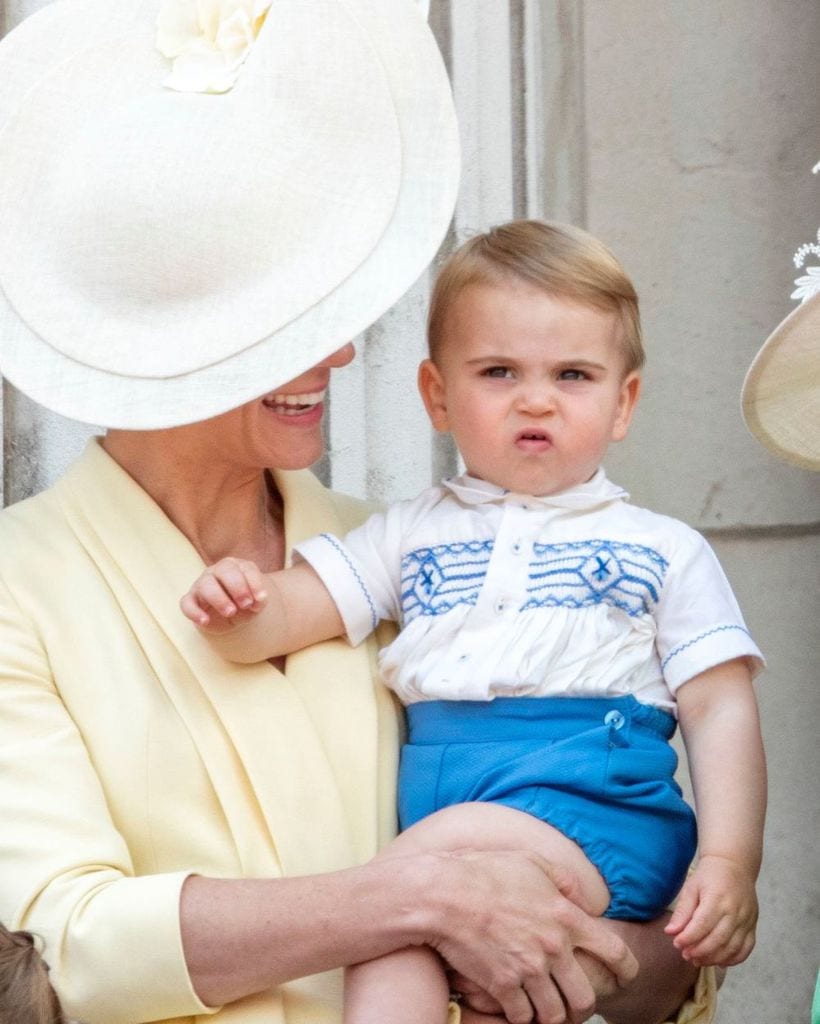 Here, Prince Louis had had about enough while he and his family watched over the Trooping the Colour ceremony, and he wasn't about to hide his distaste. His adorable little grumpy face was seen – and appreciated – by millions.
All the LOLs
The Royal Ascot is one of the most anticipated activities of a Royal's calendar, and like many British institutions, there are many customs and traditions surrounding the event. Dress codes are strict, with men required to wear long-tailed coats and a top hat, and ladies step out in fine day dresses and hats.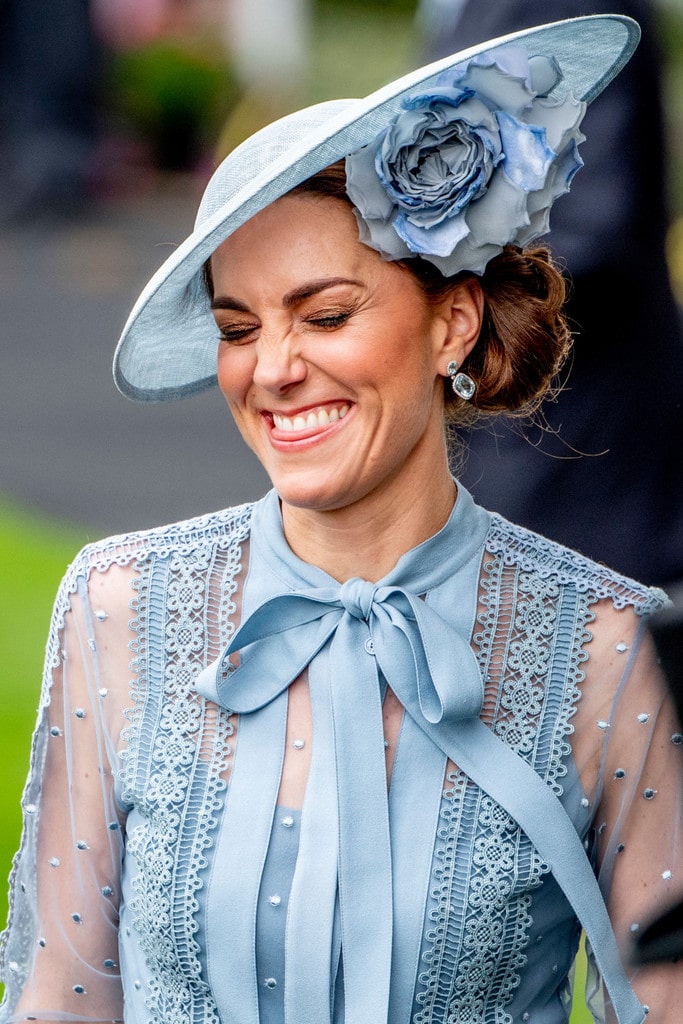 But even at such a formal event, Kate was determined to have a little fun, and was caught joking around with some other members of the Royal Family without a care in the world.
Was I Supposed To Eat It Like That?
When on British soil, the Royal family has to be ultra-conscious of how they're behaving, keeping up with the rules around protecting their family's reputation above all else. When they go on trips abroad, however, younger Royals enjoy letting loose a bit and having a good time with people from different cultures.
When Meghan and Harry went to Morocco in February 2019, it was all laughs as Harry stuffed his mouth with some Moroccan pancakes, and Meghan tugged on his arm as if to say, "haha, but please stop embarrassing yourself!"