Cyber attacks and news of them have become quite commonplace these days, and as more and more devices become connected to the ever-increasing internet of things, we're likely to see an increase in these types of attacks in the future. While these days we have anti-virus systems and methods to alert service providers that something's up, in the early days of the internet there were no such safety measures.
Back in the early days of the internet, 1988 to be precise, a young researcher and graduate student at Cornell named Robert Morris, decided that he wanted to find out how many people were connected to the internet. The idea was to write a program that could be sent to a number of computers and cause the device to send a signal back to his computer in order to register the device as being connected to the internet. While the idea sounds simple enough in theory, in truth, nothing had ever been done like this before.
Wading into unknown waters turned out to be a risky move for the student, as his program wound up spreading incredibly quickly. In nearly 72 hours, the programme had spread to over 10% of all computers on the internet at the time. This was, in essence, the first ever DDoS (Dedicated Denial of Service) attack. In today's lingo, Morris's program would be called a 'worm' and his program is considered the first of its kind. These are self-operating programs that can wreak havoc on a person's device once installed and are the most common form of internet virus today.
While Morris did not set out with the intention to harm peoples devices, he was still charged with 3 years of probation and fined $10,000 for the incident. Thankfully though, he went on to become a dot-com millionaire in the '90s and helped to prevent a number of different programs of this nature from harming peoples computers.
The Gorgeous Homes of Hollywood's Biggest Legends
Donald Sutherland – $2.995 Million, Palisades Beach
Donald Sutherland not only took Hollywood by storm, but he was also the owner and designer of this Palisades Beach home. The home was eventually sold to Neil Jacobson, A&R executive of Interscope Records and president of Geffen Records. It has three bedrooms, two bathrooms, a library and office, a master suite, and a view of the beach. Jacobson has since listed the home for sale at an asking price of $2.995 million.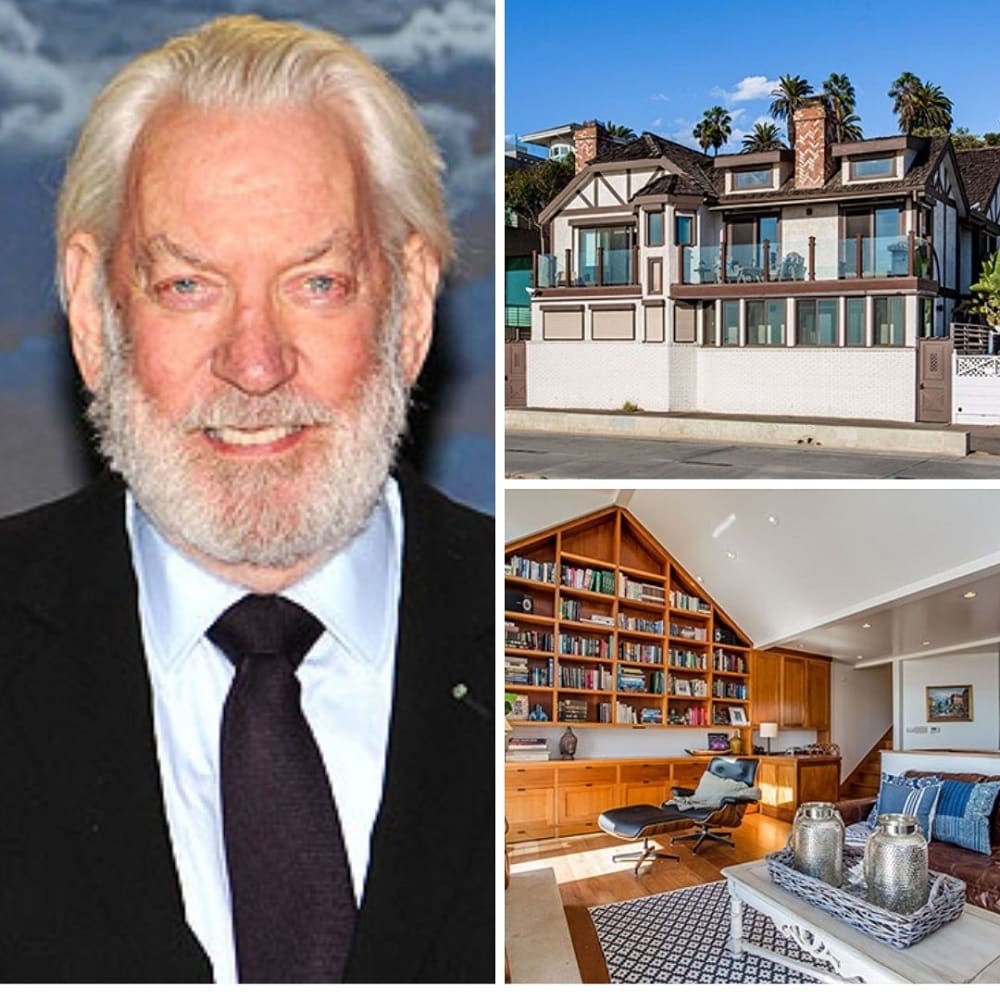 Brigitte Bardot – $5.65 Million, France
French actress Brigitte Bardot once had a beautiful estate in France that dated back to the 13th century. The home sits on 1.46 acres and has 6,458 square feet of living space for the actress to relax in. It features eight bedrooms, eight and a half bathrooms, and a formal dining room. It also includes an infinity pool. The home went through a three-year remodel starting in 1998 and is worth a reported $5.65 million.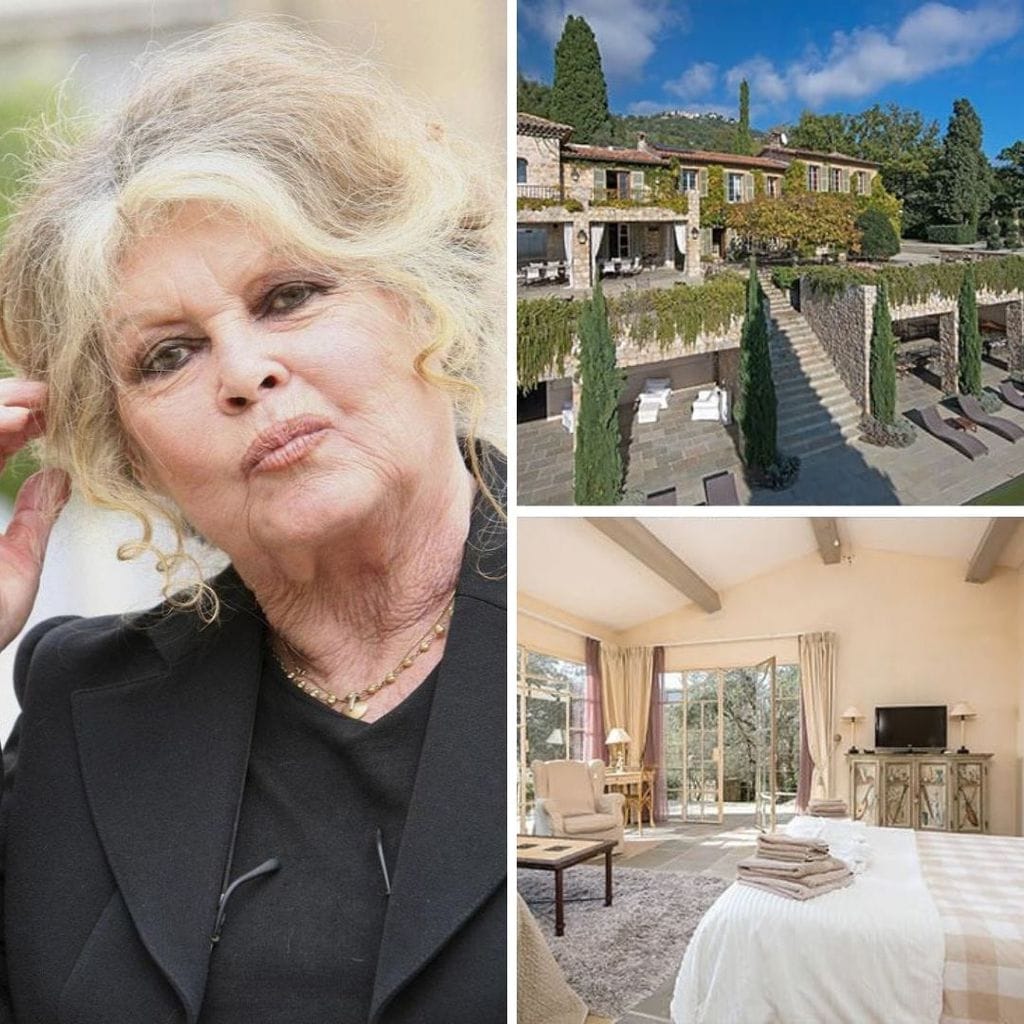 William Shatner – $3 Million, Studio City
William Shatner has starred in Boston Legal, The Practice, Rescue 911, and a litany of other shows. His most popular credit by far, though, was his role as Captain Kirk in Star Trek with roles in both the TV shows and movies. This fame – and his continuing career to this day – has earned him a 4,016 square foot home in Studio City, California reportedly worth $3 million. It features four bedrooms and four bathrooms and was built all the way back in 1925.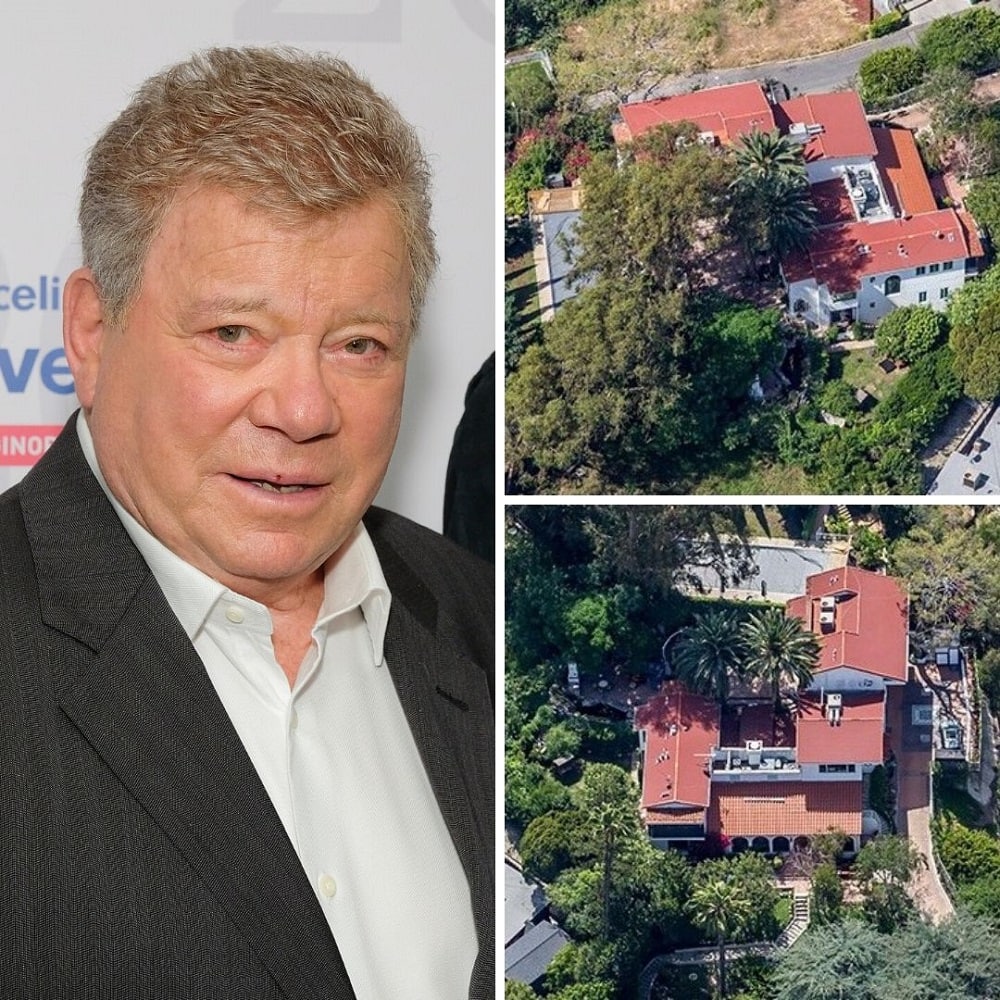 Loni Anderson – $2.435 Million, Sherman Oaks
Loni Anderson first achieved fame when she starred in the CBS show WKRP in Cincinnati. The home that this fame bought her isn't anything to scoff at either. It's located in Sherman Oaks and was valued at $2.435 million back in 2014. This massive home has 4,630 square feet of living space taken up by a master suite, six bathrooms, five bedrooms, and a media room. It also features additional amenities such as a saltwater pool, its three fireplaces, and a spa.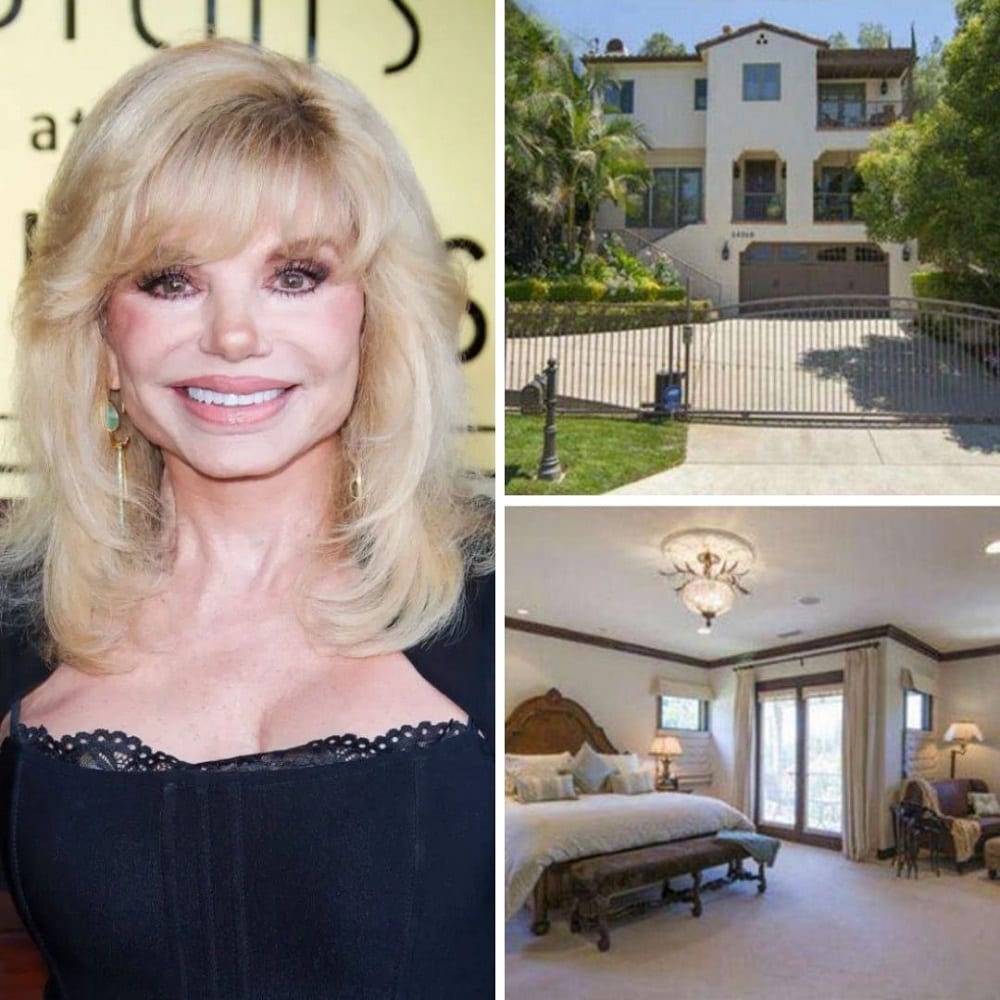 Richard Chamberlain – $19 Million, Maui
Richard Chamberlain has made his name as both a singer and an actor. His career started in 1958 and he's still active to this day. His first big role was as the lead actor in the TV series Dr. Kildare and since then he's been in other large roles such as The Bourne Identity. The first Jason Bourne spent part of his fortune on a Maui home worth an estimated $19 million. In full, it sprawls 8,674 square feet and features a half-acre of land. It has four bedrooms, three full bathrooms, and a half bath.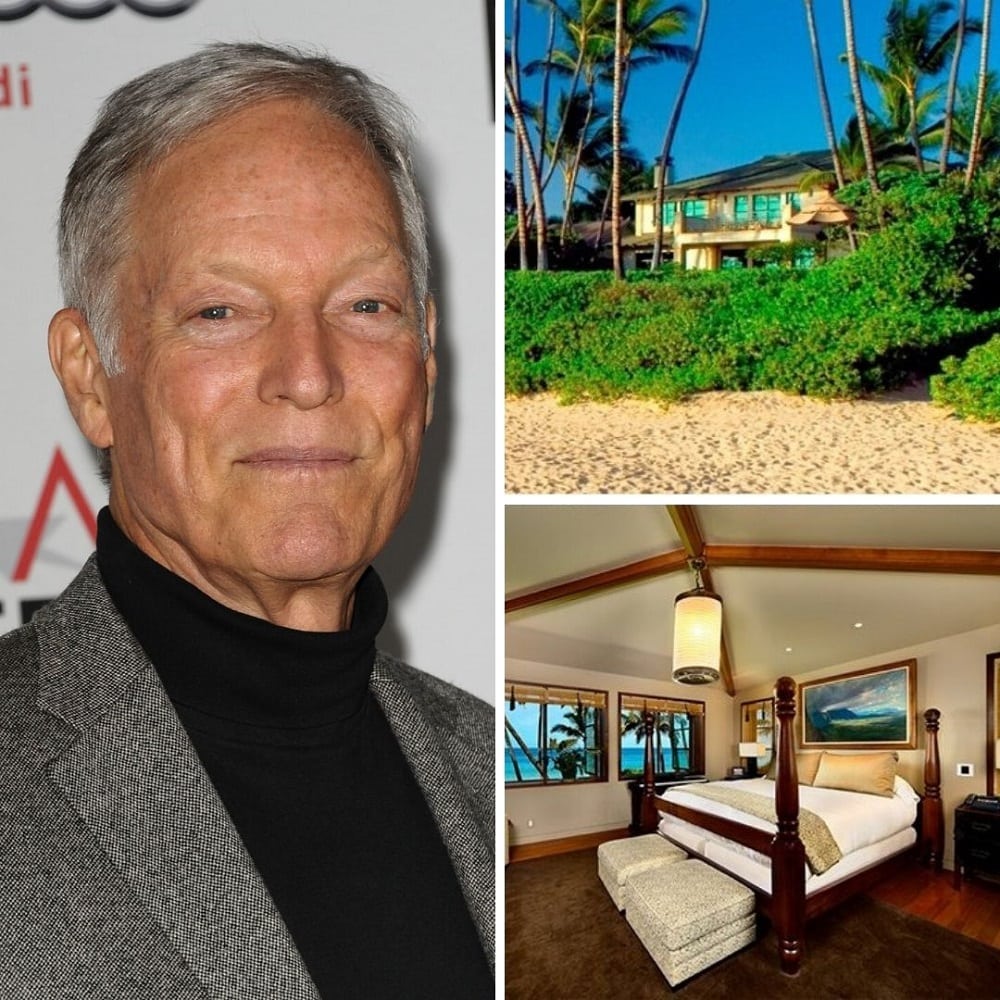 Harry Belafonte – $2.9 Million, New York
Nicknamed the "King of Calypso," Harry Belafonte has earned a place as one of the most well-known Jamaican-American artists there is. He's worked as a singer, songwriter, and actor. Most recently, you might have seen him in BlacKkKlansman in 2018. His beautiful home is a colonial in upstate New York in 100 acres of land. The artist actively owned it from the 50s to the 90s but put it on the market in 2019 for a whopping $2.9 million.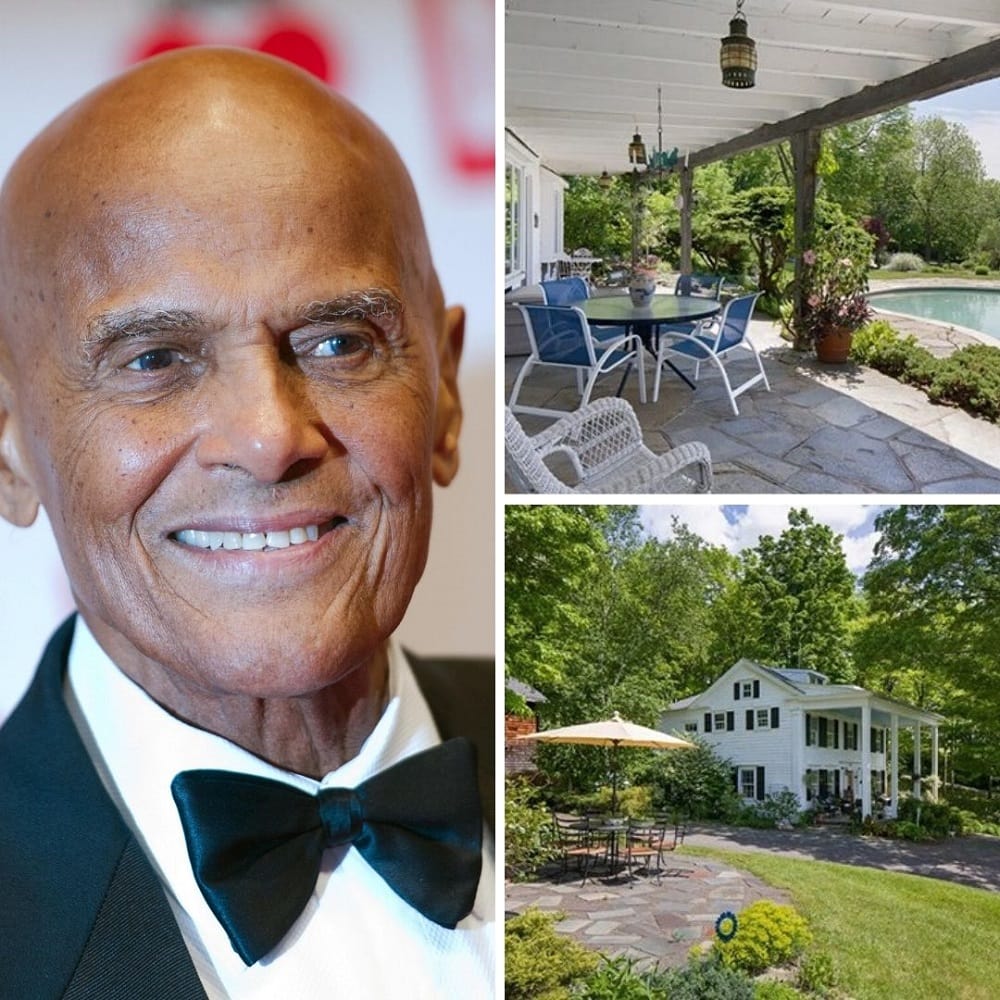 Loretta Lynn – Price Undisclosed, Hurricane Mills, Tennessee
Loretta Lynn is a giant figure in country music. She's been a staple in the industry after a plethora of album releases and six decades of consistent work. She's released a number of singles including "You Ain't Woman Enough (To Take My Man)" and "Coal Miner's Daughter." Her home in Hurricane Mills, Tennessee has been in her possession since the '60s. It features 52 rooms and sits only 73 miles outside of the country music hub of Nashville. The price is currently undisclosed.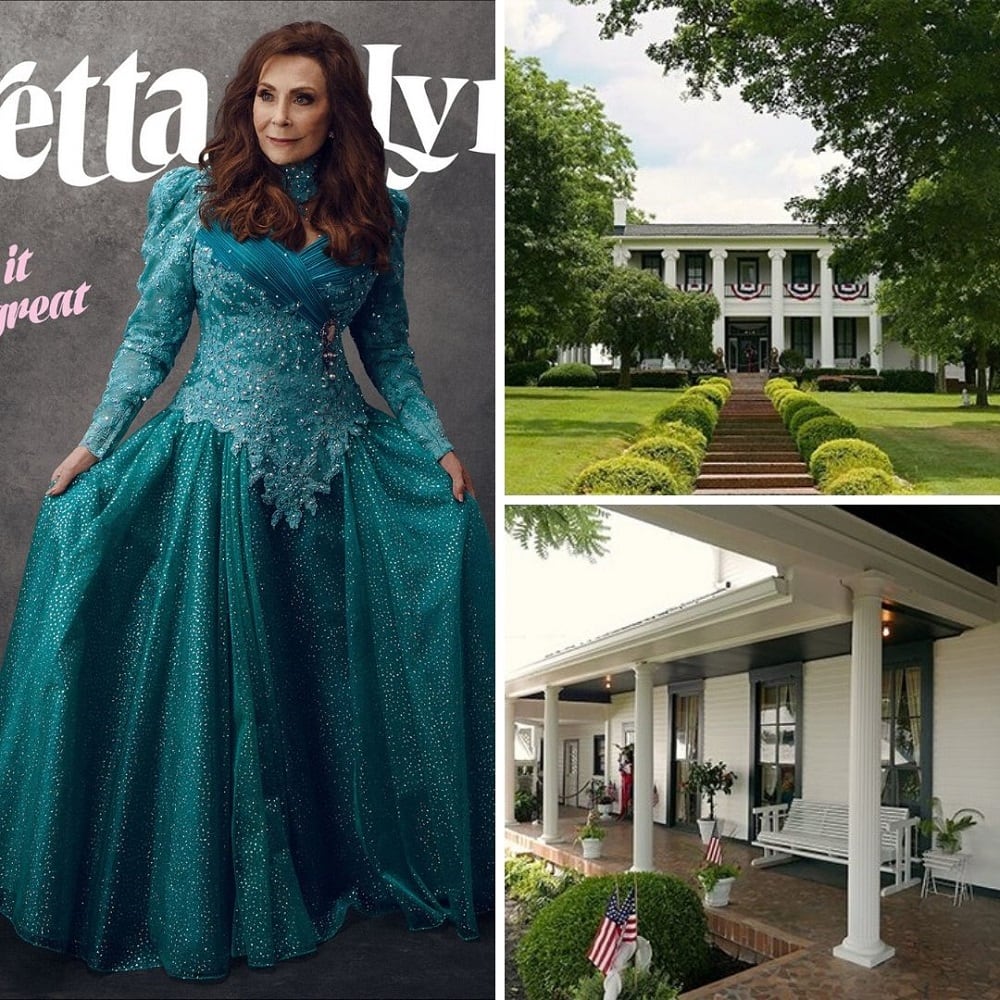 Billy Connolly – $4.75 Million, New York
This Glasgow native has earned his fame over the years as a stand-up comedian, actor, musician, and traditional artist starting in 1965. Stand-up fans can check out his comedy album titled Bill Connelly Live! but most recognize him from The Boondock Saints. Rather than the mansions and colonial homes we've looked at so far, Connolly opted for city life with a comfortable loft in Manhattan New York. The Fifth Avenue home went on the market and was sold in 2016 at the price of $4.75 million.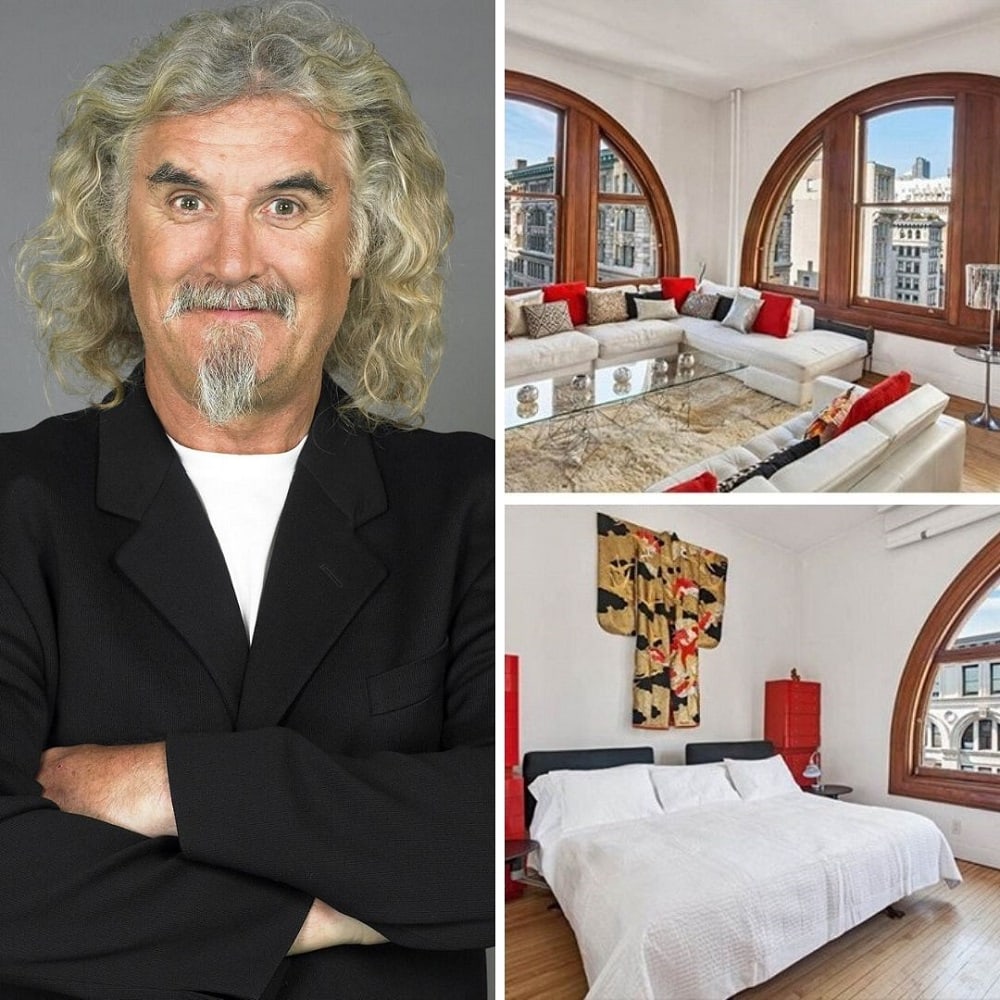 Angela Lansbury – Price Undisclosed, Cork, Coast of Ireland
Angela Lansbury is a triple threat as an actress with a long list of credits in TV, film, and theater. She's been acting since 1943 and has been in productions of The Picture of Dorian Gray, The Manchurian Candidate, and even lent her voice to animated films such as Beauty and the Beast and Anastasia. She owns a traditional farmhouse in Cork, off the coast of Ireland. While the price is undisclosed, we do know that it was personally designed by Lansbury's friend, Stephen Pearce.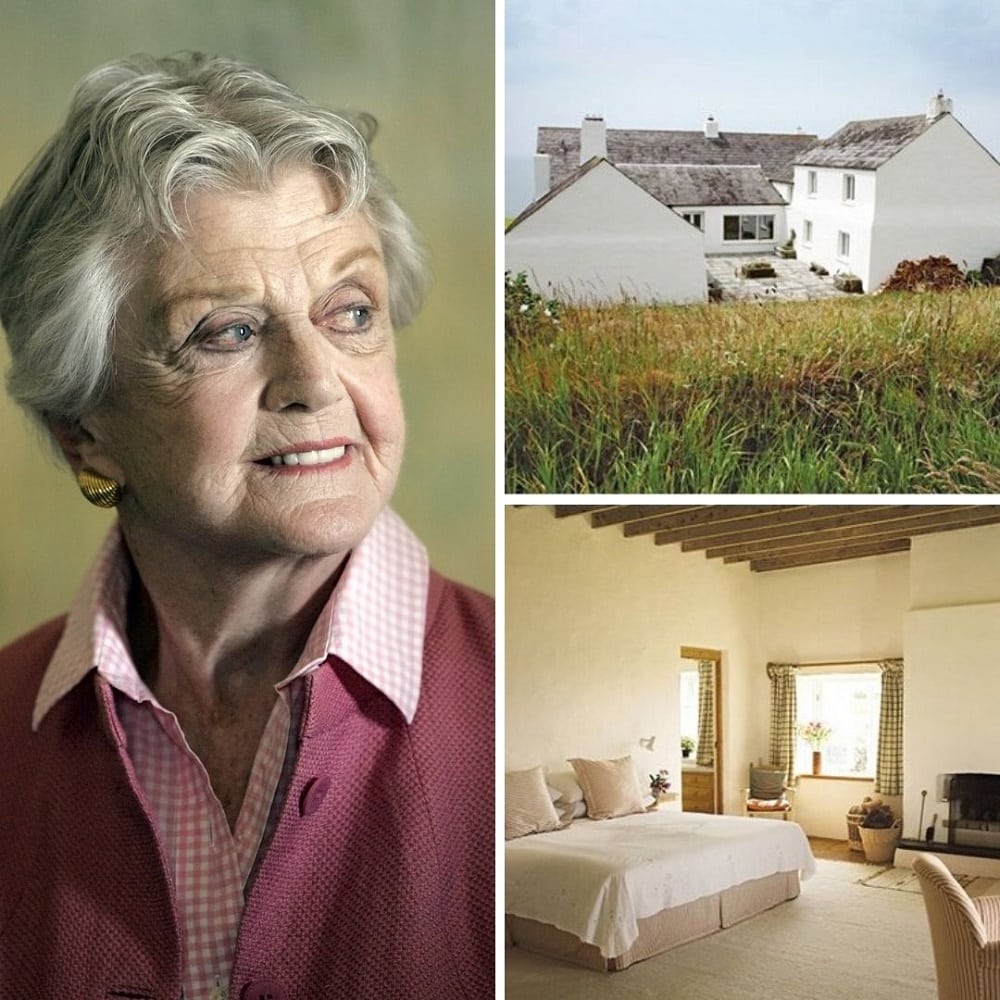 Jorge Ramos – $6 Million, Miami
Jorge Ramos serves as the host of two shows on Univision and is considered one of the most popular Spanish-speaking news anchors in the United States. He's been there to break plenty of big news stories, including coverage of the fall of the Berlin Wall in 1991. Not only does he have eight Emmys and multiple journalistic accolades, but he has a Miami mansion as well. It's reported to be worth $6 million and is well-guarded by wrought-iron fencing, shrubbery, and a 20-foot wall.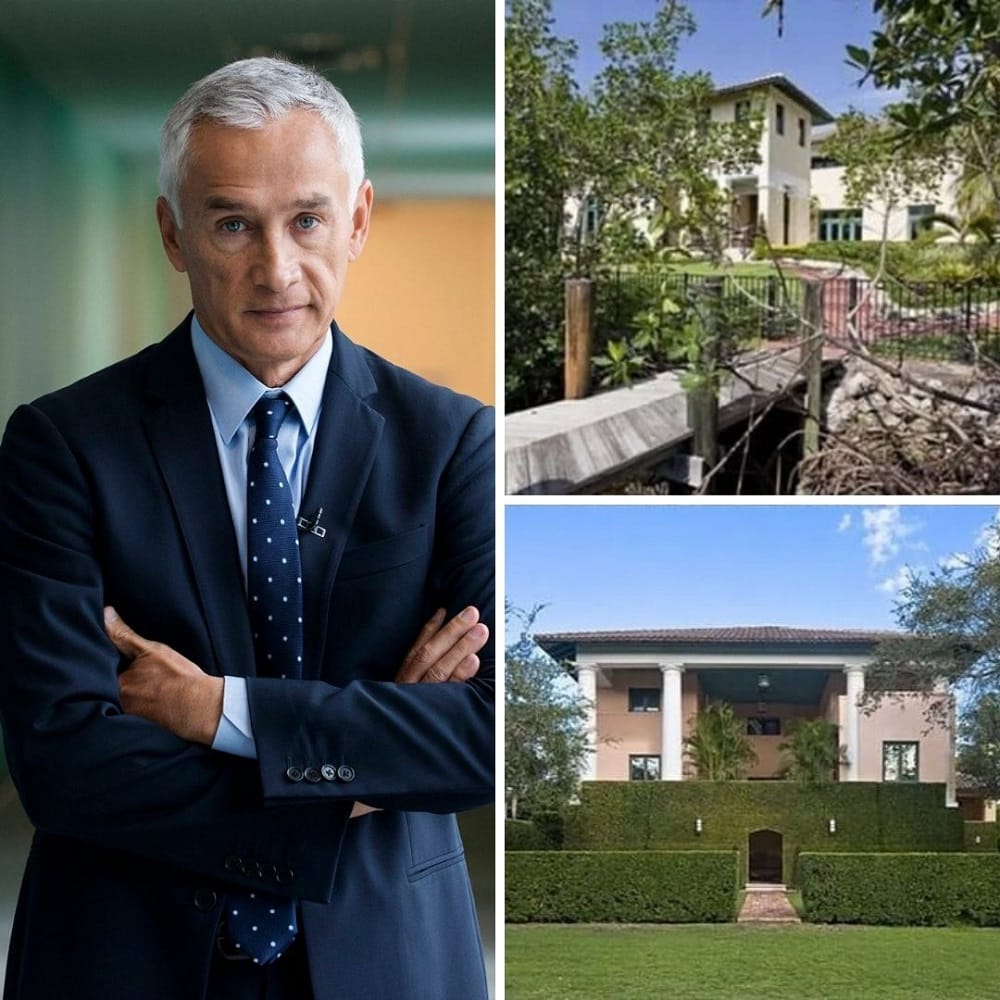 Linda Evans – $3.295 Million, Beverly Hills
Linda Evans officially retired from our screens back in 1997, but her career started 37 years earlier in 1960. One of her most famous credits was in the '80s soap opera Dynasty in which she played Krystle Carrington. The home she purchased was built in 1937 and had 3,900 square feet of living space. This included four bedrooms and five and a half bathrooms. When she sold it, she originally asked for $3.295 million but this later lowered to $2.7 million.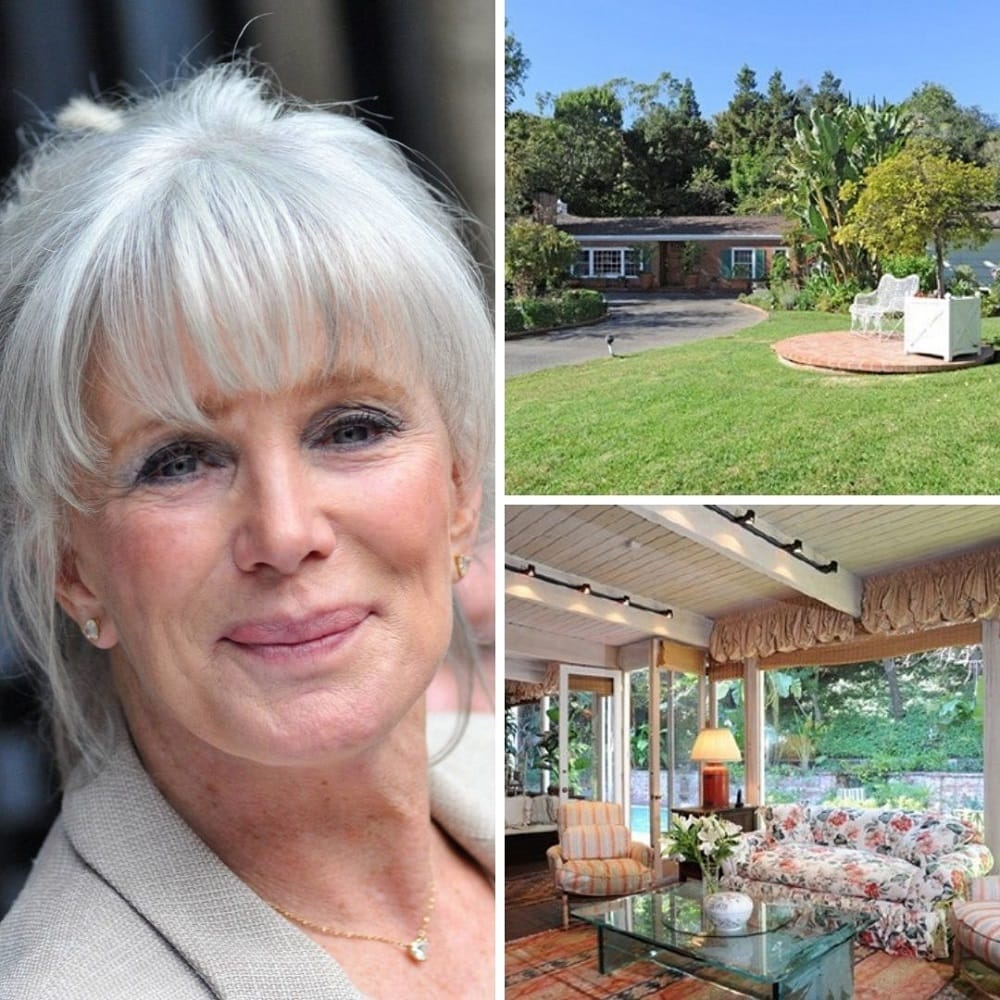 Jaclyn Smith – Undisclosed Price, Los Angeles
Jaclyn Smith is most often recognized for her role as Kelly Garrett when Charlie's Angels were brought to the small screen. Despite the fact that the exact price of her home is undisclosed, we can estimate that it's high based on its quality and her $90 million net worth. She originally bought it in the early '90s and committed to necessary renovations. It now features a tennis court, swimming pool, large private office, and a spacious backyard.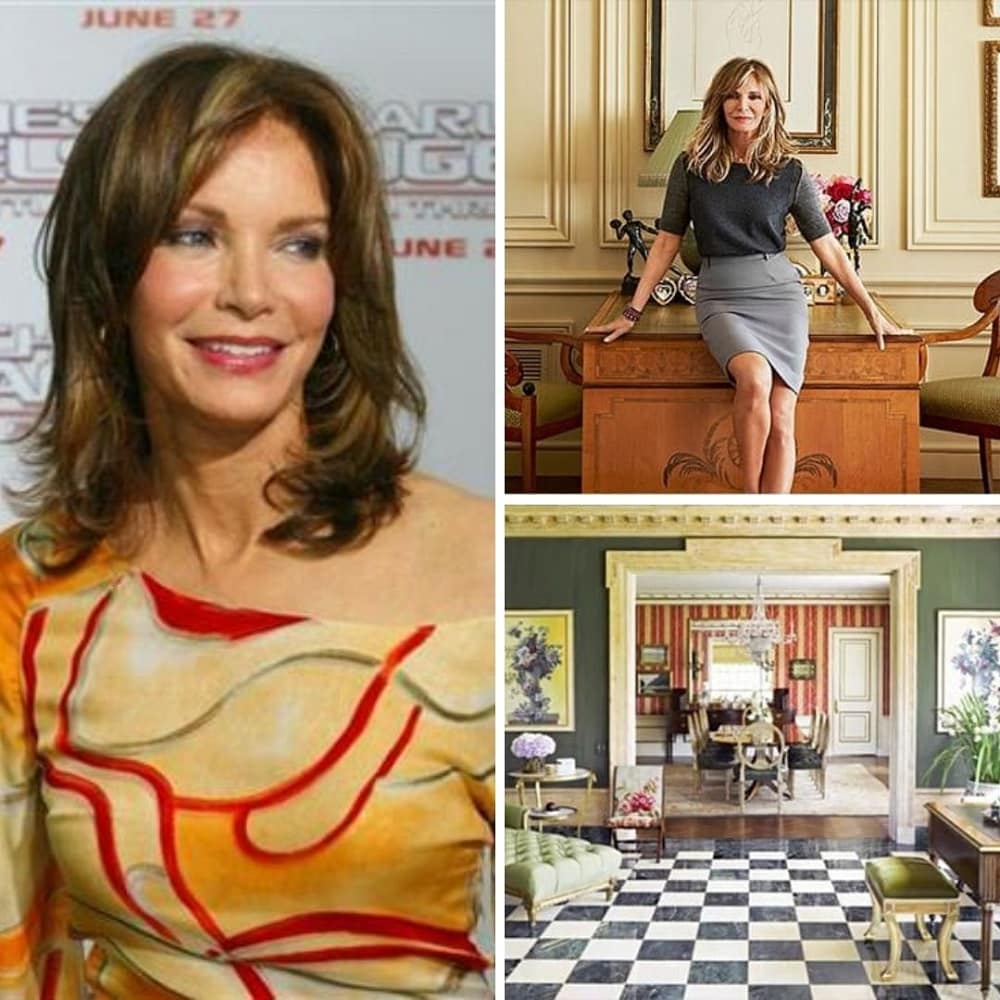 Elton John – $33 Million, Beverly Hills
Elton John is known to be an ostentatious presence, so it only makes sense that he'd have a lavish home to match. He and his husband, David Furnish, moved into their mansion in 2015 at a cost of $33 million. The home has everything they could ever need including 10 bedrooms, 10 full bathrooms, 12 half baths, 9 fireplaces, a gym, a wine cellar, a screening room, a family room, and a garage big enough for 11 cars.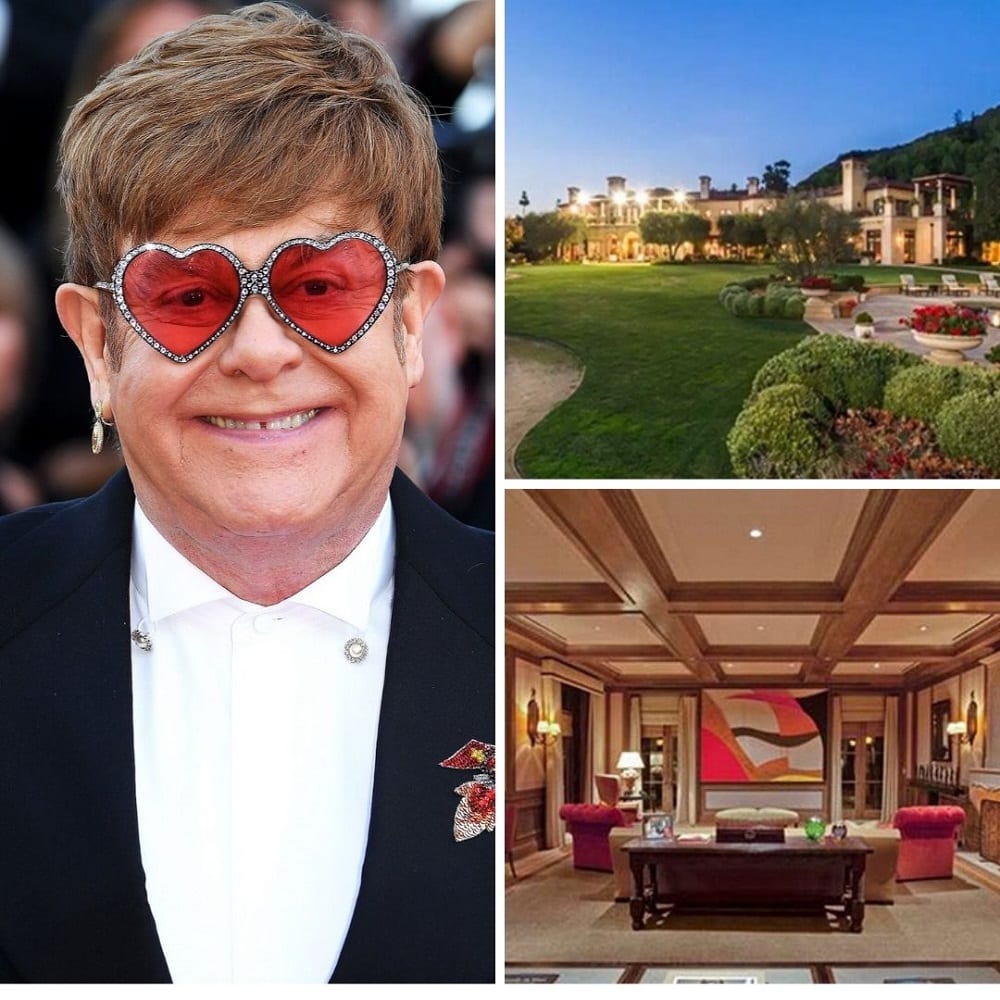 Ted Nugent – $1.4 Million, Texas
Ted Nugent is a well-known country musician and even had a tour titled The Music Made Me Do It Again! as recently as 2019. With a net worth of $20 million, he and his wife Shemane Deziel own several properties, including this one in Waco, Texas. The home was purchased from someone named Allen Samuels for $1.4 million dollars and it has three bedrooms, four bathrooms, and an outdoor pool on the sprawling grounds.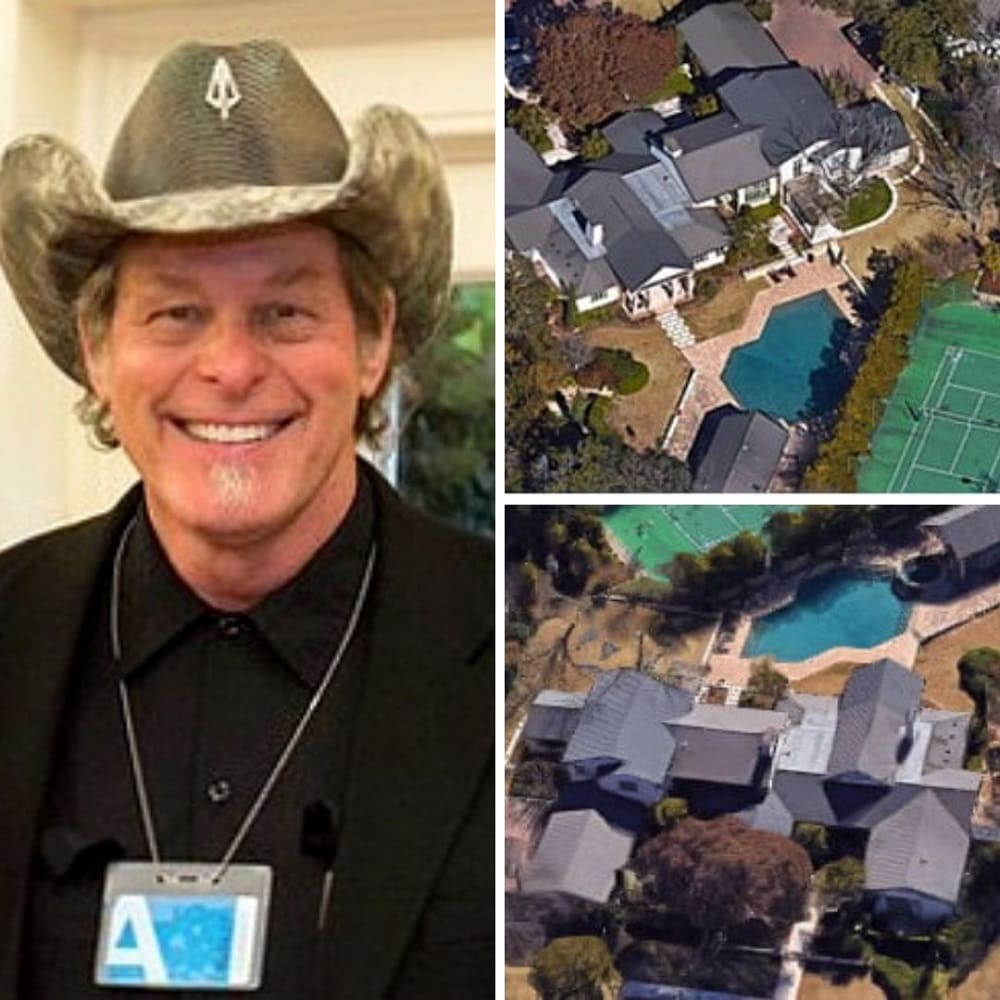 Bob Newhart – $14.5 Million, Texas
Bob Newhart has made a name for himself both as an actor and as a standup comedian. He first made his debut with comedic monologues such as "The Button-Down Mind of Bob Newhart" but he's also been in roles in Elf, The Librarians, and Newhart. He had a beautiful Bel Air home that he listed in 2016 at a price of $14.5 million. However, the house was later razed and the lot was relisted as empty for a whopping $26 million.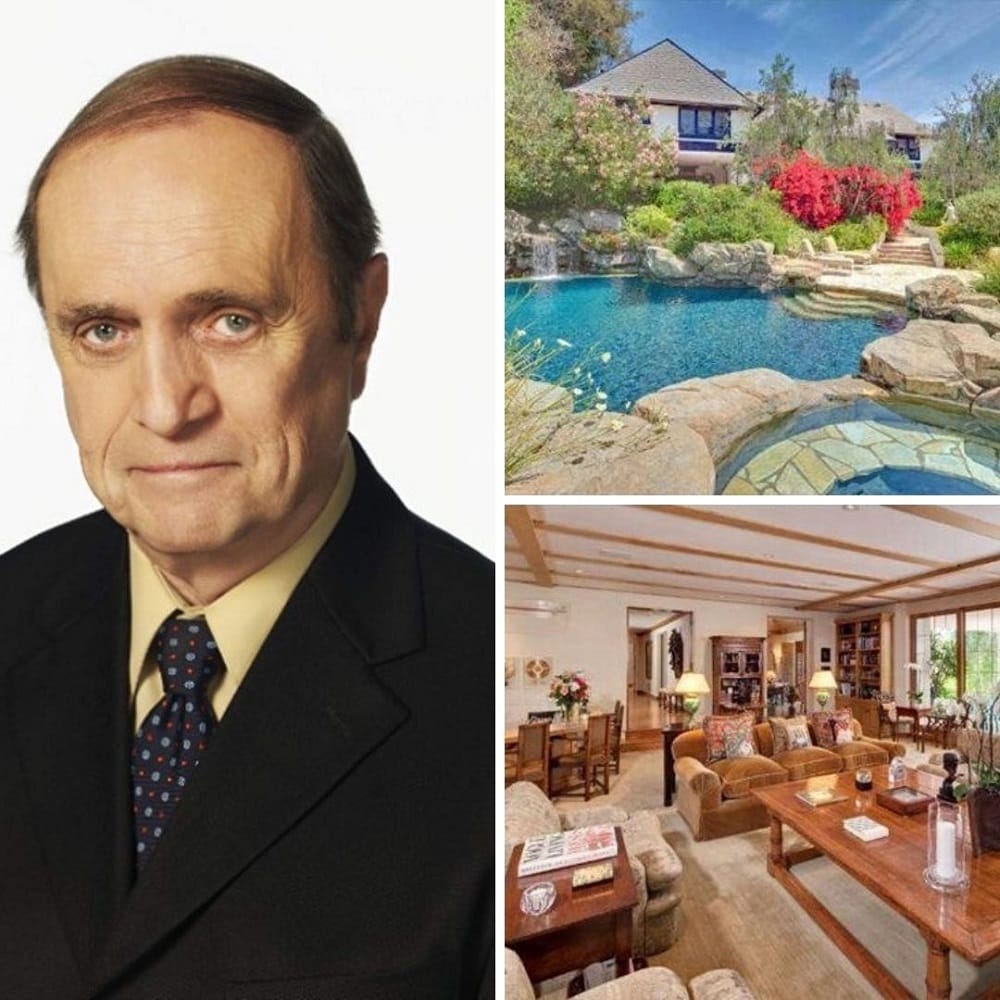 Robert Conrad – $1.75 Million, Bear Valley
With 50 years of experience under his belt, Robert Conrad retired in 2002 after being active since 1957. He worked as an actor and stuntman with credits such as High Sierra Search and Rescue, Baa Baa Black Sheep, and Dead Above Ground to his name. It was during his time filming High Mountain Rangers that he bought this rustic luxury retreat in Bear Valley in the '80s. He reportedly sold the house in 2014 for $1.75 million.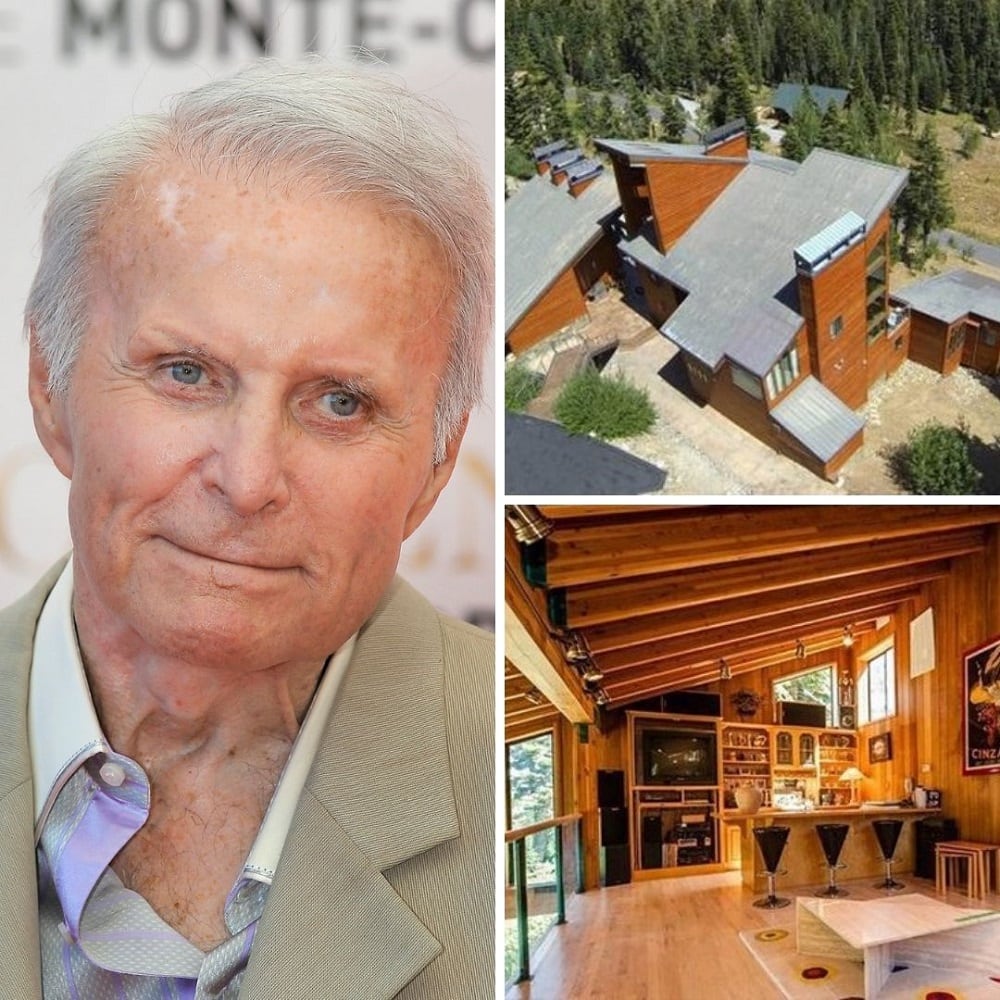 Patrick Wayne – Price Undisclosed, Toluca Lake, California
Patrick Wayne is the son of the Hollywood legend John Wayne, and he decided to follow in his father's footsteps to carve out an acting career of his own. He retired from our screens in the late '90s, though, with a final appearance in Deep Cover. He bought his Toluca Lake home for an undisclosed amount and since Wayne is known to be a private man, we don't know much about the interior either. However, we do know that the home boasts a sizable swimming pool.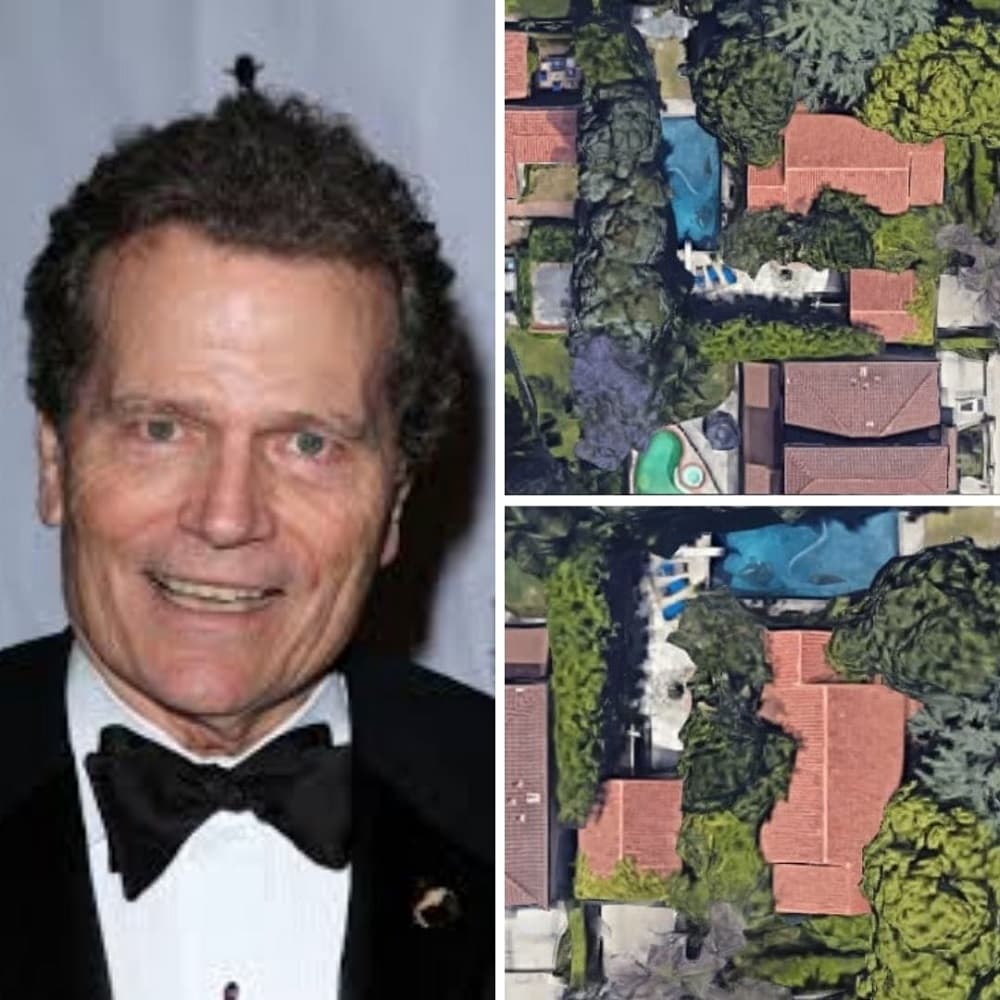 Roger Taylor – $10.43 Million, Surrey
Roger Taylor rose to prominence as a star musician and drummer of the famous rock band Queen, which tours to this day despite the loss of frontman Freddie Mercury in 1991. The mansion is fit for a rockstar and includes a massive garage and an indoor swimming pool. Taylor called the mansion home for over two decades. While he moved out a while back, we can get a modern estimate of the property from the $10.4 listing from the most recent owners.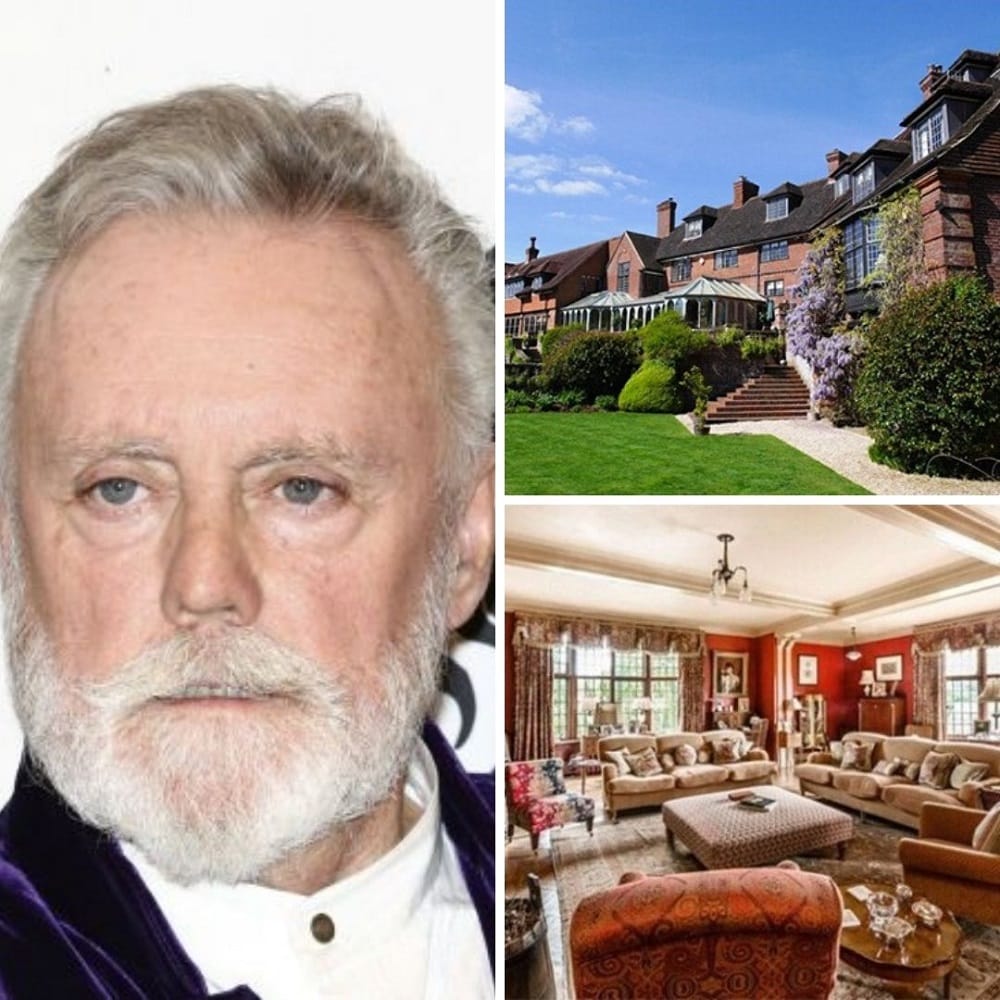 Russell Crowe – $40 Million, Sydney
Russell Crowe is an awarding-winning Hollywood actor and the proud owner of a waterfront home in Sydney, Australia, known simply as Berthong. The property is located on Elizabeth Bay in a suburb off the harbor in the eastern region of Sydney. The home includes five bedrooms, six bathrooms, and calls on 19th-century Victorian stylings in its architectural design. The villa sold in 2003 for $11.5 but the asking price from the most recent tenant is $40 million.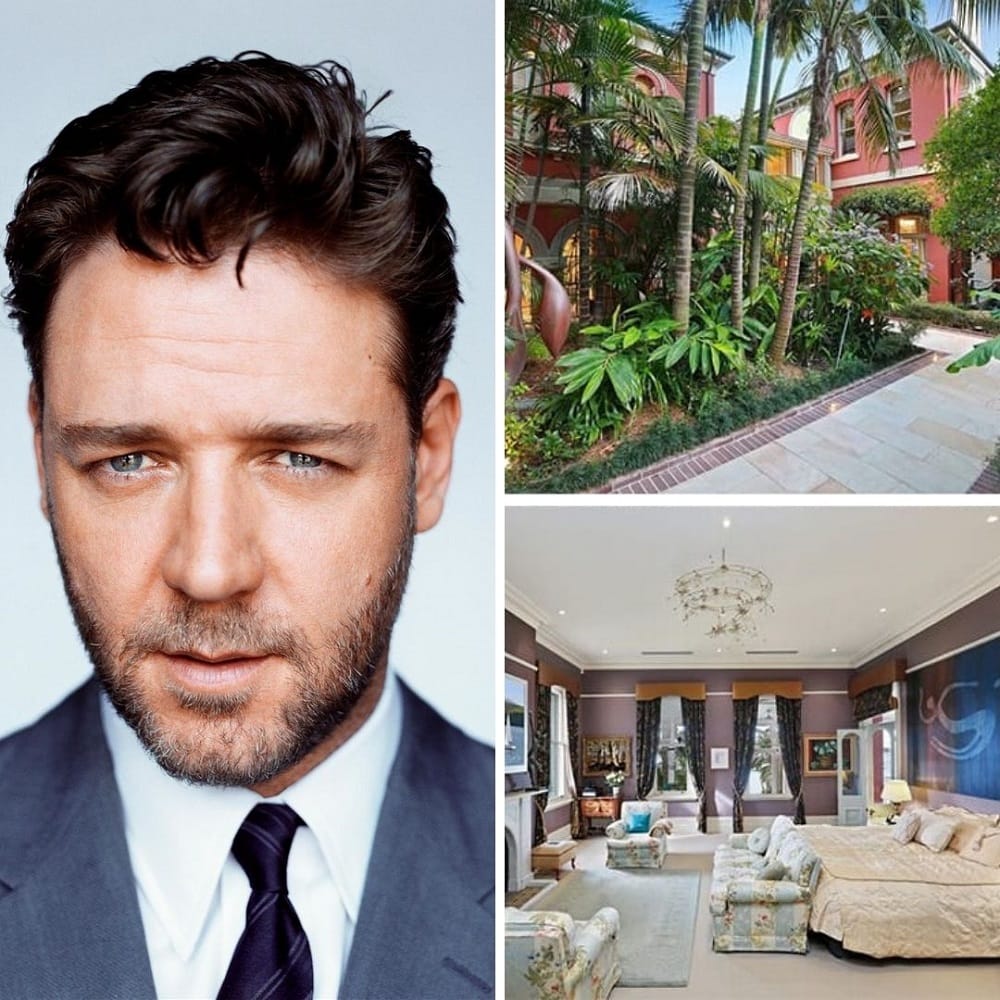 Bob Barker – Price Undisclosed, Los Angeles
Bob Barker is most recognizable from his time as a TV host; that was his main profession from 1950 until his 2007 retirement. Most viewers recognize him from The Price is Right, which he hosted for a stunning 35 years from 1972 until 2007. His home in Los Angeles isn't only beautiful, it was declared a historical as well as cultural monument in 2000. Built in 1929, his estate is 2,000 square feet and features four bedrooms as well as maids' quarters.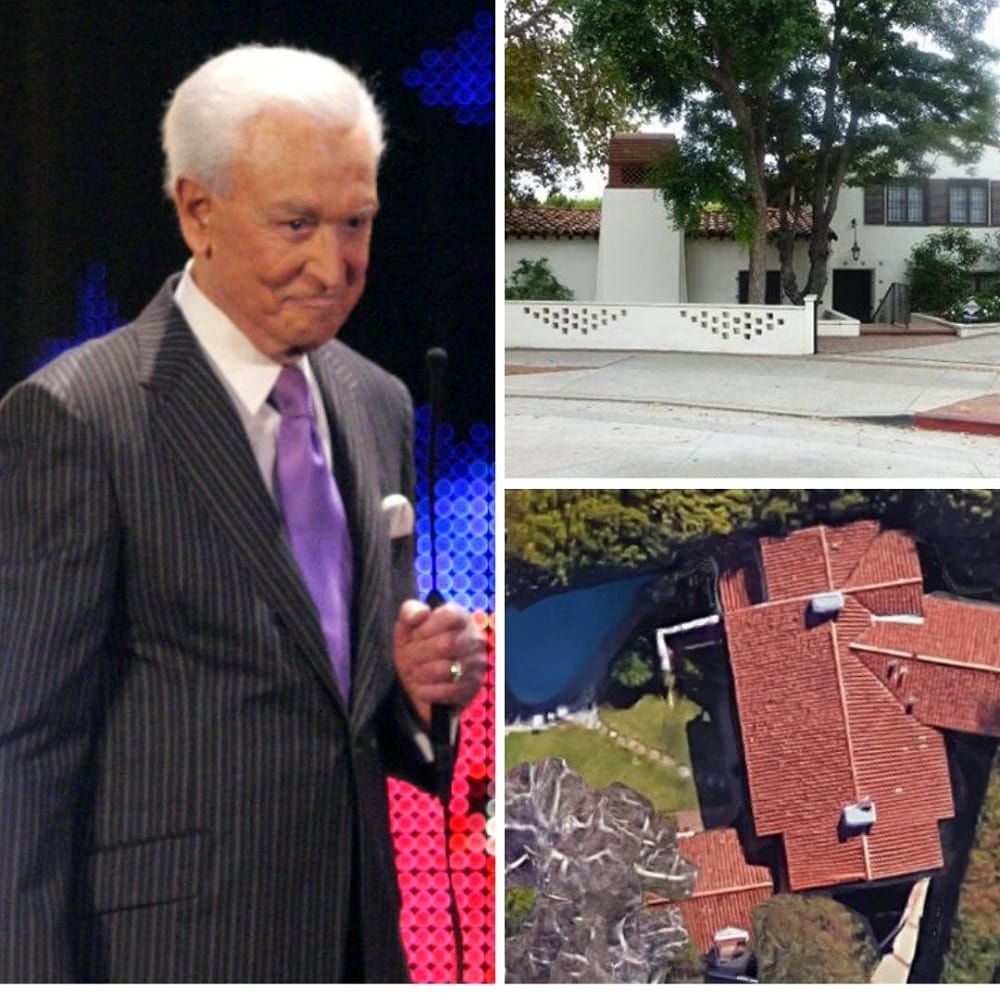 Paul Hogan – $9 Million, Malibu
Paul Hogan earned his limelight in Hollywood as an actor, and most fans recognize him from his role in the Crocodile Dundee franchise. However, he also appeared in films like Charlie & Boots, Lightning Jack, and Flipper. Between 2009 and 2015, he added standup to his repertoire and toured regularly. Until 2013, he had a mansion in Malibu. Liam Hemsworth bought the home at the time for $4.8 million but has since listed it again for $9 million.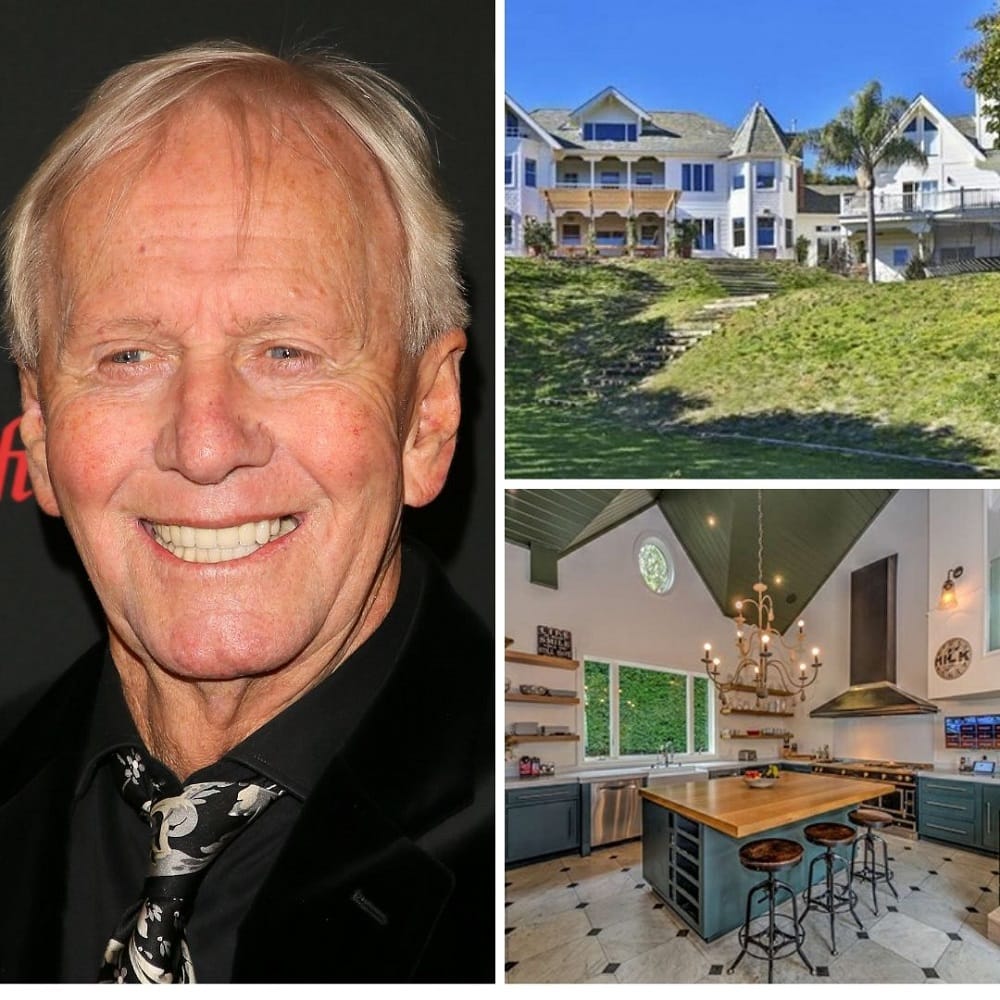 George Hamilton – $1.2 Million, West Palm Beach, FL
George Hamilton bought this modern home in 2008. The house is 1,797 square feet and has features such as white glass tiling, two bedrooms, two bathrooms, two balconies, a wine cooler, a built-in coffee maker, and a European-style kitchen. It also had multiple big-screen TVs with additional sound systems and game setups. He bought it for $525K and only had the home for a year. During this time, he renovated the home and relisted it for $1.2 million in 2009.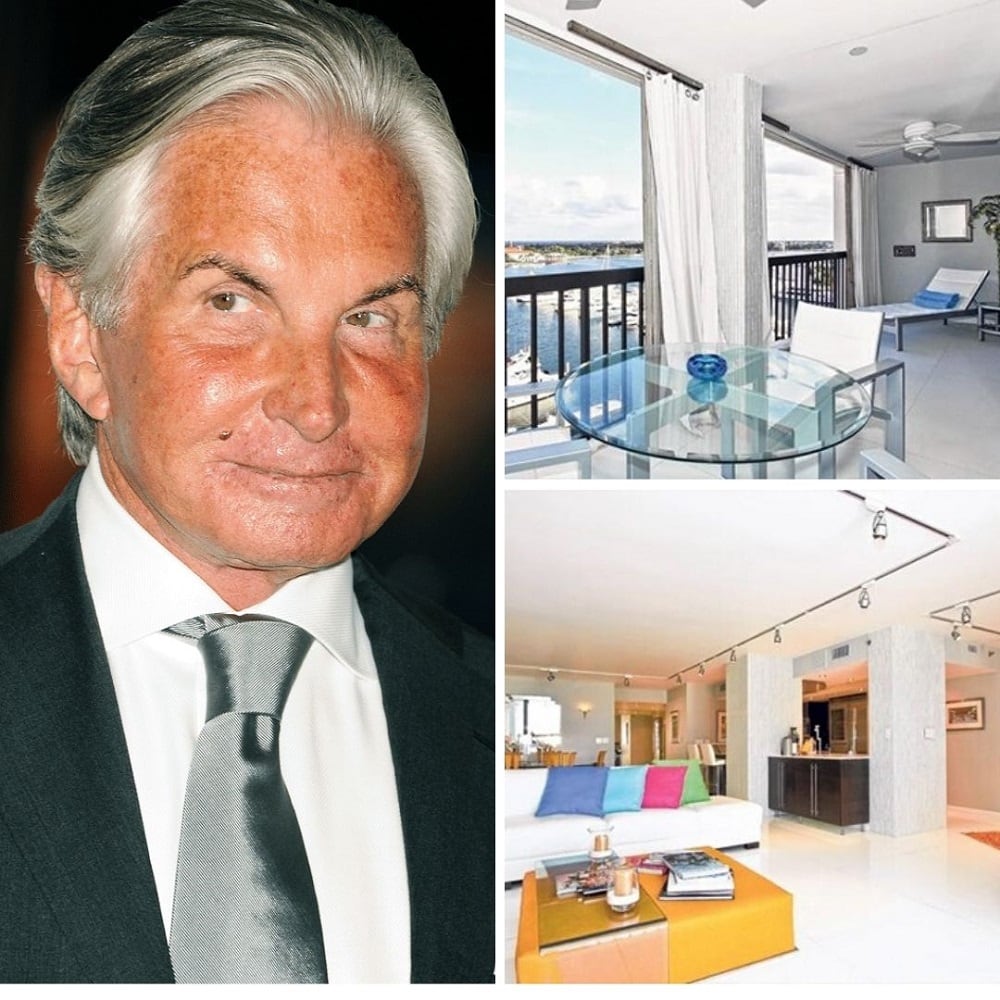 Faye Dunaway – $1.45 Million, West Hollywood
Born in 1941, Faye Dunaway started her star-studded career in 1962. With Oscars and Golden Globes as just a few accolades behind her name, the actress is best known for her roles on Network, Chinatown, Mommie Dearest, The Rules of Attraction, The American Connection, and Bonnie and Clyde. She lived in this stunning 1929 West Hollywood home for a while but recently listed and sold it to a new owner for the steep price of $1.45 million.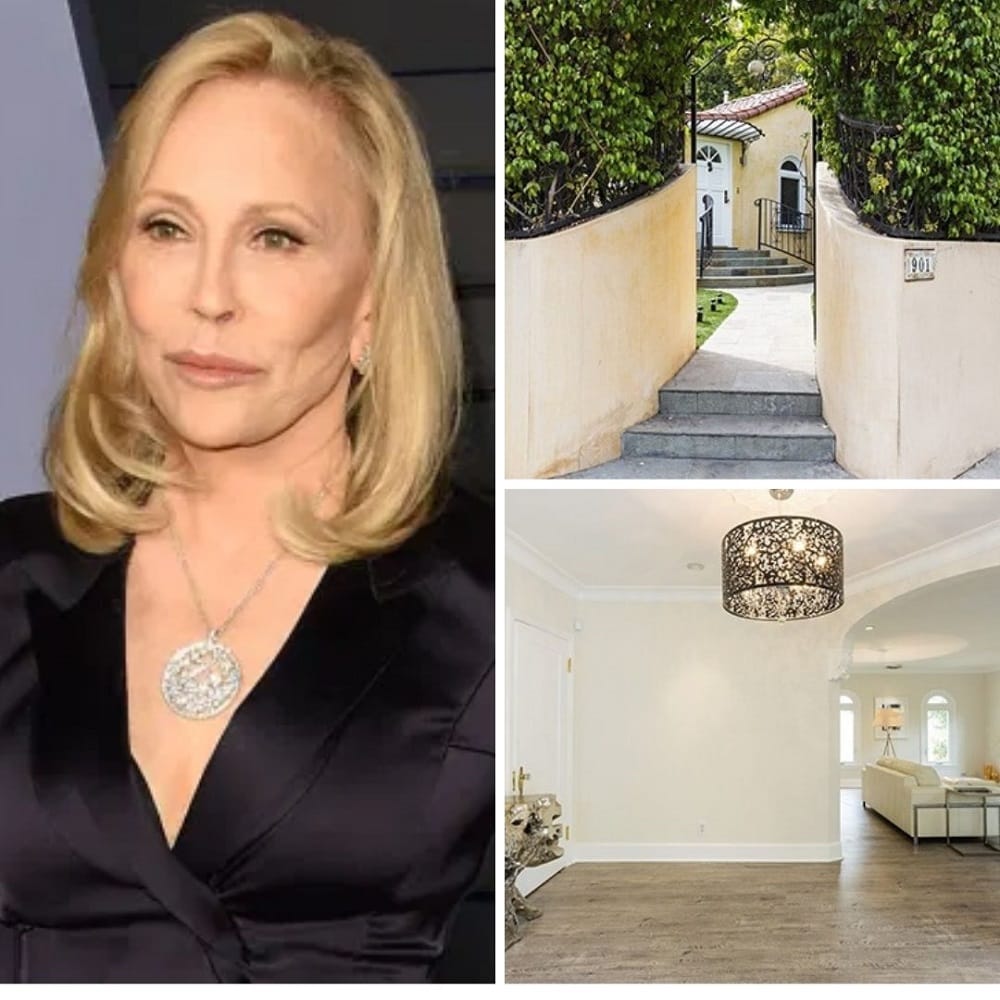 Shirley MacLaine – $18 Million, New Mexico
Shirley MacLaine took an interesting approach to selling her 7,450-acre New Mexico ranch home. Unsure of how much to sell it for, the actress turned to psychics rather than real estate experts who suggested a $30 million price tag. Yet, the actress lowered the number to $18 million after referring to numerology. The property is powered by renewable energy, has a 10,000-square-foot home, greenhouse, stone labyrinth, and – according to MacLaine – frequent UFO visitors.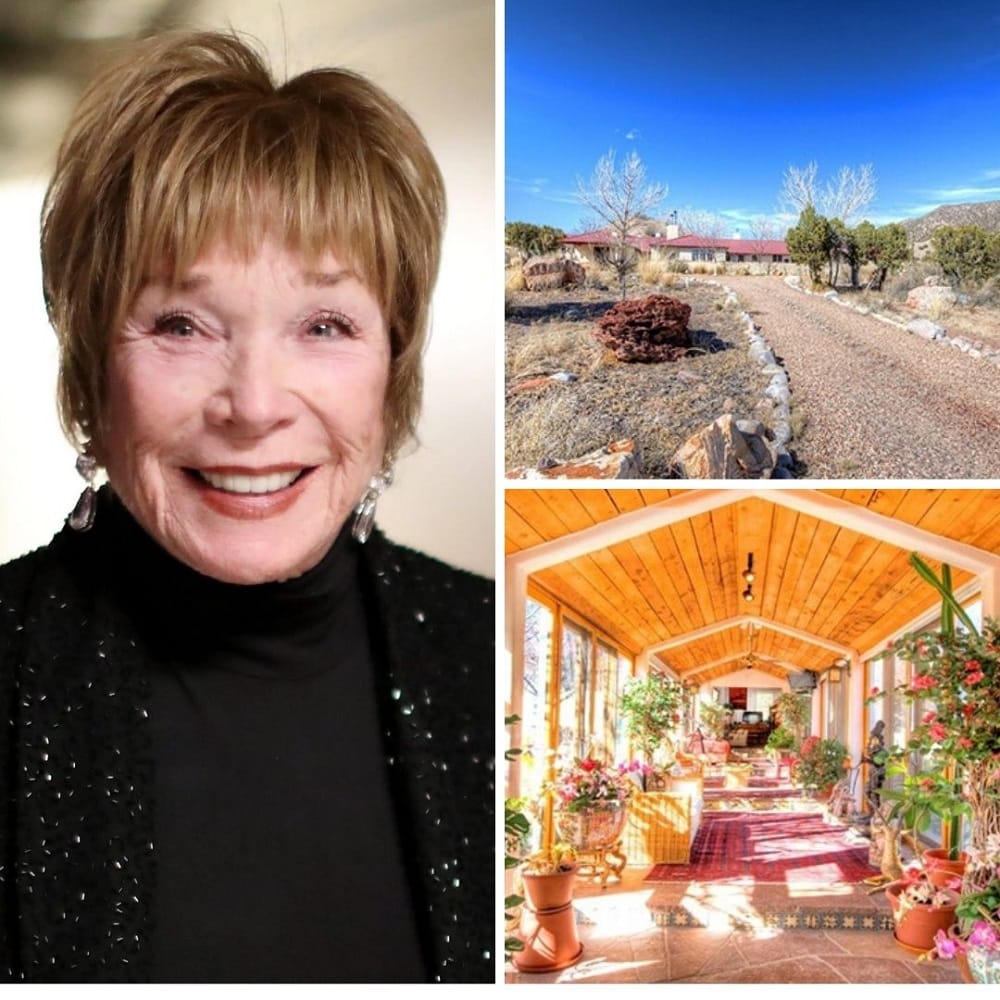 Judd Hirsch – $1.56 Million, Studio City
Judd Hirsch's career started in 1959 and is best known for his role in the sitcom Taxi. He's also appeared on-screen in roles such as NUMB3RS, Dear John, Independence Day, A Beautiful Mind, and Law & Order: Special Victims Unit. The actor purchased a 2,400-square-foot home in Studio City with two bedrooms and two and a half baths with an approximate worth of $1.56 million. As of now, Hirsch hasn't put the house on the market.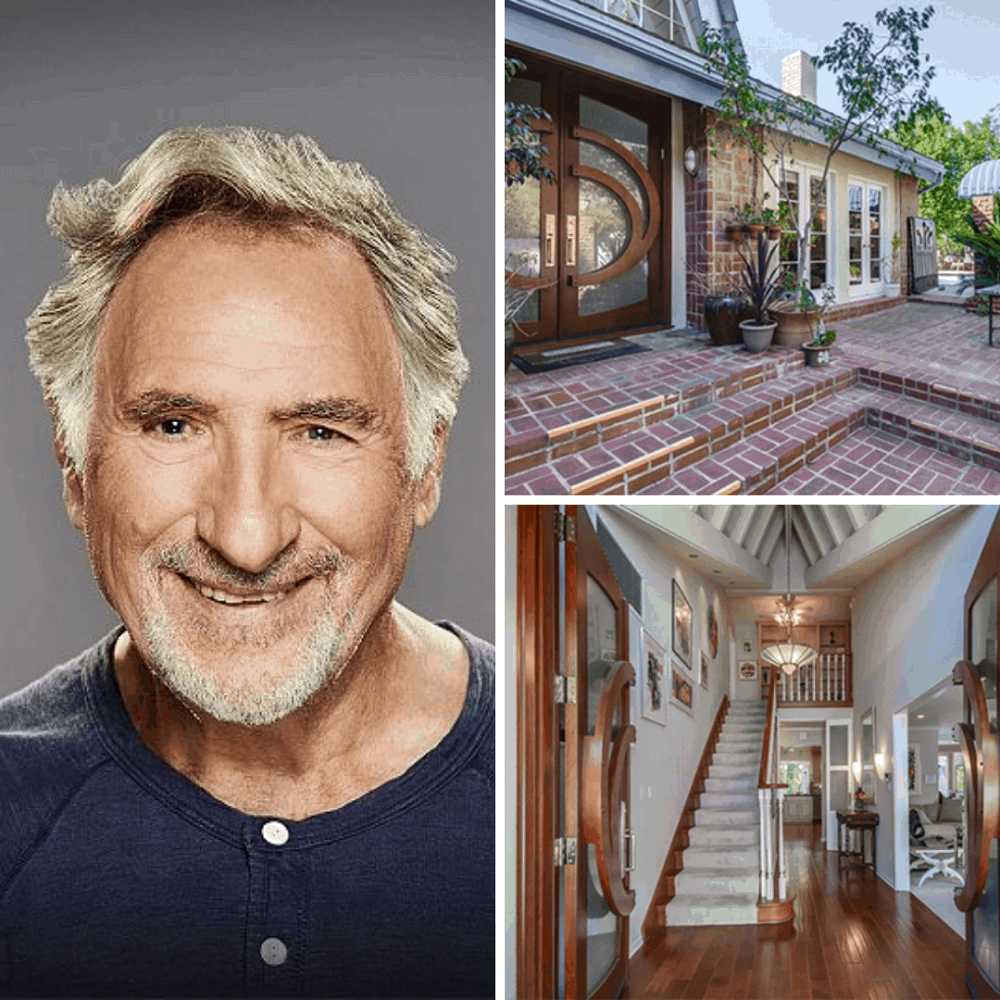 Ursula Andress – $2.28 Million, Beverly Hills
Ursula Andress was born in 1936 and started her career in 1957. Her final appearance before her retirement was in 2005 in The Bird Preachers. Some of her earlier work includes The Mountain of the Cannibal God, The 10th Victim, and The Southern Star. Until 2017, she owned this beautiful home in Beverly Hills. That was when she sold it for a pretty price of $2.995 million, but it was put back on the market later that year for $2.28 million.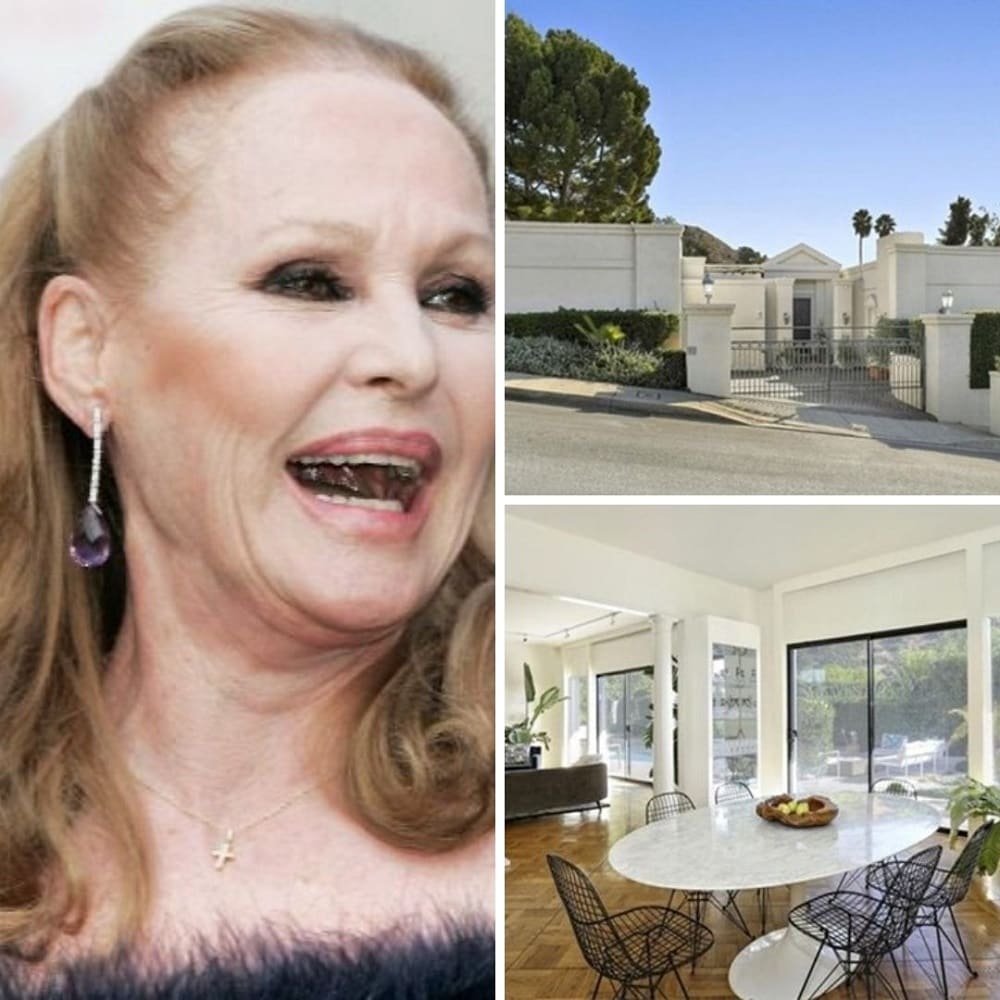 Rita Moreno – Undisclosed, Bay Area
Rita Moreno has been an active member of the Hollywood scene since her debut in 1943. She's best known for her roles in West Side Story, The Electric Company, The King and I, and Oz. The actress has also made appearances in Six Dance Lessons In Six Weeks and Where On Earth Is Carmen Sandiego? Her home in the Bay Area has a total of 5,500 square feet and features contemporary decor. For now, the exact value of the home is undisclosed.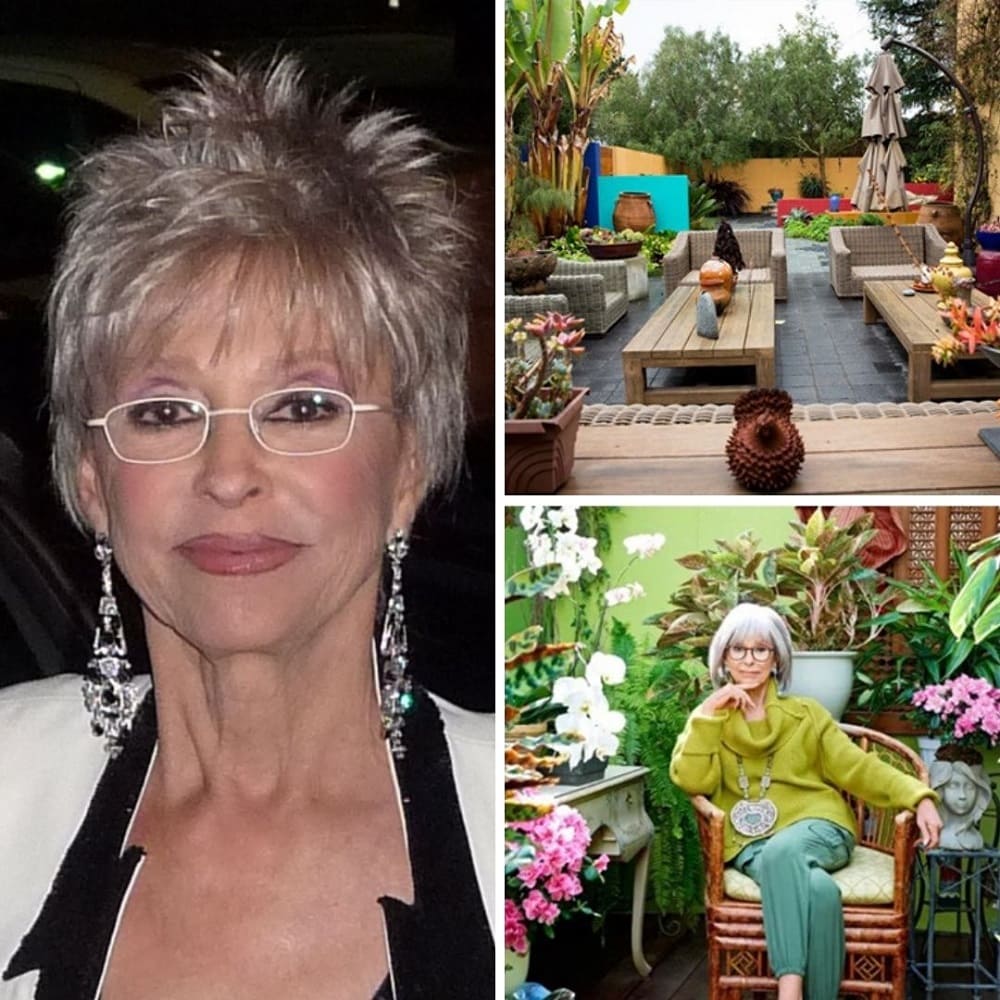 Nick Nolte – $8.25 Million, Malibu
Nick Nolte started out as a model before he transitioned into his acting career in 1969. He's starred in notable works such as Rich Man, Poor Man, Winter Kill, and Gangster Squad. He even earned Oscar nominations for roles in Warrior, The Prince of Tides, and Affliction. More recently, he took a 2018 role in Head Full of Honey. His mansion in Malibu is reportedly worth $8.25 million. Within its 6,006 square feet of living space, there are four bedrooms and four bathrooms.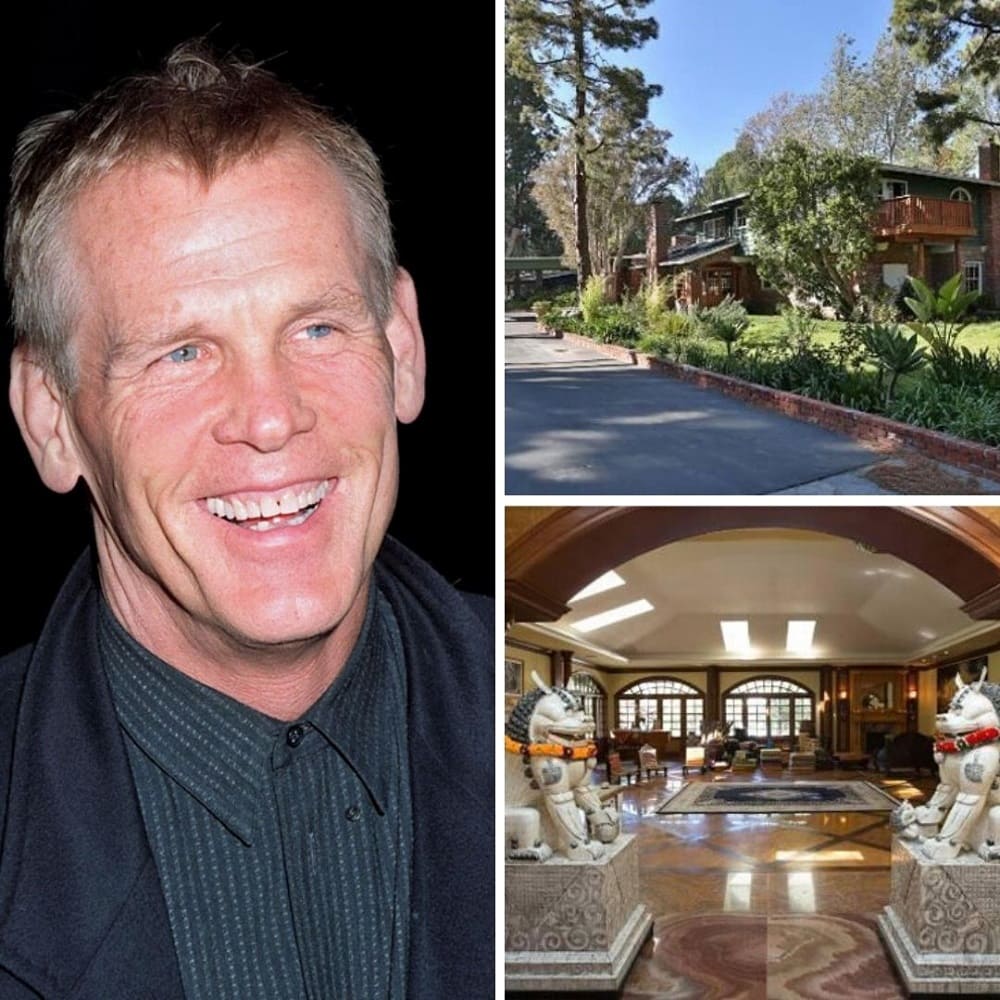 Bob Eubanks – $1.982 Million, California
Bob Eubanks is a TV personality best known for his long run hosting The Newlywed Game. He and his wife, Deborah James, owned a Normandy-style home in California until they put it up for sale for $2.66 million. The home features 5,000 square feet of land, four bedrooms, an office, five and a half baths, a pool, and is completed with stone walkways and breathtaking fountains. Unfortunately, the house didn't sell and was re-listed for $2.595 million. Eventually, a buyer snagged it for $1.982 million.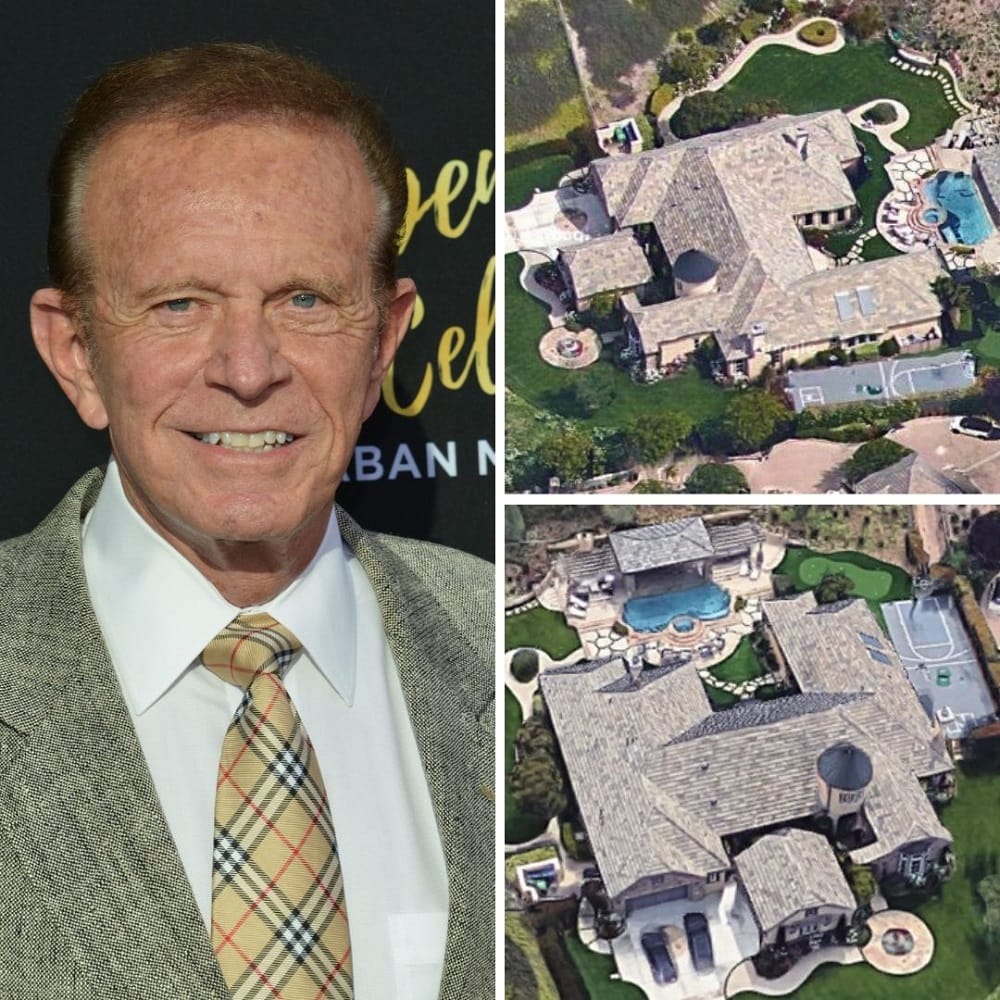 Jill St. John – $15 Million, Old Oak Road, Brentwood, CA
Jill St. John started her career early in 1949 when she was only nine years old. She took a hiatus from the spotlight in 2002 but returned to grace our screens in 2014. Her most recognizable credit by far is as Tiffany Case in Diamonds Are Forever but she's also had roles in Who's Minding the Store?, Tony Rome, and The Calling. She and her husband Robert Wagner sold their Brentwood home for $15 million in 2007. With six bedrooms, a separate guest house, and five bathrooms, the home boasts 4,556 square feet of living space.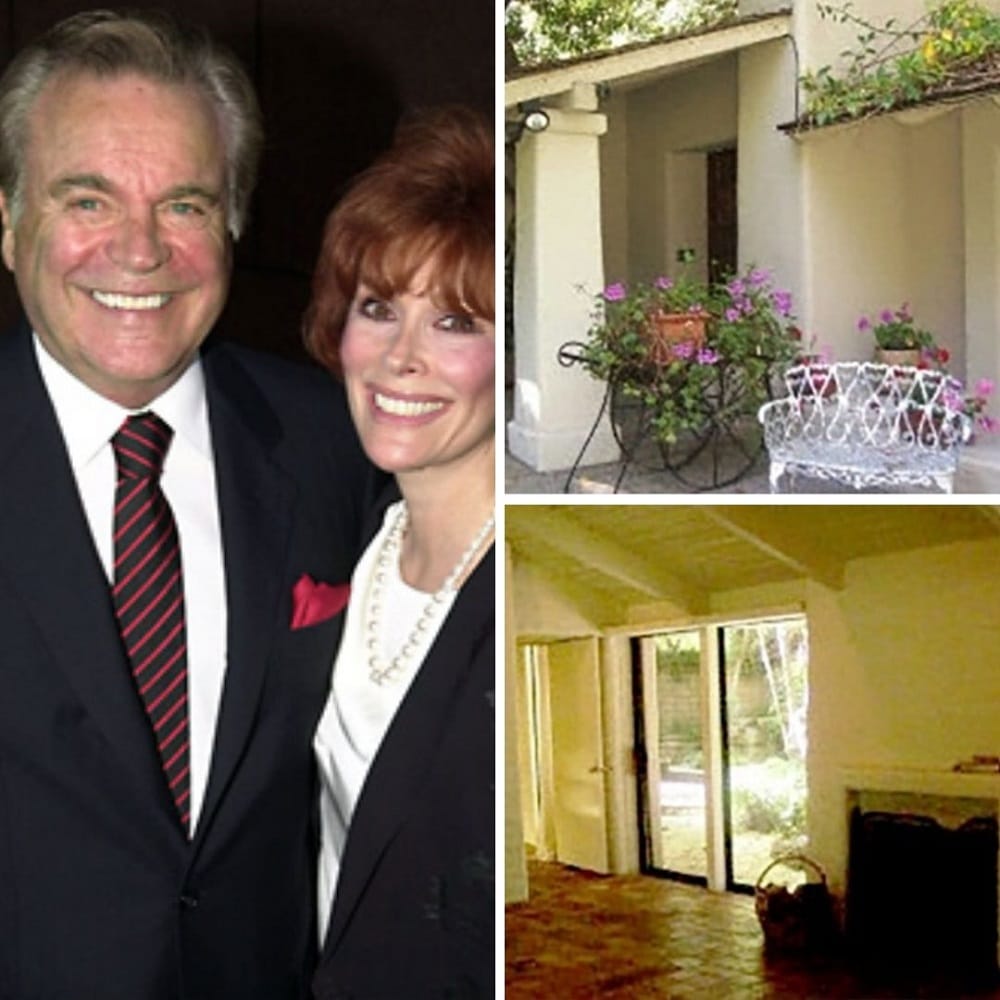 Christopher Lloyd – Undisclosed, Montecito
Comedian and actor Christopher Lloyd started his career in 1961, and he's been seen on the screen in recent years as well. His career started with a role in One Flew Over the Cuckoo's Nest but is easily most recognizable in his role as "Doc" Brown in all of the Back to the Future movies. His Montecito home doesn't have a public price tag, but it's in the same neighborhood where he sold a home and downsized in 2008. Unfortunately, it reportedly perished in a 2008 wildfire.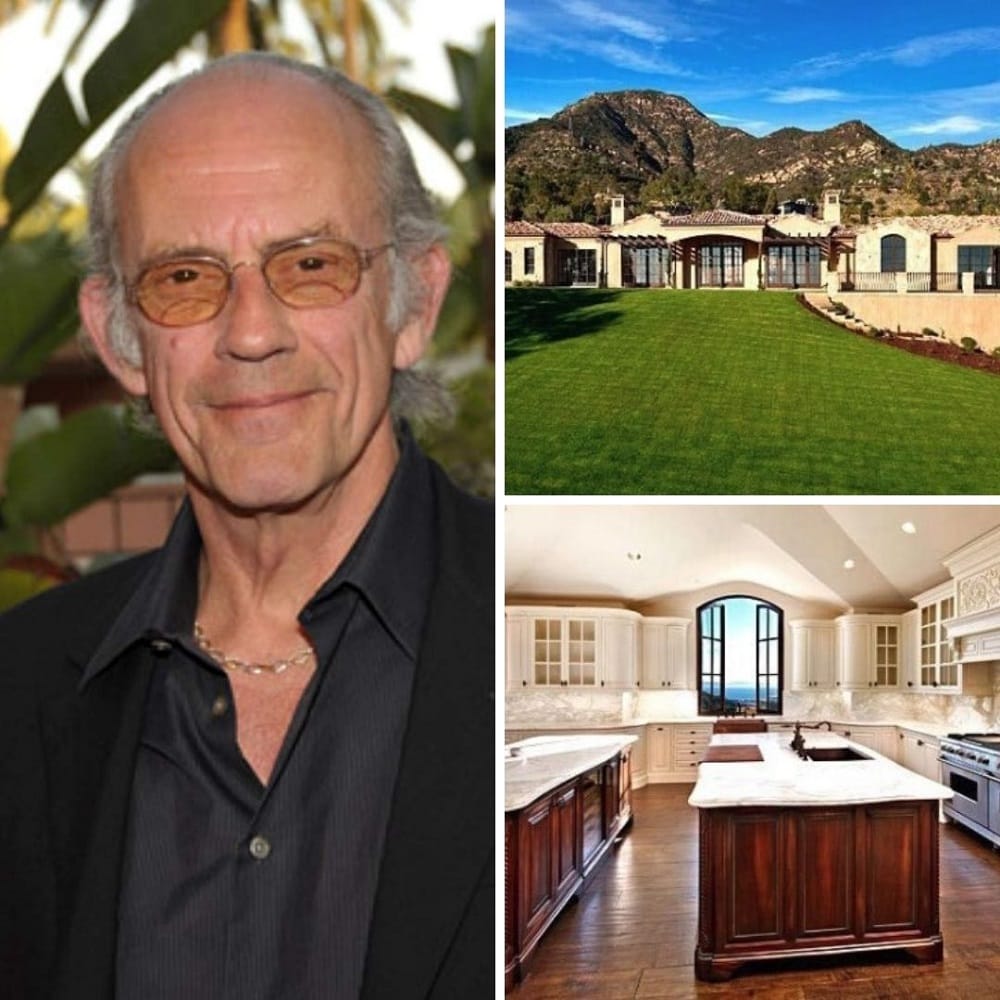 Sally Field – $7.9 Million, Malibu
Sally Field started her long career in 1962 and gained momentum for roles in shows such as The Flying Nun and Gidget. Her career started to really flourish in the '80s, and she even won Oscars for her roles in Places In the Heart and Norma Ray. She also had notable roles in Steel Magnolias, Smokey and the Bandit, Forrest Gump, and a 2018 mini-series called Maniac. She sold her Malibu home for $7.9 million in 2016.
Arlene Dahl – $8.5 Million, Upstate NY
Arlene Dahl lived and worked through the Golden Age of Hollywood with a career starting in 1947 and continuing until her retirement in 1999. She held plenty of roles in her time working with MGM, such as Reign of Terror and The Bride Goes Wild. She did briefly come out of retirement in 2009 for a final role in Ron Russell's Set the Record Straight. Located in beautiful upstate New York, her home was built in 1859 and sits on 11 acres. It sold in 2008 for a whopping $8.5 million.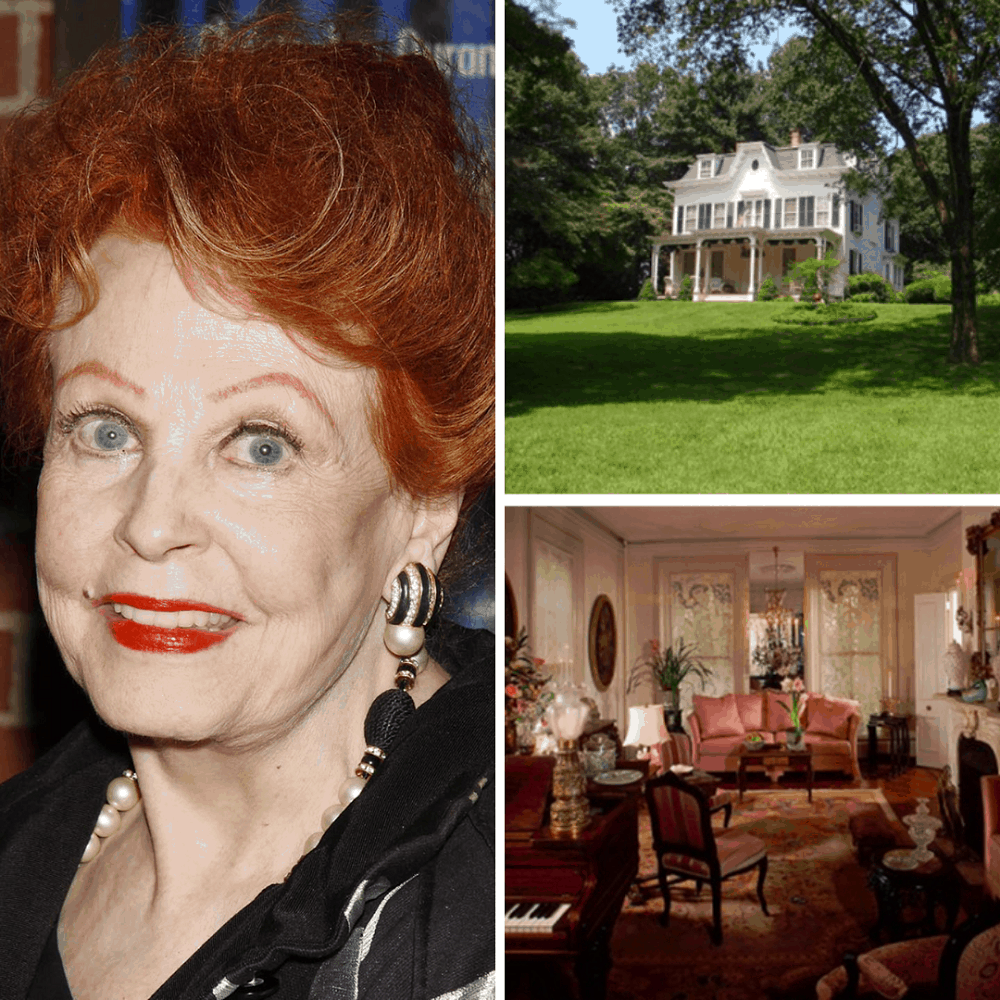 Jane Withers – $4.5 Million, Bel Air
Jane Withers' career started in 1929 at the early age of three years old. She even holds the title of the "Young Artist Award" for the lifetime achievements of former child stars. After all, she was one of the most in-demand child stars in the '30s and '40s. With roles in The Hunchback of Notre Dame and Shooting High, Jane retired in 2002 with a long career behind her. Her parents originally bought her this home in 1936 and it was recently listed for $4.5 million.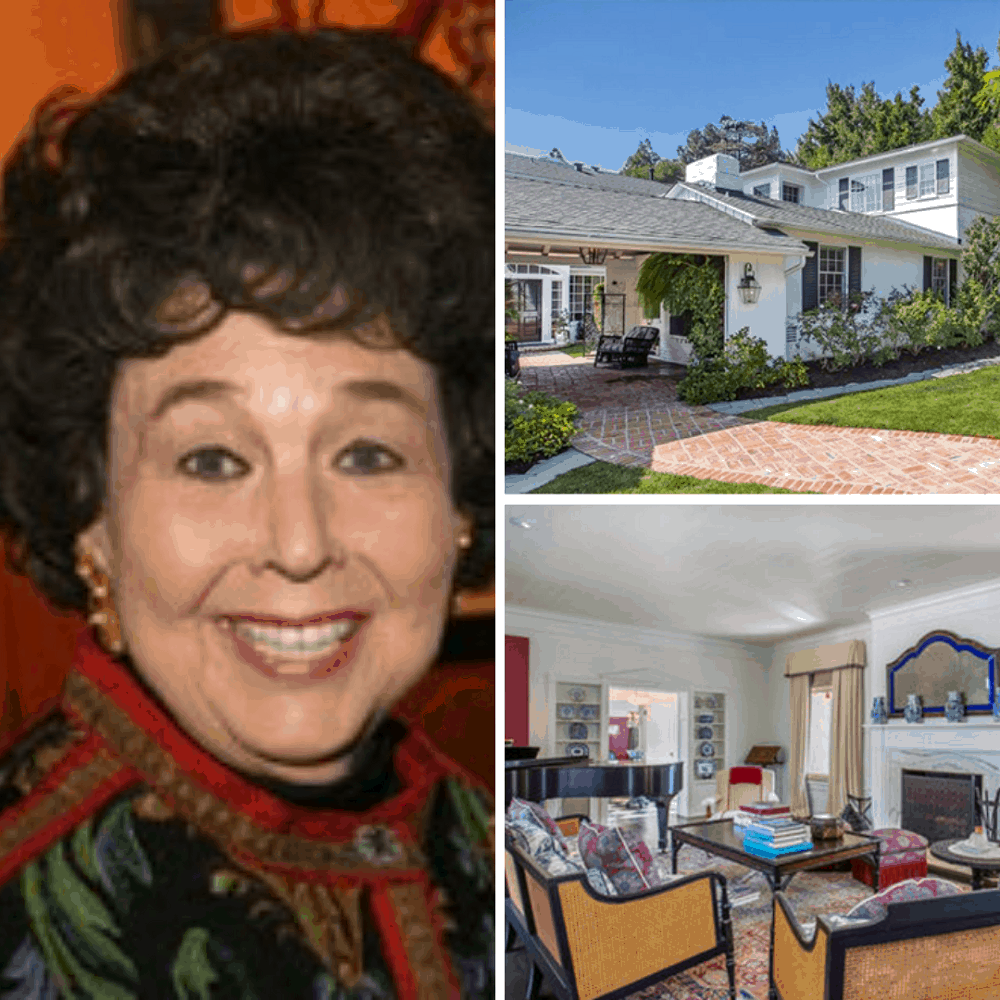 Valerie Harper – $4.2 Million, Santa Monica
Valerie Harper started her career on-screen in 1956. Fans know her best from her roles in The Mary Tyler Moore Show and Rhoda. Her other roles include voice acting on The Simpsons as Jennifer Clarkson and roles in Chapter Two, Stars in Shorts: No Ordinary Love, and My Mom and the Girl. She listed this Santa Monica Hacienda in 2015 for a sale price of $4.2 million but originally bought the 1920 home in 1996 for about $765K.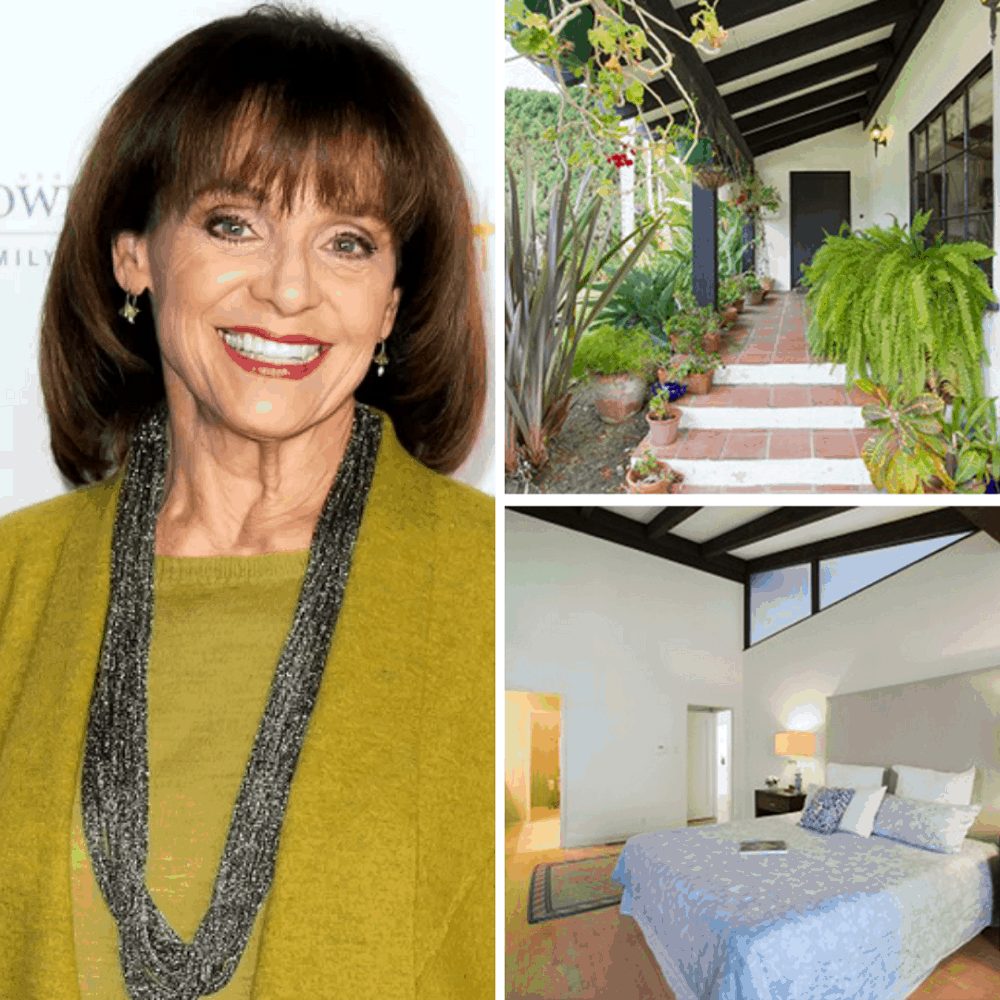 Ed Asner – $1.799 Million, Studio City
With a career starting in 1957, Ed Asner also made his Hollywood name on The Mary Tyler Moore Show, as well as gaining fame in roles in Lou Grant, El Dorado, Elf, and Up. As of 2019, he appeared in The Garden Left Behind and is lined up for 15 projects following that. In 2013, he took the time to sell his Studio City home after he extensively remodeled it. At the time, it was on the market for $1.3 million but it was listed again in 2015 for $1.799 million.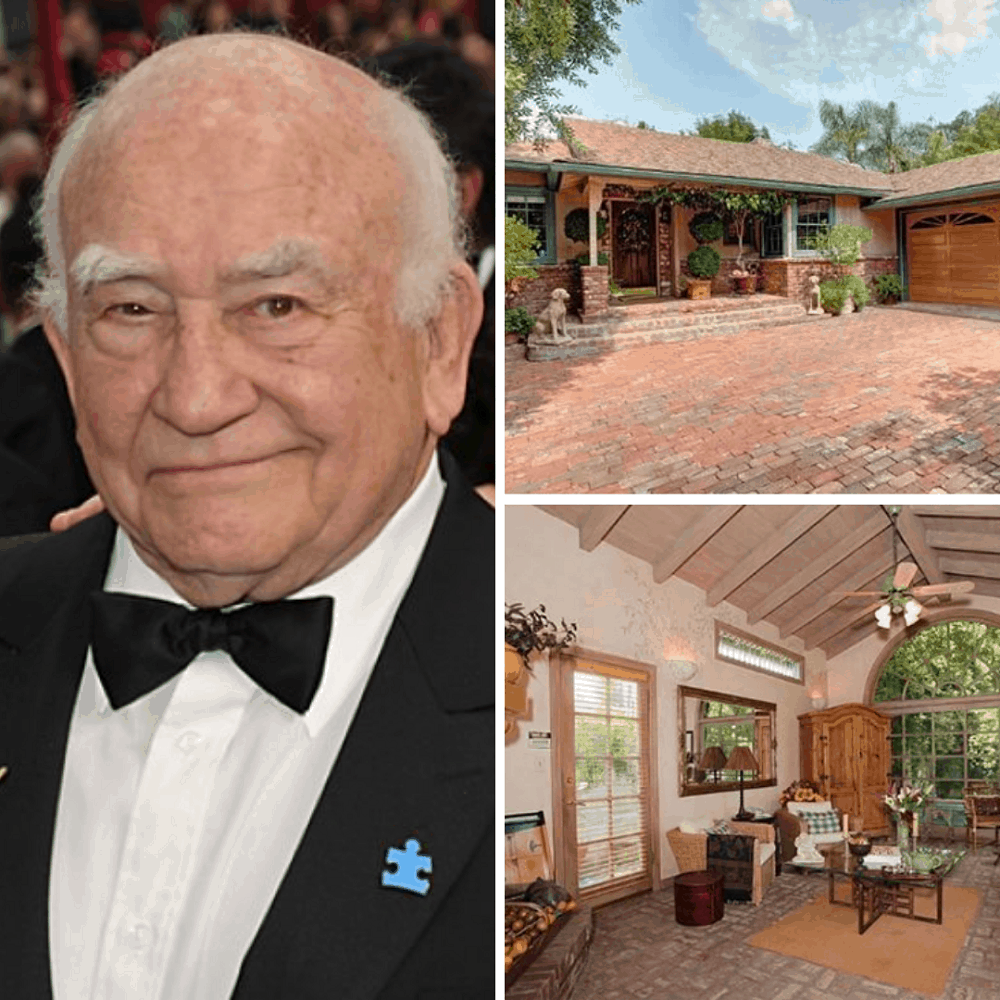 Brad Pitt – $60 Million, France
Brad Pitt quickly rose through the ranks when he was younger as a Hollywood heartthrob. Later, he made up half of a Hollywood power couple with now ex-wife Angelina Jolie. The two owned several properties together around the world, but the France estate is where they hosted their wedding. Upon buying it in 2008, they paid a pretty penny for the $60 million price tag. The actor has since made a primary residence of a California home he purchased in 1994.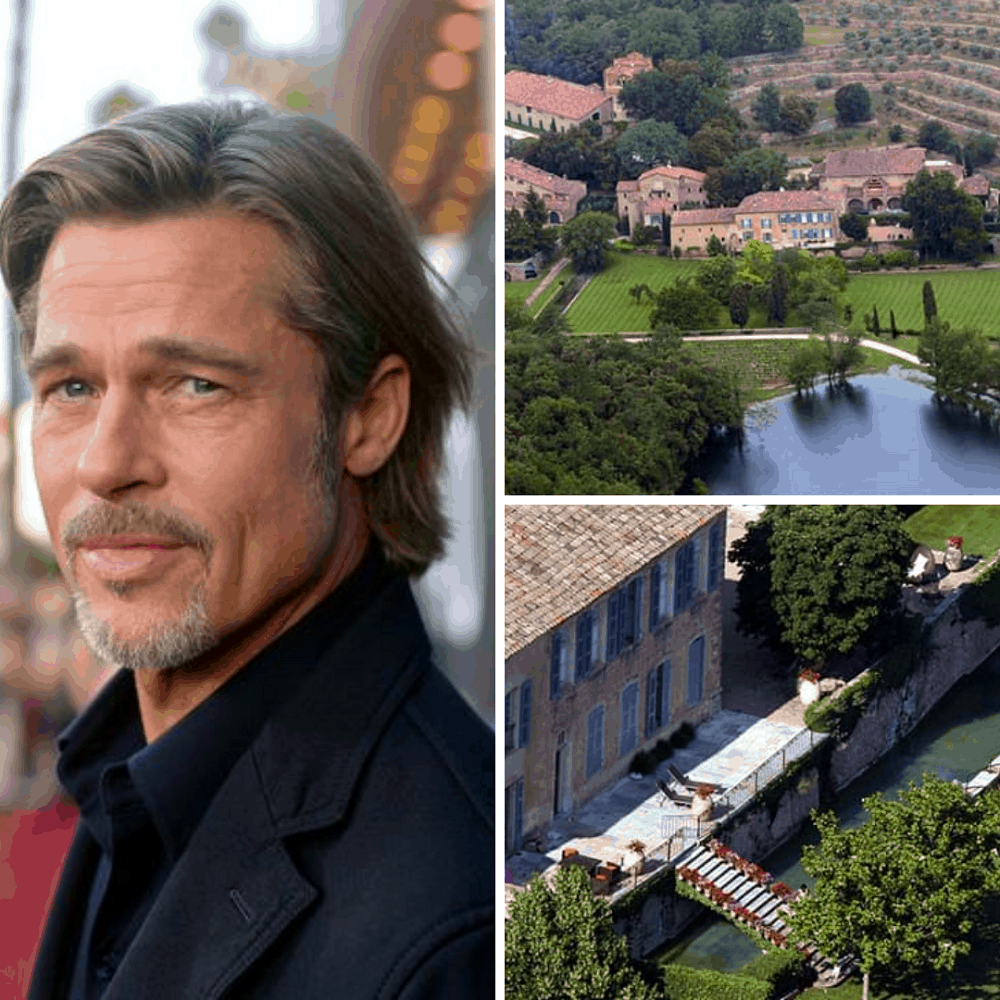 Jill Gascoine – $2.8 Million, Hollywood, CA
Jill Gascoine is well-known as the wife of Alfred Molina, but she's successful in her own right as an author. Unfortunately, this three-time novelist revealed that she had Alzheimer's Disease in 2013. In November of 2016, Molina made another statement to the public saying that his wife's disease had progressed to its later, more severe stages. In August of 2017, they took some time to sell their Hollywood estate with an asking price of $2.95 million but sold it a year later for $2.8 million.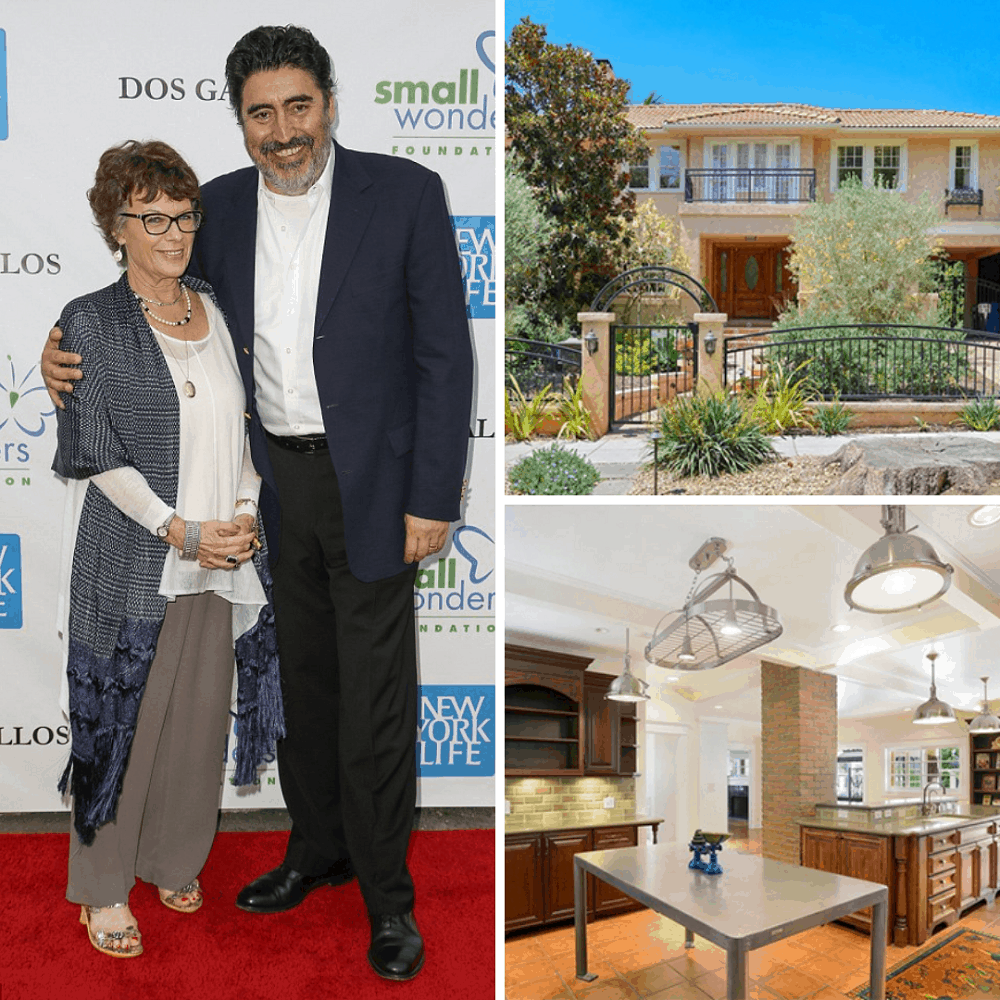 Pierre Cardin – $355 Million, France
Pierre Cardin is a fashion designer known for his love of geometry. As of 1975, though, he decided to broaden his horizons and shift his design skills towards houses, as well as fashion. Alongside an architect named Antti Lovag, Palais Bulles was built in France with the nickname "Bubble House." Finished in 1989, the house is 13,000 square feet and includes three swimming pools, ten bedrooms, and a 500-person amphitheater. It has a shocking reported value of $355 million.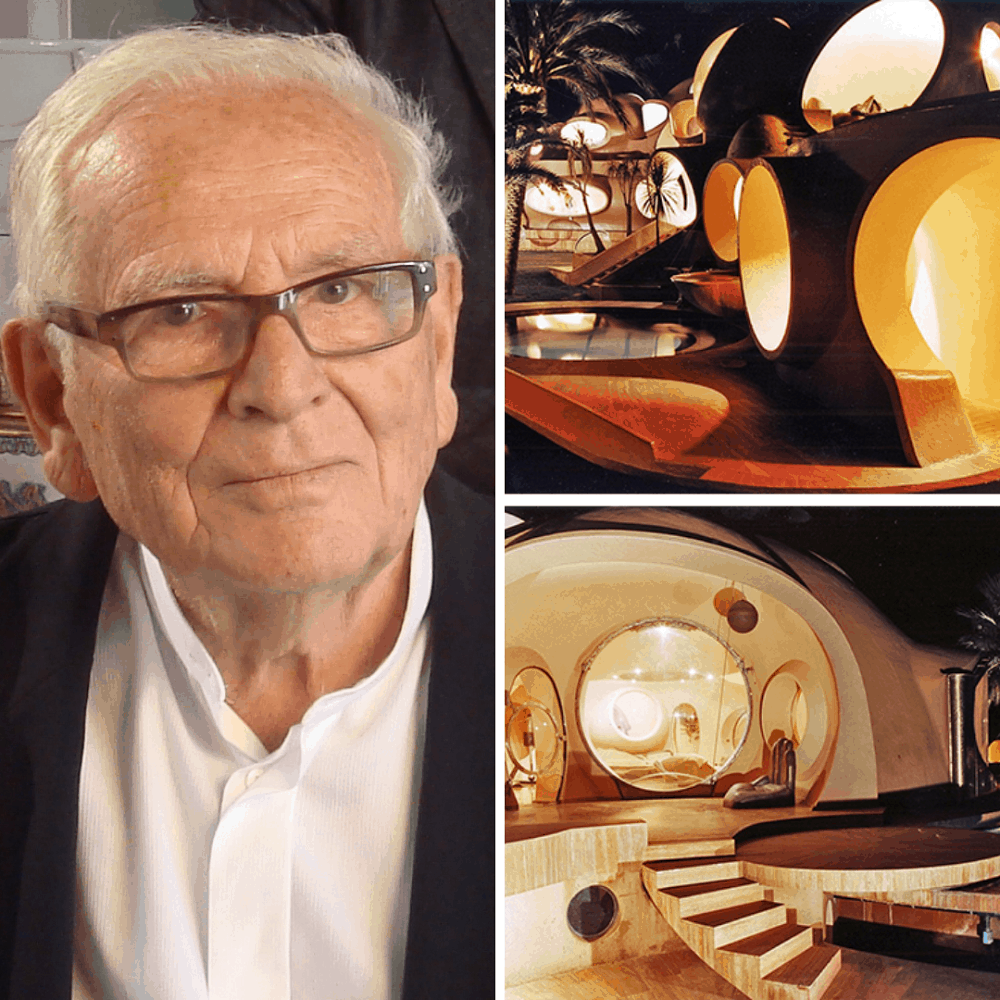 Ronnie Wood – $8.5K Monthly, Claygate, Surrey
The Rolling Stones slide guitar player, Ronnie Wood, owned this home in Claygate, Surrey right before he met his third wife, Sally Humphreys. He sold the home in 2018, but the buyer relisted it on the market as a long-term rental for the high cost of £6,500 or $8.5K for a single month's rent. For this price, tenants get to live in the Ruxley Tower with two rooftop terraces to enjoy an all-around view of Surrey.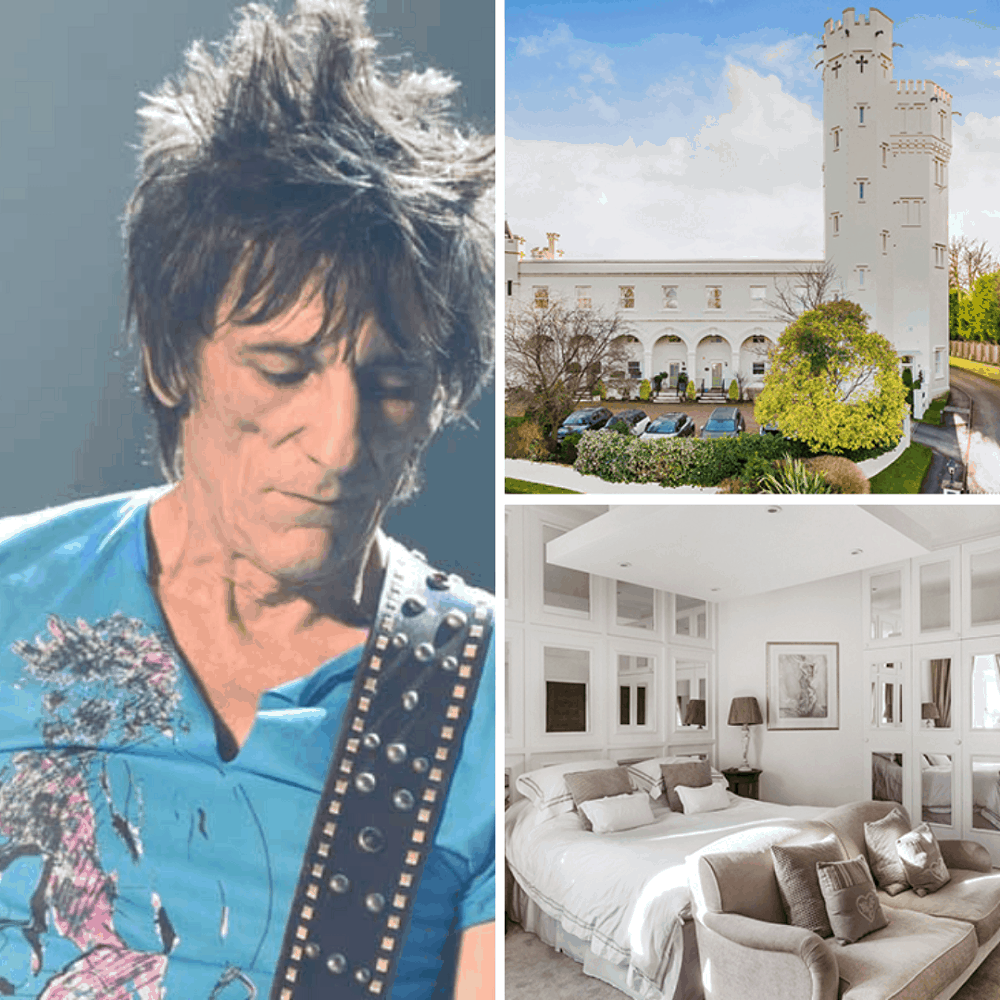 Joan Collins – $4.5 Million, West Hollywood
Joan Collin's career started early with a role in A Doll's House in 1942 when she was only 9 years old. Her career continues to this day with recent roles in American Horror Story: Apocalypse and The Royals. Her luxury home is a condo in West Hollywood, which she put on the market in 2016 with a listing price of $4.5 million. It sits on the 25th floor of Sierra Towers and measures out to an expansive 2,260 square feet.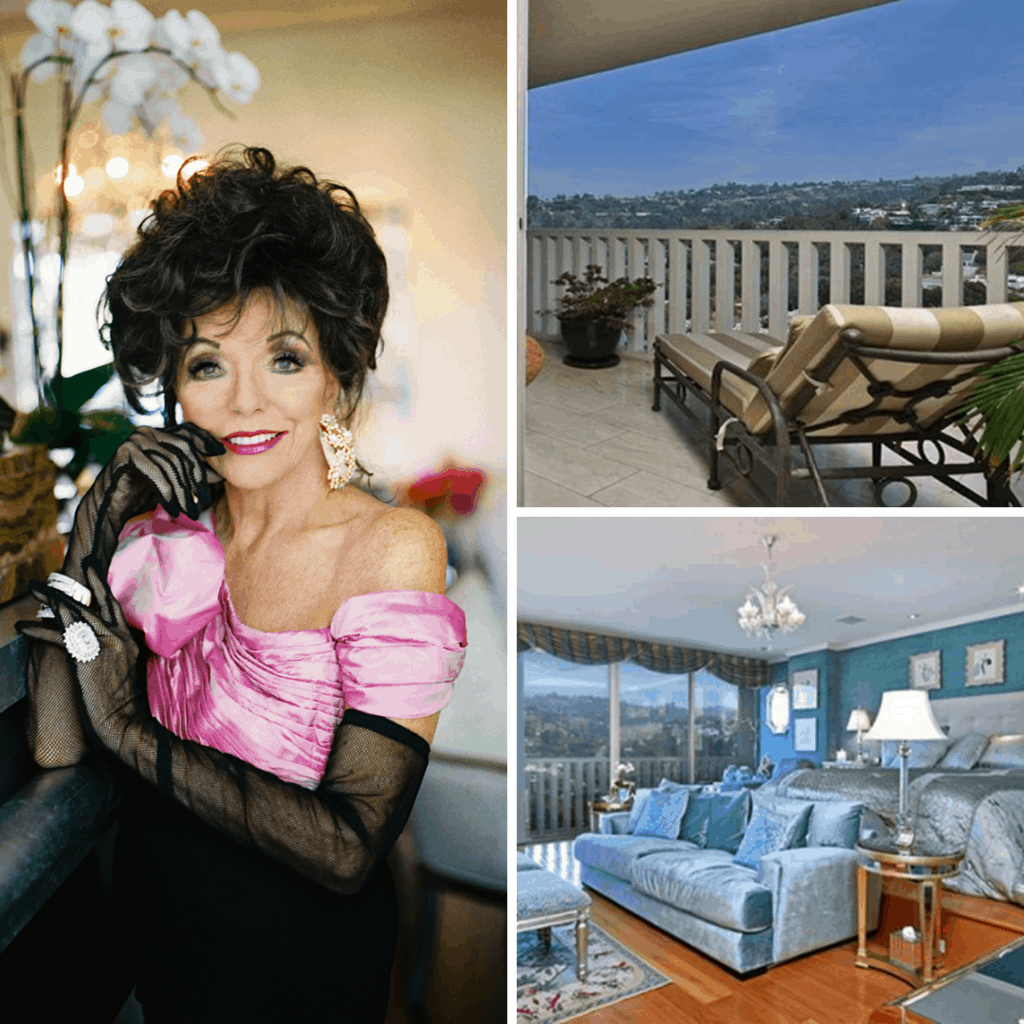 Lily Tomlin – $7.149 Million, Los Feliz
Lily Tomlin has made a name for herself throughout her career as an actress, comedian, and activist. The current Grace and Frankie star used to own this extravagant home in Laughlin Park, Los Feliz until she sold it in 2004 to film executive Dennis Rice for $4.4 million. The property has since come back on the market as of 2009 with a higher $11 million price, but it was later lowered back down to $7.149 million.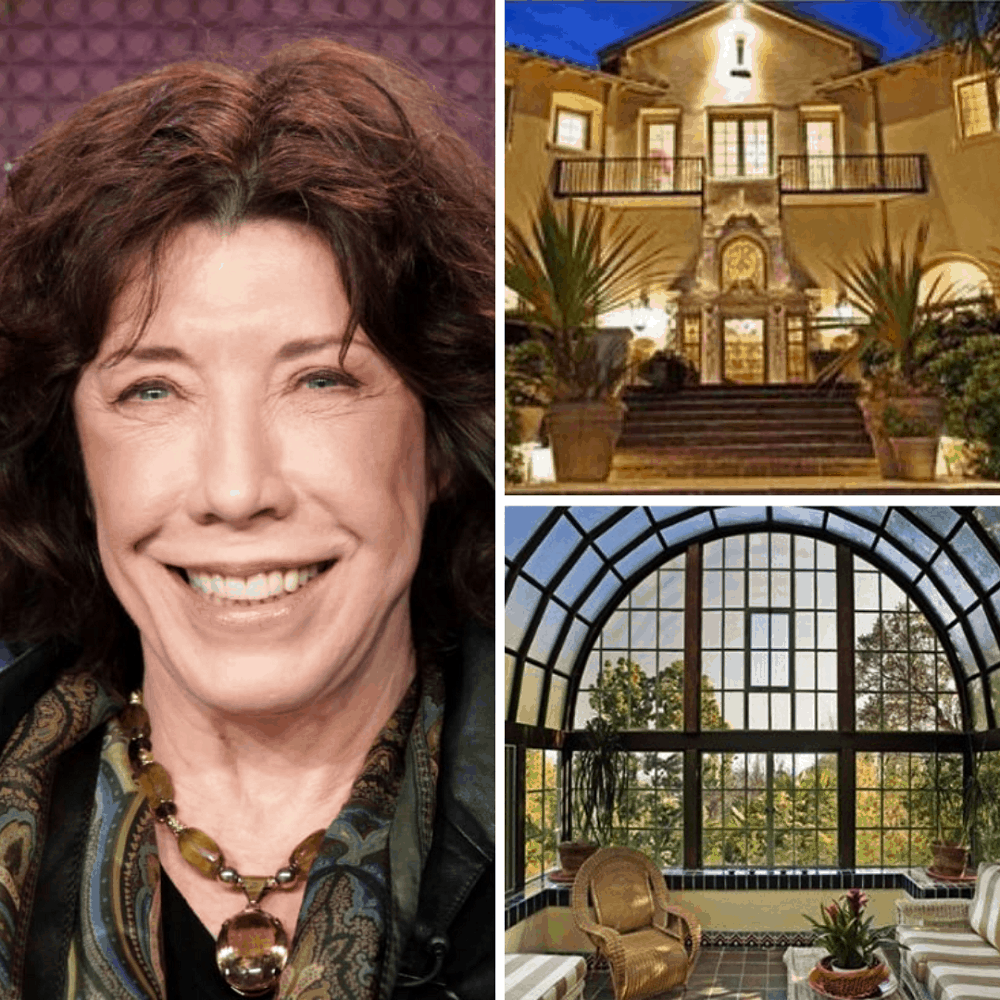 Anthony Hopkins – $4.9 Million, Malibu
In 2018, Anthony Hopkins starred in King Lear as the titular character, but many know him from his role as Hannibal Lecter in The Silence of the Lambs. His expensive home is a Malibu property worth $4.9 million. The property has actually lived through some natural disasters, including California wildfires and torrential downpours. Because of this, the property has now shifted close to the edge of a cliff.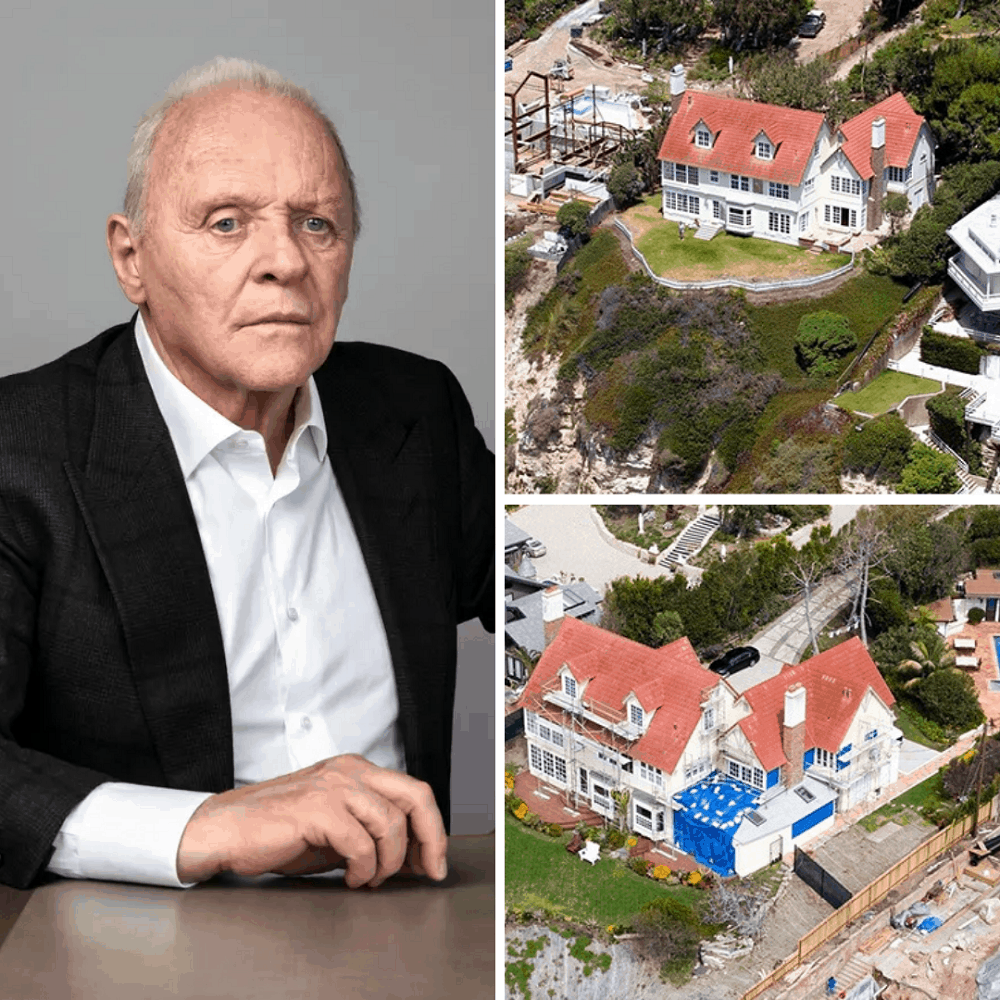 Ted Turner – Undisclosed, Tallahassee
Ted Turner, whose full name is Robert Edward Turner III, is a media personality and philanthropist who has plenty of real estate assets to his name. He's also come to be known as "the Mouth of the South" for his controversial views and his outspoken manner of expressing them. In total, he owns 15 ranches that total up to 1.9 million acres worth of land. He sold his Tallahassee, Florida property in 2006 for an undisclosed amount.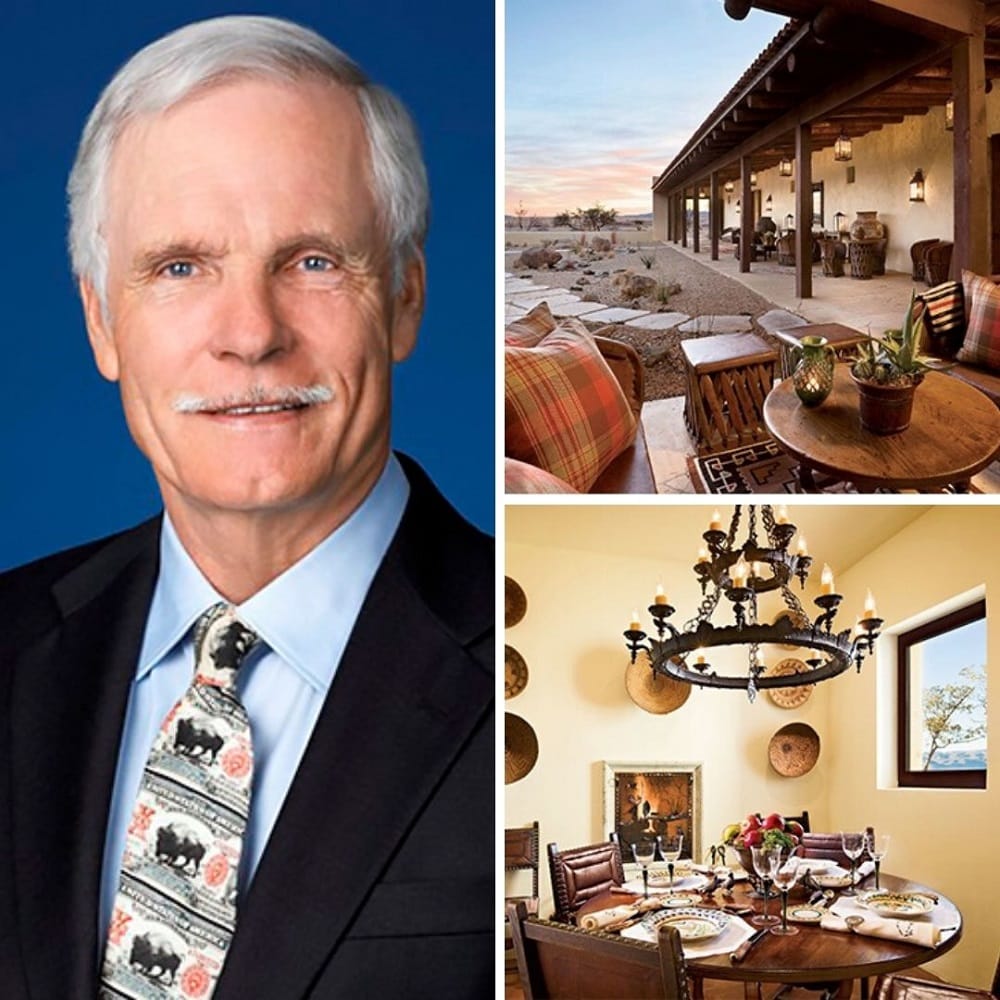 Chris Cuomo – $2.9 Million, Southhampton
CNN's Christ Cuomo is a well-known news anchor with a high enough net worth to purchase his Southhampton estate. The home is a total of 3,000 square feet and features five bedrooms, four bathrooms, a fully-furnished eat-in kitchen, and a fireplace. It also features luxury amenities such as a heated pool. He originally bought the property in 2005 for $2.3 million, but it re-emerged on the market in 2019 for an increased value of $2.9 million.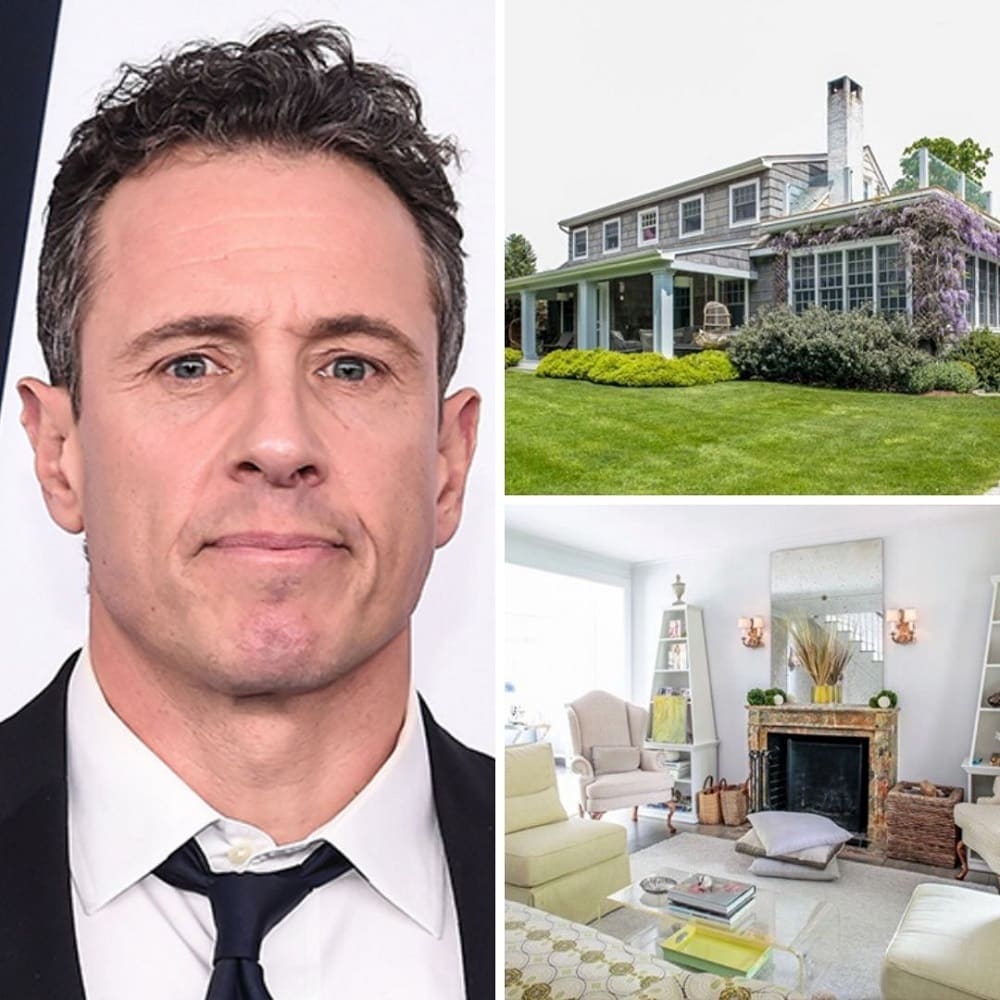 Meredith Baxter – $4.589 Million, Santa Monica
Meredith Baxter got her start on 50s TV shows, but her career exploded past that point too. Part of this fame bought her an expansive Santa Monica home that was originally built in 1972. The home is situated on a third acre of land and features five bedrooms, multiple swimming pools, vaulted ceilings, and a detached guest house. She listed the home in 2016 for $5.495 but later sold it for $4.589 million in March of 2017.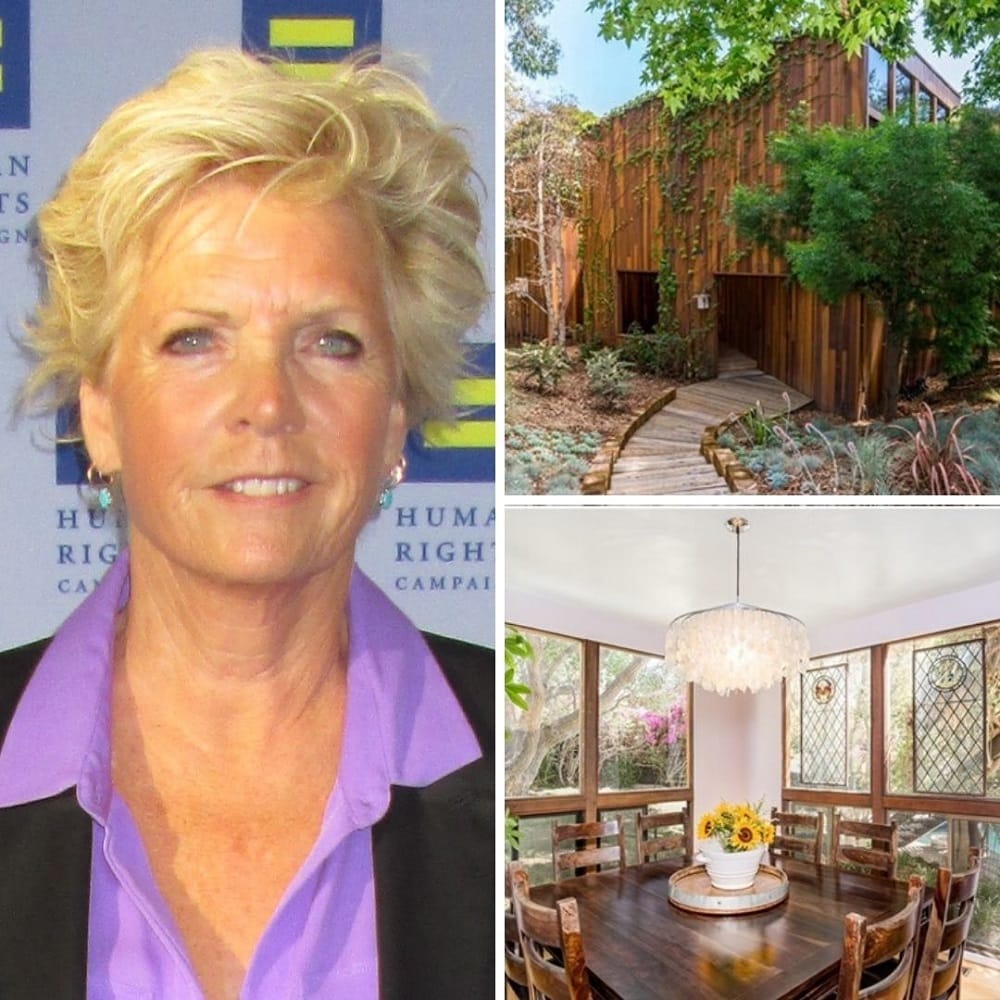 Ali MacGraw – $4.5 Million, Palm Springs
Ali MacGraw has been a present force in the entertainment industry since her debut in 1968. She's held the title of an actress, as well as author and animal rights activist with roles in productions such as Columbus, Just Tell Me What You Want, and The Winds of War. She published an autobiography in 1991 with the title Moving Pictures and made her final on-screen appearance in Glam in 1997. During her 1973-1978 marriage to Steve McQueen, they owned this Palm Springs home valued at $4.5 million.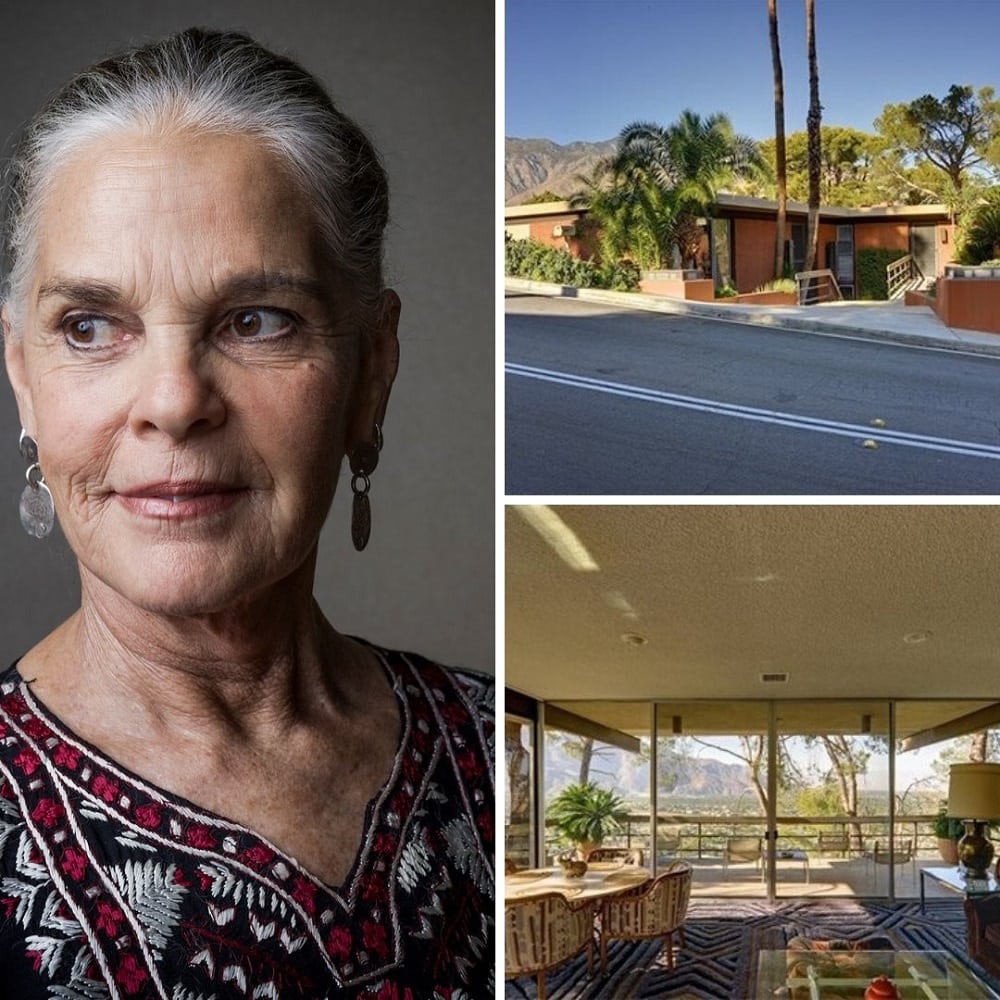 Gloria & Emilio Estefan – $32 Million, Miami
Another power couple, Emilio and Gloria Estefan made their fame in the music industry. They spent part of their earnings on a Miami home designed by Carlos Ott, affectionately known as Star Island. The home is located on 1.34 acres, features a separate guest house, and 24-hour security to protect its star-studded inhabitants. The house is on the market for a whopping $32 million with prospective buyers including Cher and Jennifer Lopez.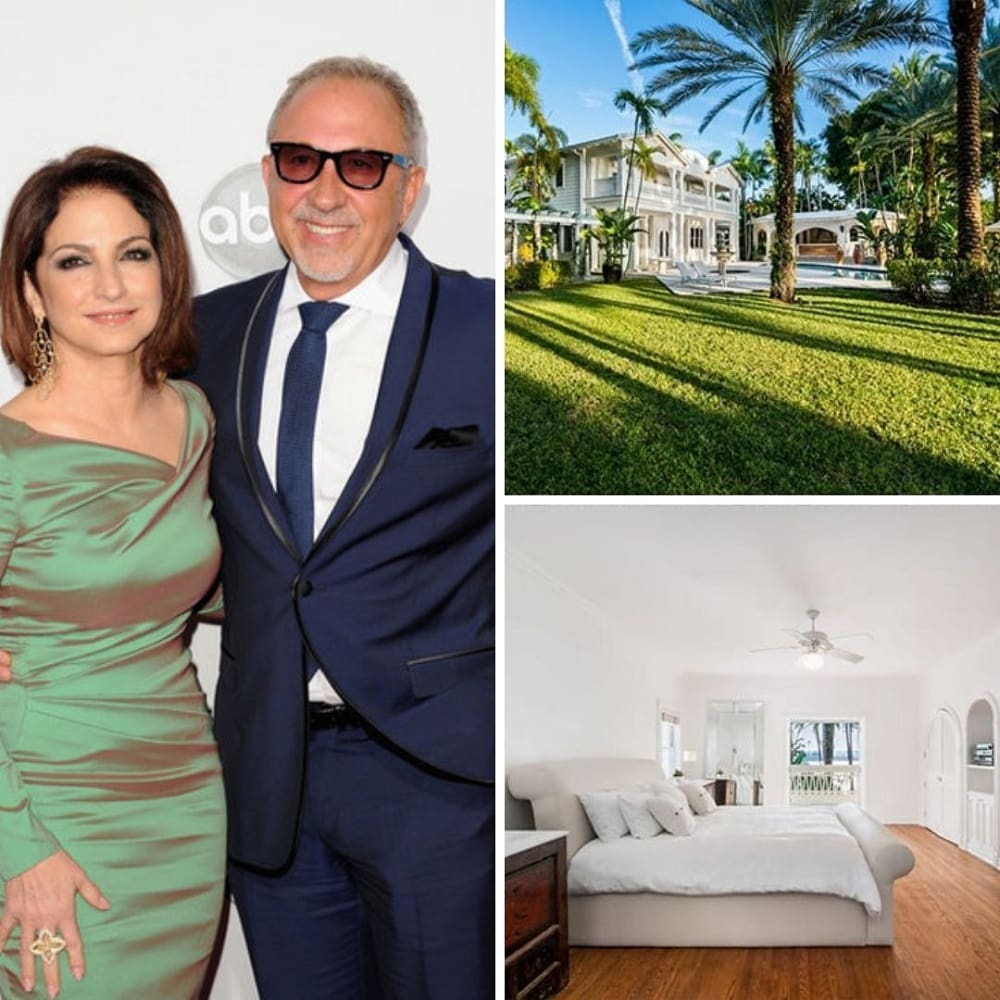 Tanya Roberts – $780K, Los Angeles
Tanya Roberts is an accomplished actress and is most recognizable for her role as Julie Rogers in Charlie's Angels and Midge, Donna's mom, in That 70's Show. In 1999, she decided to use these earnings to buy a Los Angeles home. She settled on a 2,687-square-foot home in LA with four bedrooms and four bathrooms. According to some sources, it cost her about $780K to acquire at the time. The house hasn't been put on the market recently for a modern estimate.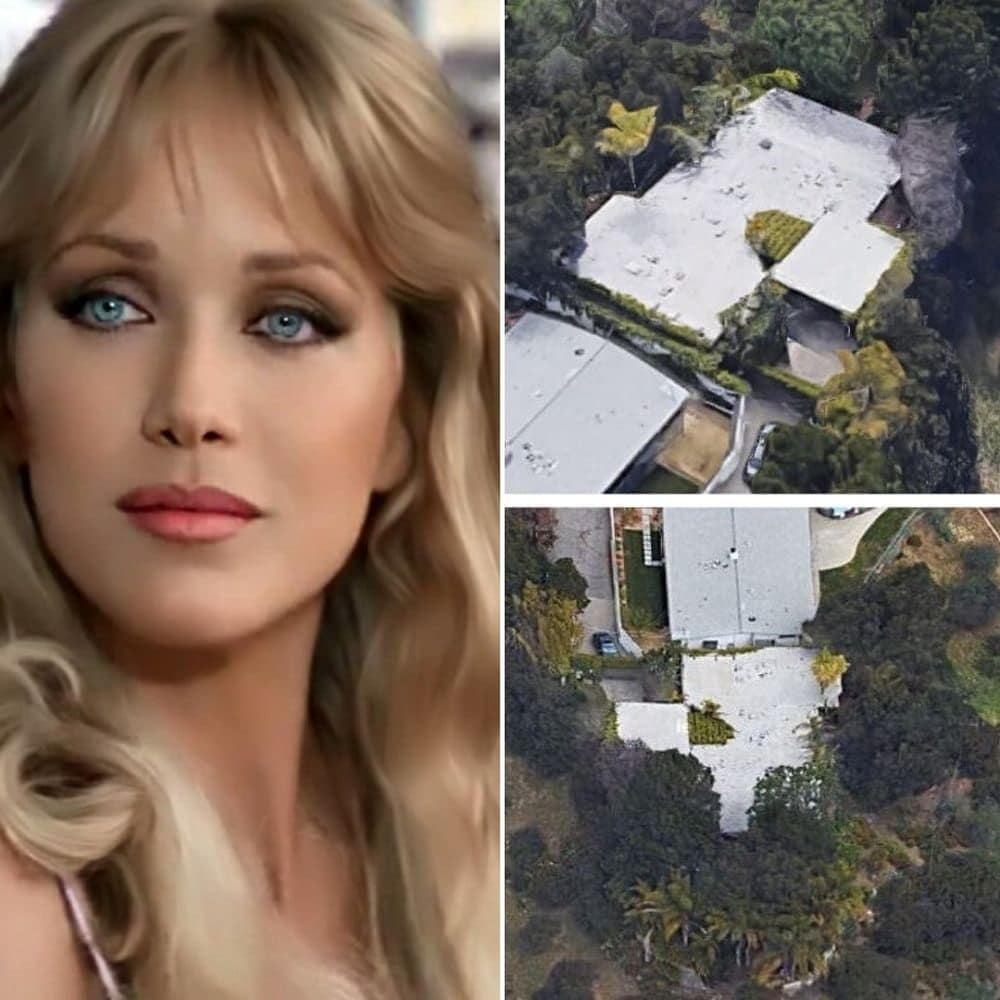 Barbara Eden – $2.6 Million, Chicago
Barbara Eden's career has been active since 1955 and is still in the business to this day. Most TV fans recognize her from the classic show I Dream of Jeannie, but she's also gained clout for her roles in Harper Valley P.T.A., Burke's Law, and The Brass Bottle. She even has a star on the Hollywood Walk of Fame as of 1988 and an honorary doctorate. She lived in a 47th-floor luxury apartment in Chicago's Water Tower Palace. She listed it for sale in 2018 for $2.6 million.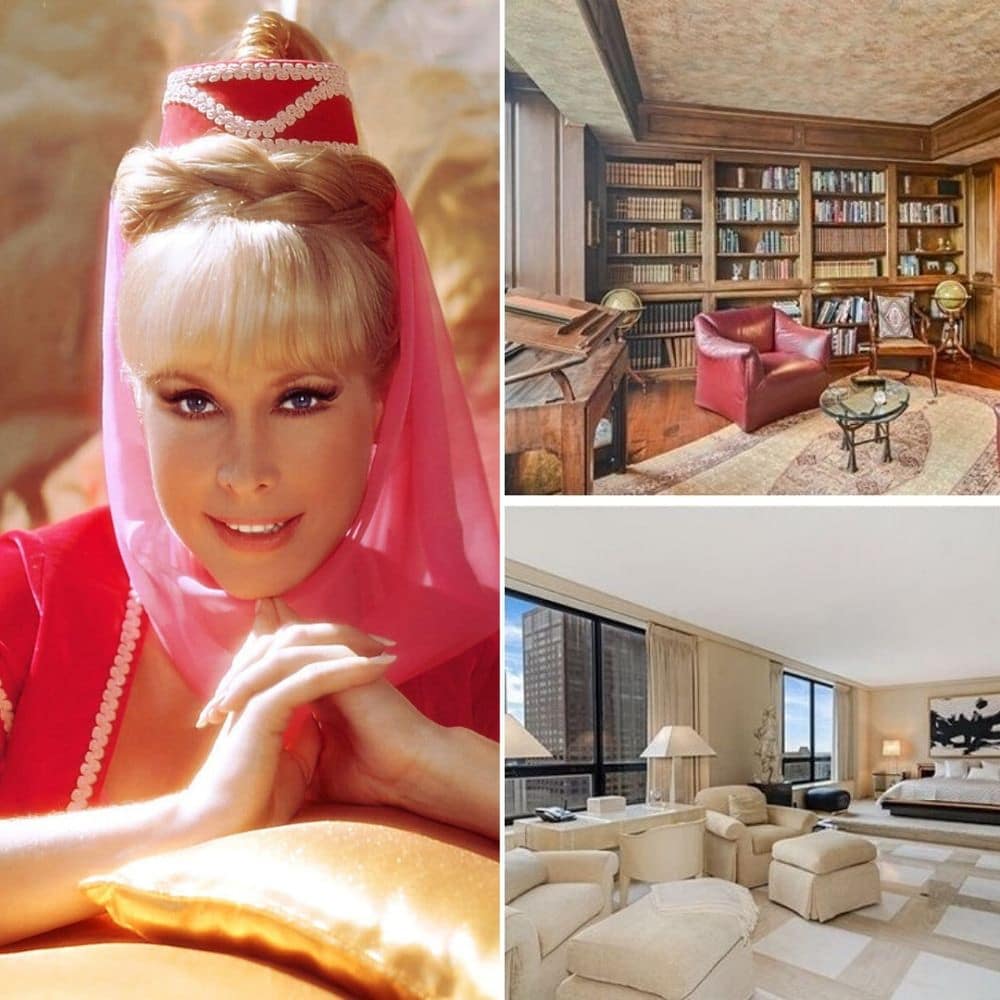 Kirk Douglas – $3.5 Million, Palm Springs
Kirk Douglas sadly passed away early February 2020, but he had an illustrious career spanning from 1946 to his retirement in 2008. His first role was in The Strange Love of Martha Ivers, and some of his notable works include Young Man with a Horn and more recently Spartacus and The Vikings. Douglas originally sold his Palm Springs home in 1999 for a reported $1.3 million but the estate sold again in 2016 for $3.5 million.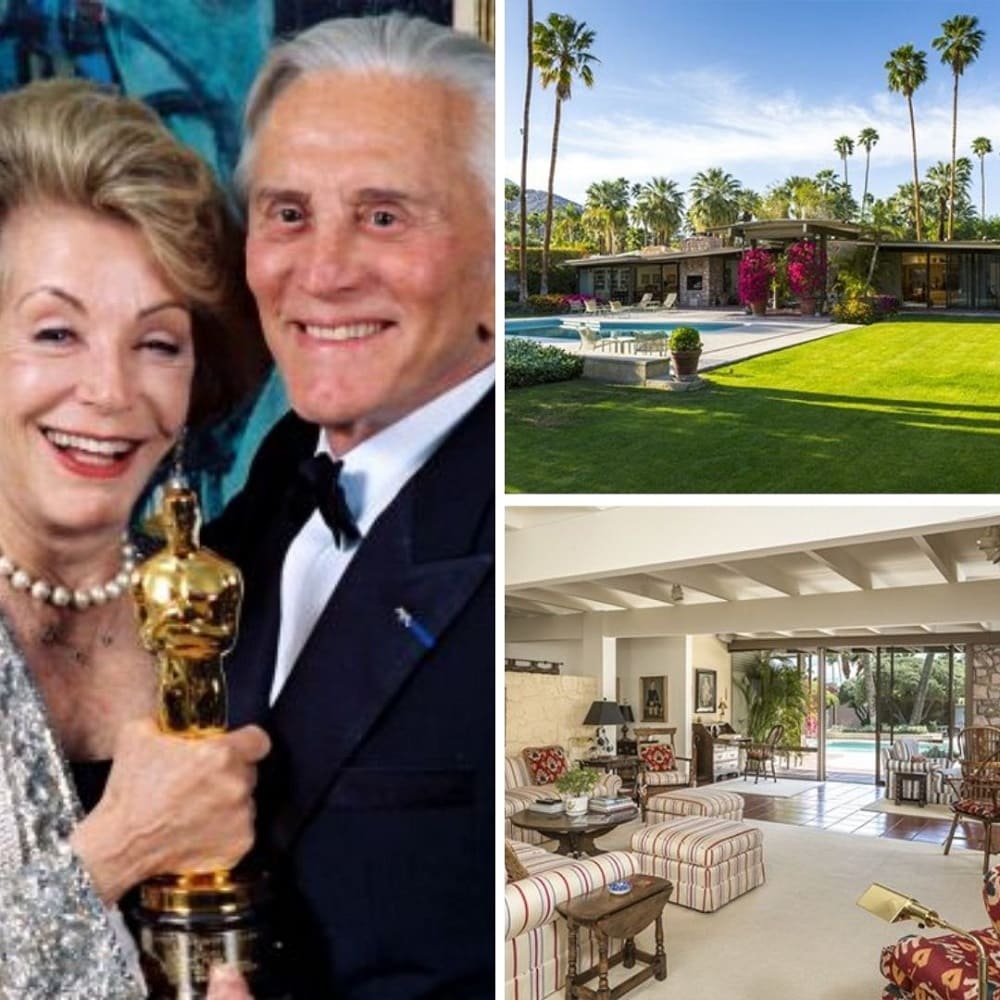 Ree Drummond – Unknown, Oklahoma
Ree Drummond is better known as her moniker The Pioneer Woman and has a Food Network show by the same name. She's the mother of a large family and started her career blogging but has quickly rocketed up to a television personality and author. Her family's ranch is the place she calls home. It's located in Oklahoma and is large enough for her family and any visiting friends without the buzz of a city surrounding it. This expansive home doesn't have a public worth attached to its name.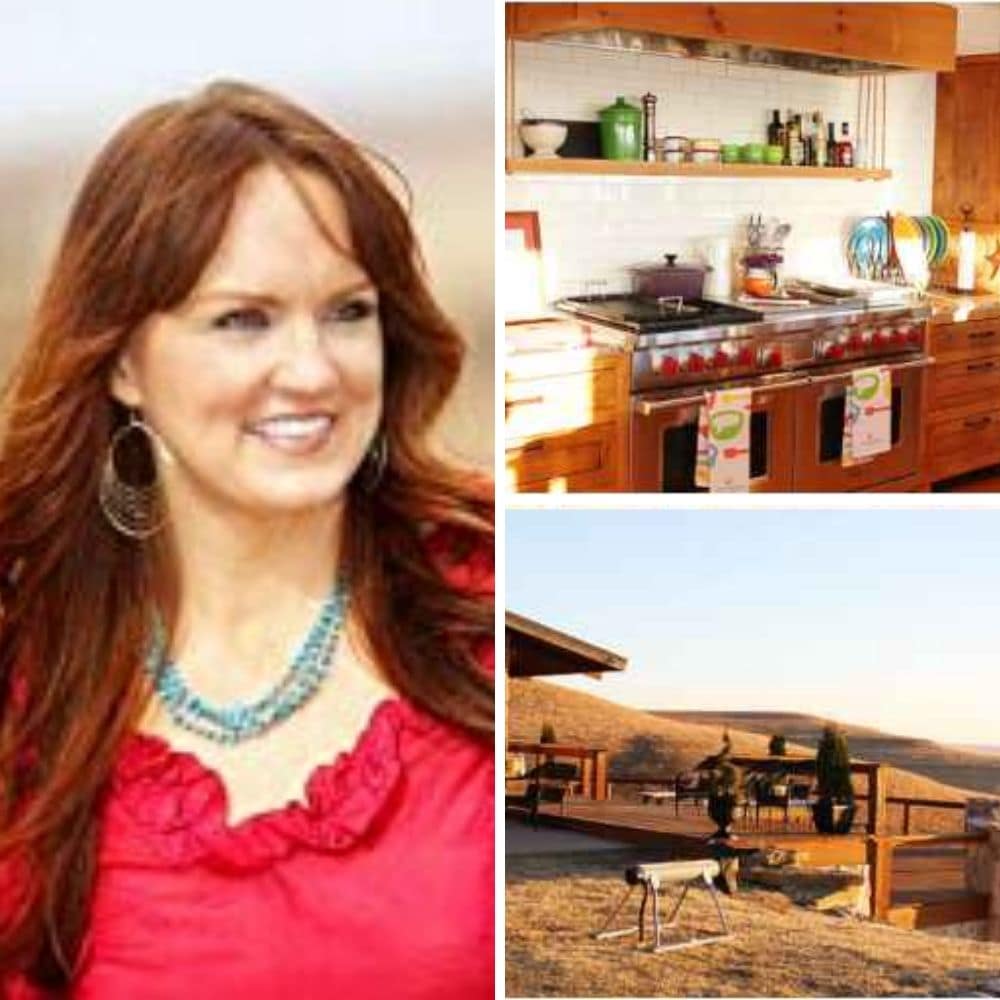 Christopher Plummer – $12.5 Million, Connecticut Hills
Christopher Plummer bought this stunning mansion in Connecticut Hills back in the '70s after his initial rise to fame. He sold the mansion in 2009 to an owner that took care to carefully restore the century-old property. This included restoring original details that previous owners had opted to cover. At 7,700 square feet and six bedrooms, the home was re-listed on the market for $12.5 million in 2014.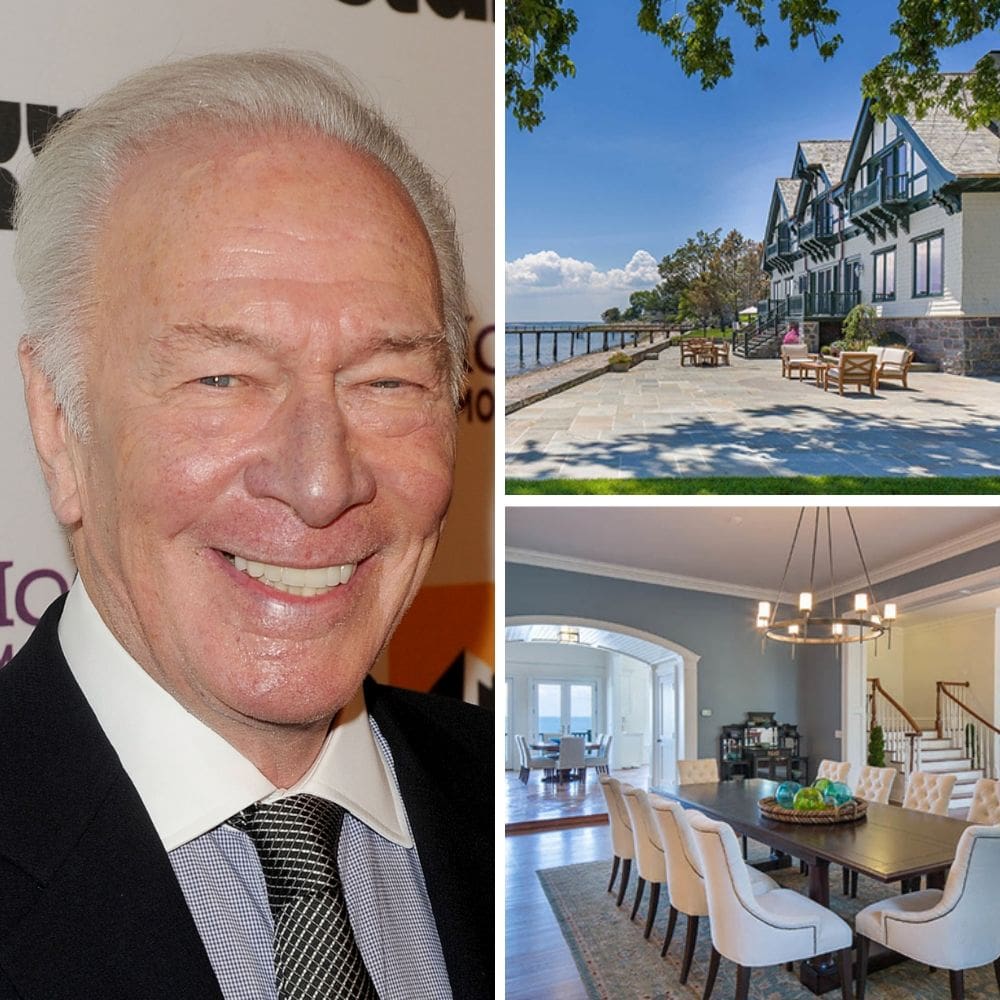 Brian May – Estimated $50 Million, London
Another Queen musician to add to the list, this classic rock guitarist opted for a mansion in the middle of London when it was time to settle down at home. The exact value of the property is unknown but it's estimated that properties like it sit in the $50 million range. Unfortunately, May has shared his concerns in the past that his neighbors and local renovations have made a disturbance in the once idyllic neighborhood.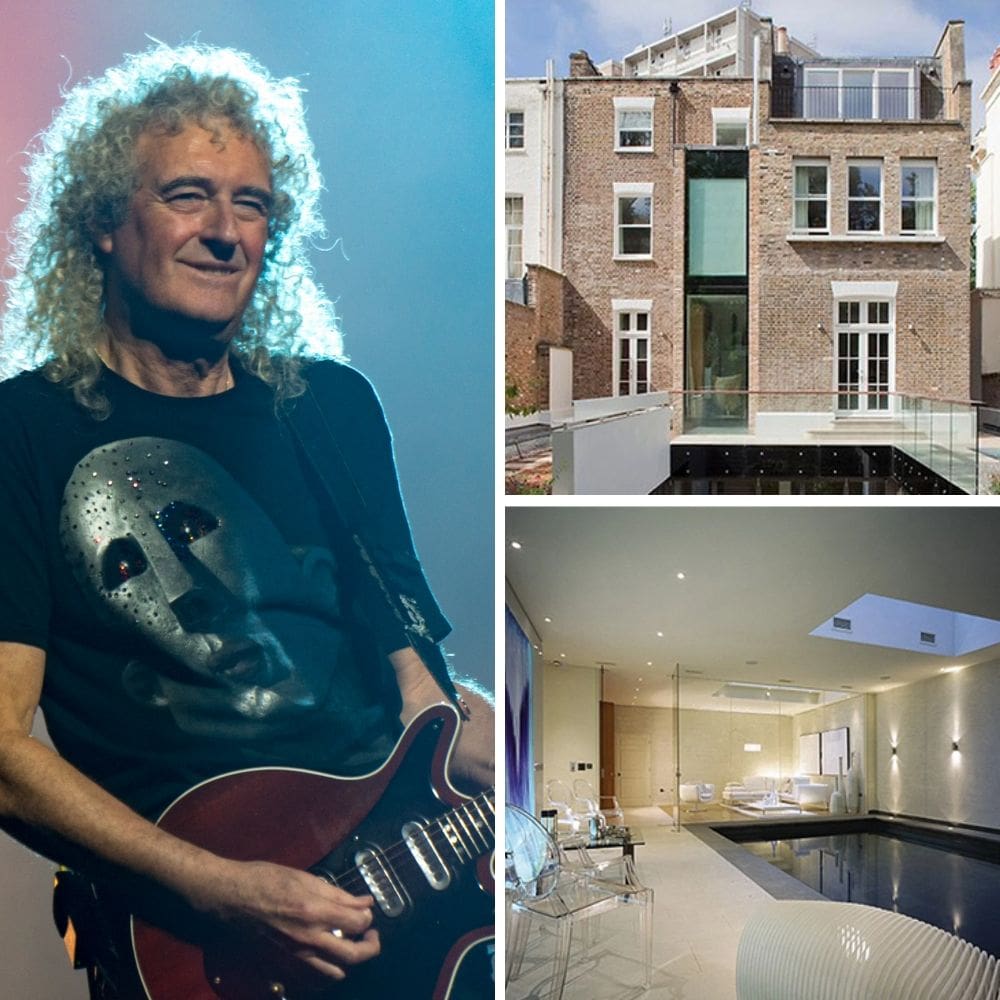 Victoria Principal – $2.795 Million, Beverly Hills
According to Berkshire Hathaway California Properties, Victoria Principal listed her Beverly Hills home for sale recently. She acquired the property in only 2014 but spent much of this time renovating and restoring the home. The home features three bedrooms, three bathrooms, and plenty of communal spaces alongside having modern amenities such as a swimming pool and a floating staircase. It's currently on the market for an asking price of $2.795 million.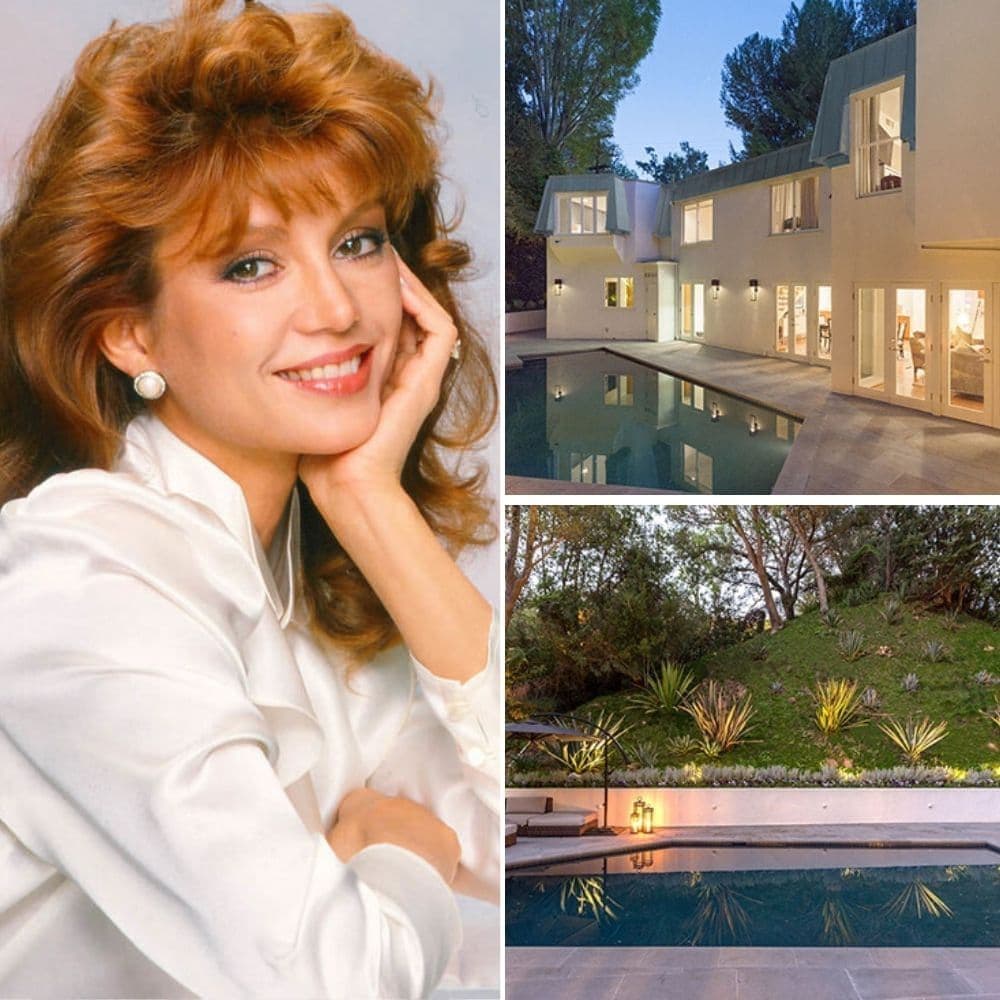 Bolo Yeung – Undefined, California
Yang Sze is a martial artist who's better known by his professional name, Bolo Yeung. He's gained his fame as an on-screen martial artist and started his career young at only 10 years old. His first movie to gain mass attention was Enter the Dragon, in which he acted alongside the legendary Bruce Lee. He has a home in Monterey Park, Los Angeles and is rather private about both his home's specifications and value.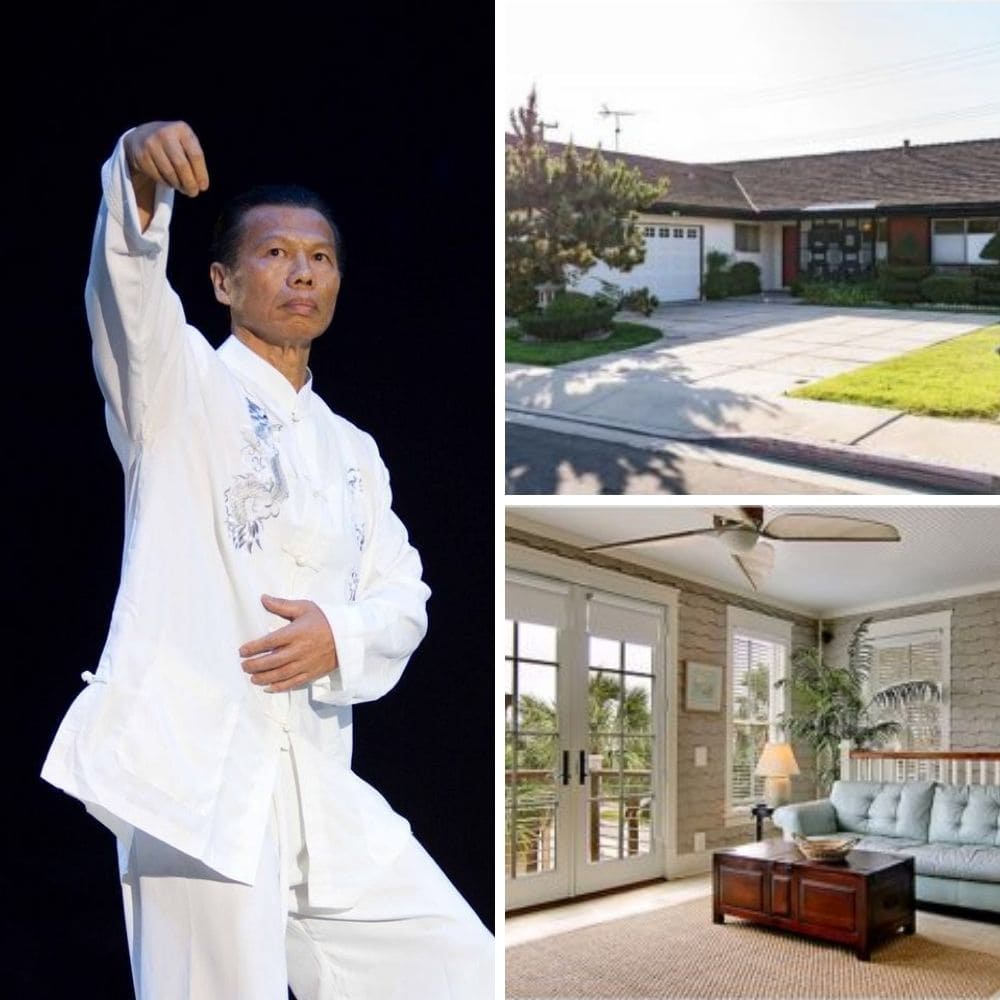 Henry Winkler – $6.3 Million, Bel Air
Most fans of Henry Winkler simply know him as The Fonz or Fonzie for his role in Happy Days in the 70s. However, he's crossed genres and graced both the small and silver screen in roles on Scream, Barry, Parks and Recreation, and The Practice. The star bought this Bel Air home back in 1993 for $3.4 million and resold it in 1998 for an inflated value of $6.3 million. The home has four bedrooms and boasts 9,000 square feet of space.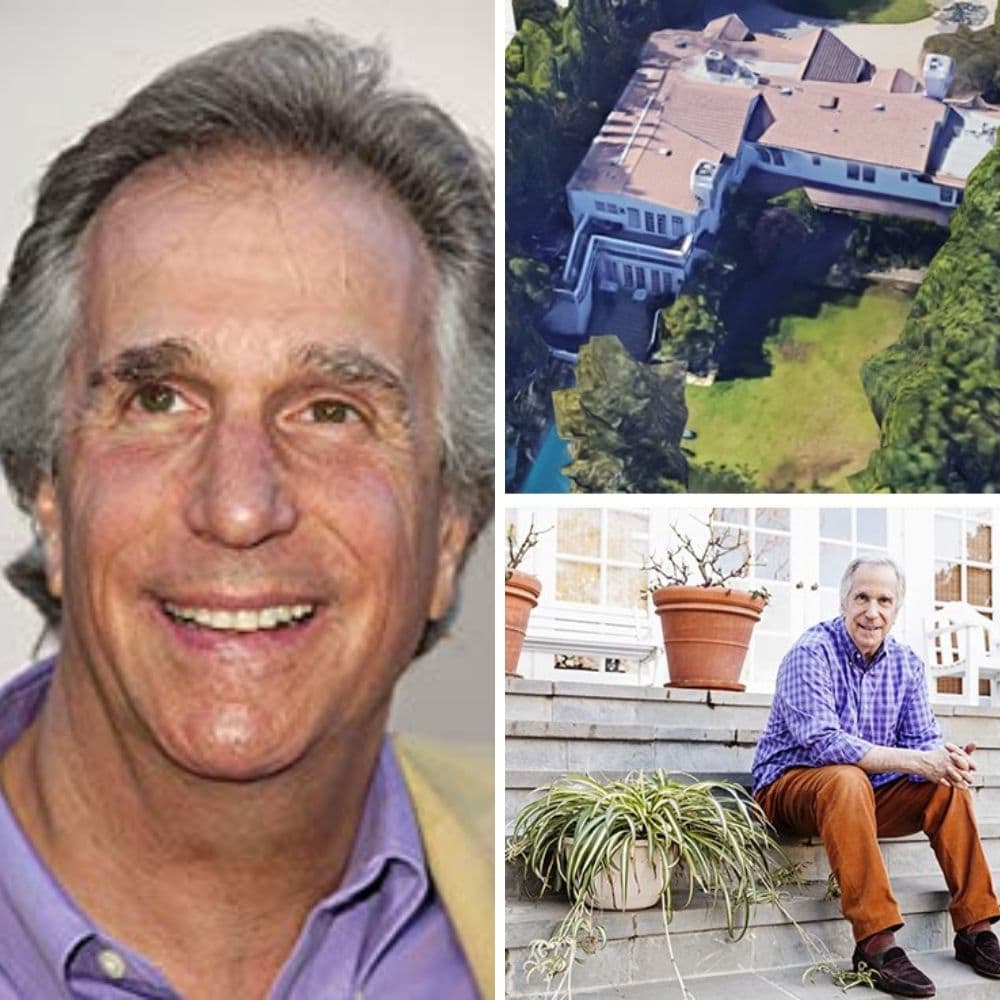 Catherine Deneuve – $5.5 Million, France
Catherine Deneuve is a well-known figure for her acting, modeling, and for her time as Marianne, a liberty symbol for the French nationalist movement. As an actress, she's racked up credits in movies such as The Umbrellas of Cherbourg, The Last Metro, and Farewell to the Night. She also owned a French Chateau, the Chateau de Primard that she bought in 2014 for $5.5 million. Just 47 miles outside of the capital city of Paris, it's situated on 44 acres of land with a border on the River Eure.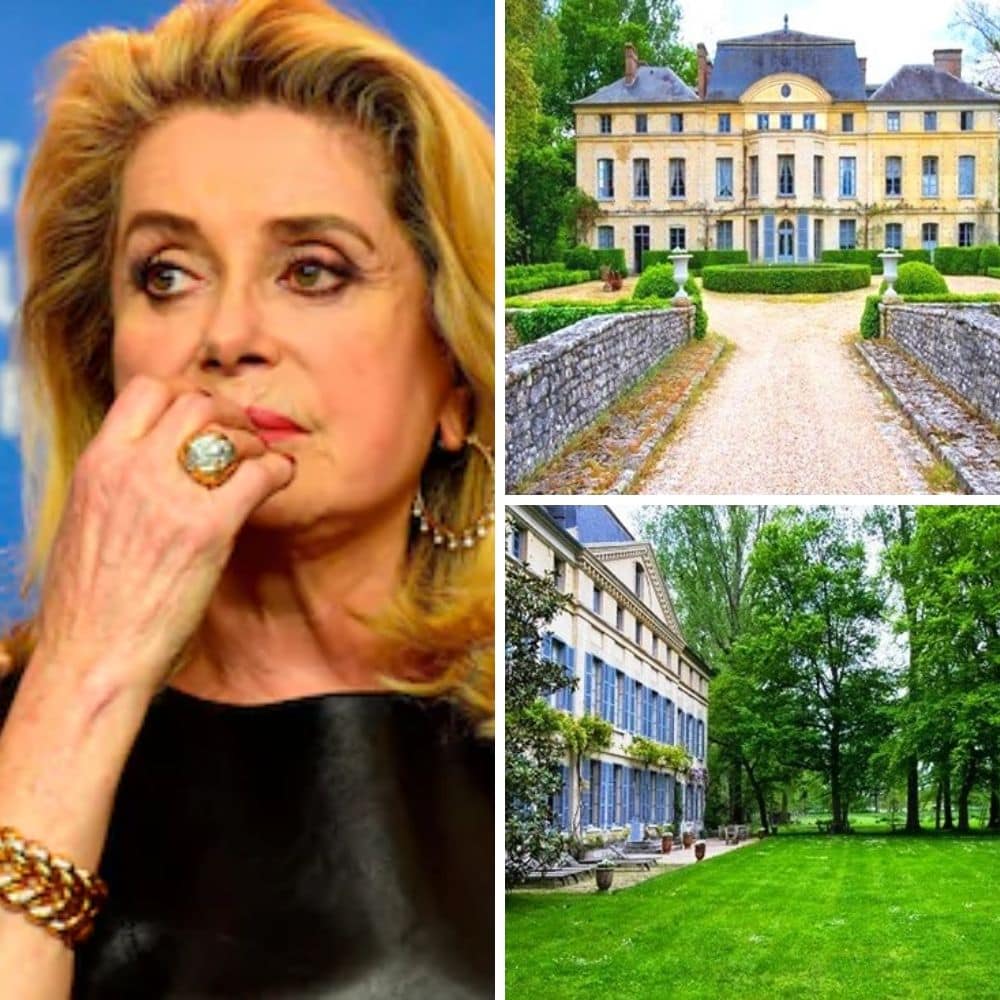 Jet Li – $20 Million, Singapore
Jet Li is another star that made his name for a mix of acting skills and martial arts mastery. Before setting out on the silver screen in films such as Kiss of the Dragon and Romeo Must Die, he was an accomplished competitive martial artist in Beijing. He even held the title of a national Wushu champion. He became a citizen in Singapore in 2009 and purchased property there for a reported $20 million for more than 20,000 square feet.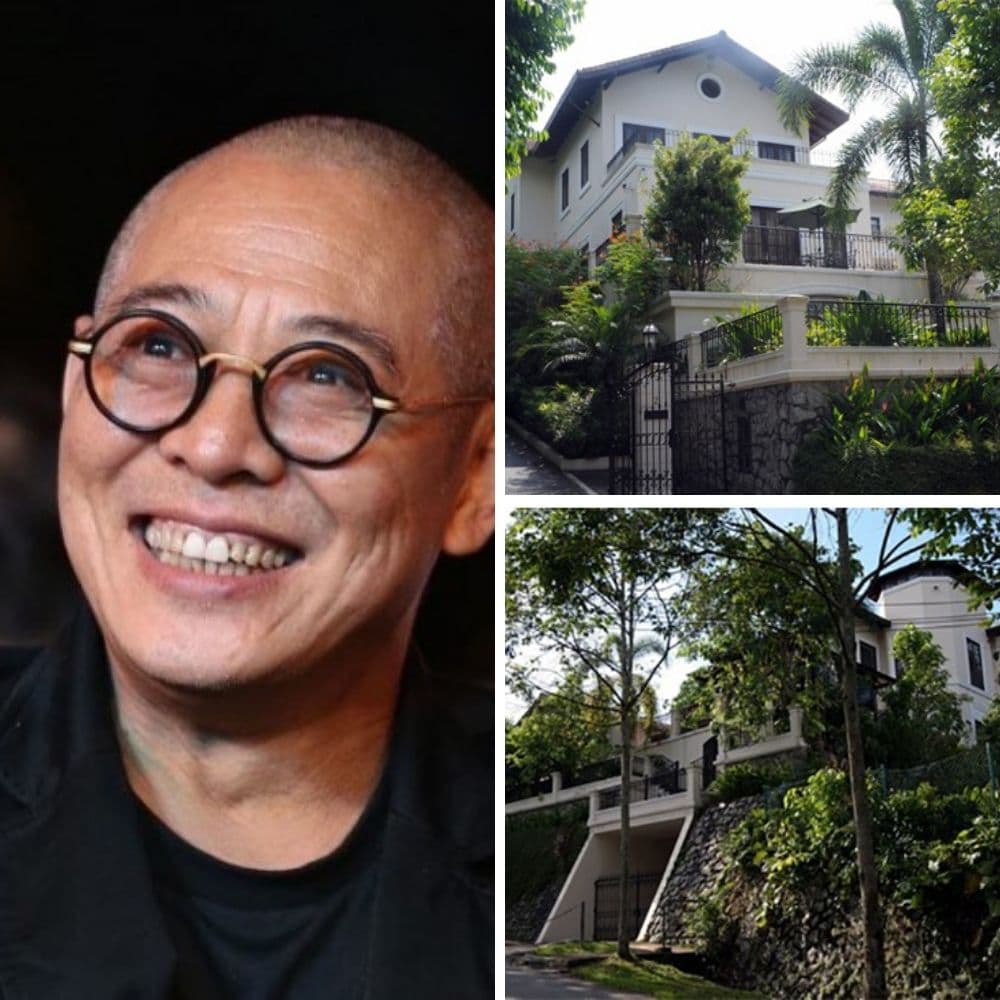 Dolly Parton – $1.2 Million, Nashville
Dolly Parton is a country musician and actress that almost needs no introduction. From 1980 to 1996, Parton lived in this home with husband Carl Dean. The home features a huge kitchen, four bedrooms, walk-in closets, and three bathrooms. This is all spread across a home that totals 4,795 square feet of living space. It's on the market again now and potential new owners only have to cough up $1.2 million to make the sale final.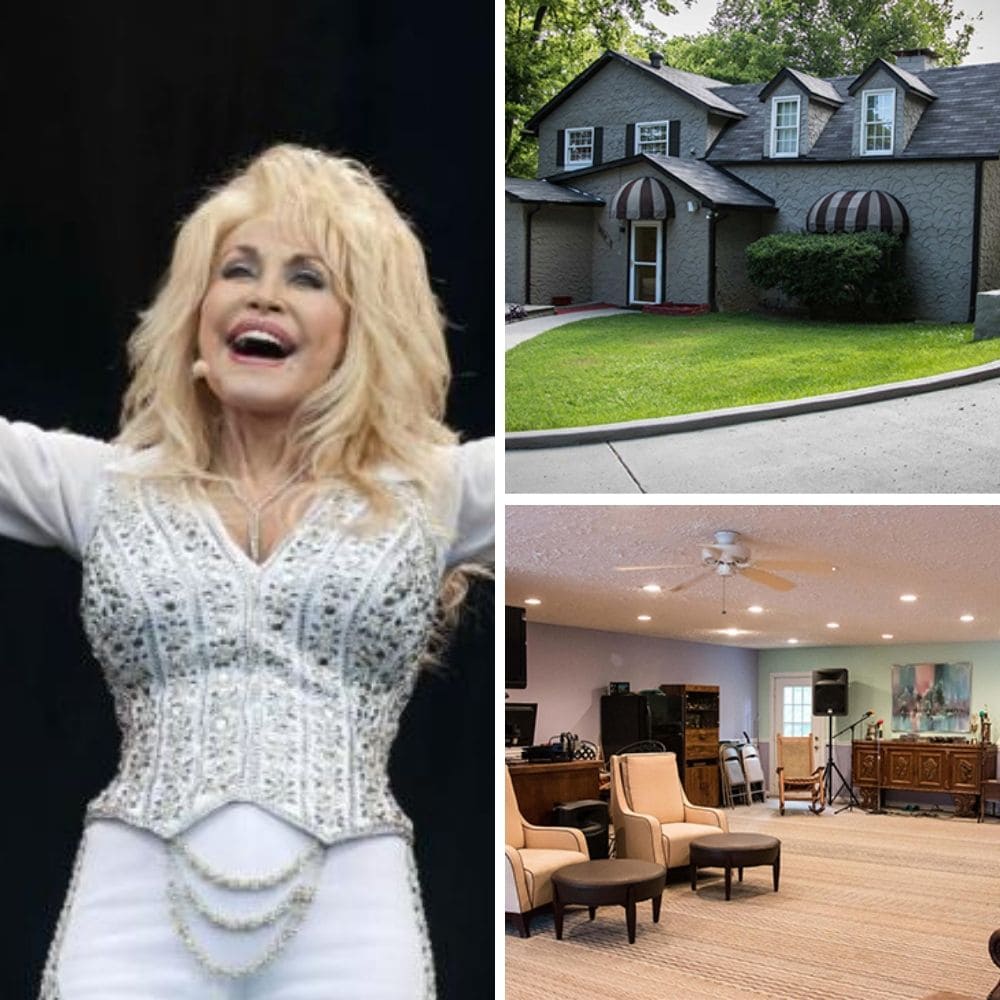 Quincy Jones – Price Undisclosed, Bel Air
After a 60-year career, Quincy Jones is one of the most famous and successful music producers to ever grace the scene. The producer played a huge role in delivering multiple Michael Jackson albums, holds Oscar nominations, and earned a spot in the Rock & Roll Hall of Fame. His Oscar nomination with Bob Russell was particularly historic since the pair were the first African Americans to hold a nomination in the category. His career allowed him to spend an undisclosed amount on a 25,000-square-foot home in Bel Air.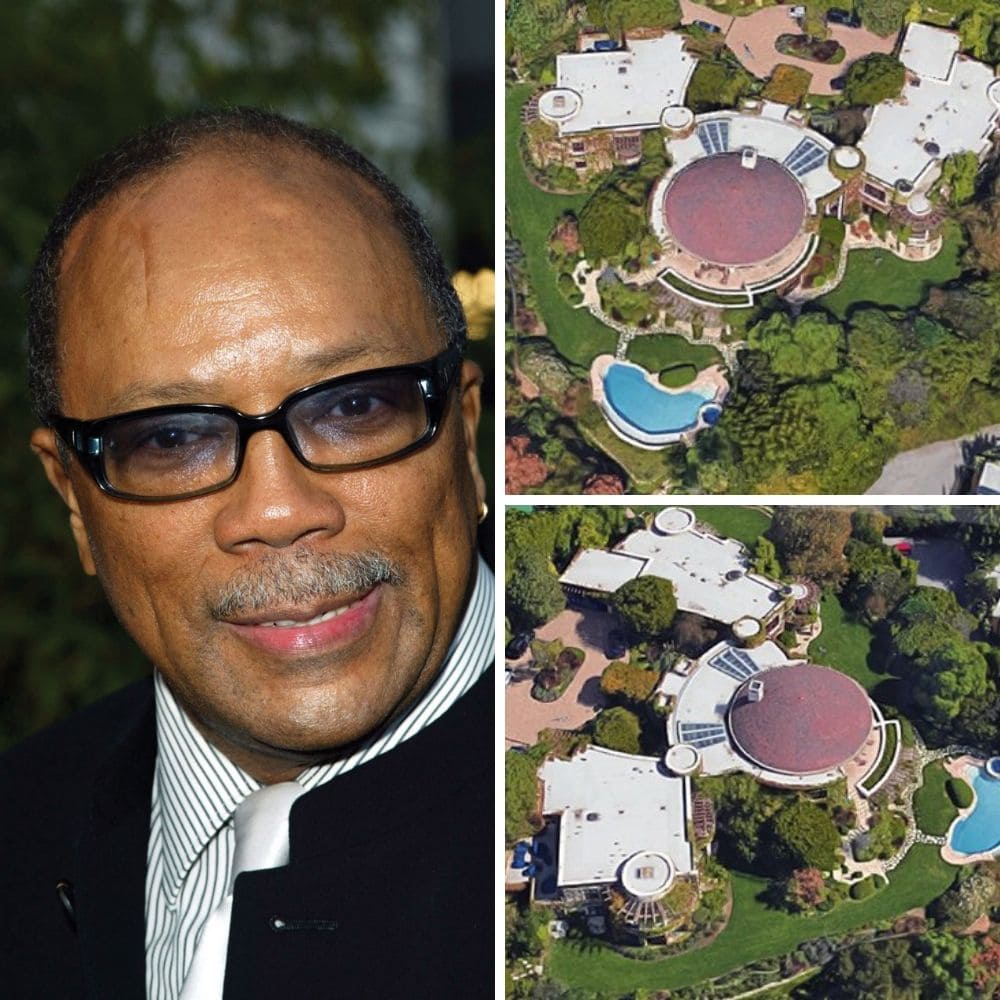 Barry Manilow – $14.75 Million, California
Barry Manilow is one of the most famous singer-songwriters of all time with a career spanning more than five decades. Some of his biggest hits include "Could It Be Magic" and "Can't Smile Without You." This success has given Manilow a wealth that most people couldn't imagine holding and he spent $14.75 million on this 3,969-square-foot, two-story mansion in California. It's designed with contemporary tastes in mind and features five bedrooms, four full baths, and a half bathroom.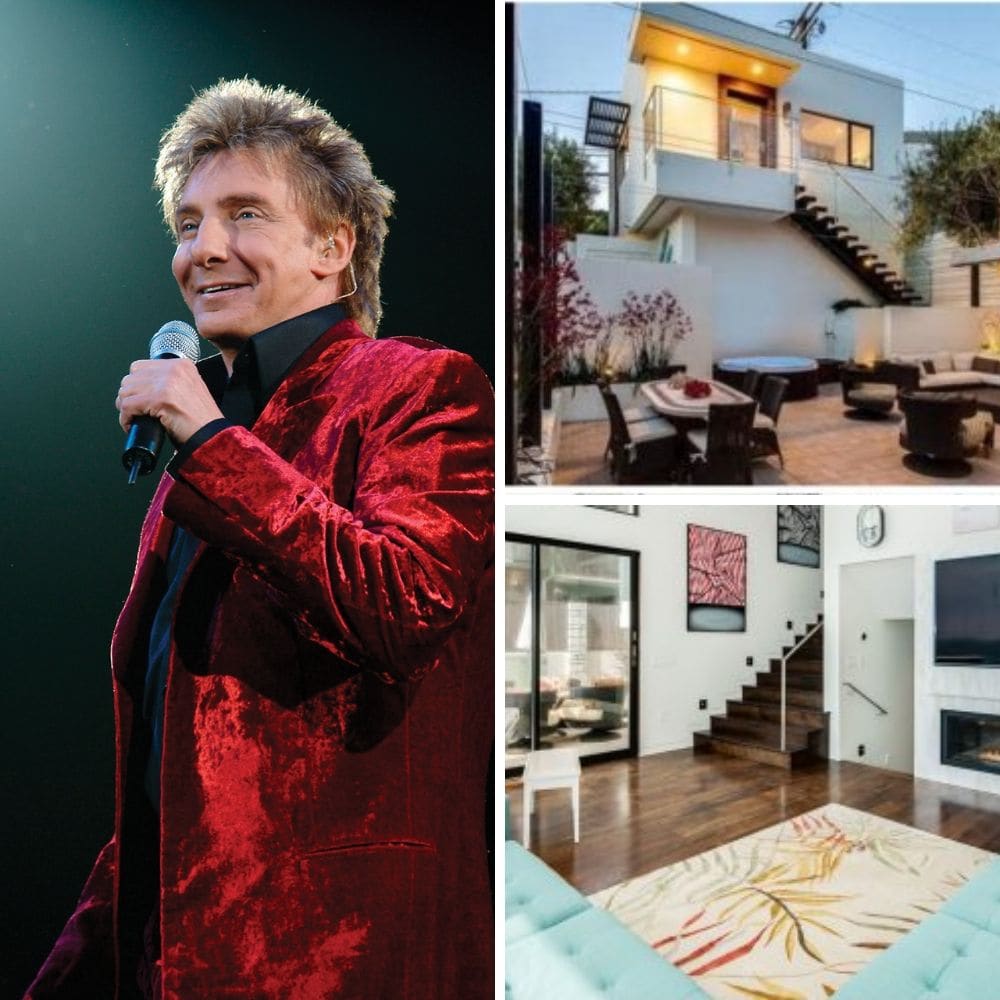 Mel Brooks – $135K Per Month, Malibu
Mel Brooks has kept audiences laughing throughout his entire career as a comedian, actor, writer, and director. Most people recognize him from his work on parody-style movies such as Young Frankenstein, Robin Hood: Men In Tights, and High Anxiety. While he isn't selling the 3,476-square-foot home in Malibu, he is offering it up for rent. The five-bedroom, six-bathroom home has a current asking price of $135K for one month's rent.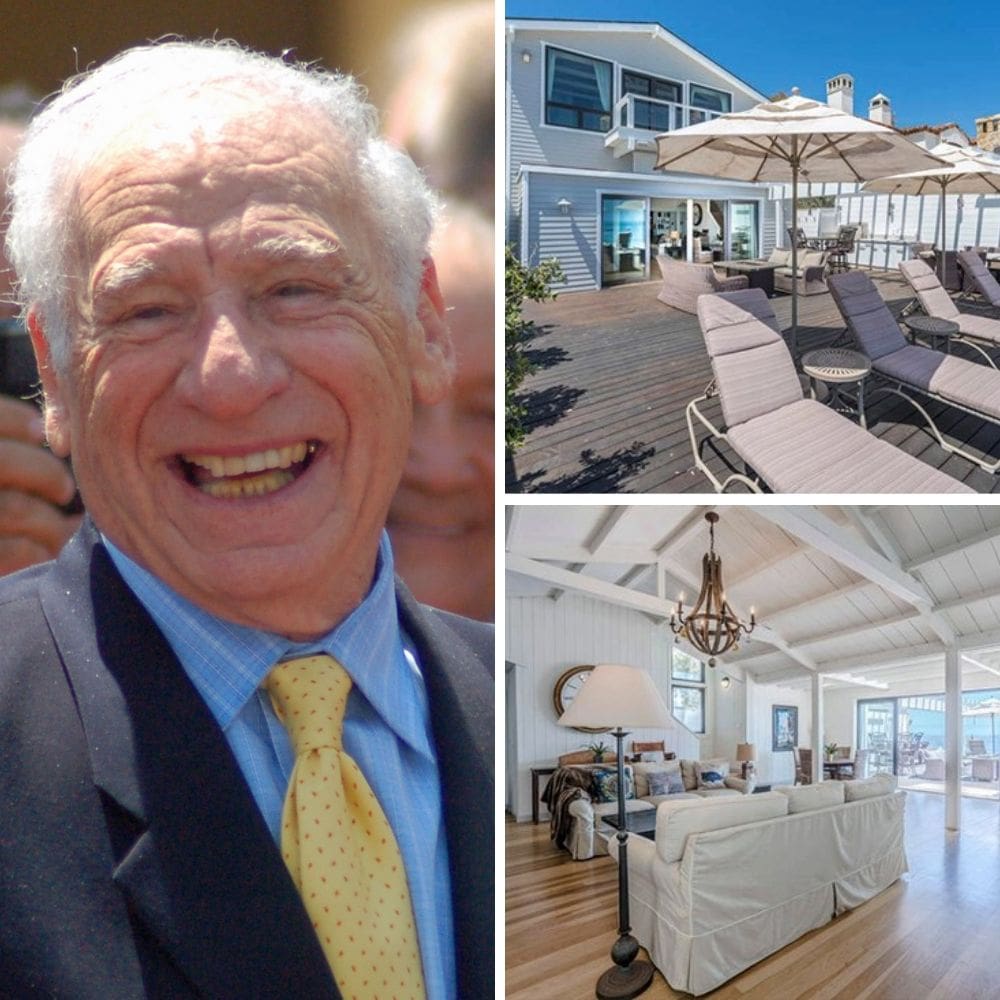 Tina Turner – $1.4 Million, Los Angeles
Tina Turner has made her name worldwide as a talented singer-songwriter with over 60 years of experience. Her first taste of the limelight came in the form of her and her then husband's musical duo, Ike & Tina. However, she branched out in her own solo career which has led to ten studio albums. This success bought her this Los Angeles home that she originally owned with Ike. She listed the home for sale and found a buyer in 2018 for $1.4 million.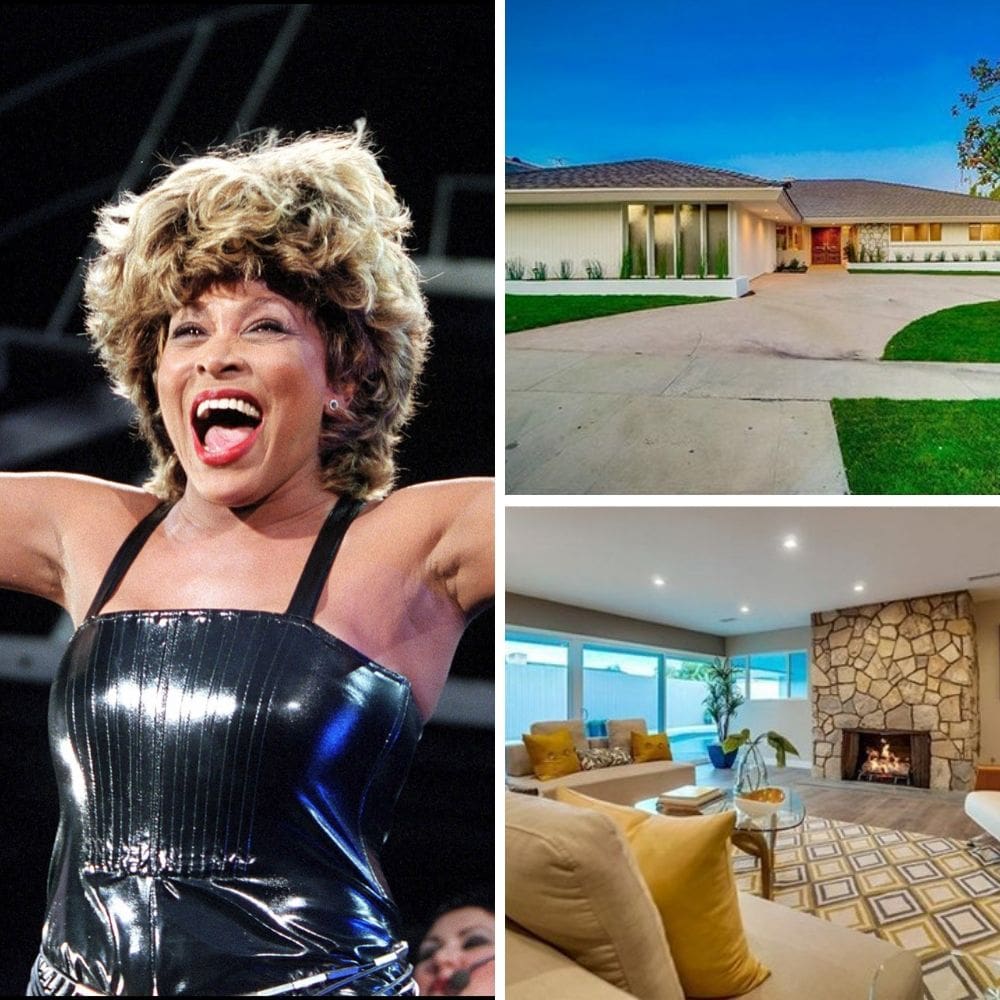 Tony Bennett – $27.5 Million, Belvedere Island
Tony Bennett is best known as a multi-genre musician with a career spanning back to 1945. He's shown his skills in pop, show tunes, and jazz. He's won 20 Grammys throughout his career, sold more than 50 million copies of 70 studio albums, and won a Lifetime Achievement Award. He has an estimated net worth of $200 million, part of which was represented by a Belvedere Island Home that he listed for $27.5 million in 2011.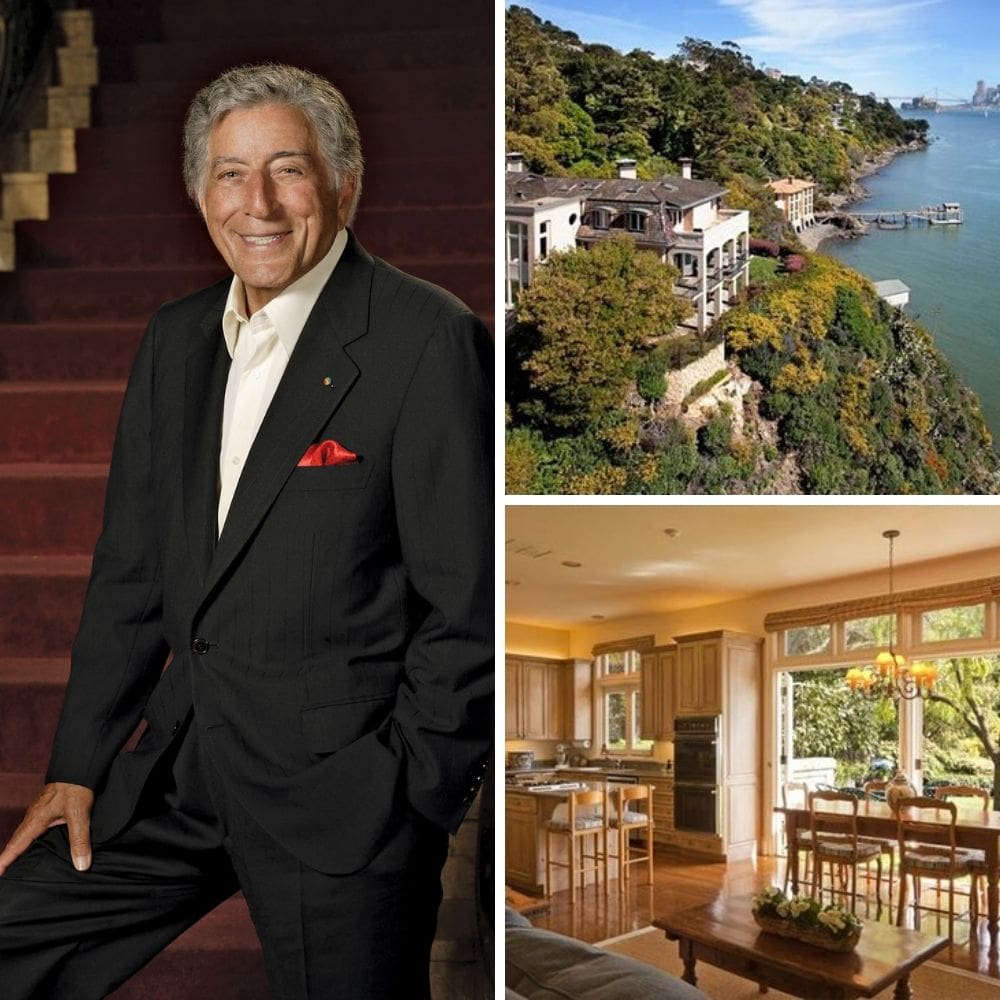 David Attenborough – Around $1.16 Million, Hertfordshire
David Attenborough has affectionately earned the title of one of Britain's national treasures. This persona was created through a career as a historian, broadcaster, and narrator, narrating documentaries such as Life. He also earned some technical experience with BBC where he held roles as controller, the director of programming, and senior manager. His Hertfordshire home is actually the home he grew up in. It was remodeled back in the '80s and divided up into a triplex that was listed more recently for $1.16 million.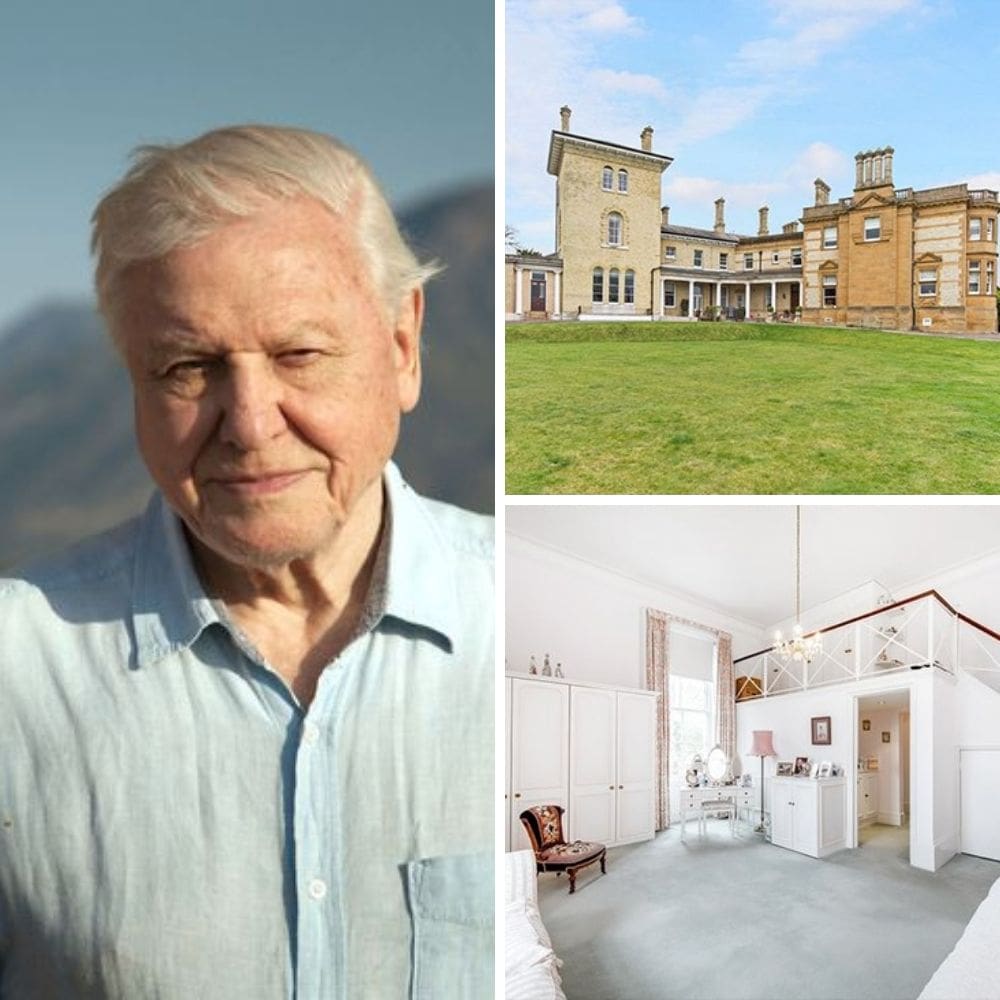 Cloris Leachman – $930K, Topanga Canyon Ranch
Cloris Leachman is a famous actress whose career has been active since her 1943 debut. Today, she holds the title of an eight-time Primetime Emmy winner. Interestingly, she's tied with Julia Louis-Dreyfus for the record number of these awards. She can be seen in roles on The Mary Tyler Moore Show, Young Frankenstein, and The Beverly Hillbillies. Thanks to public record, we know that she bought this Topanga home in 2012 for the price of $930K.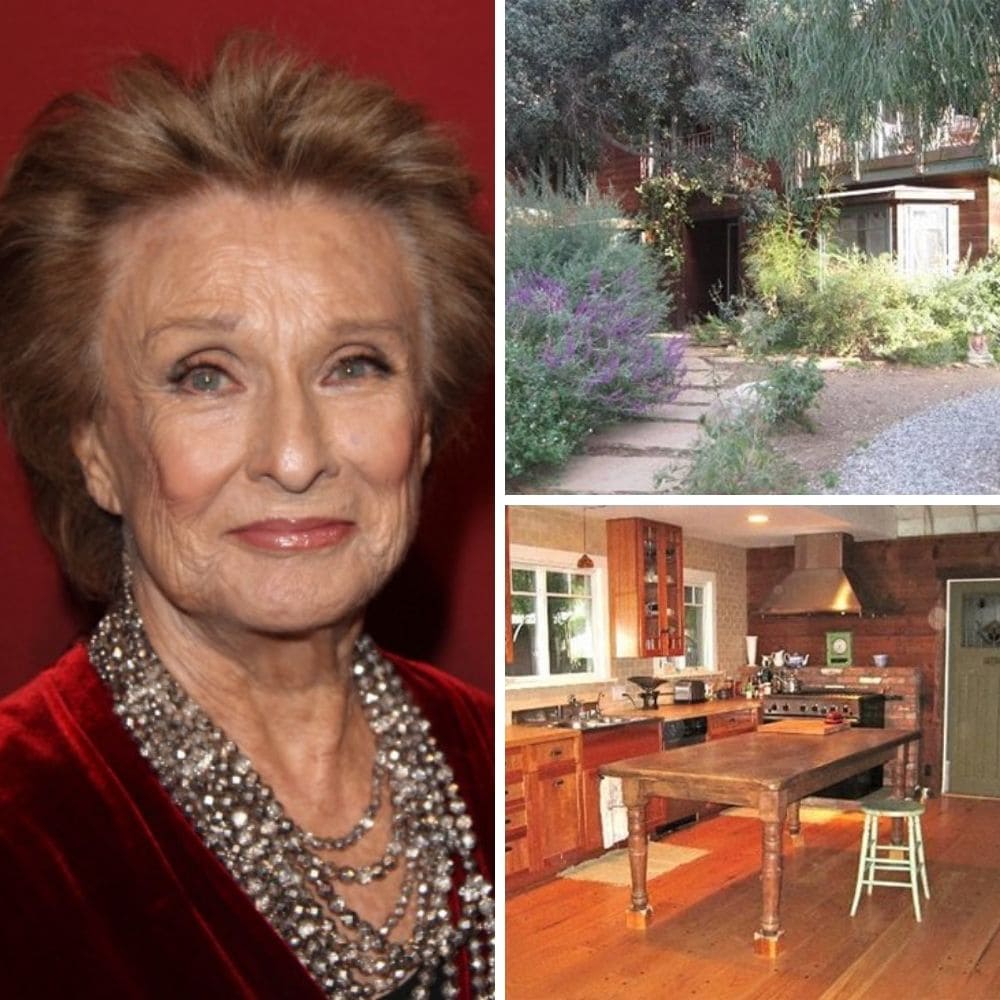 Wesley Snipes – Approx. $4.1 Million, Alpine
Wesley Snipes has surely made a controversial name for himself in Hollywood thanks to his illustrious career being interrupted with a tax evasion arrest. However, the Blade actor seems to have bounced back in recent years. Sadly, he purchased his Alpine home before his arrest and was unable to hold onto it when his finances were brought into question. On the bright side, fans of the classic vampire series might see Blade make a reappearance with a fourth movie.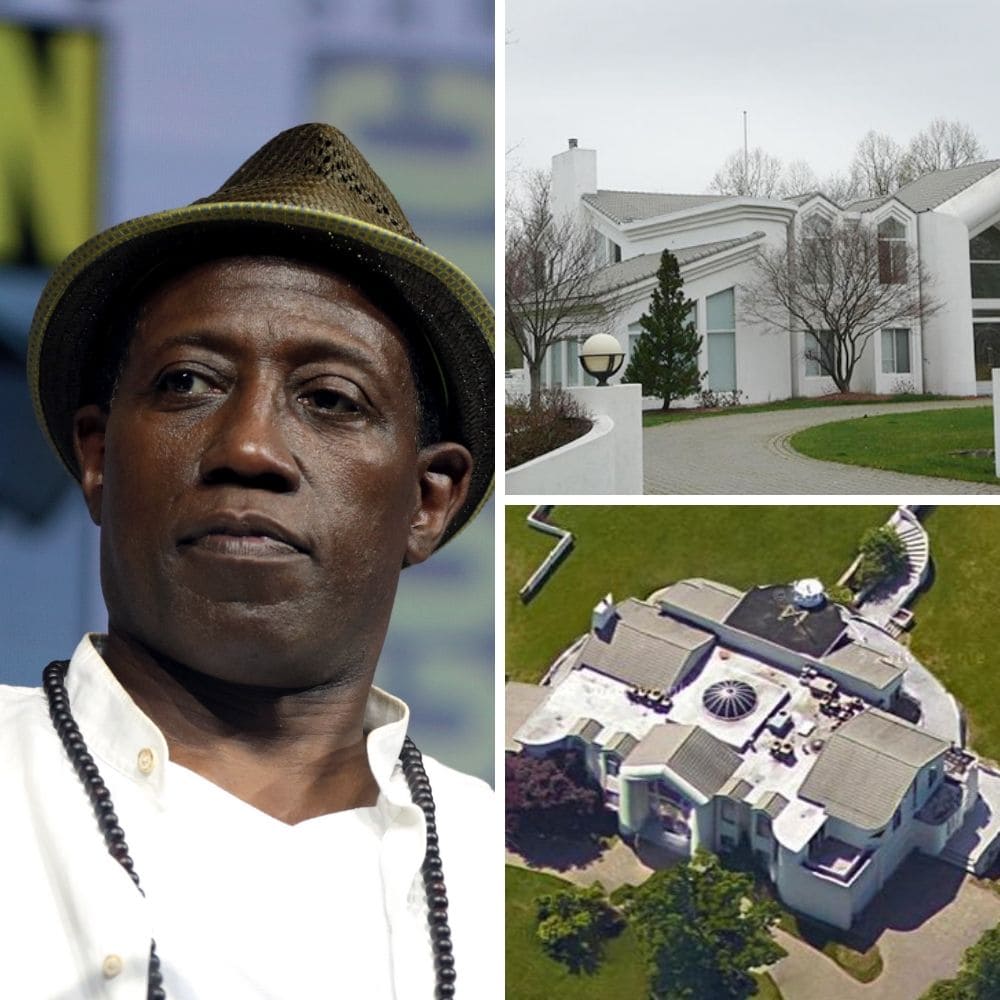 Mary Beth Peil – Price Undisclosed, Upper West Side
Mary Beth Peil is a well-known actress but her career actually started as an opera singer back in the '60s. Throughout this time, she held roles in classic productions such as The Marriage of Figaro. In 1992, she transitioned to acting with a role in Jersey Girl followed by Dawson's Creek and The Stepford Wives. She purchased this gorgeous Upper West Side, Manhattan apartment and still owns it to this day for an undisclosed price.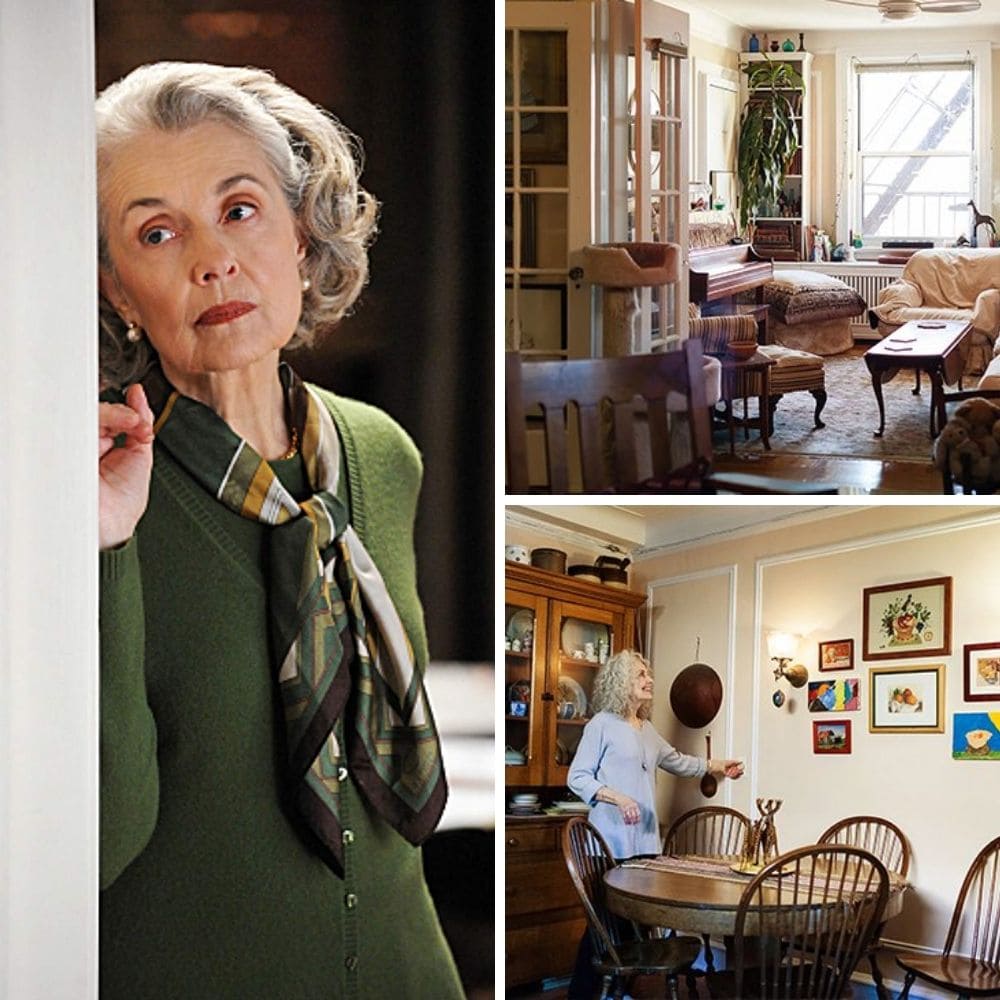 Eva Marie Saint – $5.395 Million, Los Angeles
Eva Marie Saint holds a 70-year career as an Oscar-winning actress. She was in Alfred Hitchcock's North by Northwest as well as having roles in A Hatful of Rain, Superman Returns, and On the Waterfront. Modern audiences might recognize her from The Legend of Korra or A Winter's Tale. In 2014, she put her Los Angeles home on the market with a $5.395 listing price. Aside from two acres of land, the house served as the home of a legend for 40 years.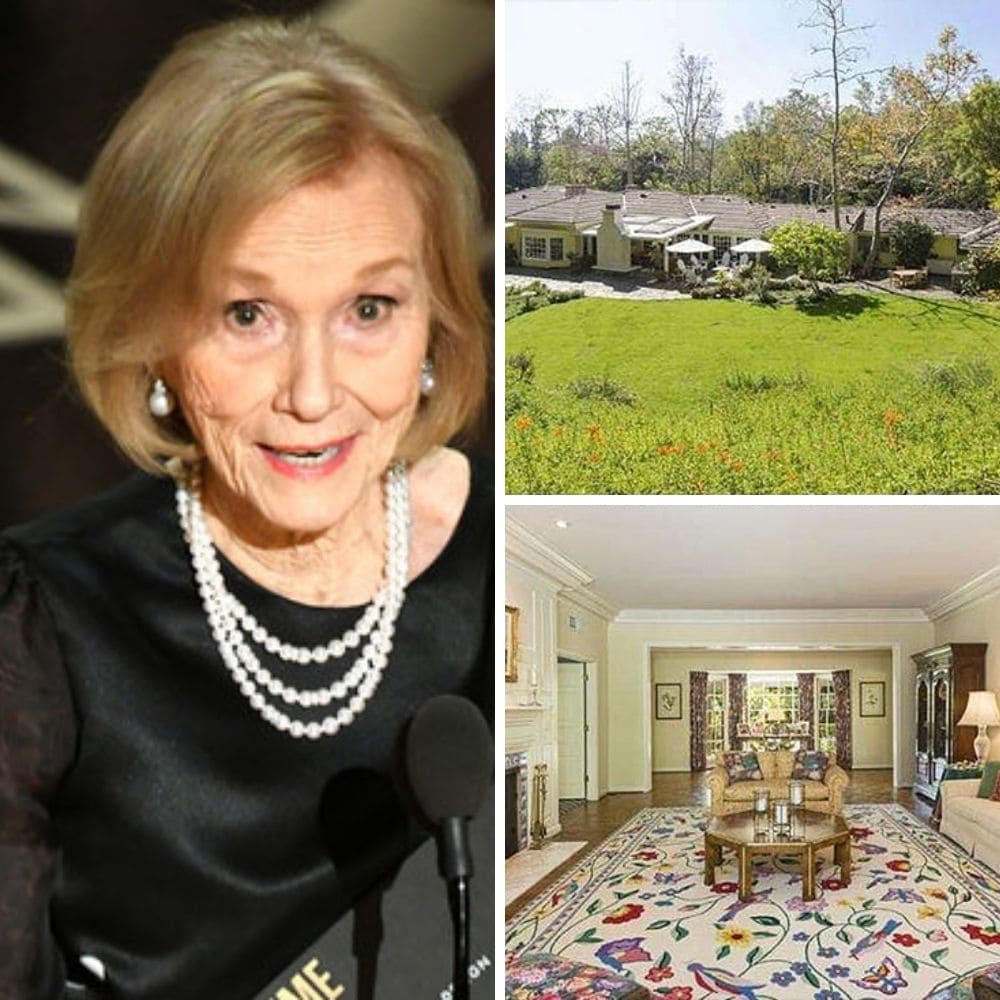 Shirley Jones – $2 Million, Encino
Shirley Jones is another impressive Hollywood leading lady who's had 70 years to learn the ropes and make her impact. She most famously starred in musicals such as Oklahoma! and sitcoms such as The Partridge Family, as well as won an Oscar for her work in Elmer Gantry. The Encino estate that she listed in 2016 came at a price of $2 million. The ranch-style home featured five bedrooms, six bathrooms, and 0.71 acres of land.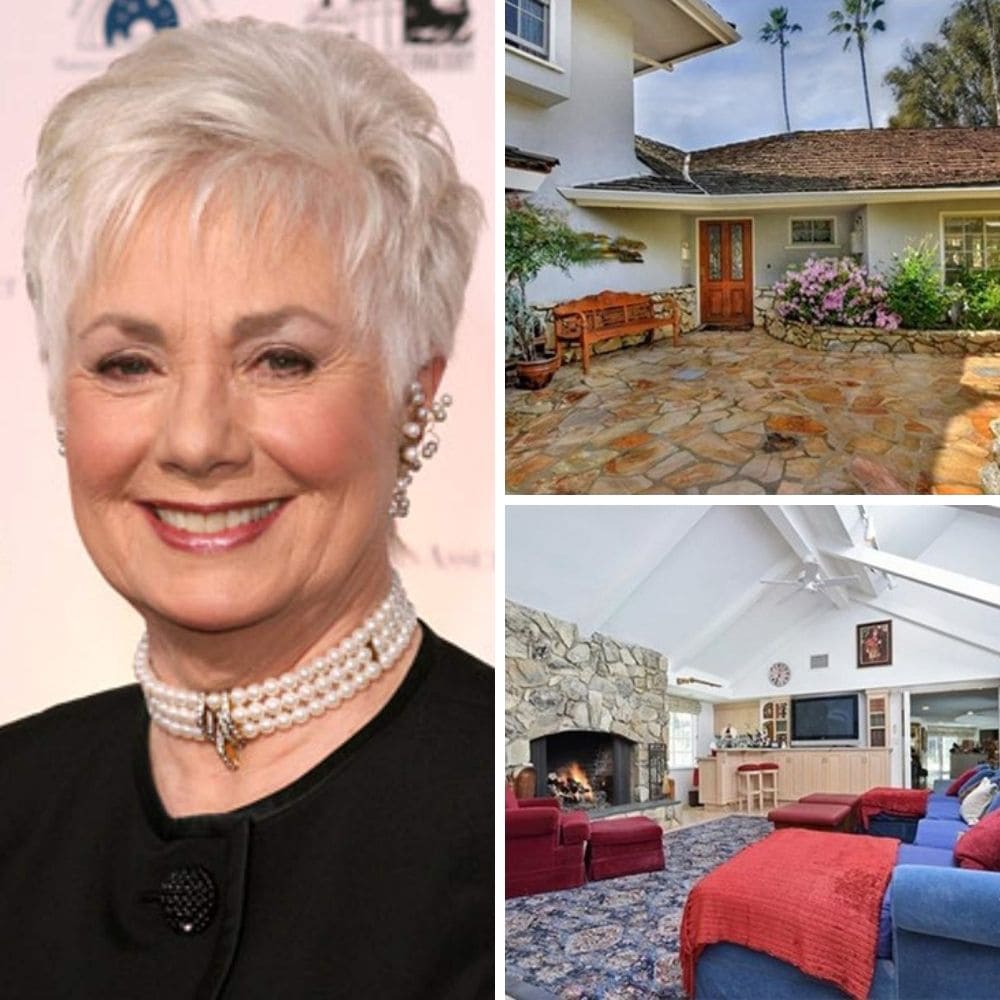 Maureen McCormick – Unknown, California
Maureen McCormick first became a household name for her role as Marcia on The Brady Bunch. After her debut as a child star at 13, Maureen's career hit a bit of a rough patch, but she eventually recovered to find work as a recording artist as well as a reality show star. The star is now rather private about her life, so we don't know much about the layout or amenities of the mansion or the exact price at which she bought it.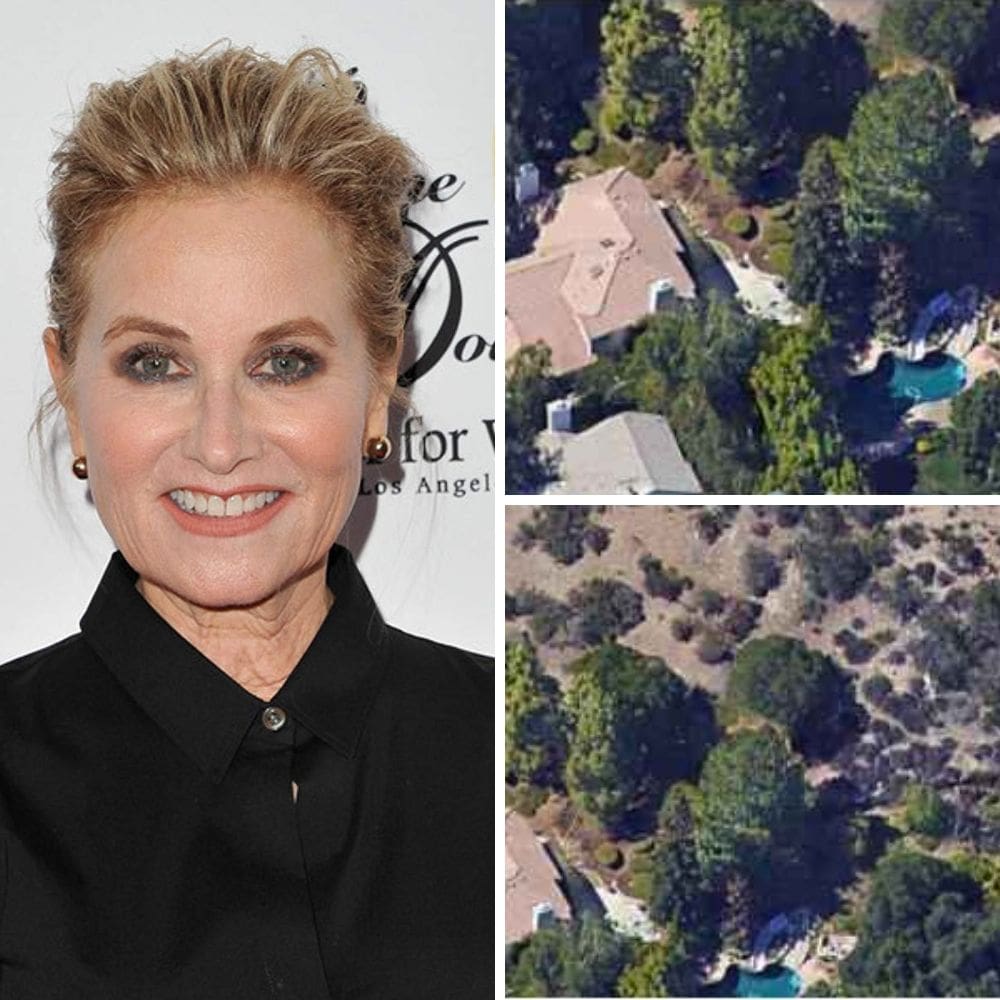 Julie Andrews – $33 Million, London
With a career spanning back to 1945, it's hard to imagine today's world without some of Julie Andrews' best roles. The star is most often recognized for her work playing the titular character in Mary Poppins and as the star of The Sound of Music. More recently, she's starred in films such as The Princess Diaries and lent her voice to movies like Despicable Me and Shrek. She had a home in London that she listed in 2018 for only $33 million.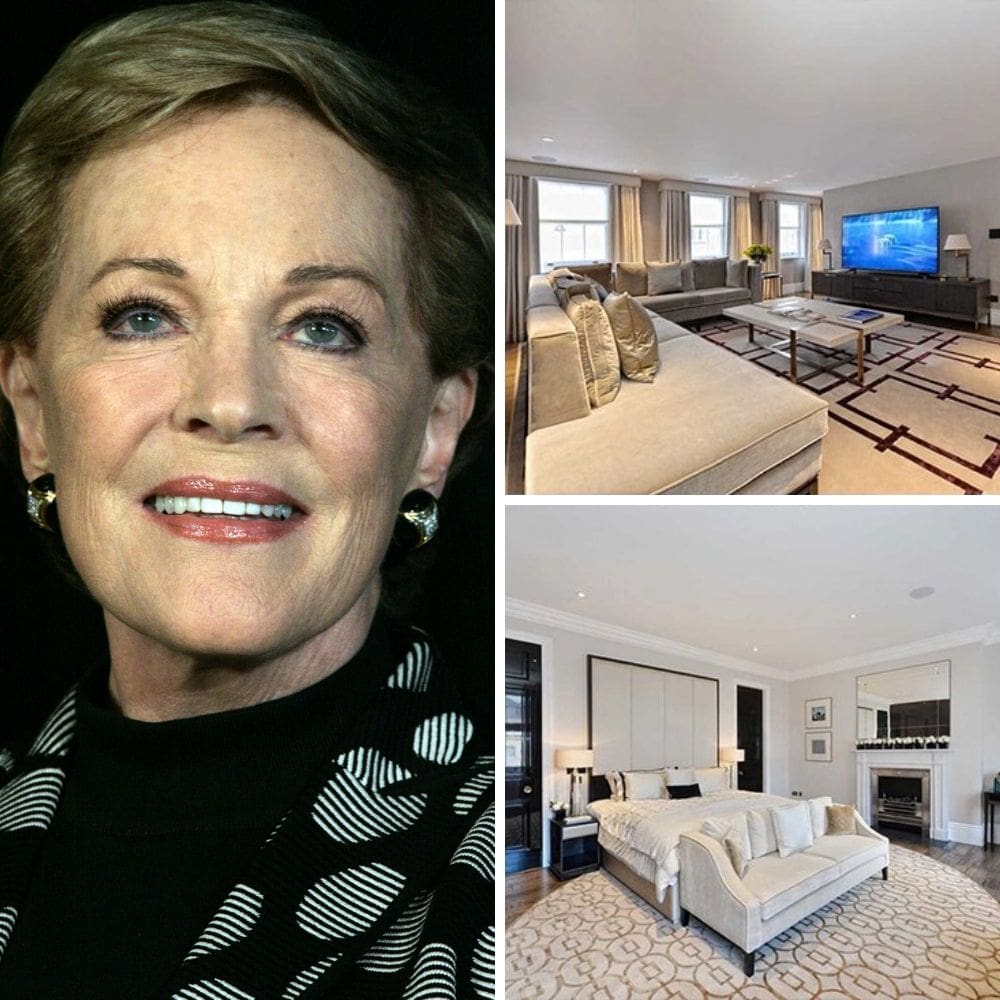 Robert Fuller – Undisclosed Amount, Texas
It seems fitting that Robert Fuller's home would be like a set from a Western. In fact, the horse rancher/actor was encouraged to move to the rural area of Cooke County, Texas after Alex Cord convinced him and his wife, Jennifer Savidge, to join him in Northern Texas. Since the actor has retired from the limelight and hasn't listed this home for sale as of yet, we're not sure of the details behind this expansive ranch.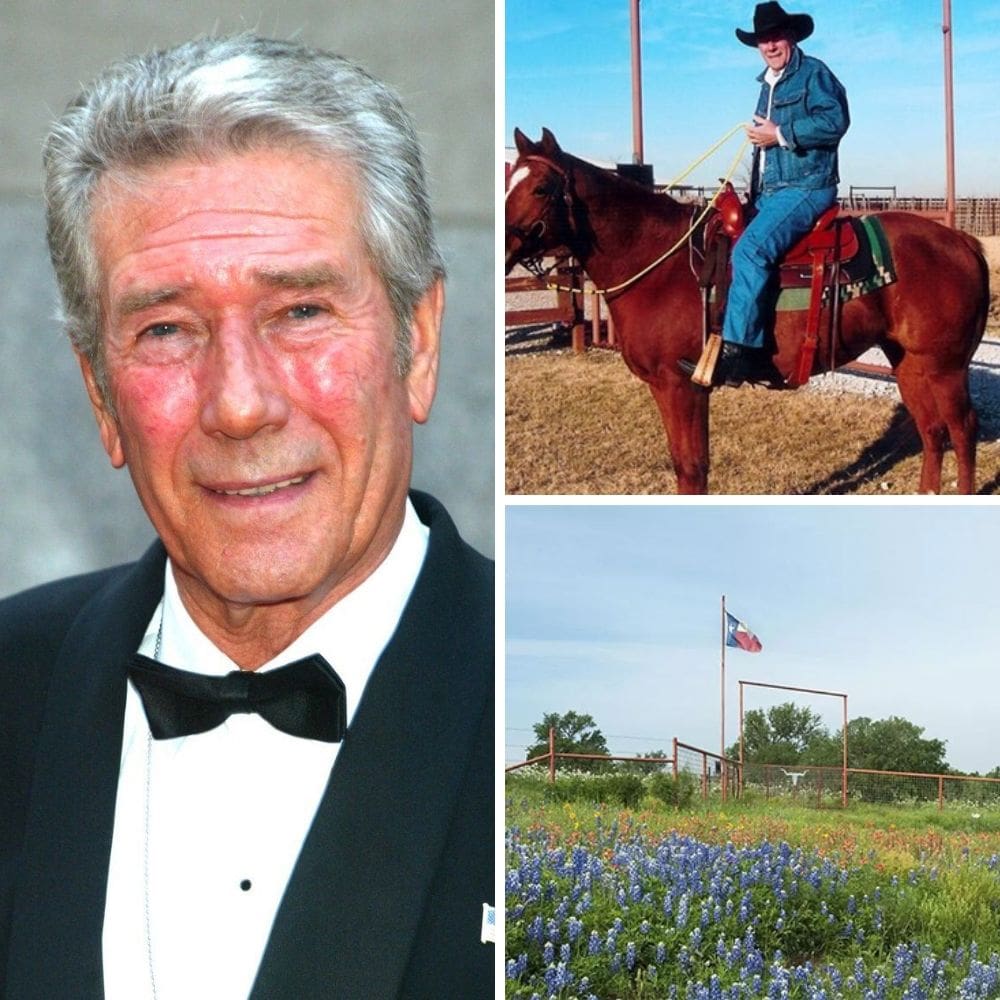 Doris Day – Price Undisclosed, Carmel-by-the-Sea
Doris Day started her career in 1939, making her one of the most successful women during Hollywood's Golden Age. Throughout the '40s, '50s, and '60s, she recorded an astounding amount of music – more than 650 songs! All the while, she took roles on the big screen and even eventually landed The Doris Day Show. She owns a property on Carmel-by-the-Sea. While the price is undisclosed, we do know that it's held the official title of a certified historic landmark since a 1929 decision.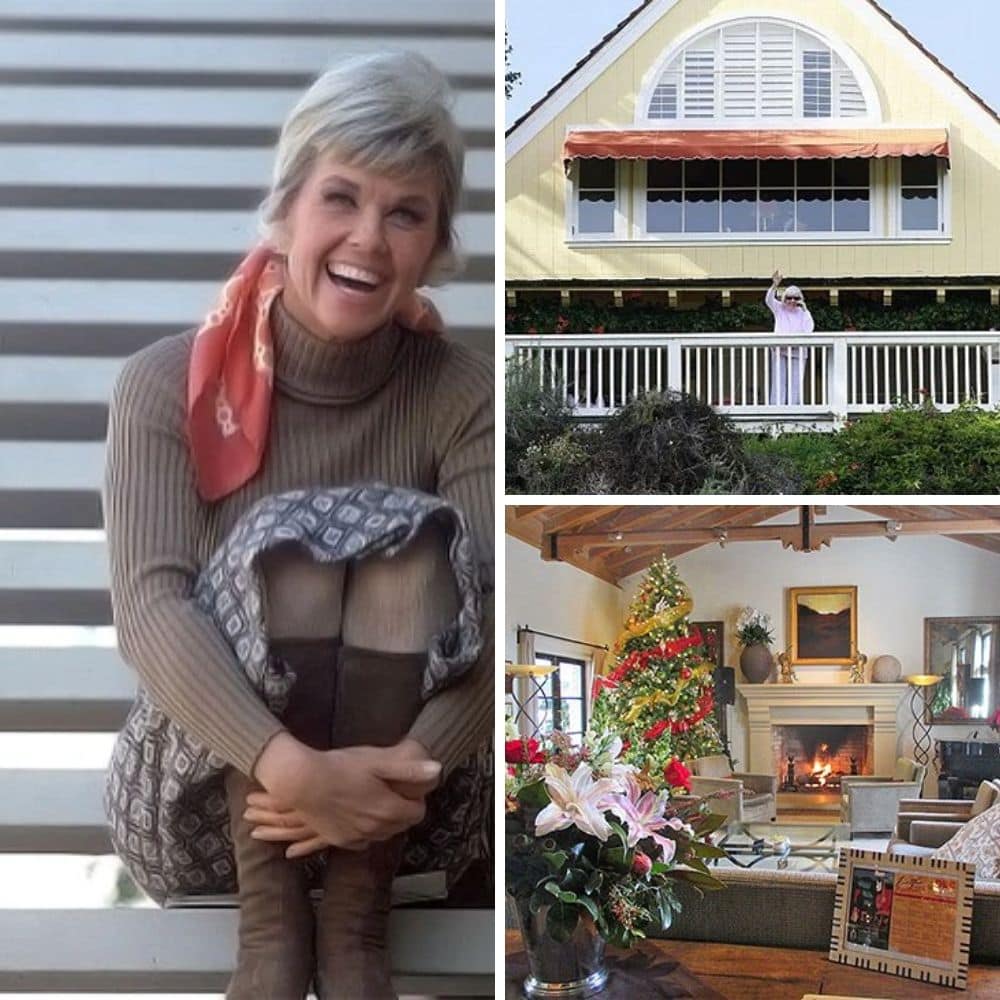 Winona Ryder – $2.2 Million, Los Angeles
While modern fans recognize her as the mother in Stranger Things, Ryder's career spans back decades. Some of her most famous roles include the main character, fittingly named Heather, in the now cult-classic Heathers. She also served as one of the main characters in Beetlejuice. All of this fortune has led to Ryder's impressive home in Los Angeles. While it isn't on the market currently, it has a reported worth of $2.2 million.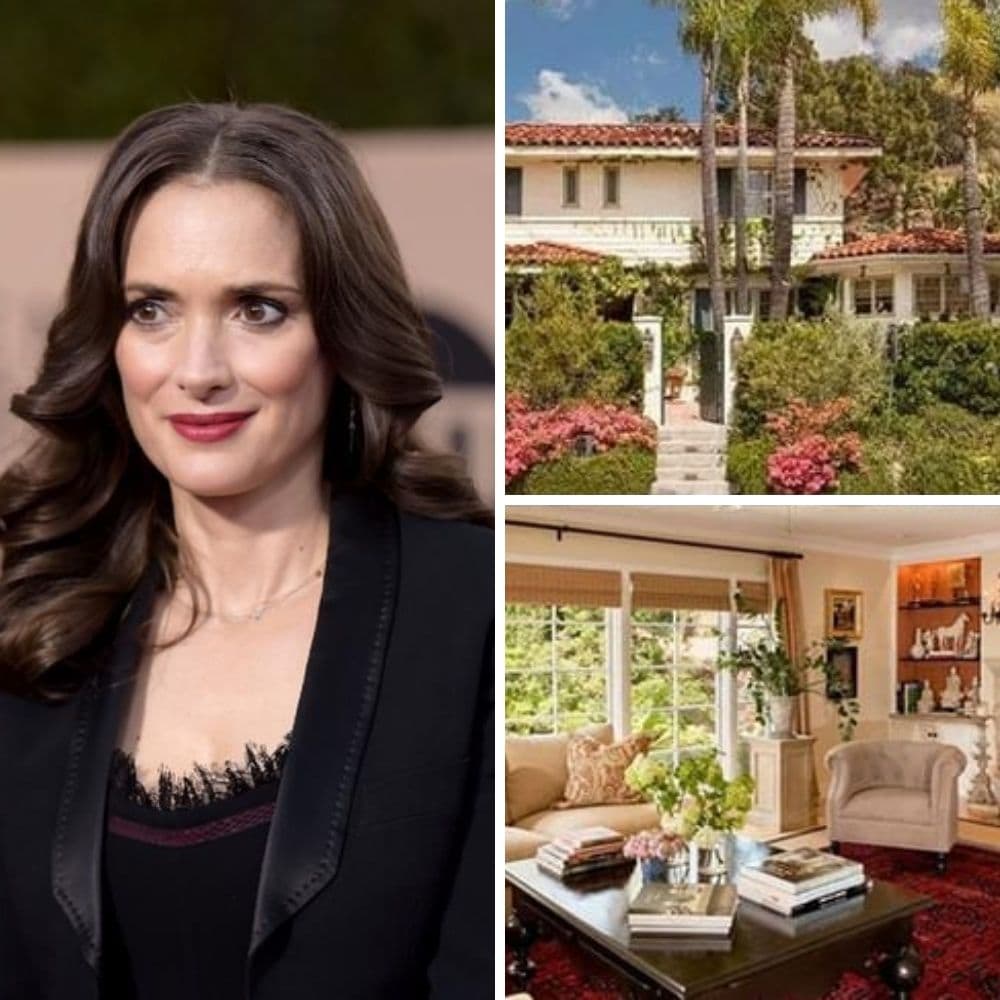 Billy Dee Williams – $12.995 Million, Beverly Hills
Billy Dee Williams has a career spanning back to 1959 and he hasn't retired yet! While he has plenty of roles and accolades under his belt, he's most often cited for the iconic portrayal of Lando Calrissian in the Star Wars series. He even revisited the role with the release of Star Wars: Episode IX and in recent video games. His home is 6,000 square feet and features seven and a half baths, seven bedrooms, and other amenities. He listed the home for sale in 2018 for $12.995 million.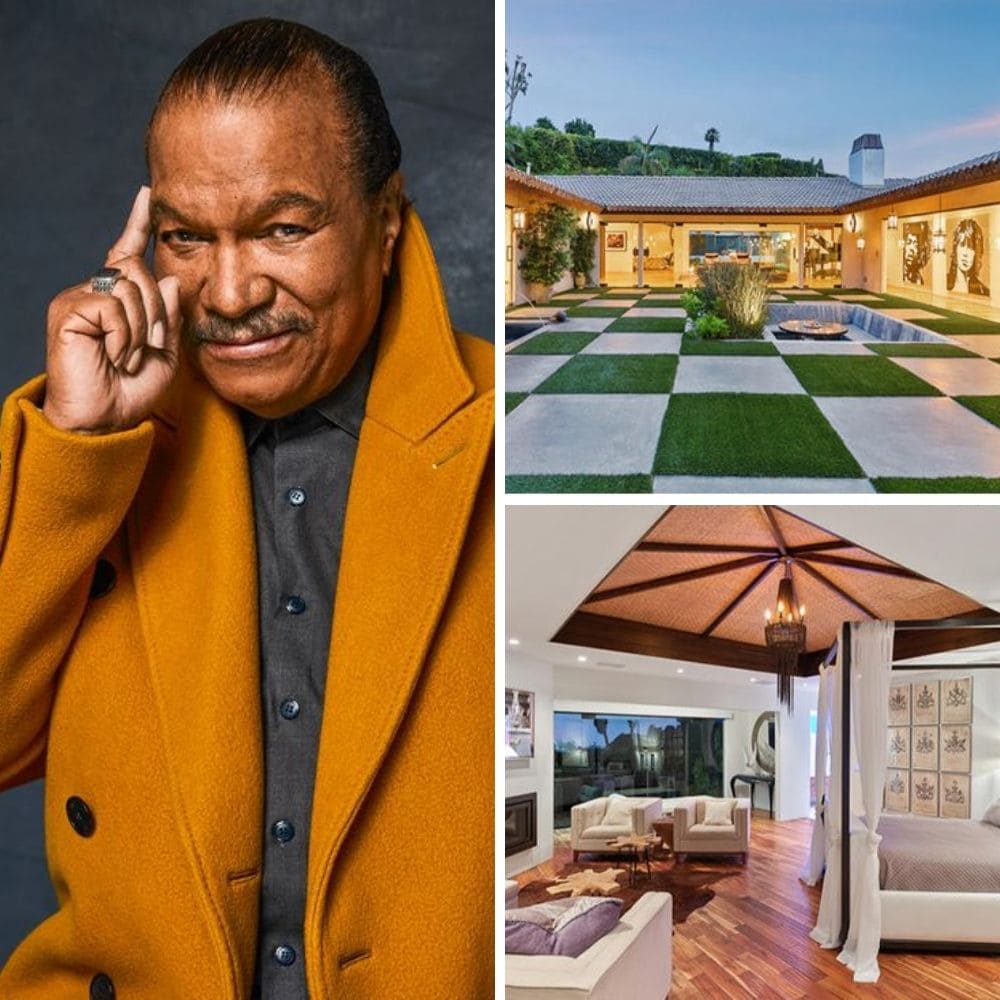 Rachael Ray – $4.69 Million, Hamptons
Rachael Ray is one of the most famous celebrity chefs that the Food Network hosts. In addition to being a chef, she's also an author, media personality, entrepreneur, and proud winner of multiple Daytime Emmy Awards. She used part of her high net worth to purchase a home in the Hamptons with three bedrooms and amenities such as a swimming pool and large backyard. It was listed for sale in 2018 for $4.69 million.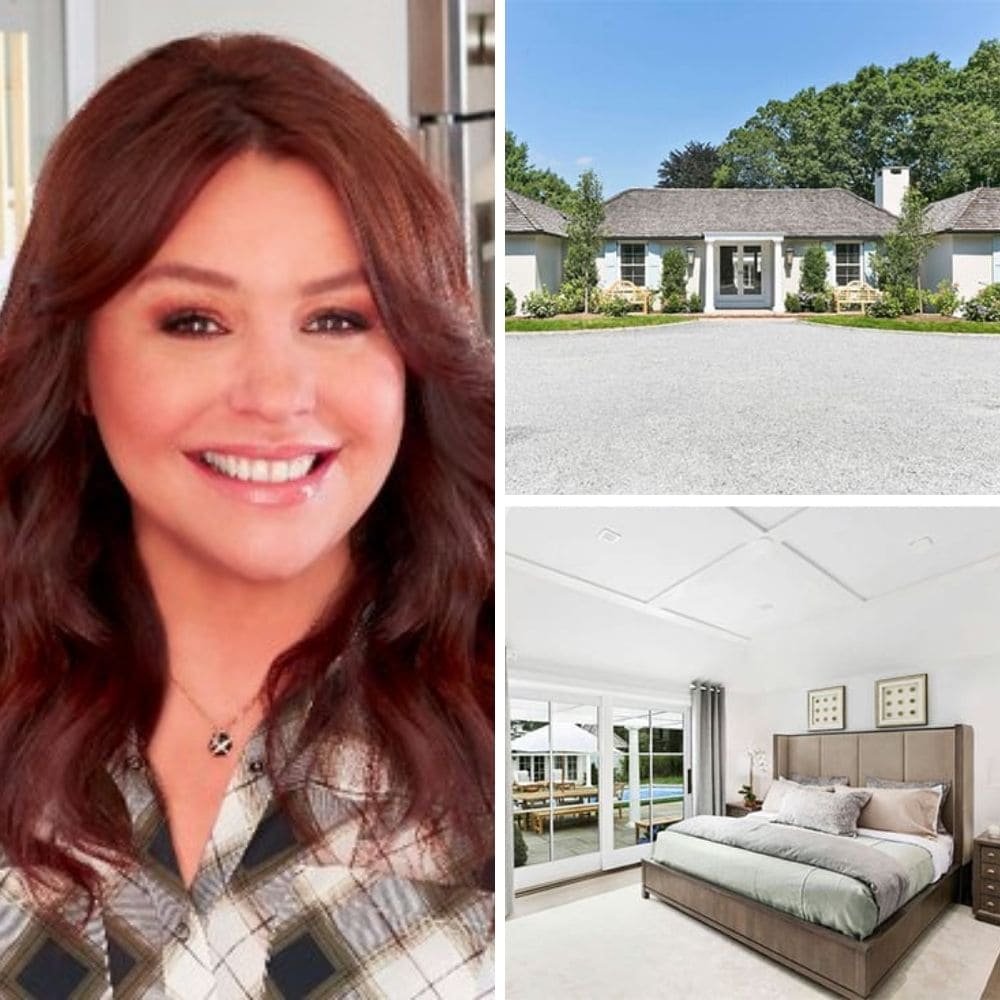 Jack Lord – $800,000, Hawaii
The show Hawaii Five-O has had multiple editions at this point but no one has stood out quite as well as Jack Ford in the original. Since the actor loved the water and the land so much, he decided to live the dream and move to Hawaii. He opted for a three-bedroom, three-bathroom condo on Kahala Beach for an approximate value of $800,000 at the time of his death in 1998.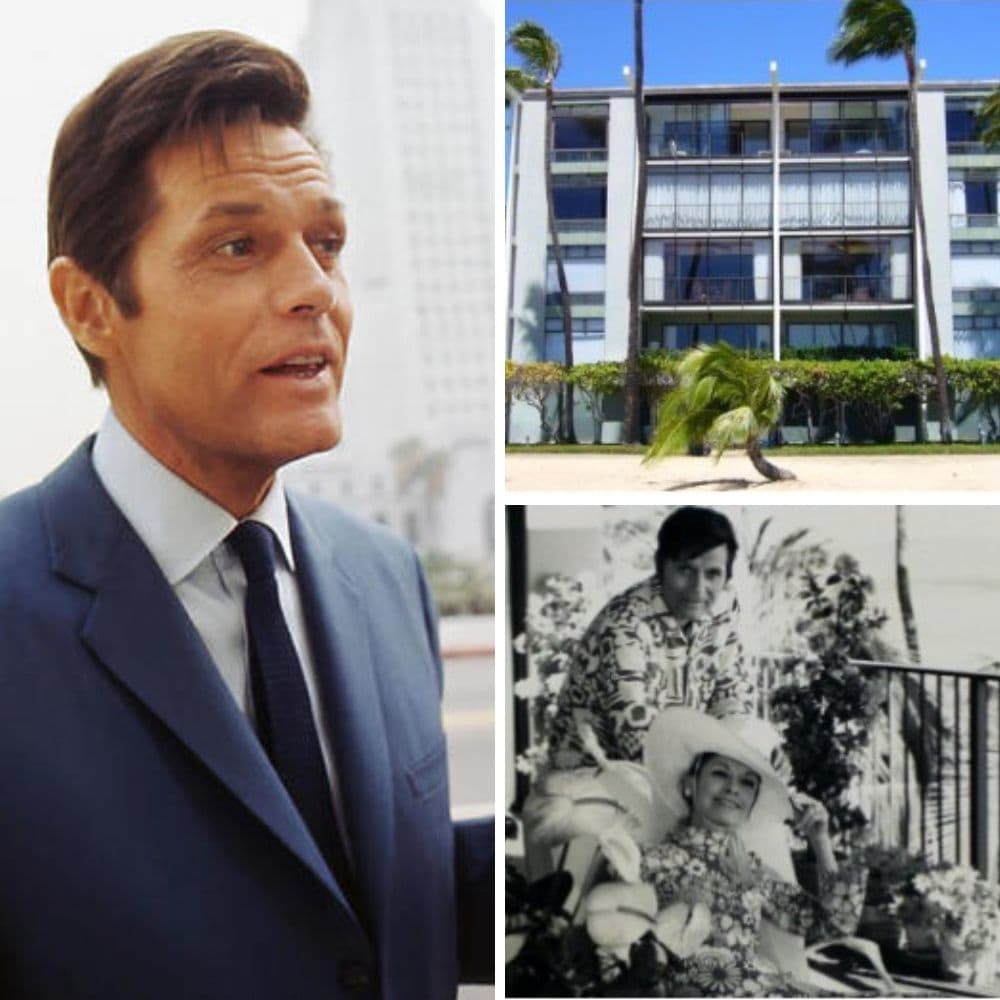 Barbi Benton – $11.9 Million
Barbi Benton put her Los Angeles home up for sale in 2011, listing it for an asking price of $11.9 million. She lived in the space for years after an initial purchase with her husband, George Gradow, who she married in 1979. Located in Bel Air, the four-bedroom mansion measures 11,608 square feet. It also features an impressive 11 bathrooms for potential buyers. This home is in no small part thanks to Barbi Benton's long career as an actress and model.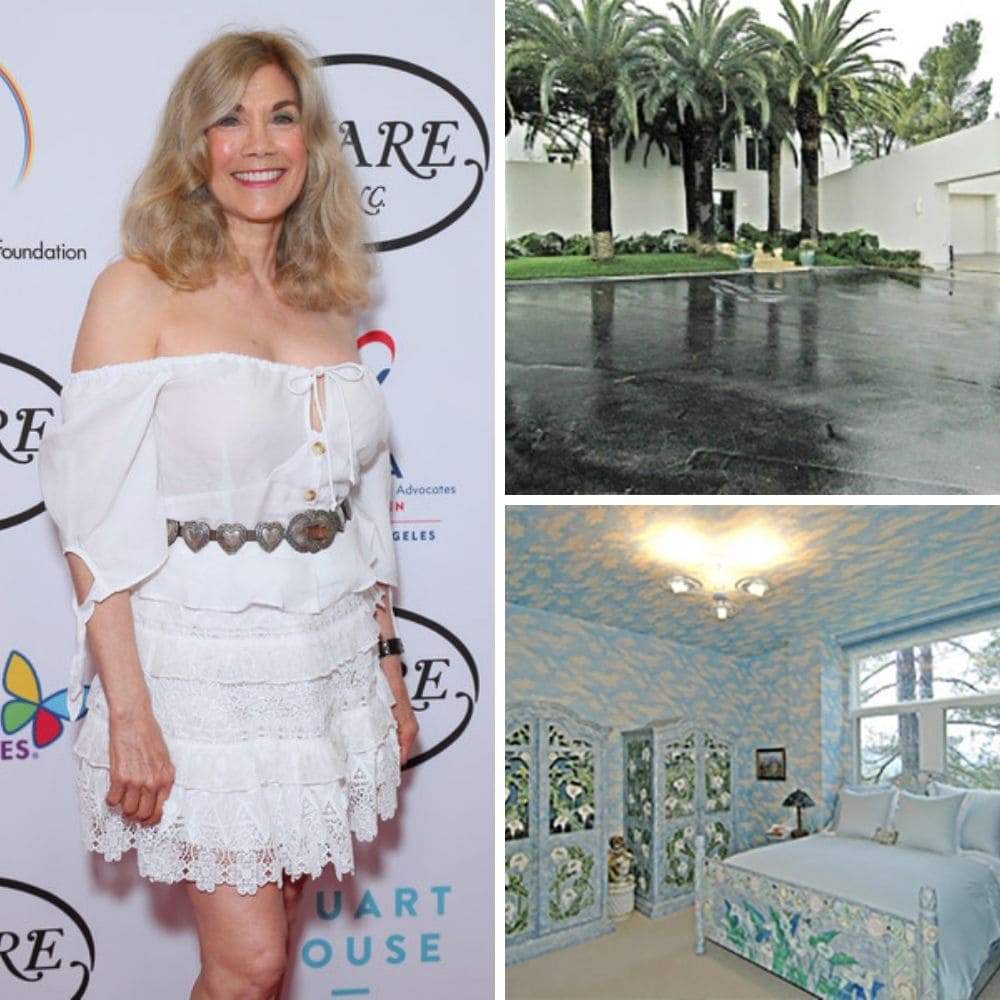 Barbra Streisand – Price Undisclosed, Malibu
The exact price of Barbra Streisand's home is undisclosed, but we know she's a big spender based on the art collection she had on display here worth an estimated $5 million, including a $2 million piece called Adam and Eve by Tamara de Lempicka. The Malibu property is beautiful and it even served as a cover photo for Architectural Digest in 1993. It has plenty of bold but very attractive design choices such as purple and black tiling and pink cushion-lined bedrooms.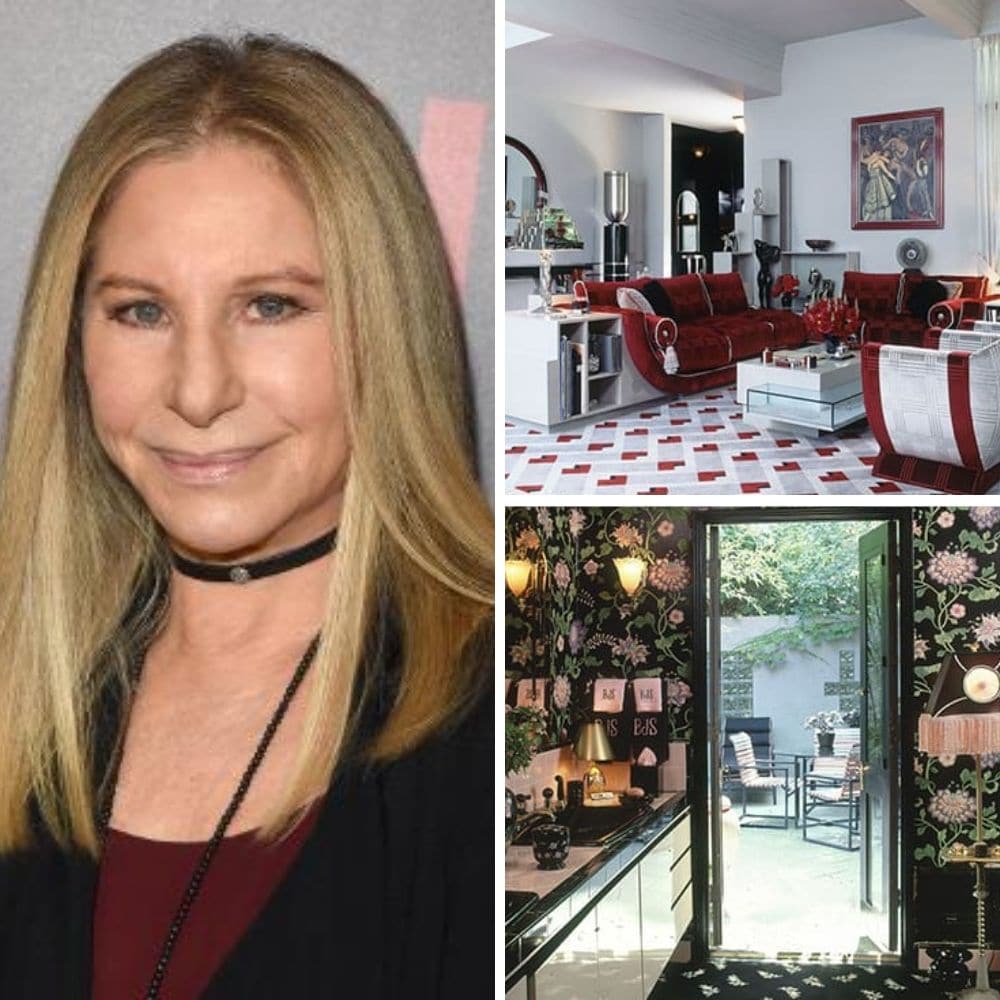 O.J. Simpson – $1.8 Million, Las Vegas
Saying O.J. Simpson is a controversial figure is definitely an understatement. He first rose to the public's attention as a star football player and then as an actor before coming to a hiatus while he was on trial for murder and subsequently went to jail for a different event. Now that he's out, though, the former football star keeps us up-to-date on his life through Twitter. He lives in a 5,000-square-foot home with five bedrooms and five and a half baths. It has a reported worth of $1.8 million.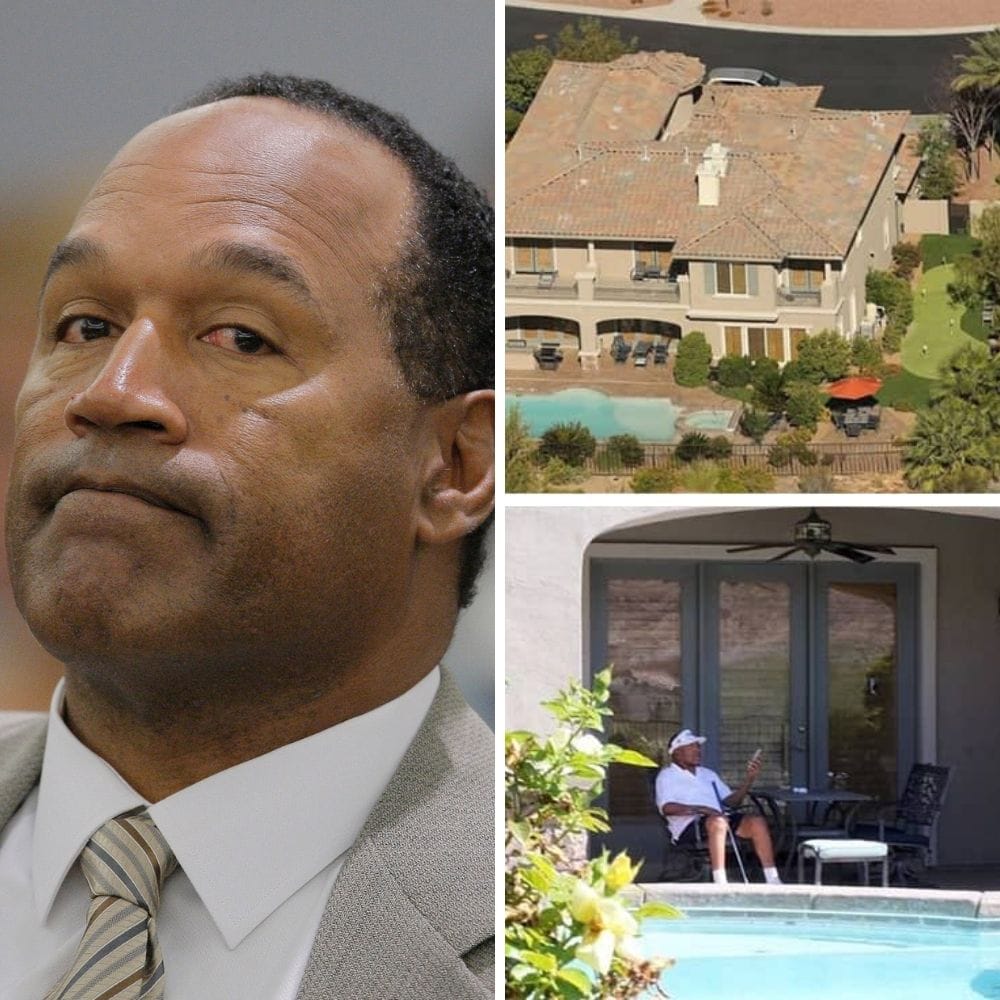 Angie Dickinson – $1.25 Million, Beverly Hills
Angie Dickinson is an actress and actually bought her home from another celebrity cartoonist named Walter Lantz. Even if you haven't heard his name, you've surely seen his famous character Woody Woodpecker. The home is located in Beverly Hills and was originally built in the 1960s. The property features two bedrooms with a living space of 5,000 square feet. She bought the house for a steep price of $1.25 million which was far below the original asking price.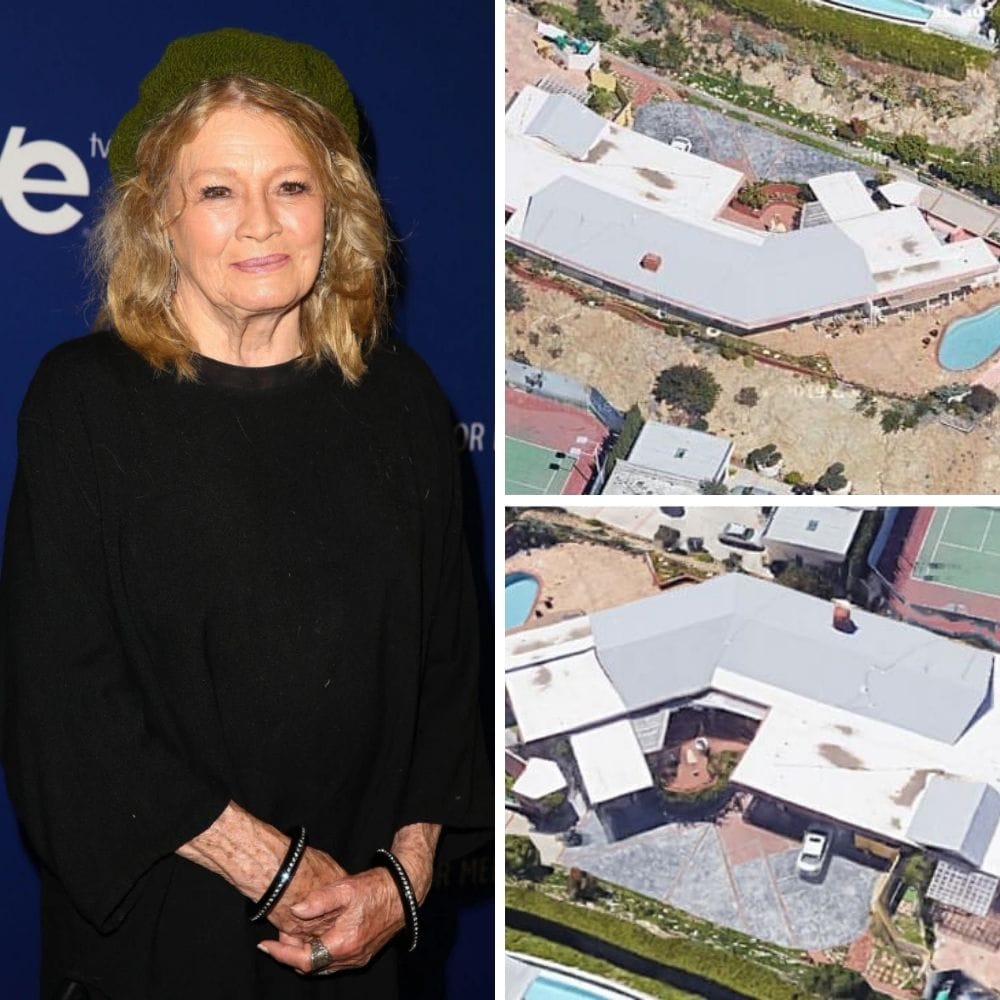 Wolf Blitzer – $1.34 Million, Bethesda, Maryland
Wolf Blitzer is best known as a CNN news anchor and reporter, a broadcasting company he's been with since the '90s. Recently, he's also broadened his scope into acting with work in 2018's Mission: Impossible – Fallout. His home is much more modest-looking than many of his peers on this list but it's still remarkably beautiful. The home is located in Bethesda, Maryland and is valued at an approximate $1.34 million, although he hasn't listed it for sale with an official price.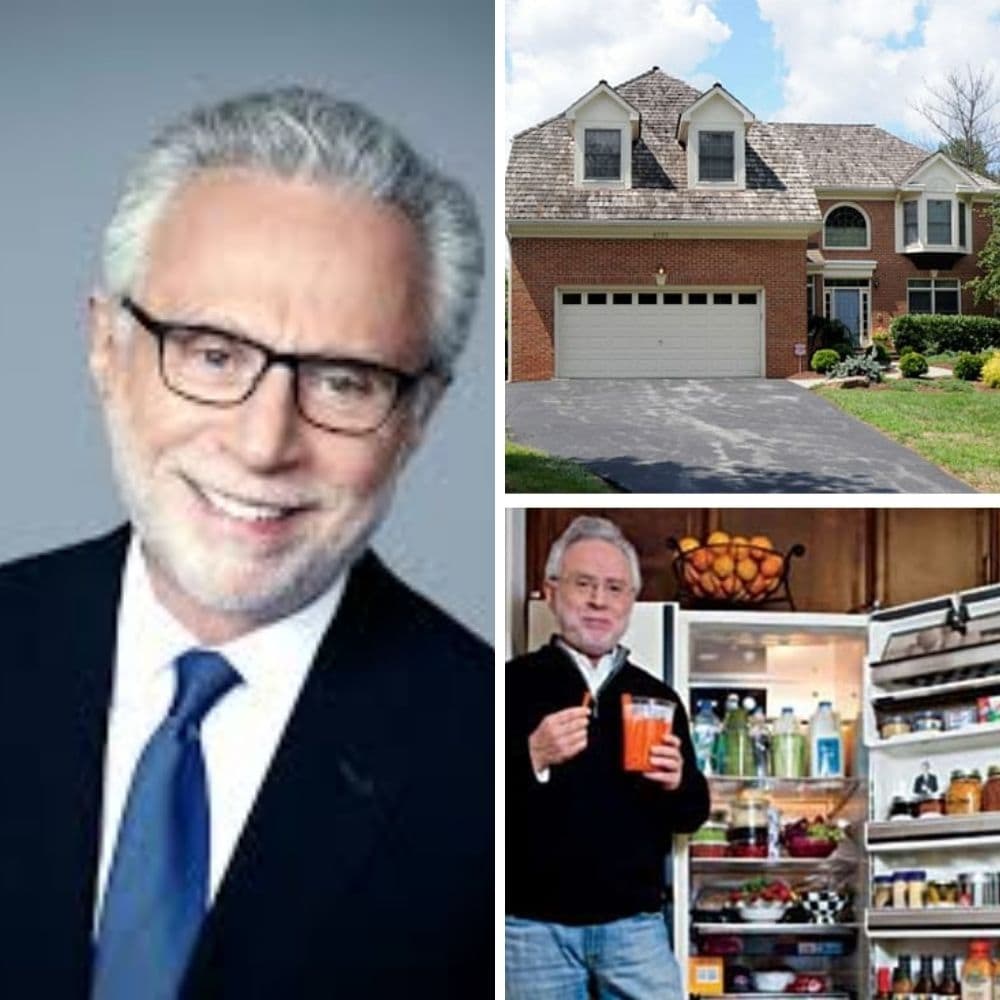 Prince Harry & Meghan Markle – $14 Million, Vancouver
Prince Harry and actress-turned-duchess and princess Meghan Markle made headlines recently for their decision to separate from the Royal Family. However, before leaving their station, the two spent time in their stunning Vancouver home. The house is estimated to be worth a whopping $14 million. It features a stunning 10,000 square feet in the interior alone. We aren't sure what will happen to this property now that they've severed ties with their royal relatives.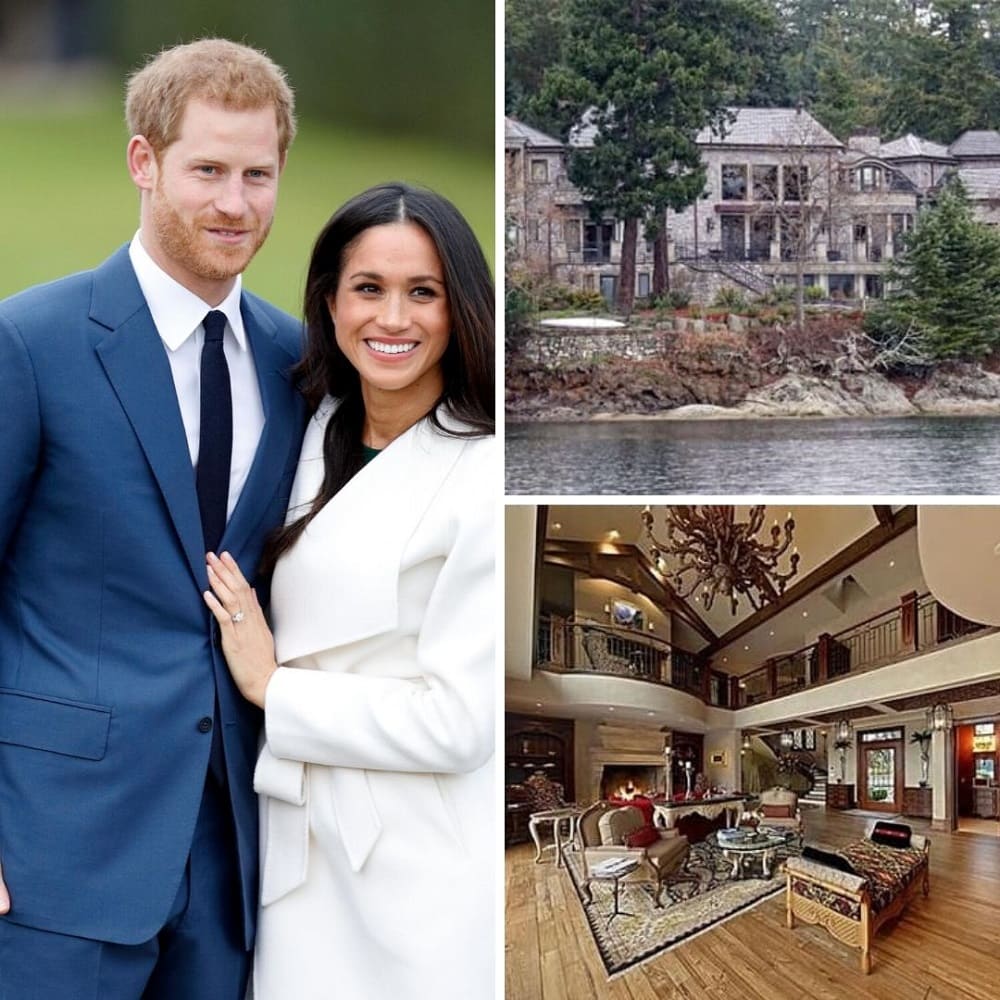 Kenny Rogers – $2.383 Million, Atlanta
From 1957 to 2017, Kenny Rogers gave fans plenty of music to enjoy. While he has accolades as a member of the Country Music Hall of Fame, this only marks the beginning of his multi-genre career. It seems like his 120+ hit singles and more than 100 million studio album sales paid off in the form of his mansion in Atlanta. He sold it in 2018 for a whopping $2.383 million. This 13,000 square foot mansion sits on 1.5 acres and marks the height of luxury.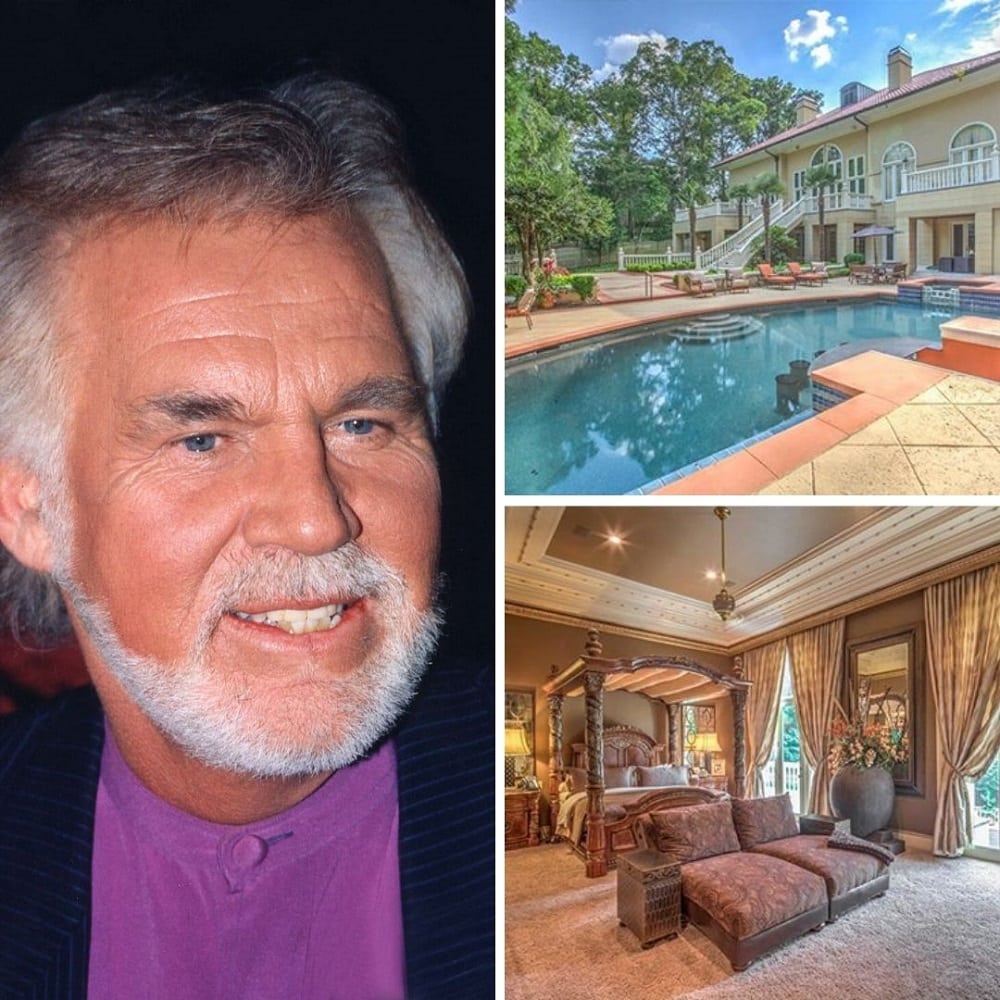 Ron Howard – $27.5 Million, Connecticut
Ron Howard is the child of director Rance Howard and actress Jean Speegle Howard, which gave him a chance to start his career early. He started acting in 1956 but his first credited role was on The Journey in 1959. He gained additional fame later with roles on The Andy Griffith Show, The Music Man, A Beautiful Mind, and The Da Vinci Code. He once called this 17,000-square-foot house in Greenwich home but sold it and the 33 acres it sat on for a reported $27.5 million in 2014.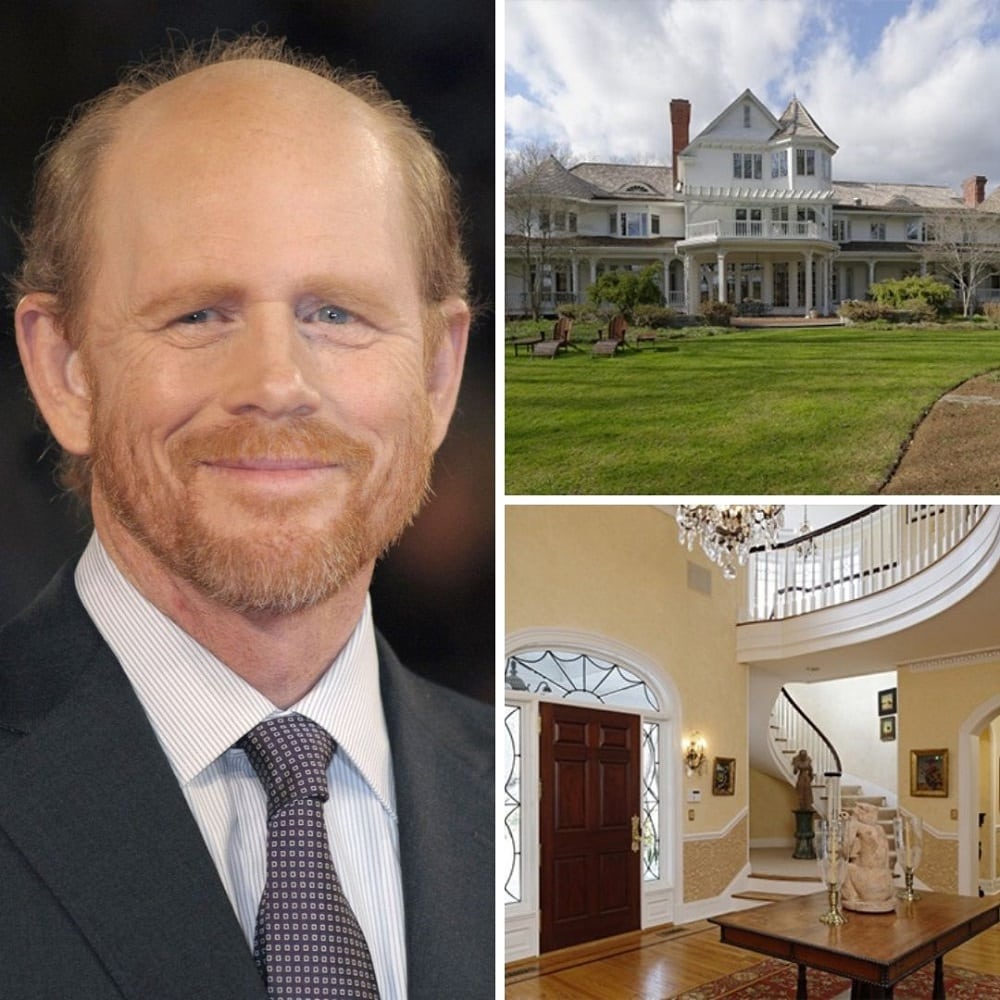 Anderson Cooper – Price Undisclosed, Connecticut
Anderson Cooper is another well-known CNN personality and comes from a family that's lived in the limelight, although he doesn't mention it too often. For their luxurious home, Cooper and his partner purchased the Rye House in Connecticut, a historic estate that serves as a summer home for the couple. Despite the fact that it's passed through so many hands, the home retains much of the detail that was around when it was built in 1910. Its value is undisclosed.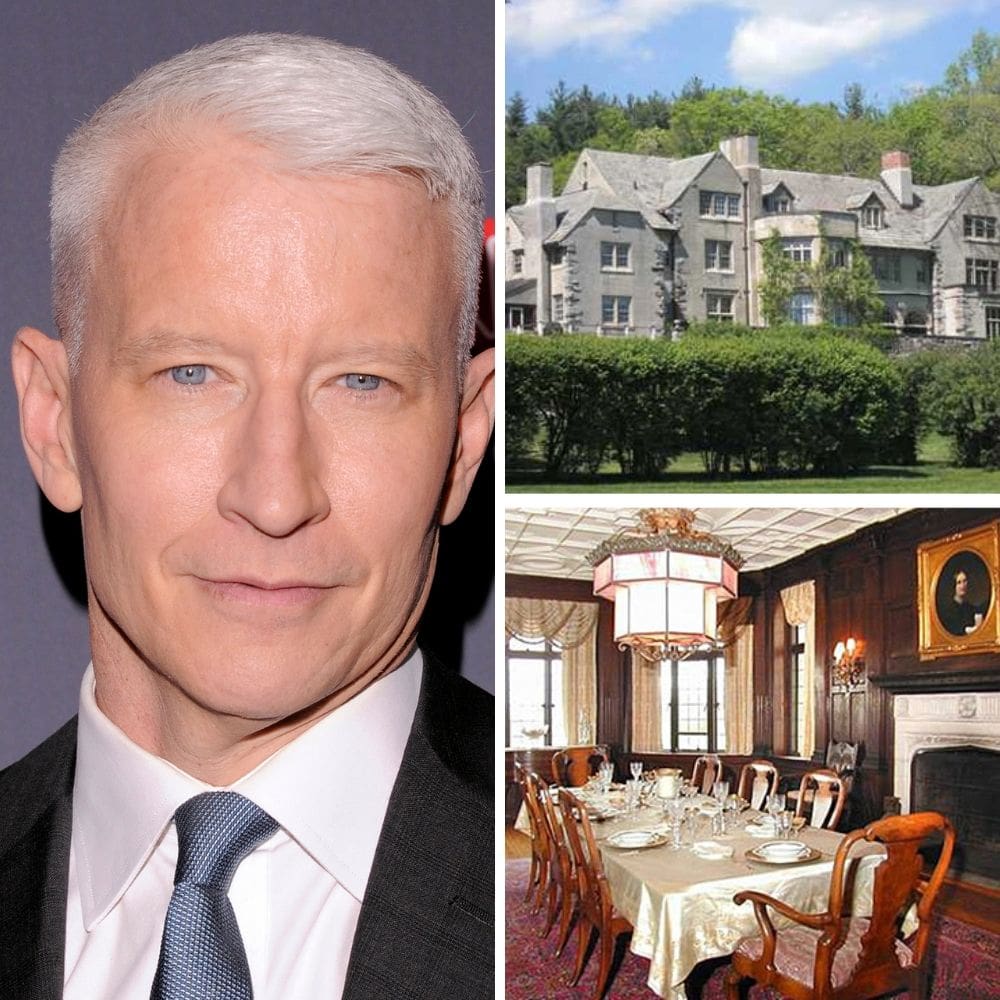 Agnetha Fältskog – Unknown Price, Helgö, Sweden
Agnetha Fältskog is a Swedish actress who highly values her privacy. So, we aren't sure of the exact price she paid for her Swedish residence. We do know that it's a beautiful farmhouse-style home in Stockholm. It's a large estate boasting many acres with a visible swimming pool. She originally purchased the property in 1984 and it hasn't been listed either, so the value of the home is still under lock and key.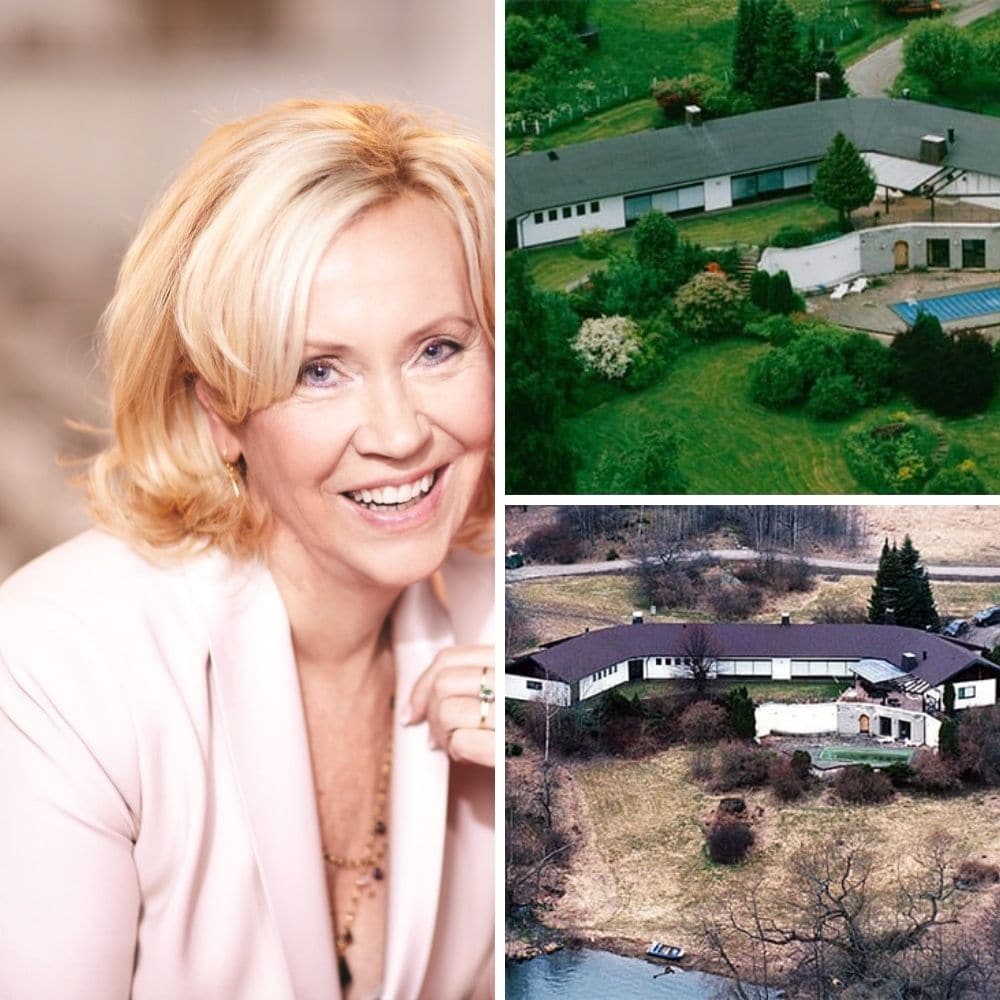 Kimberly Guilfoyle – $3.4 Million, New York
Another popular name among many cable news fans, Kimberly Guilfoyle is best known as a host for Fox News. Her New York apartment is located in Beresford and has plenty of luxury features such as a 28-foot gallery, a 27-foot long living room, a private elevator, and is outfitted with a rustic touch and taxidermy. The home is valued at approximately $3.4 million, but Guilfoyle is supposedly planning on enlisting Campion Platt, an accomplished architect, to renovate the home.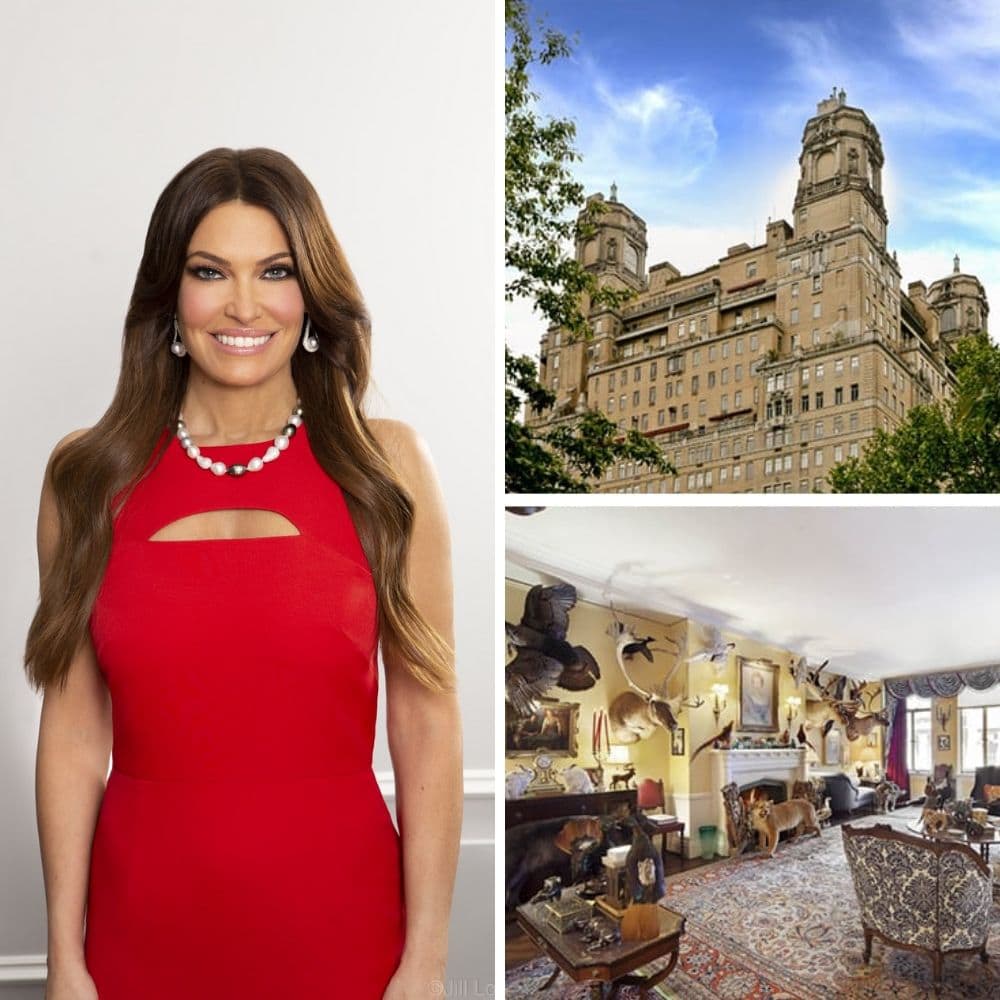 Gene Hackman – $27 Million, Monterrey
Gene Hackman is a legendary actor with five Oscar nominations – two of which he won for his roles in The French Connection and Unforgiven. He's also a talented author who has credits both for nonfiction and fiction literary works. He announced his retirement from acting in 2017 and has stayed off the silver screen since. He first purchased this Monterrey home in 2015 for a staggering $27 million. It covers 12,688 square feet with multiple bathrooms, four total bedrooms, and 2.37 acres of additional land.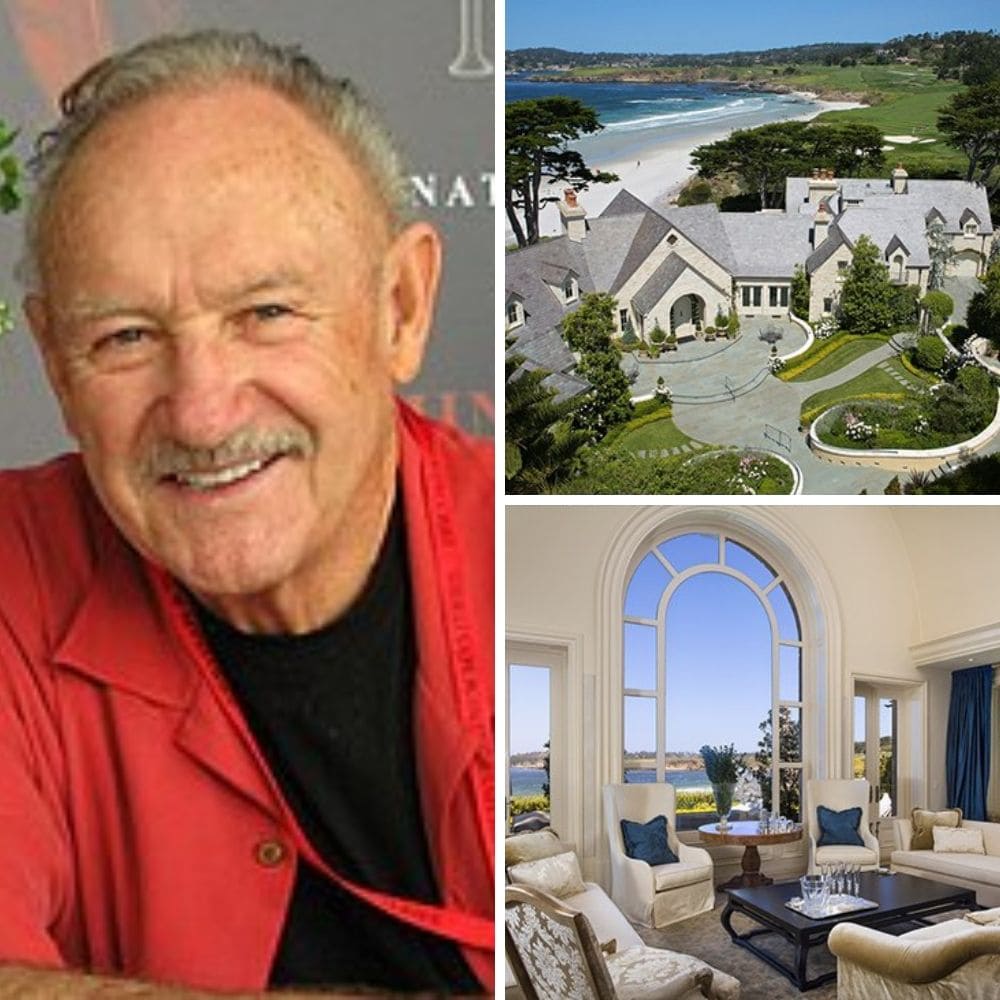 Sam Elliot – Undisclosed Amount, Malibu
Most fans recognize Sam Elliot thanks to his thick mustache and his history of roles in Western movies. Recently, he's taken on new genres with roles in movies such as Bradley Cooper's A Star Is Born. He currently has a home located in Malibu but the exact price of the home is undisclosed as well as many details of the house. We do know that he cares a lot for the home and Malibu since he volunteered to help the firefighters during the 2018 wildfires.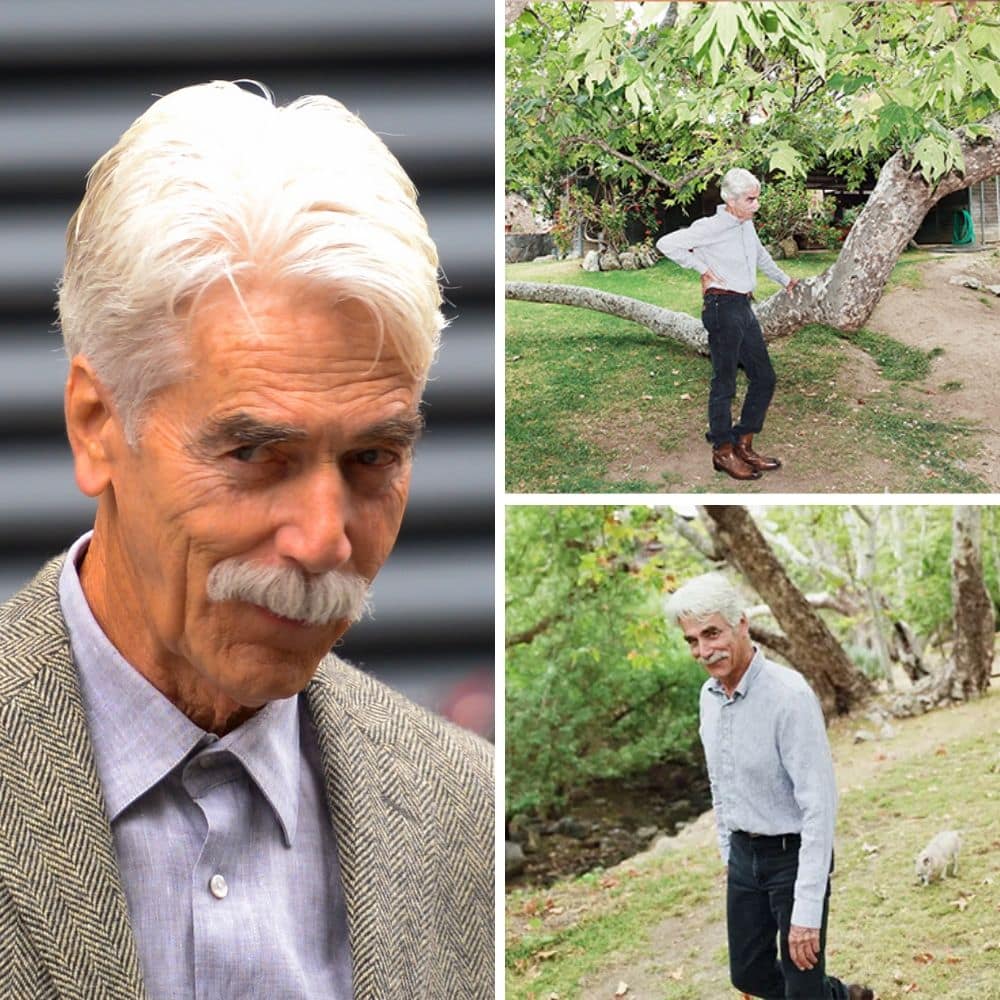 Kathie Lee Gifford – $10.5 Million, Florida
Kathie Lee Gifford is well-known as a television personality but she has entered a semi-retirement phase after leaving her show in April 2019,  which she'd held a spot on for almost 12 years. Just before this, in 2018, she also sold her Key Largo, Florida home located in Ocean Key Reef Club. The property sold for $10.5 million and boasts many impressive features such as in-home gym facilities and even golf carts to ride around the expansive property on.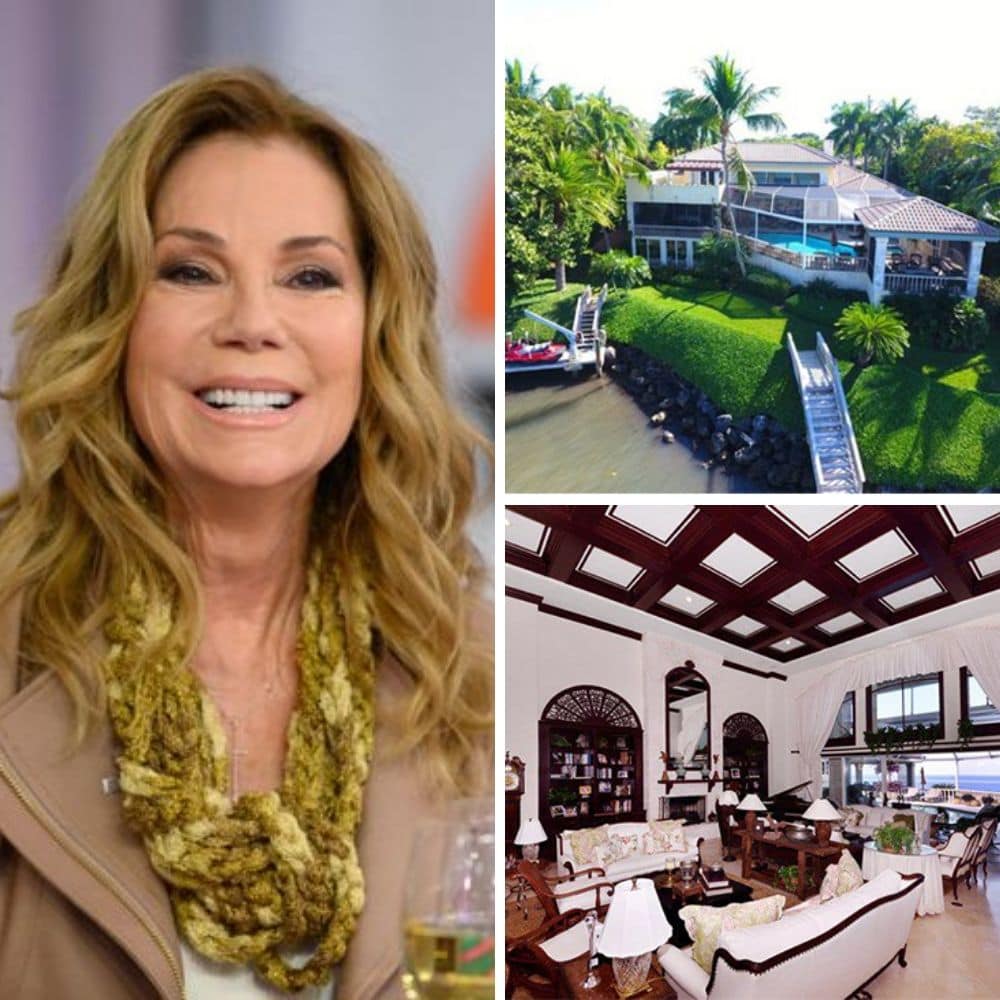 Dick Van Dyke – $6.5 Million, Encino
Dick Van Dyke has a seven-decade long career in the entertainment industry that spans both genre and generation. In the '60s, he was best known for his role in The Dick Van Dyke Show. He also held roles in Mary Poppins, Chitty Chitty Bang Bang, Dick Tracy, and Bye Bye Birdie. He purchased a home in Encino during his career but sold it in 2016 for a modern asking price of $6.5 million. With 12,015 square feet of living space, the home has three bedrooms.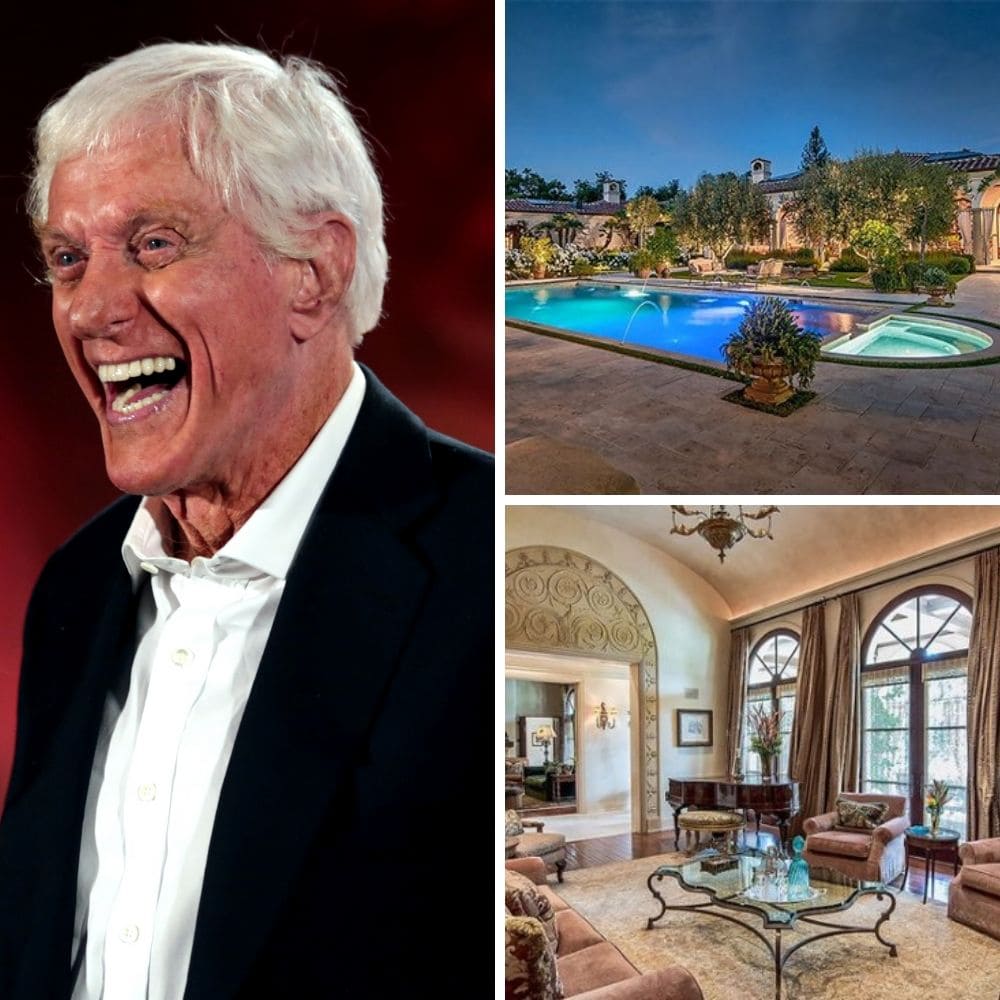 Jeff Bridges – $16 Million, California
Jeff Bridges owned a home in California with Susan Geston, his wife. After two decades of ownership, it was recently listed for a lowered asking price of $7.9 million, although the home has been estimated to hold a higher value of $16 million. The property sits on 4 acres with 9,535 square feet of living space. This features a main house with six bedrooms, six and a half baths, a swimming pool as well as two guest houses both separated from the main house and each other.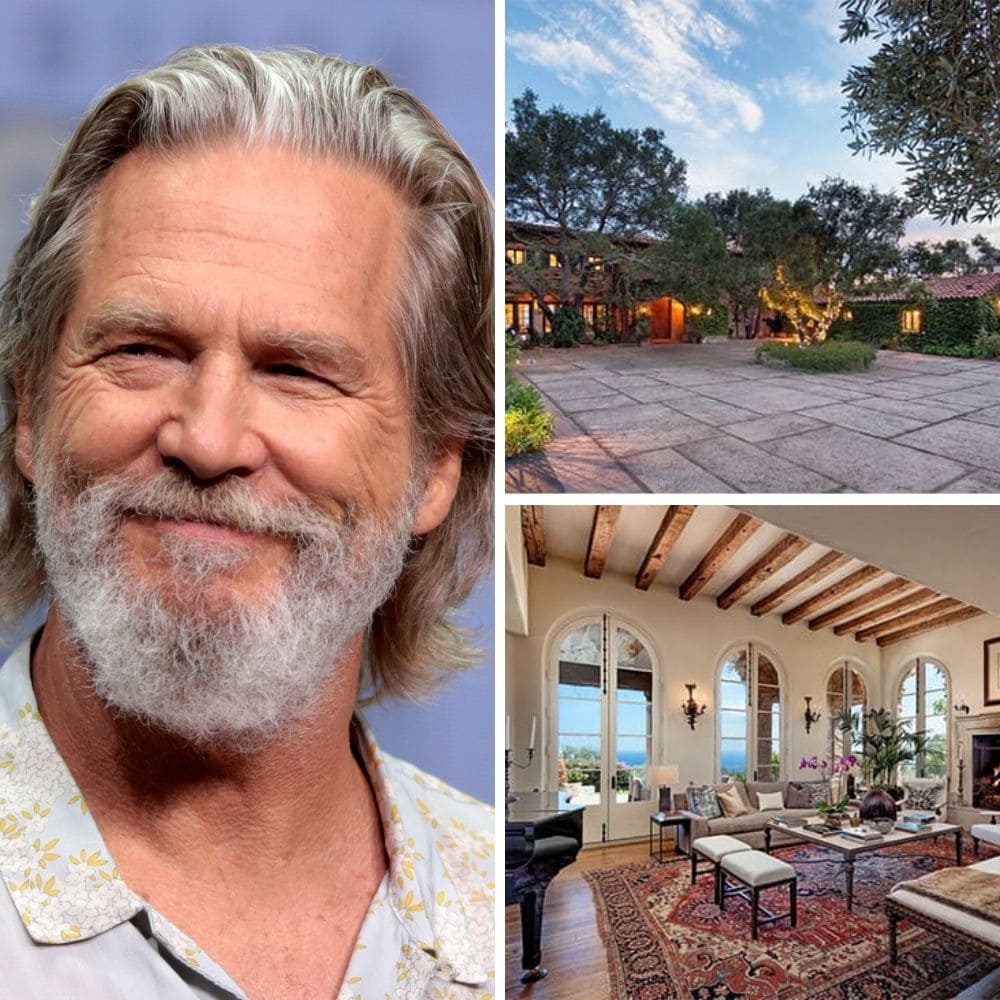 Jamie Foxx – $16.9 Million, California
Jamie Foxx has a long career in Hollywood but he actually bought this home much more recently than most of the other stars on this list. In 2019, he paid $1.69 million for this California home – right before the release of his movie Just Mercy – and it's quite a luxurious choice. The home has five bedrooms, a bathroom for each, sports areas, three fireplaces, and a garage big enough for four cars. There is also a large swimming pool with additional touches like a water slide.
Al Pacino – $3.3 Million, New York
Al Pacino has a long and illustrious career in the film industry with notable roles in classics such as Scarface and the modern release of The Irishman in 2019. He sold this beautiful home in 2012 but only in part. He sold off the guest house alone for $3.3 million. The guest house isn't anything to scoff at either – it features three bedrooms and four full bathrooms. Not to mention, the Palisades locale helps increase the property value.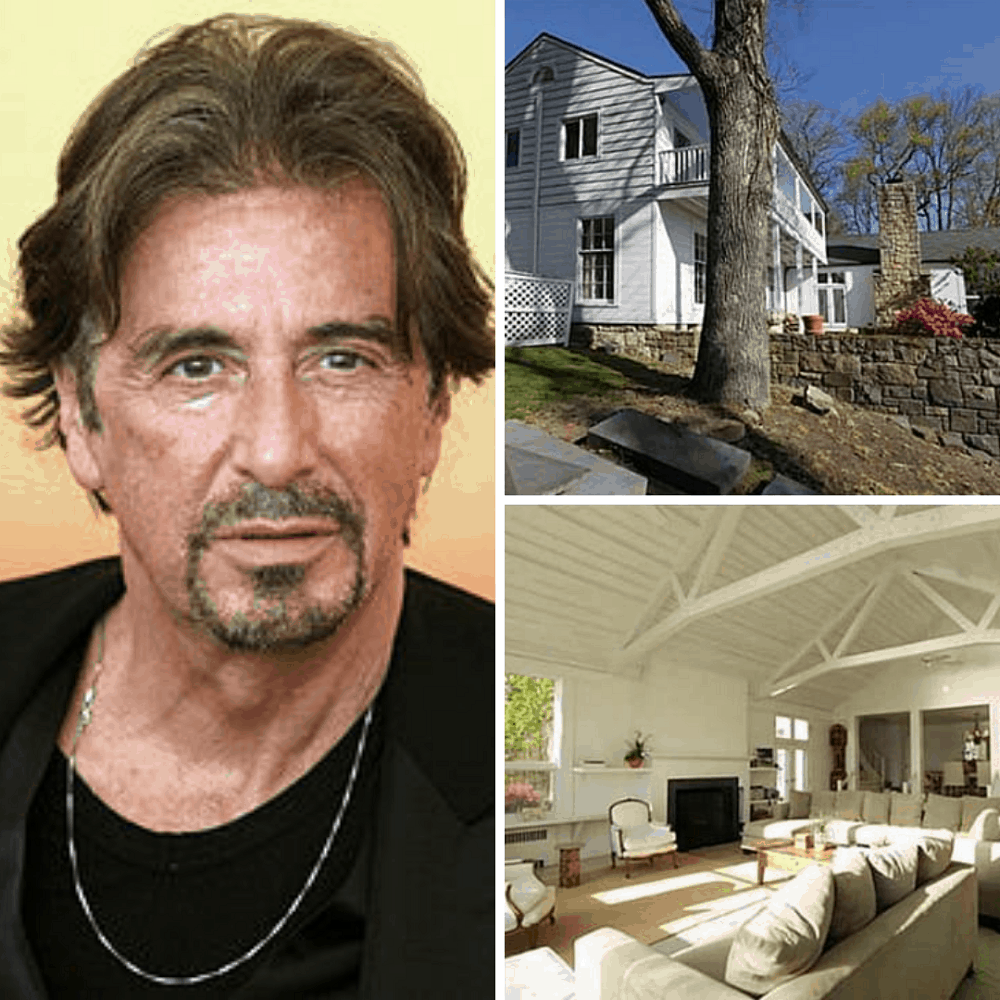 Regis Philbin – $4.6 Million, Connecticut
Regis Philbin has become a household name for his time as a TV personality and game show host. The former skills earned him a titular role in Live! With Regis and Kathie Lee, while game show fans recognize him as the host to Who Wants to Be a Millionaire? He retired in 2011 from his talk show, but it was a more recent decision for him and his wife, Joy, to sell their Connecticut home for $4.6 million.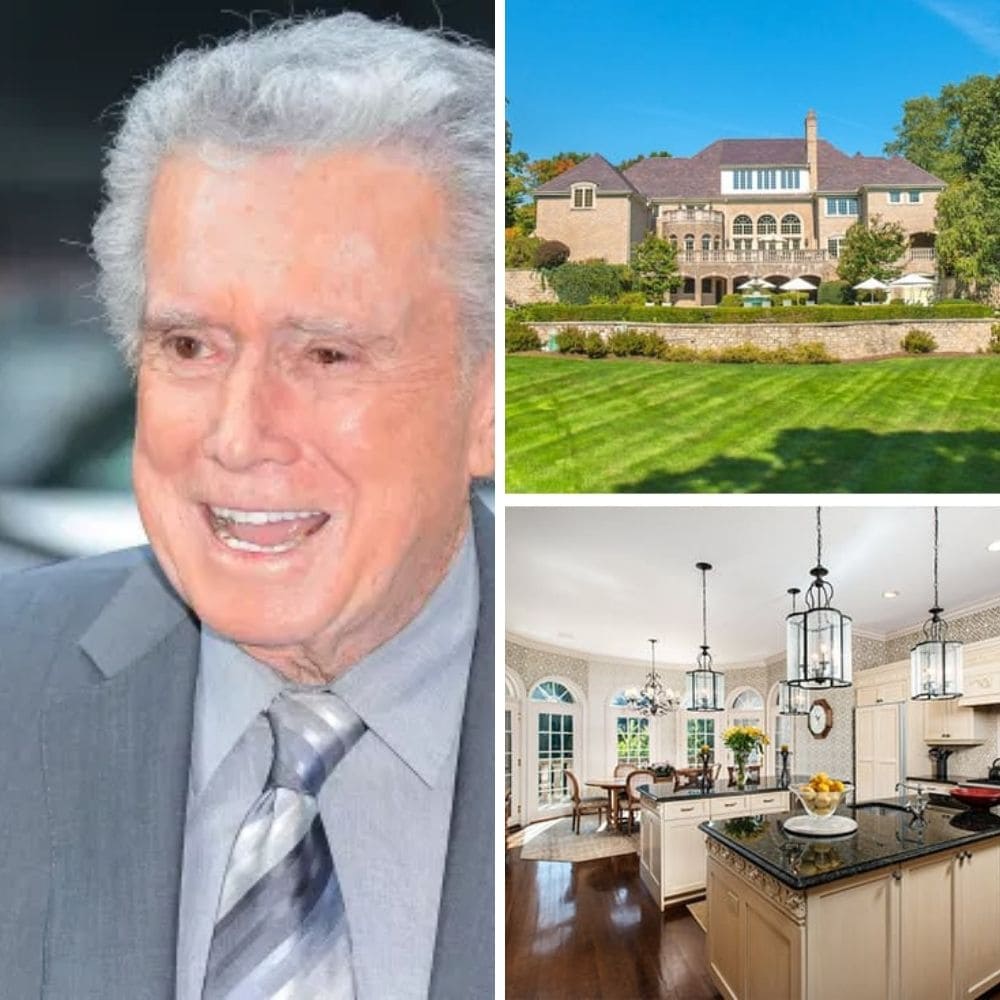 Oprah Winfrey – $6.85 Million, Santa Barbara
Oprah is a talk show host, actress, author, and inspirational personality that needs nearly no introduction at this point. One of the many things that is common knowledge about Oprah is her massive net worth. She used part of this net worth in November 2019 to buy a Santa Barbara house. The house was actually formerly under the ownership of Jeff Bridges for the original asking price he paid when he purchased the home – $6.85 million.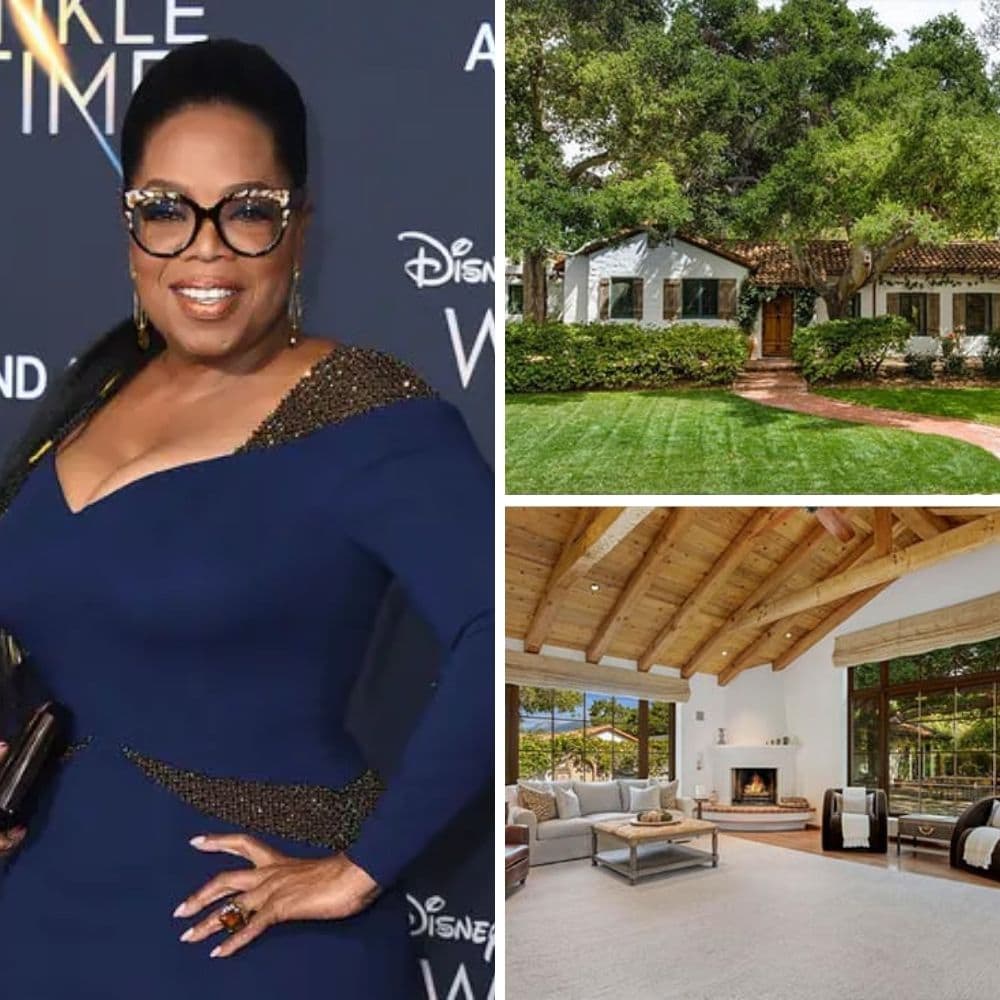 Maggie Smith – $5.194 Million, West Byfleet
Maggie Smith, now titled Dame Maggie Smith, was born in 1934 and started her career in 1952. She has plenty of large and unforgettable roles to her name such as Downton Abbey, Clash of the Titans, Hook, and the Harry Potter films. She's even been in a number of theatre protections and is a five-time winner of the Best Actress Evening Standard Award. This home actually belongs to Lady Violet, the character Smith plays in Downton Abbey and is valued at $5.194 million.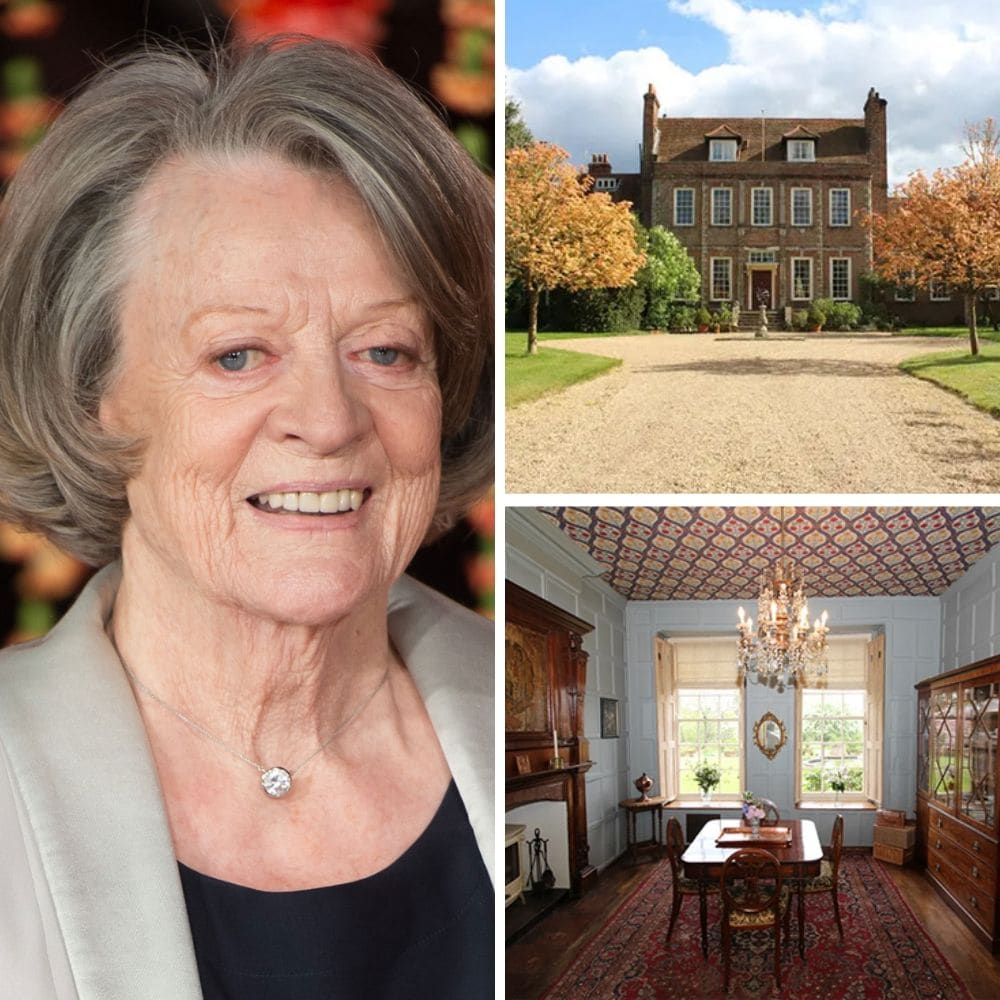 Melissa Gilbert – Price Undisclosed, Michigan
Melissa Gilbert is another actress who established herself as an iconic character in a classic show to kick off her career. In her case, she played Laura Ingalls in Little House on the Prairie. As an adult, she's owned a Michigan home. It's a beautiful estate built back in 1890 and is a showcase of Victorian design. She sold the home a while ago but the price was undisclosed. The actress did state that she was moving to New York but would miss her wonderful time in Michigan.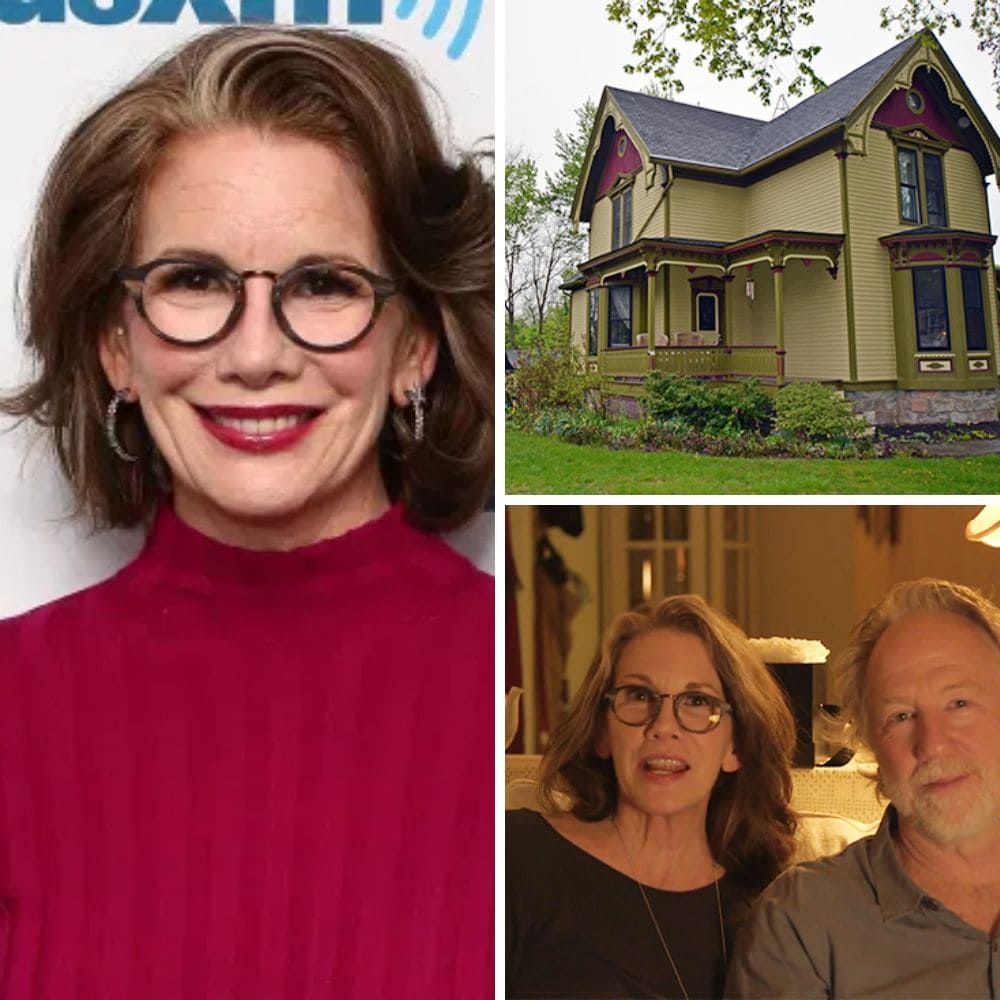 Larry King – $12 Million, Beverly Hills
Larry King is another Hollywood heavyweight that needs almost no introduction. He's an accomplished host with credits both on television screens and hosting radio shows. King has had a full life, as well, with plenty of homes during his time shared over the course of seven marriages. It was his seventh wife, Shawn Southwick, that he shared this Beverly Hills abode with. It spreads across 9,596 square feet and features nine bathrooms, six rooms, and a pool with a value of $12 million.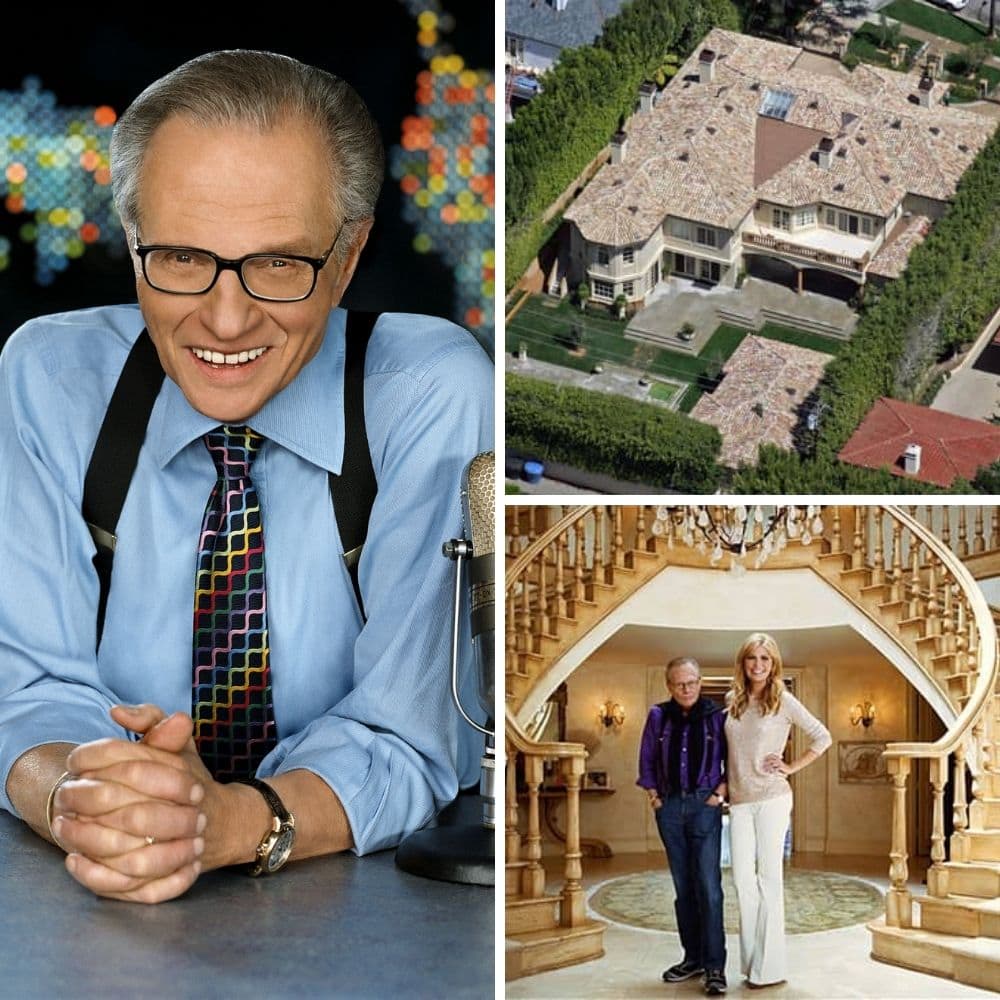 Stephen King – Undisclosed Price, Maine
Stephen King is one of the most accomplished modern fiction authors and he's earned his place as one of the masters of horror. From the author of classic tales like The Shining, IT, and Children of the Corn, we expect nothing but something impressive from the author. He's owned this three-story home in Maine since 1980. We know he paid $135K at the time to buy the home but it's safe to assume its modern value is much higher.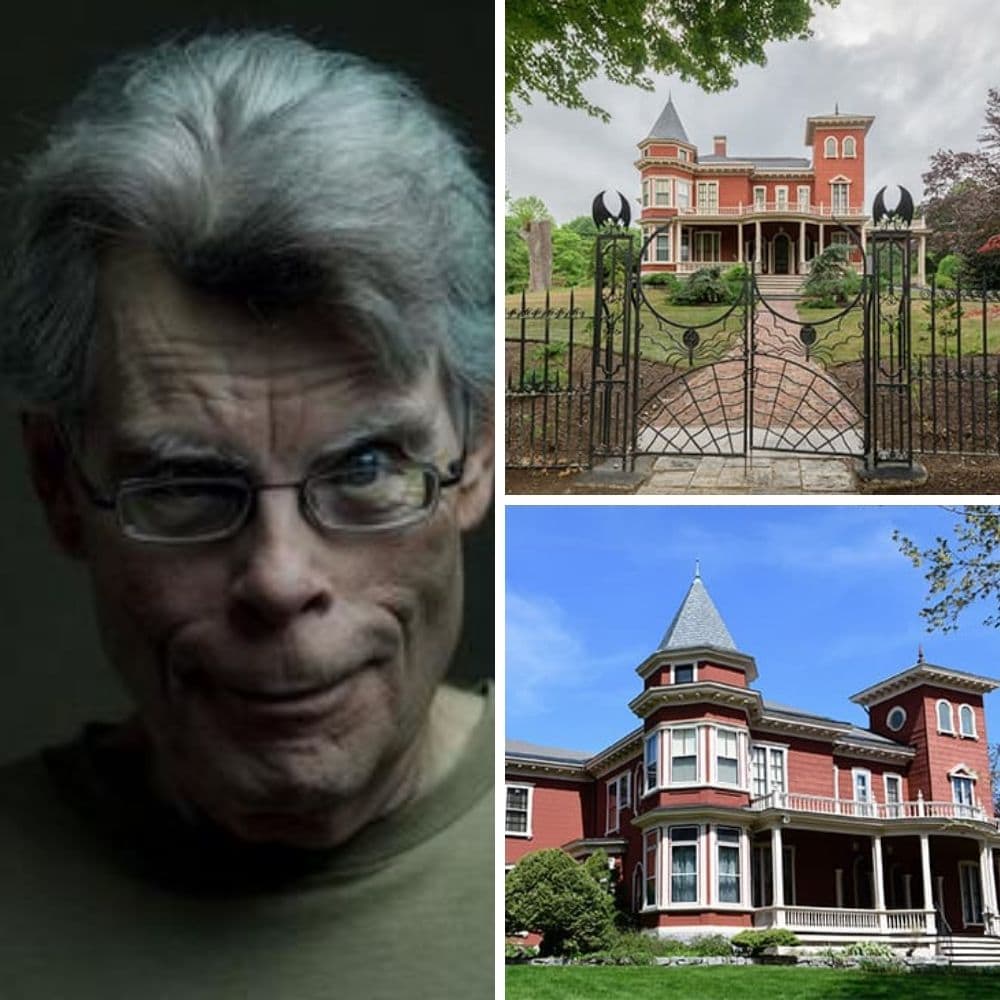 Pierce Brosnan – $2.8 Million, Malibu
Pierce Brosnan is most famous for his portrayal of James Bond. While many actors have taken on this role, he's become many fan's favorite portrayal in iconic entries including GoldenEye and Die Another Day. He bought this home in 1996 and resided there for a full decade before listing the home for sale. With an estimated value of $2.8 million, this Malibu property includes a kitchen with two separate islands, a gated entrance, and a spacious interior.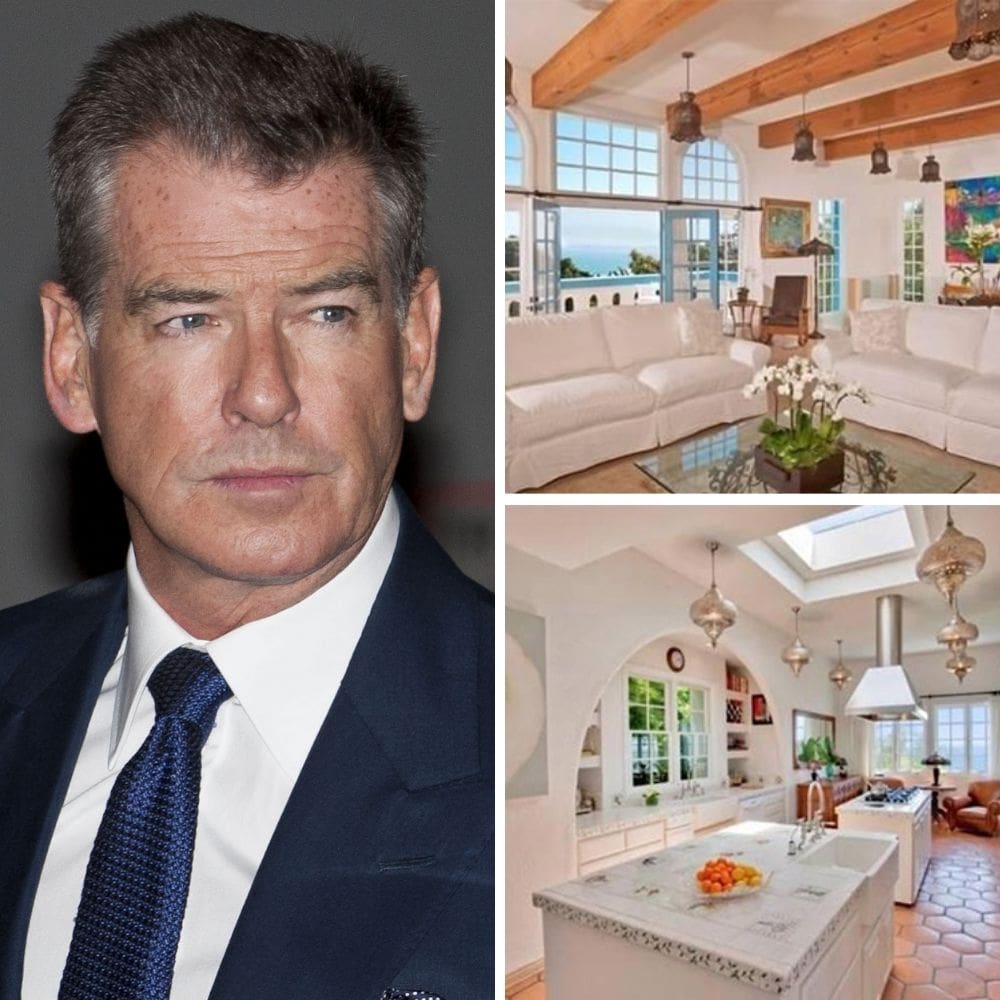 Steve Harvey – Approx. $165 Million, California
Steve Harvey has made a name for himself as a comedian, actor, author, and television host. He's even been an avid activist and became a more active part of his mentoring program in 2019. He purchased a new mansion with his wife, Marjorie, recently. Unfortunately, we don't know the exact price but it's safe to estimate that it has a value of around $165 million. It features plenty of space with five bedrooms, a library, and a pool.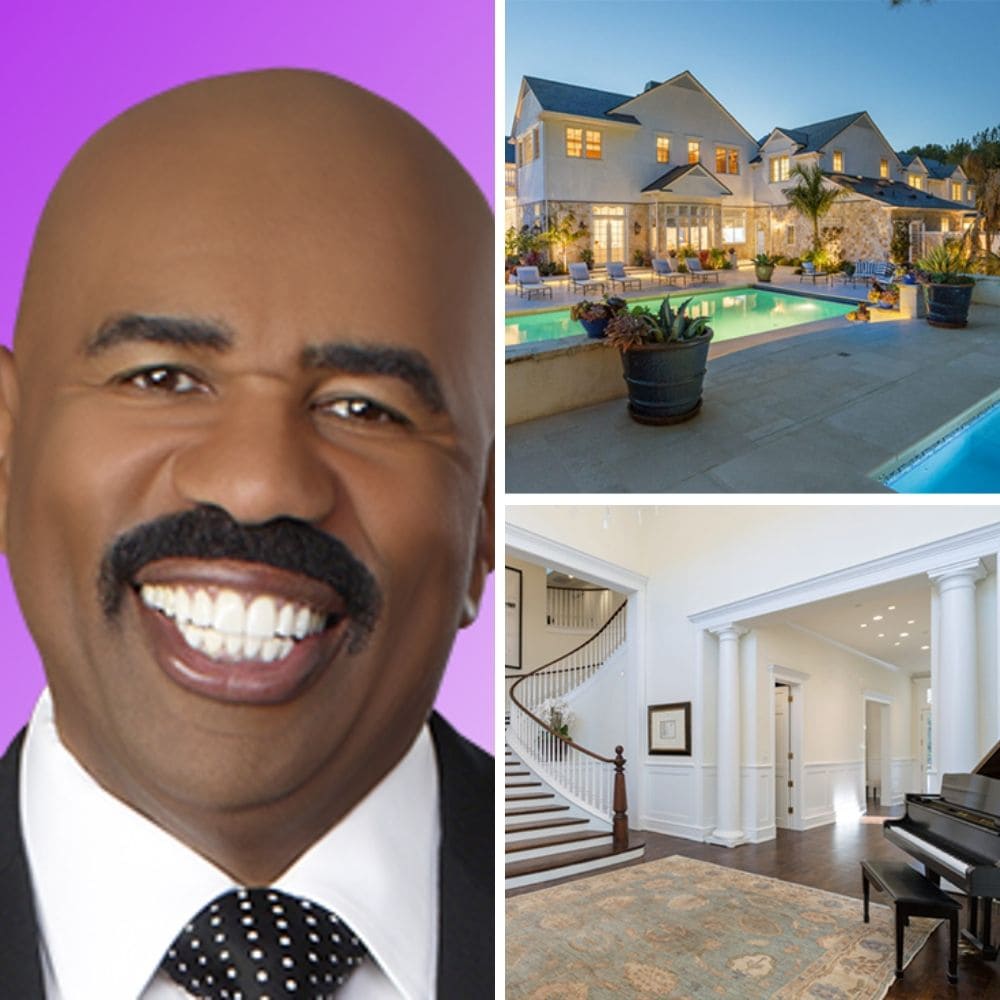 Jon Voight – $19.75 Million, Beverly Hills
Today's TV fans know Jon Voight mainly from his role in Ray Donovan, but he first reached frame for his starring role in Coming Home. That 1978 performance even earned him an Oscar in the Best Actor category. His Beverly Hills home is a shocking $19.75 million and he's lived there for more than a quarter-century. It has four bedrooms and bathrooms, a huge garden, and an impressively-sized swimming pool. It also sits on an impressive 3.3 acres.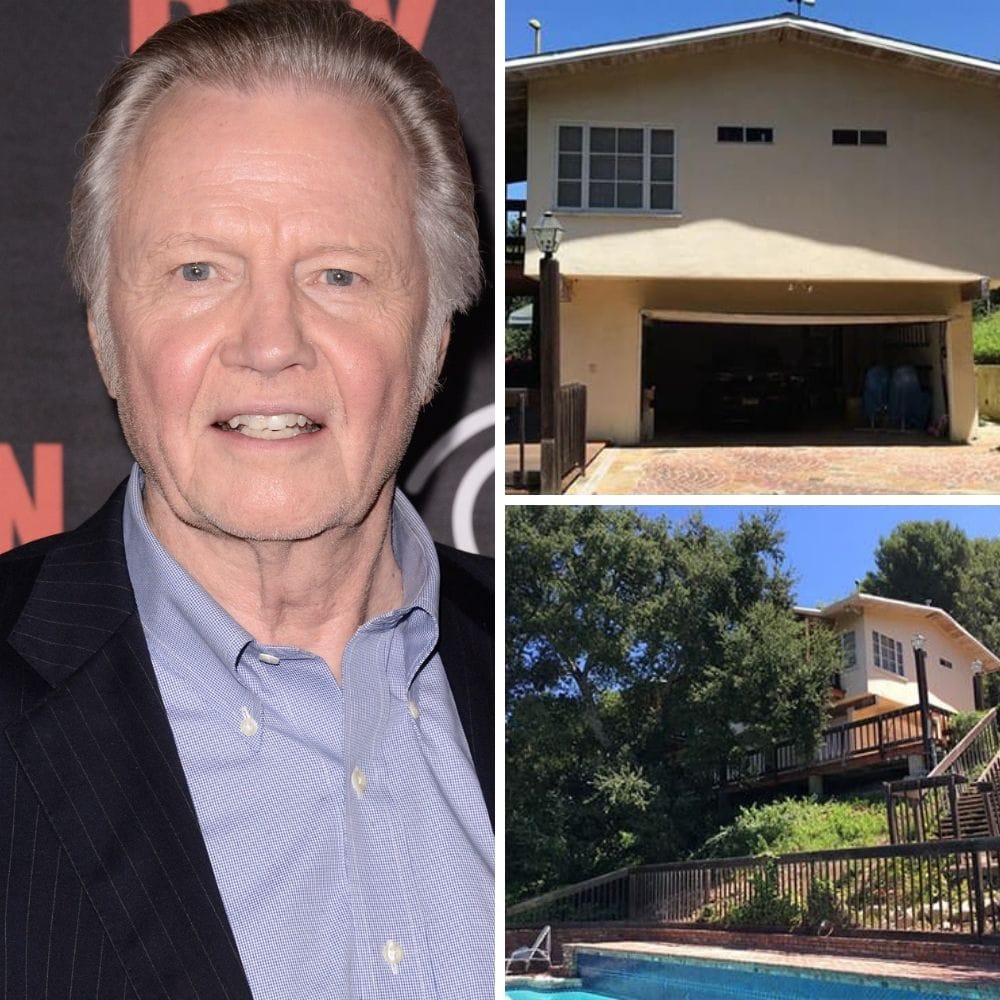 Lee Majors – Unknown Price, Houston
Lee Majors has been in the public eye for years. That's why it's almost impressive how well he's managed to keep his private life just that – completely private. As such, we don't know many details about his Houston home, from the layout to the price he paid to get the house. He also hasn't listed it for sale, so we aren't quite sure of an asking price either. With a net worth of over $6 million, there's no doubt that the home is beautiful with a pretty price tag.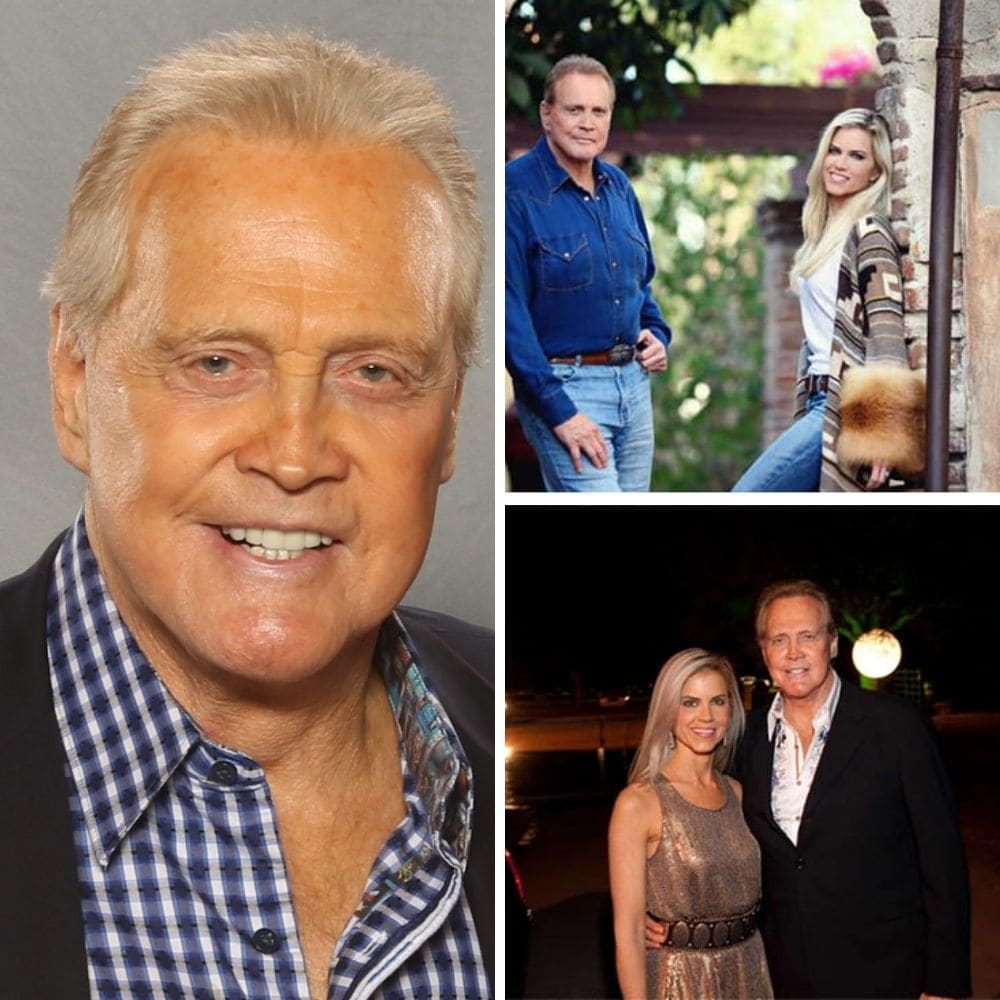 Dr. Phil – $16.5 Million, Beverly Hills
Dr. Phil is a psychologist and author, but his fame took off when he landed a talk show under his own name. That was in 2008, the same year that his wife, advocate Robin McGraw, bought this Beverly Hills, Mediterranean-style home. It features eight bedrooms, seven bathrooms, a guest house, a pool, and spacious gardens. The couple lived in the home for two years before they re-listed it for sale at an asking price of $16.5 million.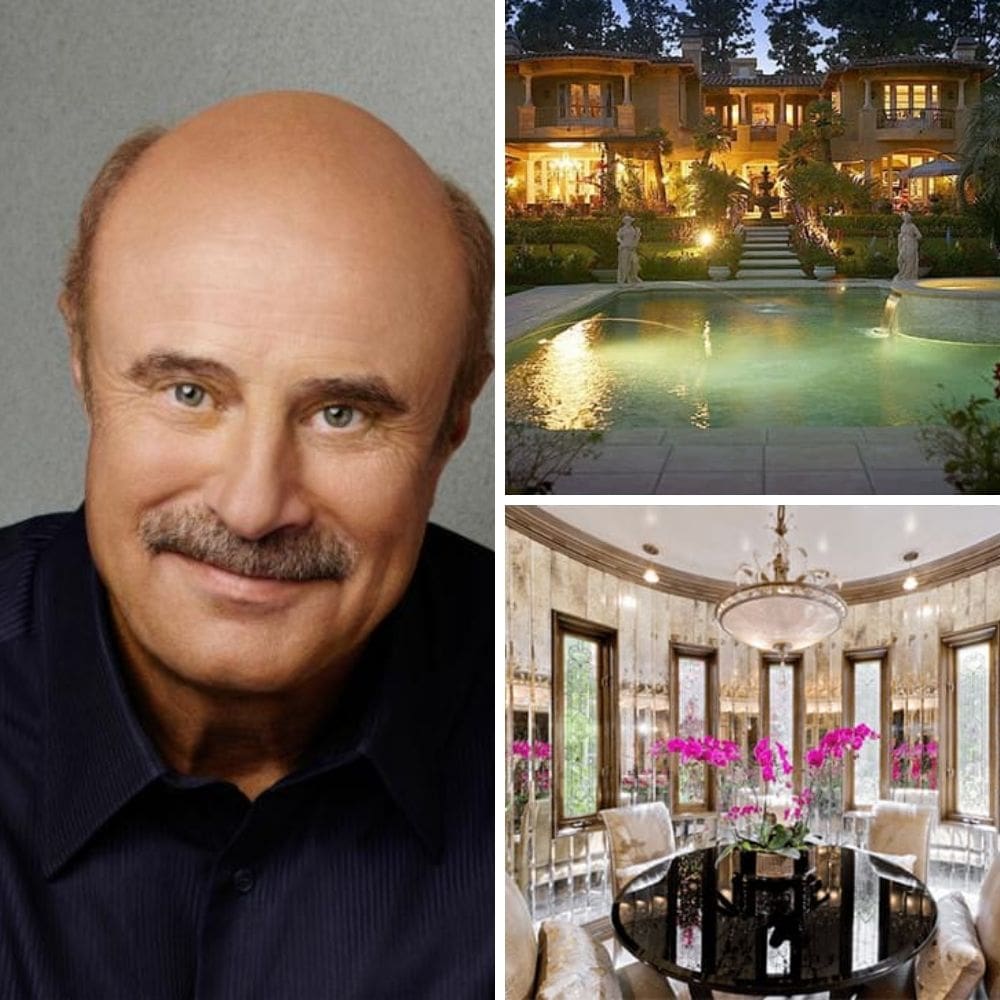 Matt Lauer – Approx. $7.35 Million, New York
Matt Lauer has been a television personality for years and enjoyed a high level of fame before his reputation was later tarnished. In 2004, he became the proud owner of a Manhattan home for a cost of $5.8 million. When he sold it again later, it only sat on the market for four months before he sold it for $7.35 million – a cost above the original asking price! Designed well for a celebrity, the home features both public and private wings.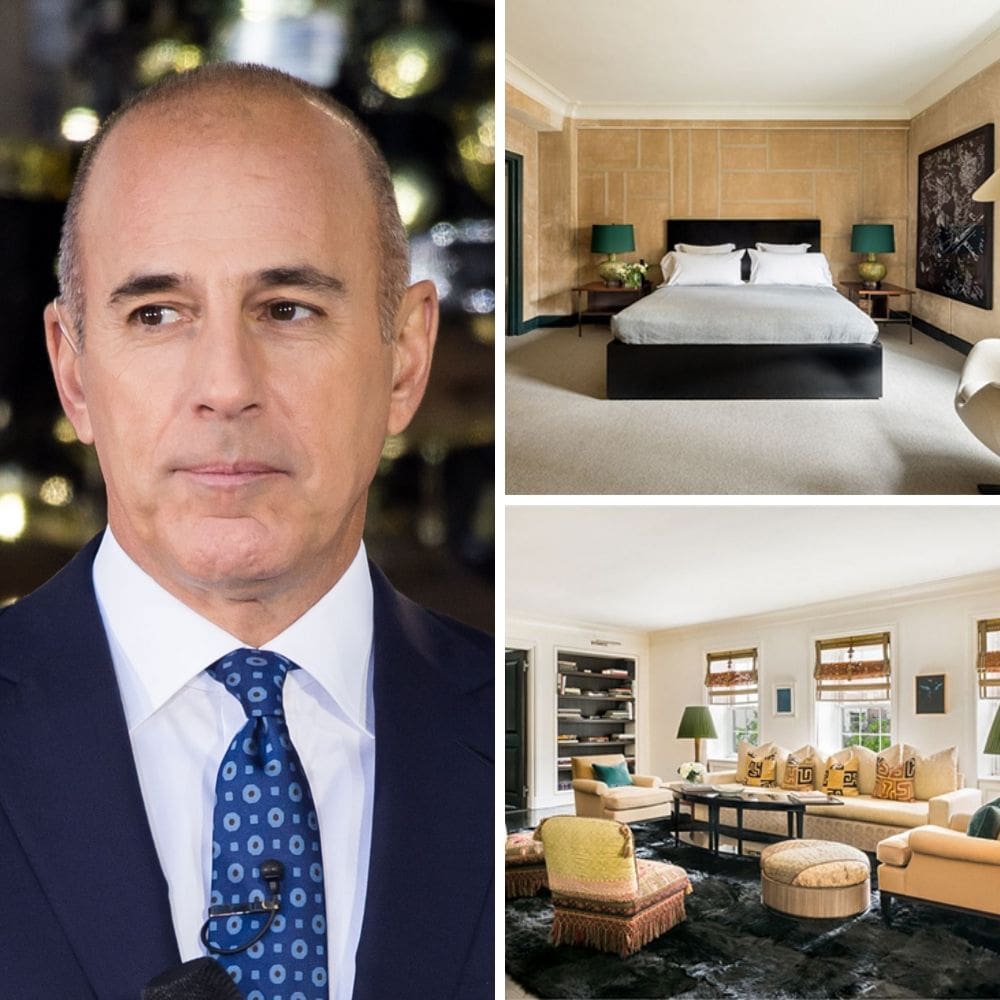 Joni Mitchell – $350K, Bel-Air
Joni Mitchell took on a more secluded area when she decided to move to Bel-Air rather than a Hollywood hotspot such as Beverly Hills. The home is designed in a Spanish style and offers 6,560 square feet of space. She bought the home back in 1974 for $350,000 and it's surely worth far more by today's terms. The home is highly personalized too, with help from a decorator to capture her spirit within the home's interior design.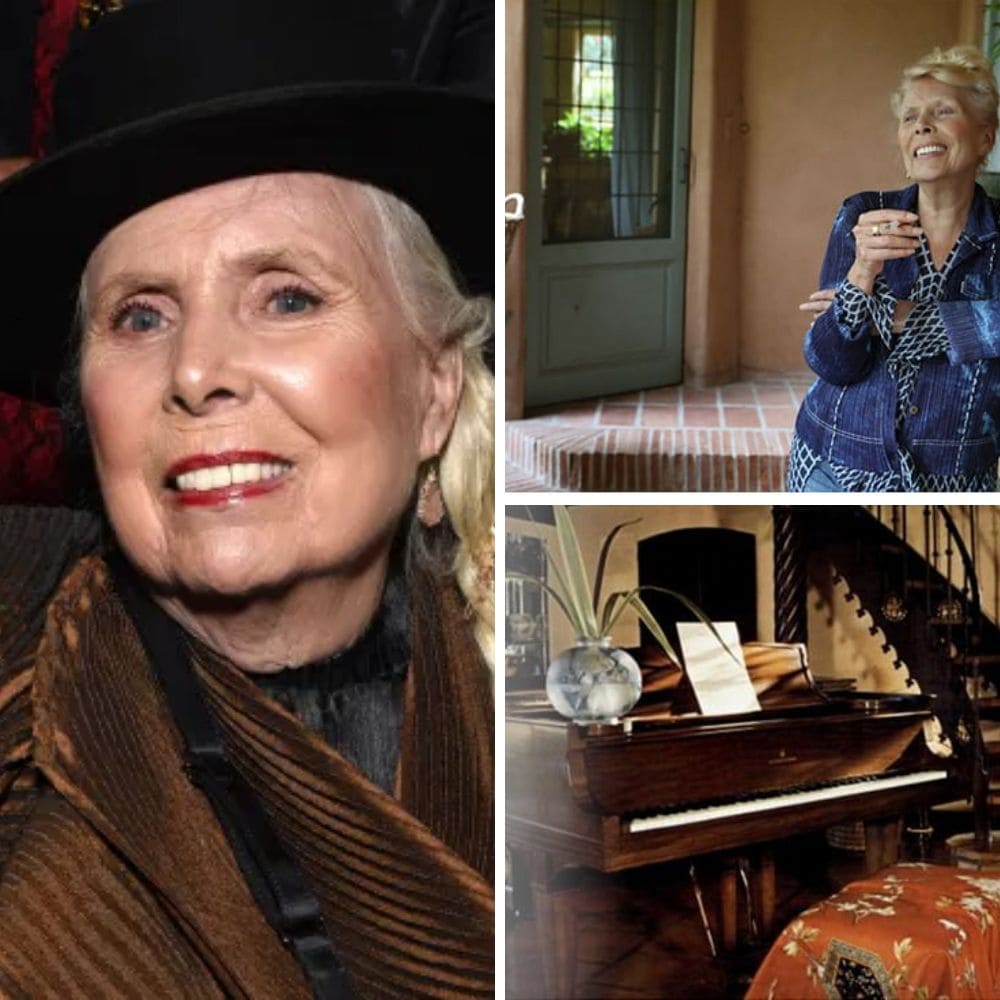 Adam Sandler – $12 Million, Los Angeles
Comedian and actor Adam Sandler has made a name as a Hollywood funnyman with enough range to pull off adult humor and family-friendly movies and shows. His home in Los Angeles is massive, to say the least, and fairly new since it was only built in 1990. With 12,860 square feet, 14 bedrooms, seven bathrooms, and two-thirds of an acre of land, Sandler can entertain all the friends he pleases in his mansion. Interestingly, the $12 million property doesn't stop there since he reportedly owns the home next door as well.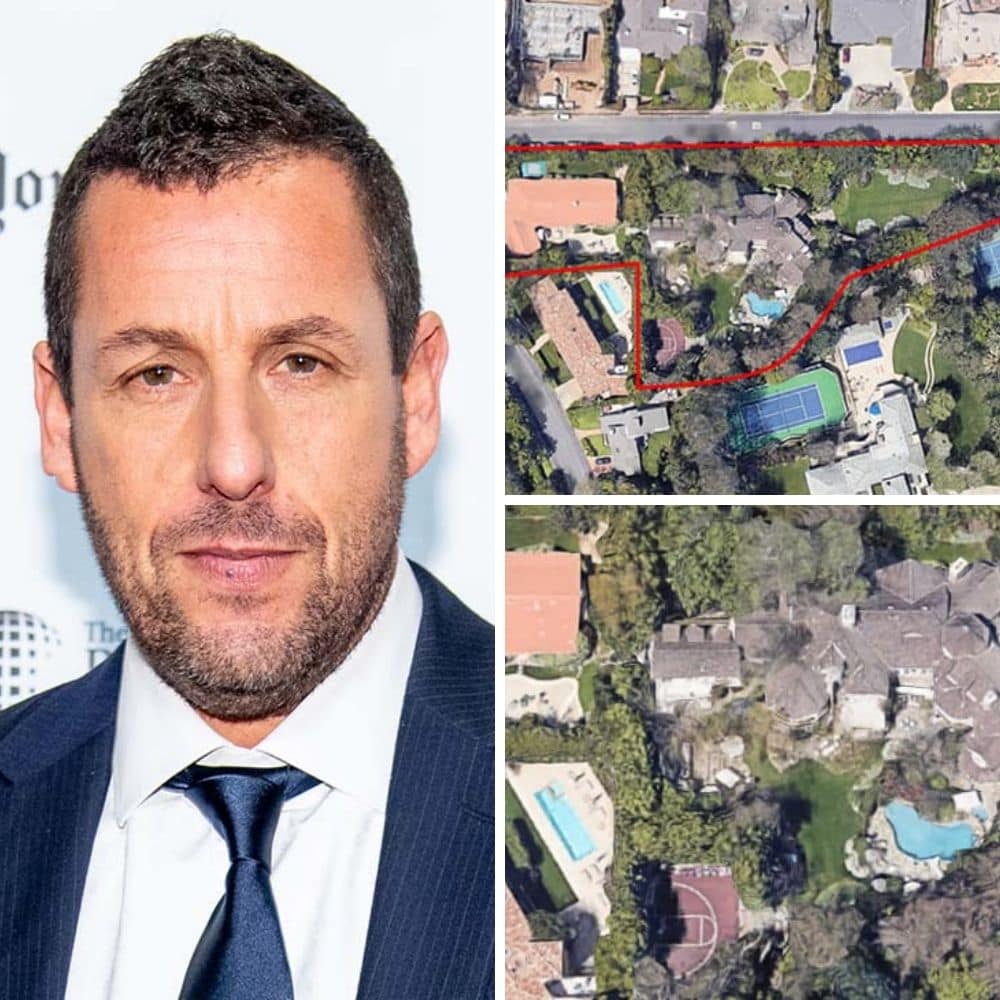 Linda Ronstadt – $1 Million, Tucson
Linda Ronstadt previously owned an estate in Central Tucson before she made a sale on it in 2016. The listing originally asked for $1.6 million for the property but the final sale was for a reported $1 million. However, this doesn't seem like as much of a loss when you consider that she originally purchased the home for $467K in 1994. The home has a total of four bedrooms and three and a half bathrooms.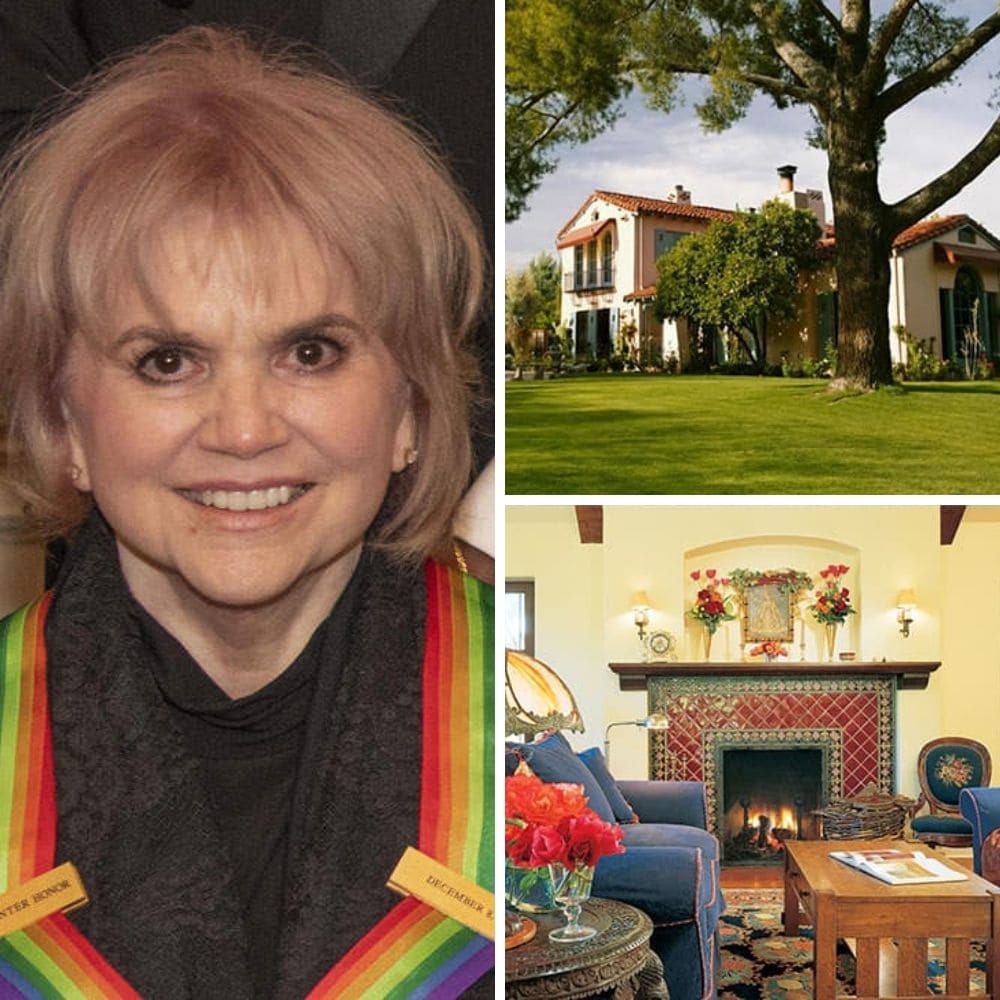 Samuel L. Jackson – $13 Million, New York
Samuel L. Jackson has acquired a weighty net worth over the course of his career, starring in everything from The Avengers as Nick Fury to the cult classic Pulp Fiction, alongside Hollywood heavyweight John Travolta. His home was previously a condo in New York with a $13 million asking price according to the listing. Originally, Jackson purchased the four-bedroom, three and a half bathroom home in 2005 for $4.8 million. While the home was originally built in the early 20th century, it was revamped into luxury condos later before Jackson moved in.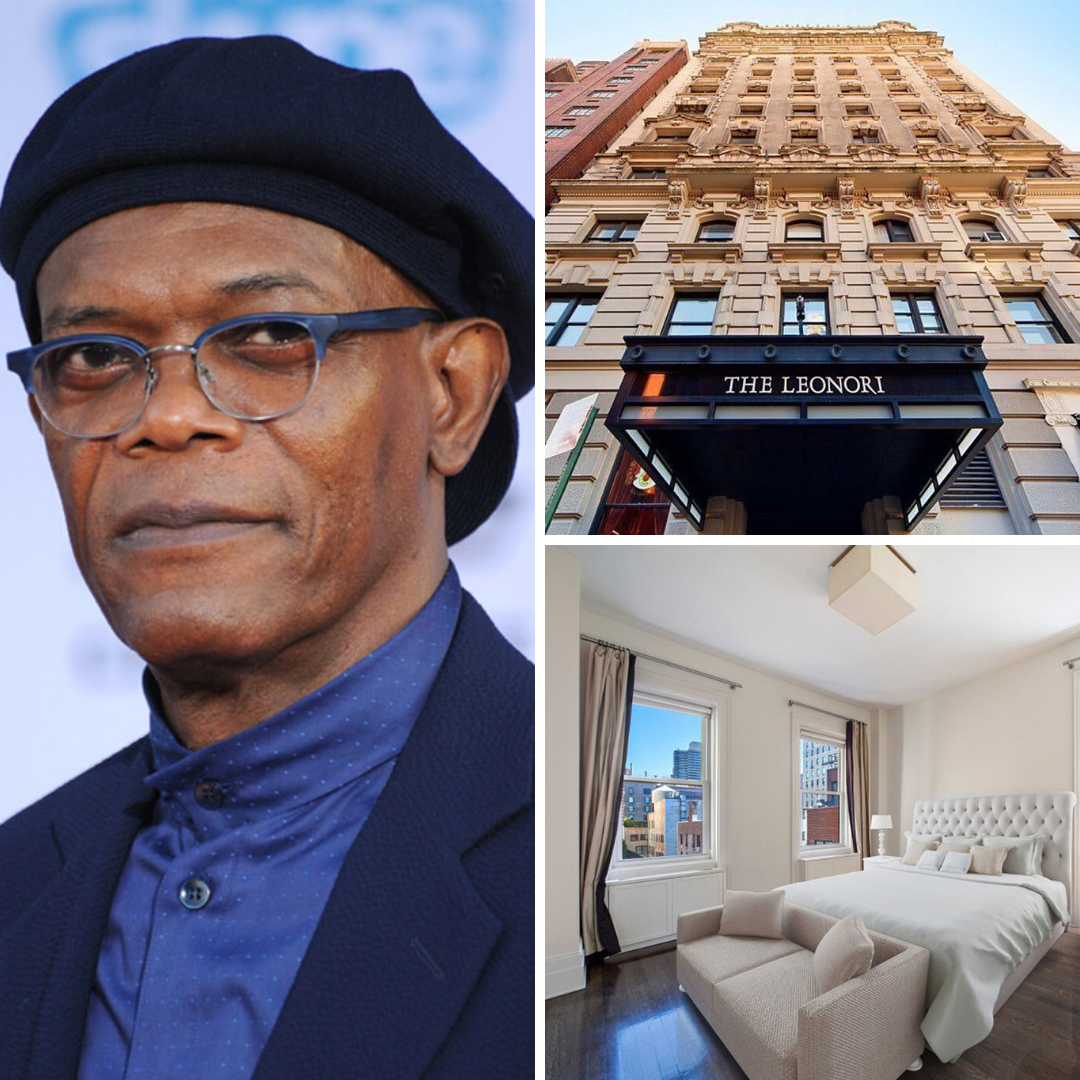 Robert De Niro – $18 Million, New York
Robert De Niro once lived in a West Village, New York apartment that takes up a full two stories of the building it's located in. The home was originally built in the 1920s but it was damaged in a fire after it had been standing for a while. After that, the home was completely renovated and became the condo De Niro was familiar with, including five bedrooms, four and a half bathrooms, and a private parking room with seven parking spots.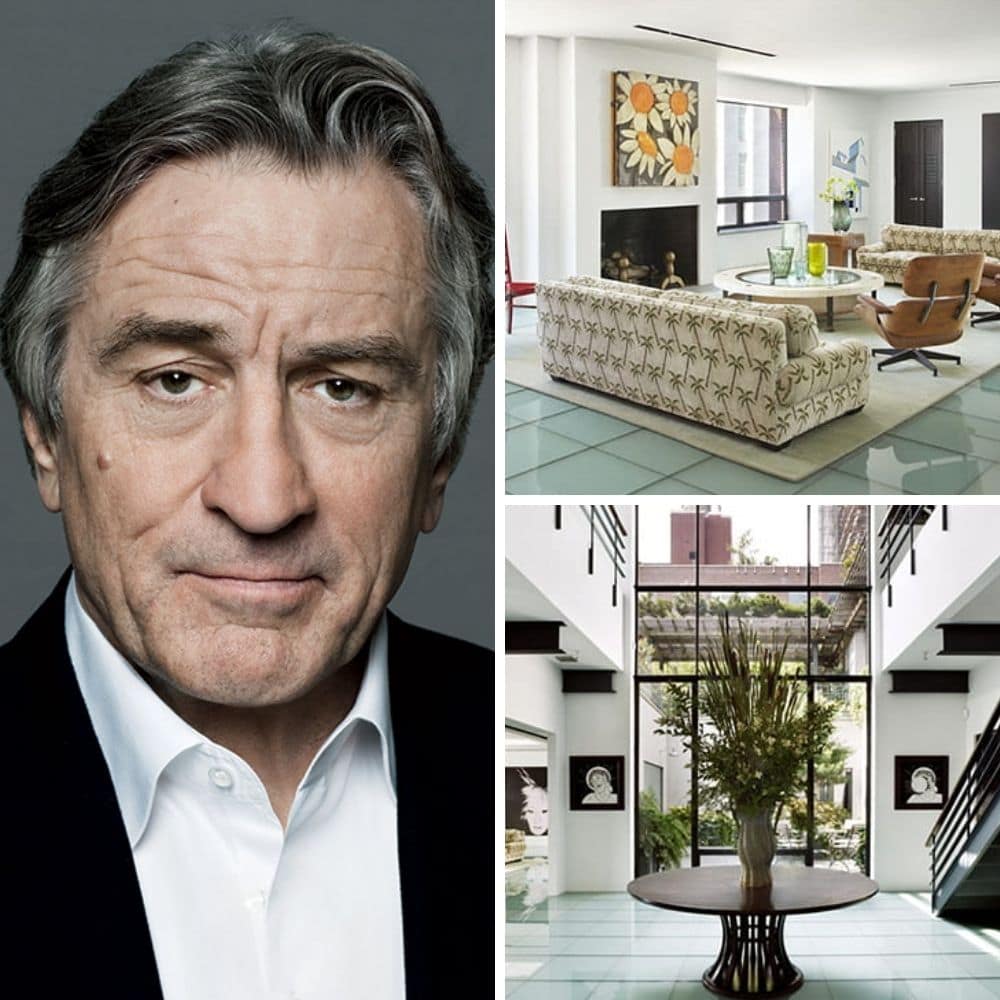 Joanna Woodward & Paul Newman – $7.5 Million, Connecticut
Actress Joanne Woodward and her late husband and actor Paul Newman once owned a colonial-style house in Connecticut. The estate includes 10.46 acres and is made up of five total buildings. This includes a carriage house and multiple barns in addition to the main house. The main house is 6,400 square feet with a patio and seven sets of French doors. Woodward actually didn't move out of the home until 2014 and listed it for a sale price of $7.5 million.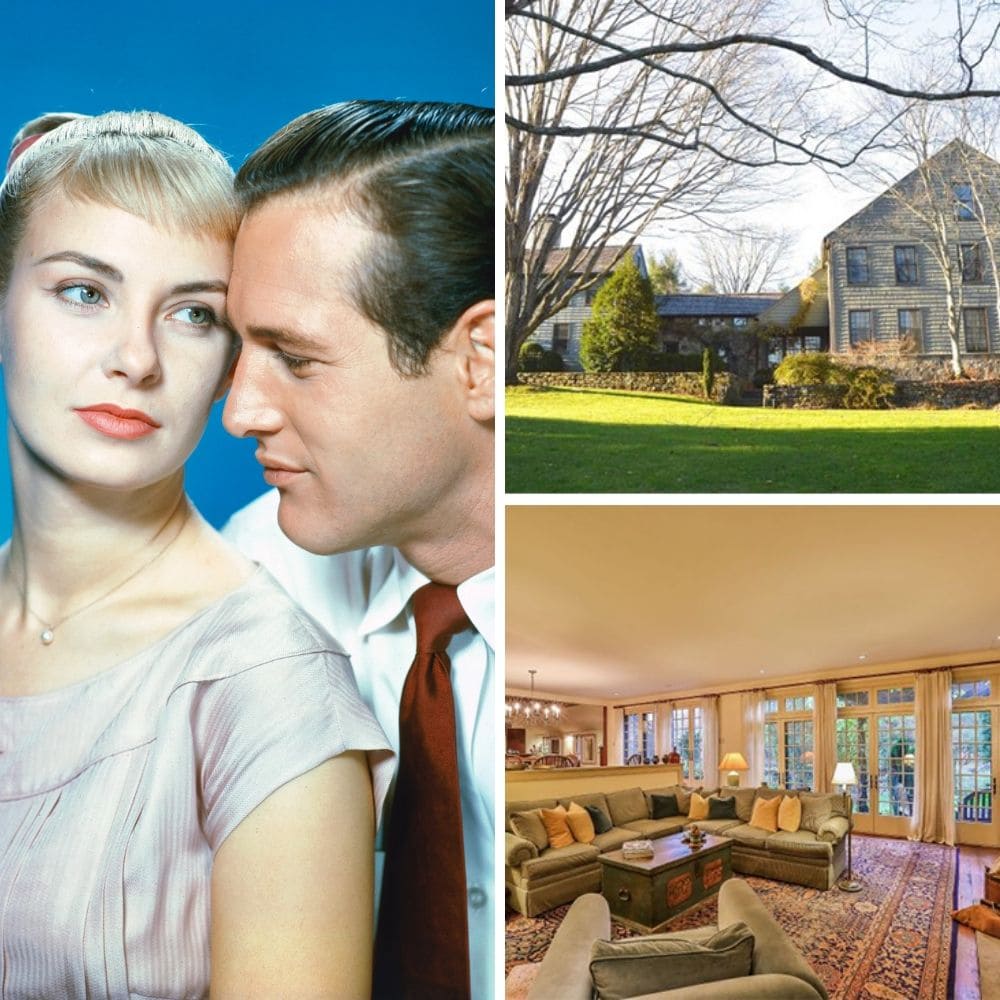 Denzel Washington – Price Undisclosed, Los Angeles
Denzel Washington has carved out a great career for himself and when he wanted a mansion of his own, his $220 million net worth made sure that money was no object. While we don't know exactly what he paid for the home, we do know the design. The community is heavily guarded and has 14 bathrooms, eight bedrooms, and leisurely additions like a swimming pool. He was also drawn to the property due to a rumor that his American Gangster character lived there.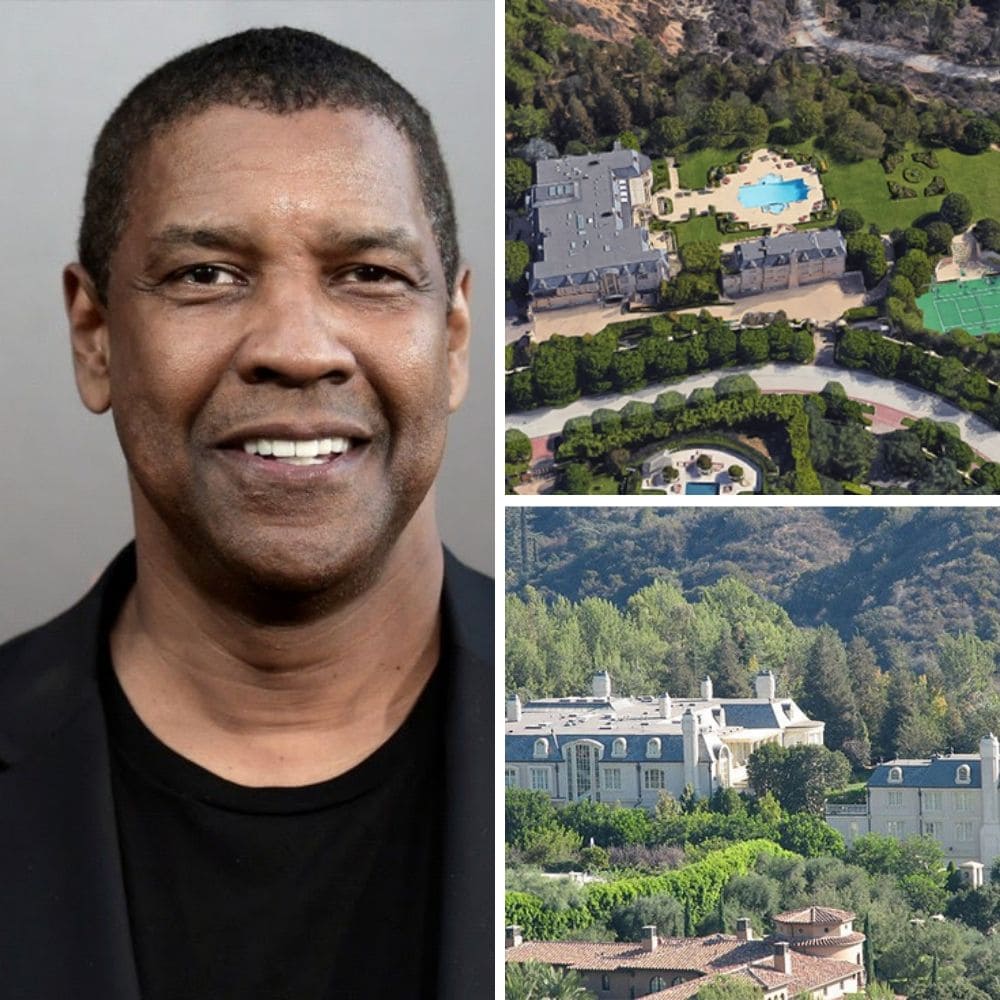 Laura Ingraham – Price Unknown, Virginia
Laura Ingraham is another Fox New personality with plenty of fame to her name. She's also another celebrity that doesn't flaunt the details of her personal life, so we don't know the exact price she paid for her McLean, Virginia home, but her $45 million net worth gave her plenty of funds to work with. Aside from her role as a cable news anchor, Ingraham has also moved into the modern sphere with a podcast titled The Laura Ingraham Podcast.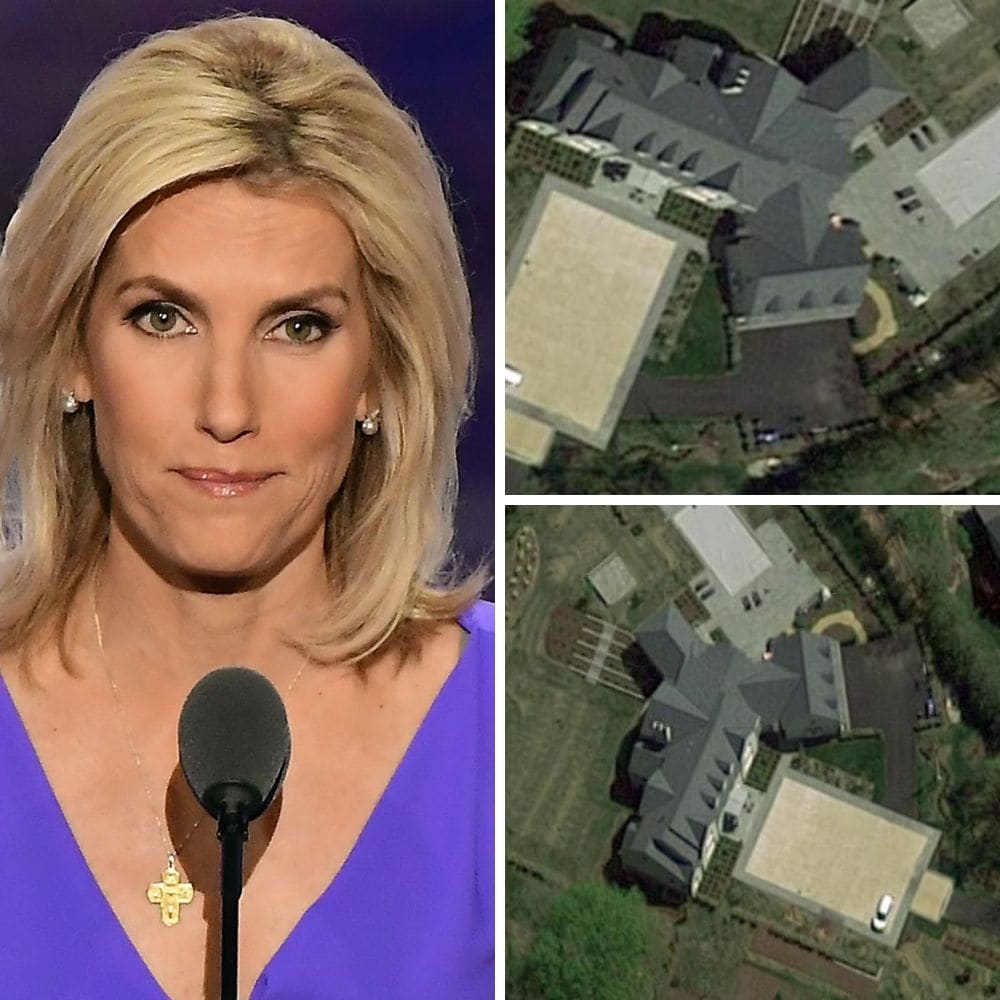 Ben Stiller – $11.5 Million, Los Angeles
Ben Stiller is another Hollywood funnyman that's made a name for himself both as a comedian and as an actor. In 1999, he decided to use part of his fortune to buy a home. Yet, it didn't stop there. Later, he bought another house and picked up a third even later. In total, these properties boast a total of 10 bedrooms and 11 bathrooms with areas encompassing 5,334, 4,602, and 1,161 square feet in each house.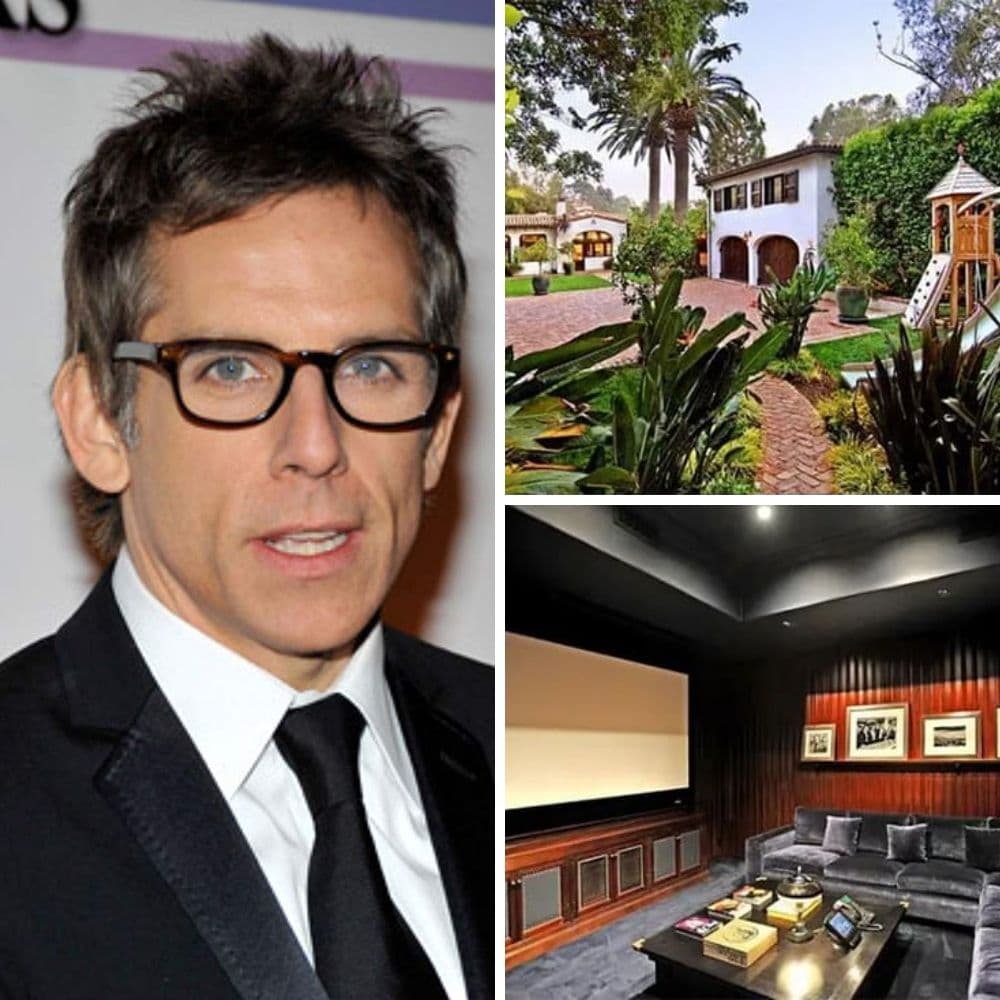 Sidney Poitier – Price Undisclosed, Los Angeles
An author, actor, director, and even diplomat, Sidney Poitier has been in the entertainment industry since his debut in 1947. During this time, he also served in the U.S. Army and later even earned a knighthood from Queen Elizabeth II. As an actor, he's also earned a Golden Globe and an Oscar. He owns this Los Angeles abode with Joanna Shimkus, his wife, who also served as the designer of the home. It was purchased for an undisclosed sale amount.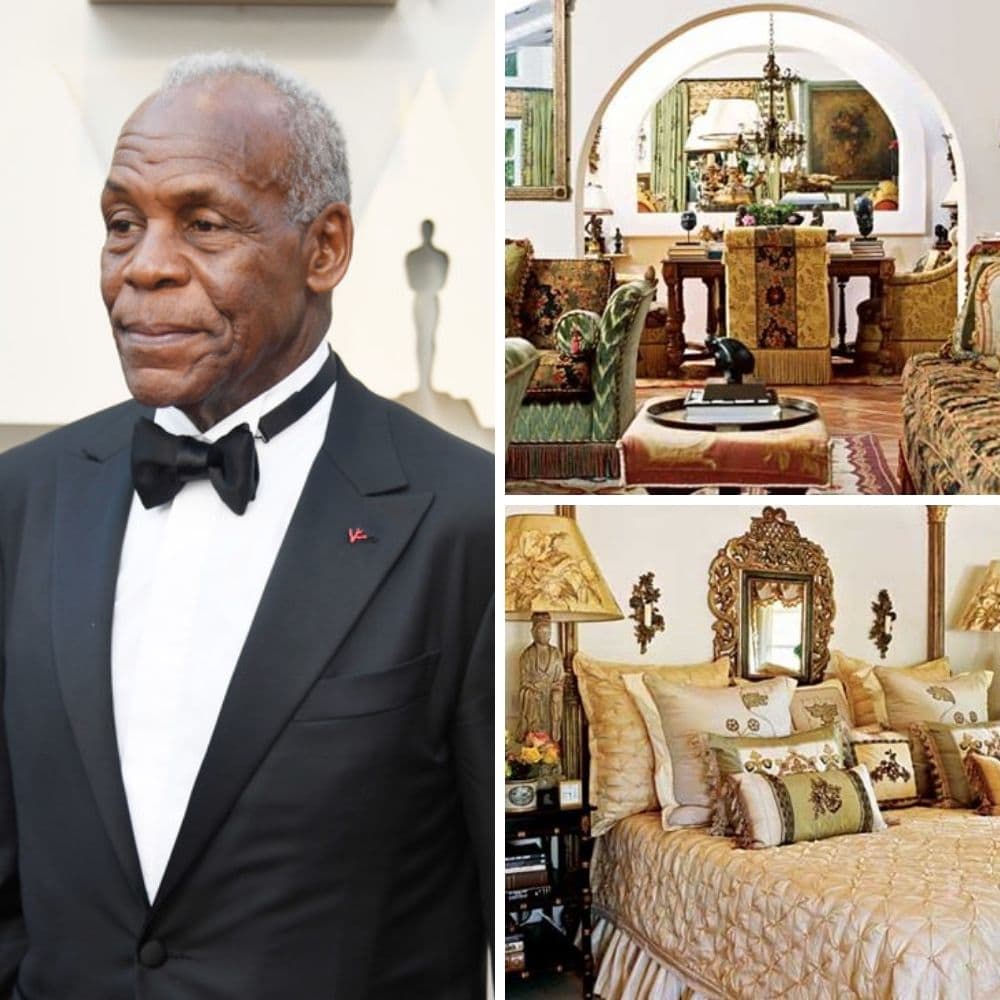 Tom Selleck – Undisclosed, Bay Ridge
Born in 1945, Tom Selleck made his debut in 1965 in Pepsi-Cola commercials and on The Dating Game. Later, he became well-known for iconic roles, such as his tenure as Thomas Magnum in Magnum P.I. In recent years, he can be seen by tuning into Blue Bloods. He's called Bay Ridge, New York home for a while now and lives in a home built in the 1920s. The price for the property is currently undisclosed.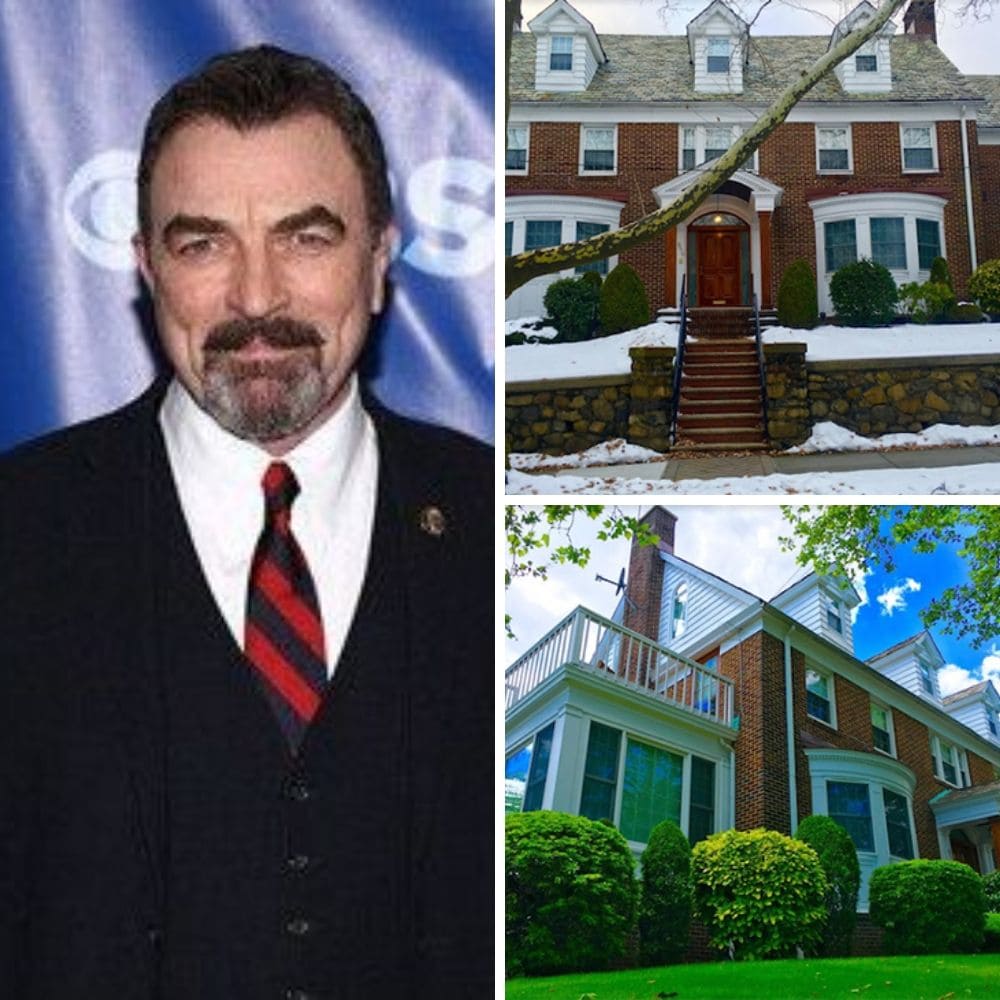 Liam Neeson – $1.5 Million, New York
During his marriage to his late wife Natasha Richardson, Liam Neeson invested in a Millbrook, New York home starting in 1994. Unfortunately, Richardson passed after a head injury in 2009. The estate is located on a 37-acre lot and the couple bought an additional tract of land measuring 16 acres. While the home isn't for sale, it's estimated to have a value of $3.7 million thanks to its size and amenities such as a pool, courtyard, and tennis courts.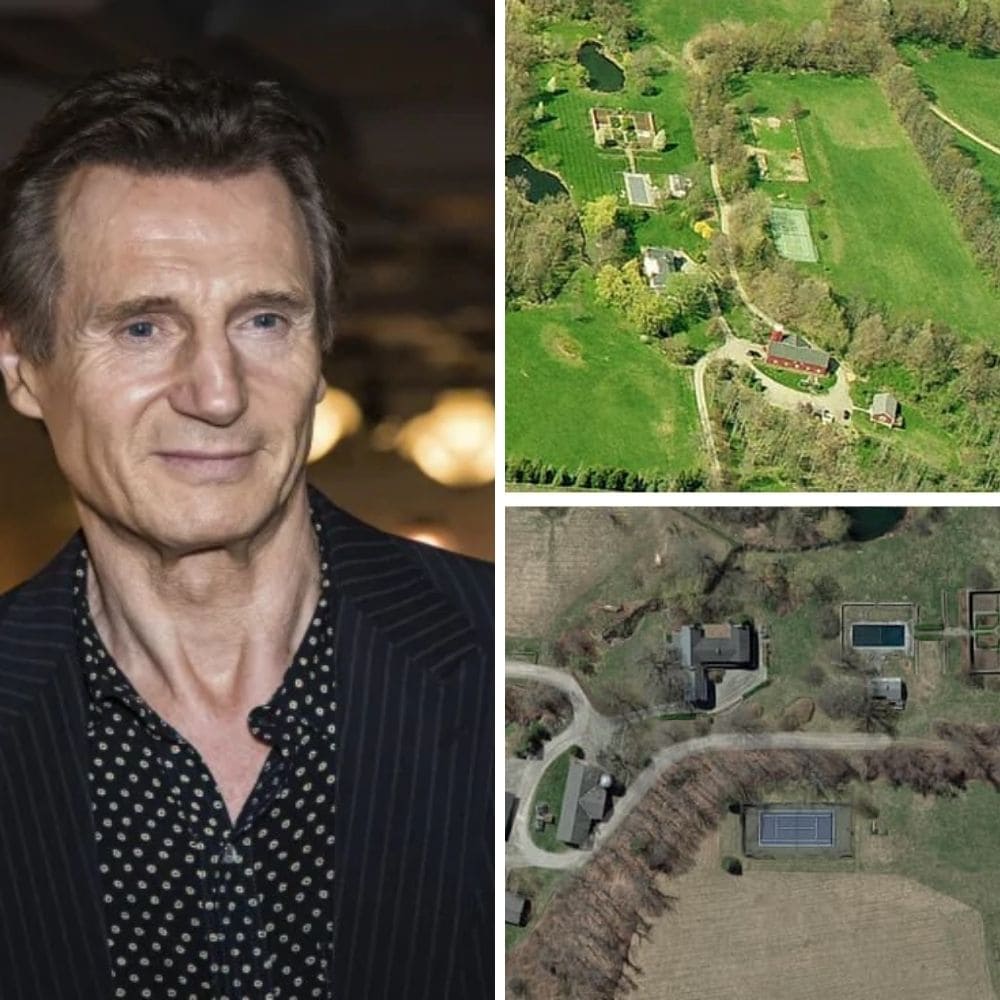 Nicholas Cage – $10.95 Million, San Francisco
Nicholas Cage is known to be a talented – and slightly eccentric – actor. He went on a spending spree in 2006 during which time he spent enough to reduce his net worth from $150 million to $125 million. During this period, he purchased a Gothic Tudor mansion that had been standing for 105 years. In 2008, he resold the home of 6,305 square feet for $7.7 million, but its value is now estimated closer to $10.95 million.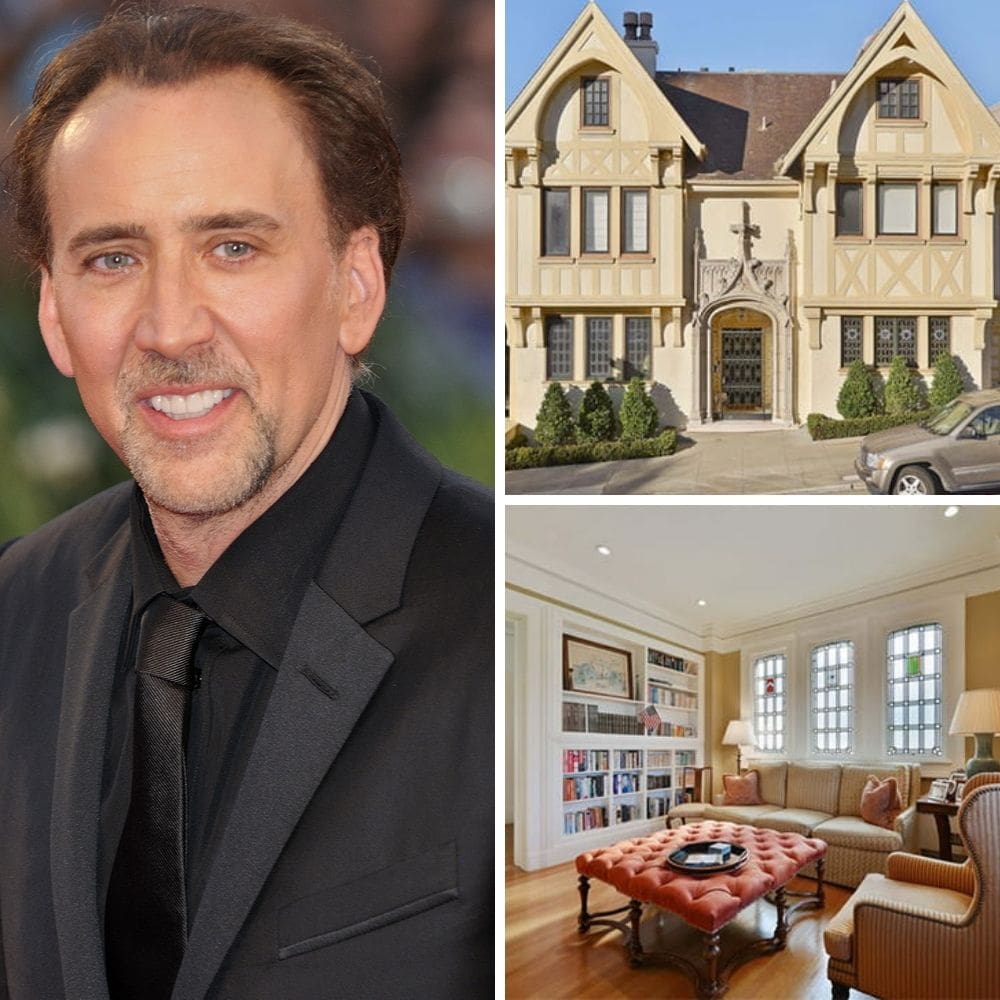 Jack Nicholson – Undisclosed, Mulholland Drive
Jack Nicholson has been in a litany of iconic roles playing everyone from The Joker to Jack Torrance. Aside from starring in Batman, The Shining, and One Flew Over the Cuckoo's Nest, he's also reported that he's owned this Mulholland Drive, California since 1969, but the price he may have paid for this home is undisclosed at this point. According to the information listed about the property, the mansion was only built in 1957, making it a fairly new property when Nicholson first moved in.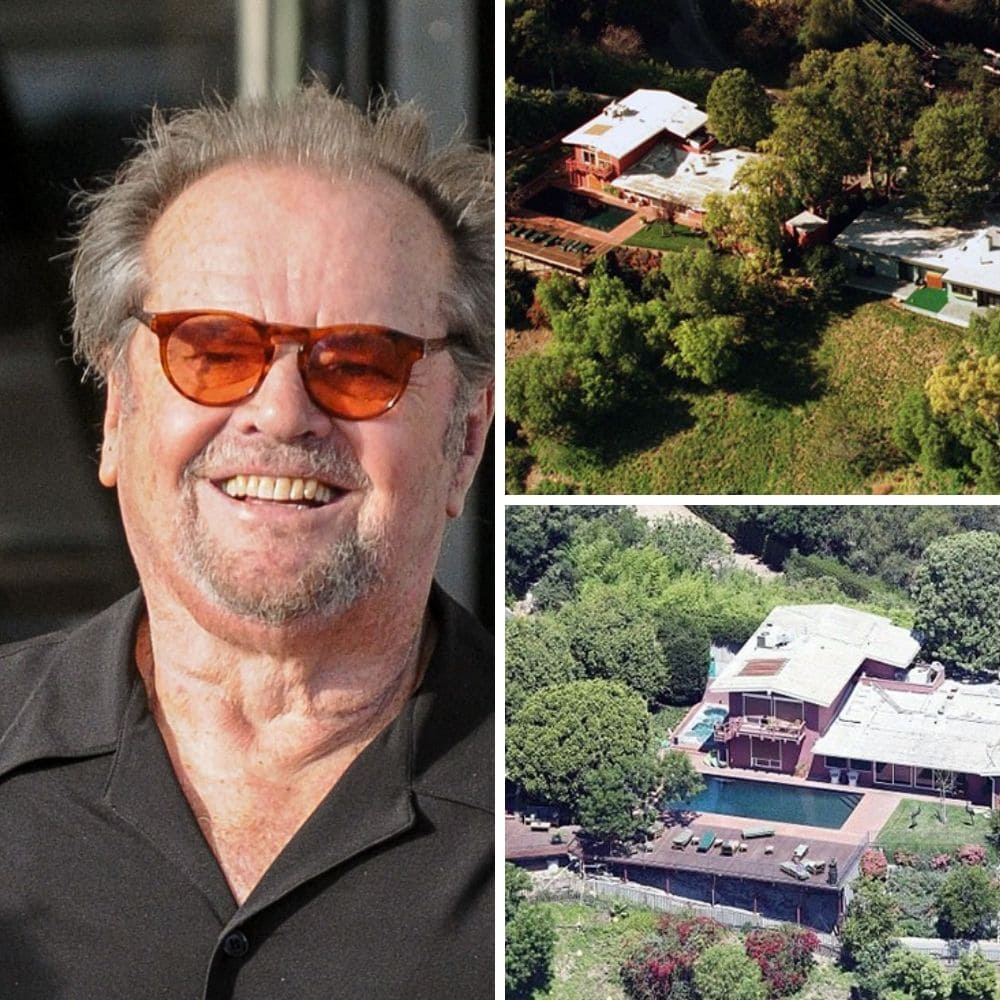 Betty White – Unknown Price, Los Angeles
Betty White has undoubtedly earned her place in both Hollywood and the hearts of fans of all ages. Even in her 90s, the actress continues her long career and even recently earned her own documentary on Netflix titled Betty White: First Lady of Television. She currently lives in a home in Los Angeles that she originally bought with her husband, Allen Ludden, who has since passed. While the price is undisclosed, it's probably pretty impressive given her $75 million net worth.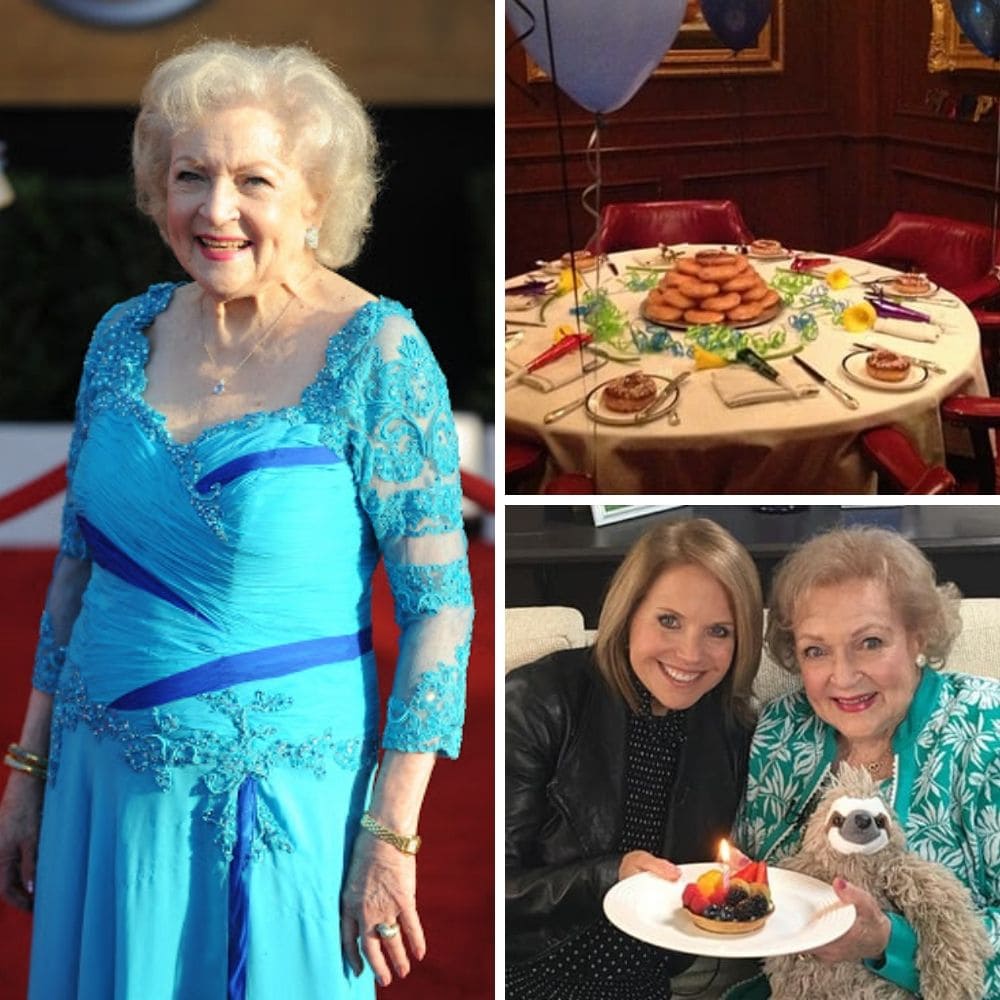 Max Baer, Jr. – Price Undisclosed, Nevada
Max Baer, Jr. is an accomplished actor that most people recognize from his role as Jethro Bodine in The Beverly Hillbillies. Sadly, he's now the only member of the main cast still alive today. He's retired from the public eye for the most part now – his career lasted from his debut in 1960 until his retirement in 1991. The only hard detail that we have is that the property is located in Paradise, Nevada but the actor has been quiet about the details of the home.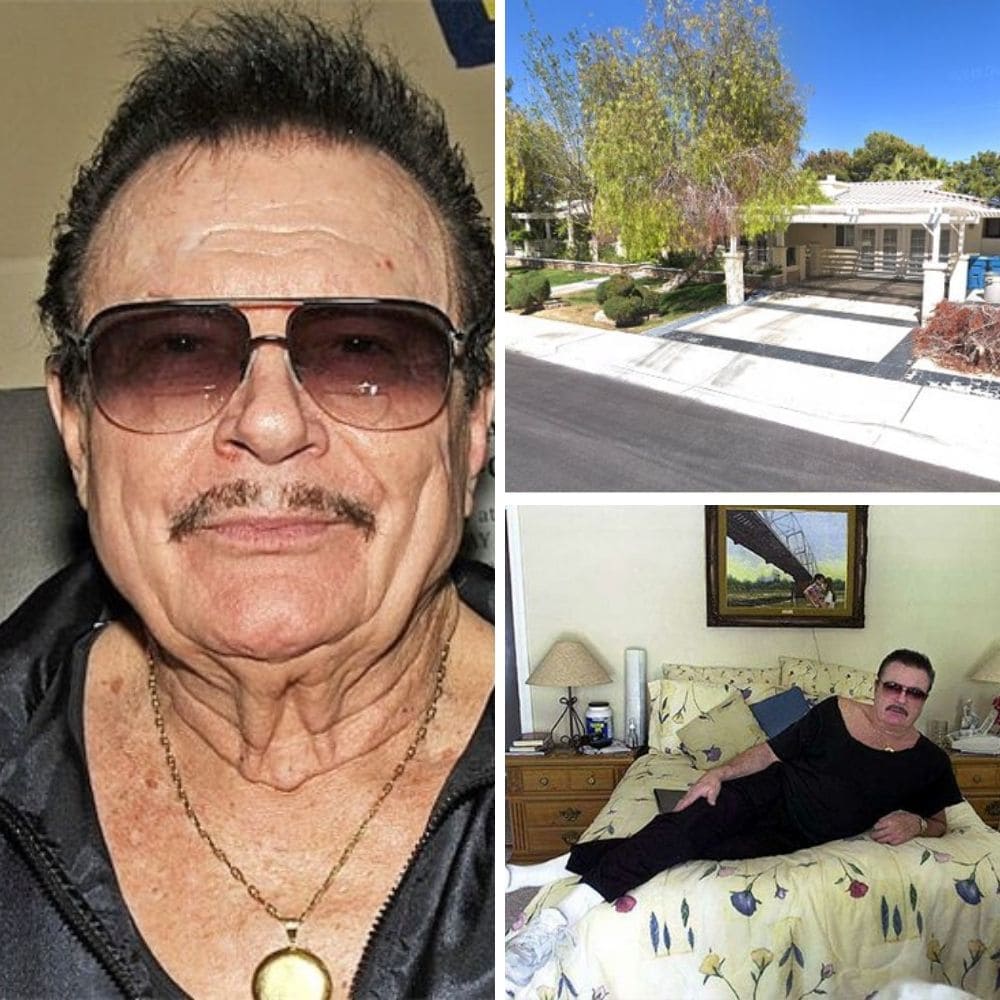 Sean Connery – $1.849 Million, County Micklow
Sean Connery is a highly decorated actor with an Oscar among his many accolades. He was even a bodybuilder in his early career and earned third place in the Mr. Universe competition before he was ever in famous roles such as in Indiana Jones and the Last Crusade or The League of Extraordinary Gentlemen. He also used to own this home in County Wicklow in the '70s, but he put it on the market in 2013 for $1.849 million.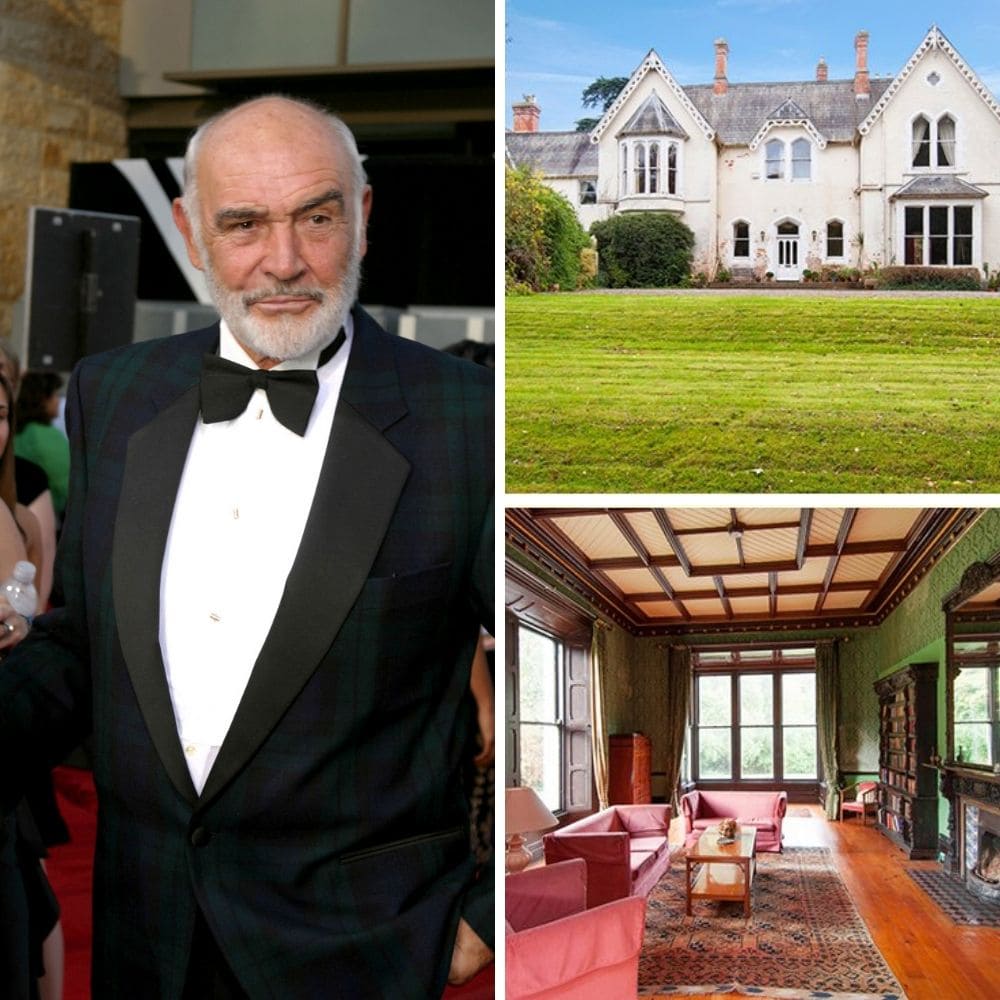 Linda Hamilton – $4 Million, Malibu
Linda Hamilton became a household name for her star role in The Terminator films. She even reprised the role in 2019 when Terminator: Dark Fate was released. Her home in Malibu was purchased in 1995 for $5.495 million and she sold it again in 2012 for the lowered price of $4 million. The property includes both a main house with five bedrooms and a guest house with two bedrooms. It's located on 1.1 acres of land and features 4,754 square feet of living space.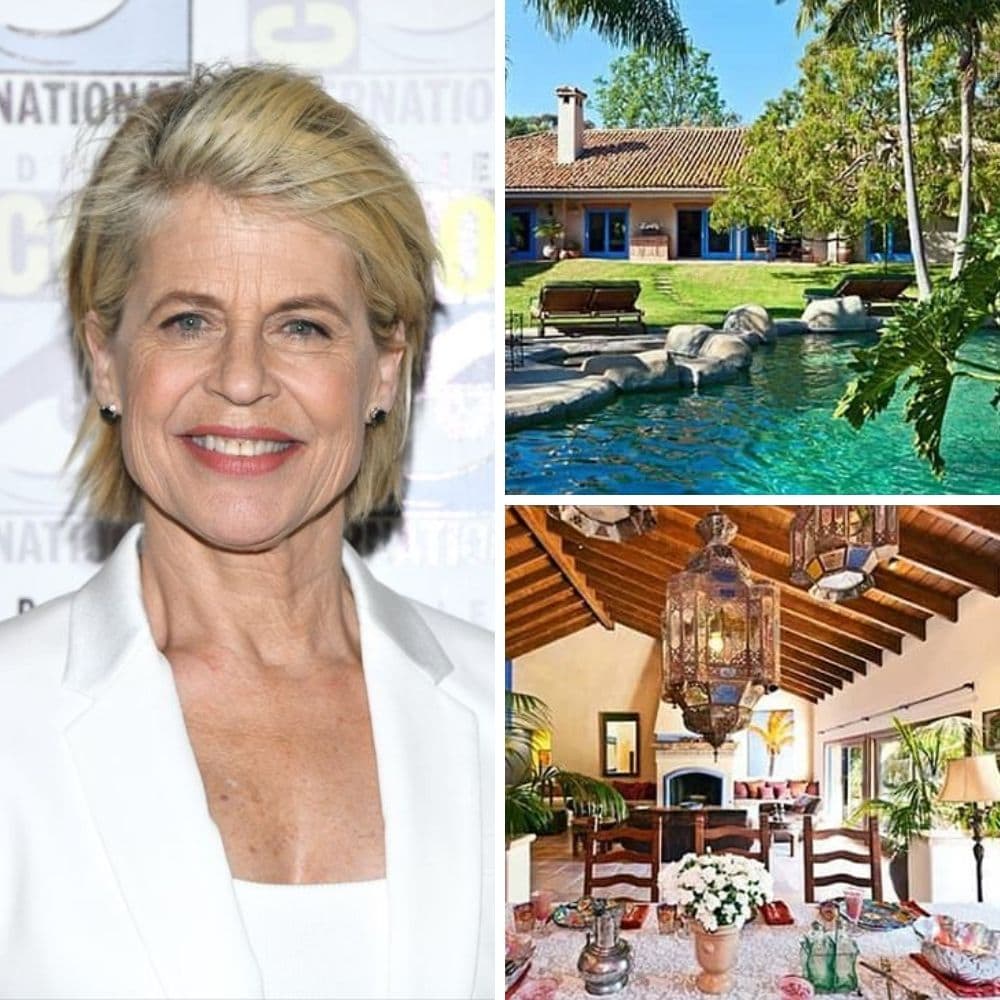 Michael Jordan – $14.9 Million, Chicago
Few athletes reach the height of fame that Michael Jordan did. Some even call him the best basketball player ever. He started playing in 1984 and spent 15 years playing in the NBA. He also had a brief, less successful stint as a baseball player. He bought his Chicago mansion earlier in his career and lived there until the mid-90s. It sits on a 7-acre lot and the home has 56,000 square feet of living space. Originally, the price was set at $29 million but its since been lowered as far as $14.9 million.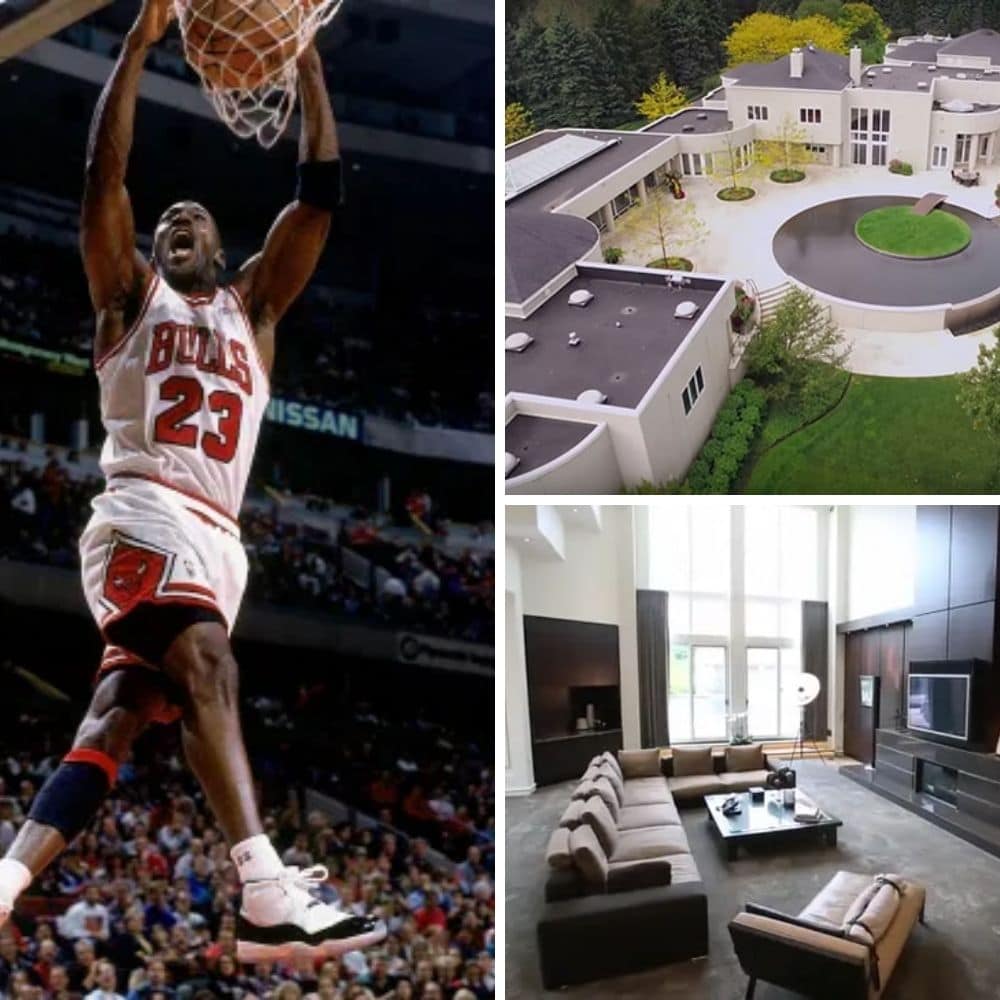 Clint Eastwood – $9.75 Million, Pebble Beach, CA
Clint Eastwood has taken over Hollywood for the last six decades. He's known both in his home country of the United States and abroad for roles in movies such as Dirty Harry and Million Dollar Baby. He's even the proud winner of four Oscars. His home was built in 1920 and nicknamed Hacienda Este Madera or, in English, East Wood Estate. He listed his home for sale back in 2017 with an asking price of $9.75 million.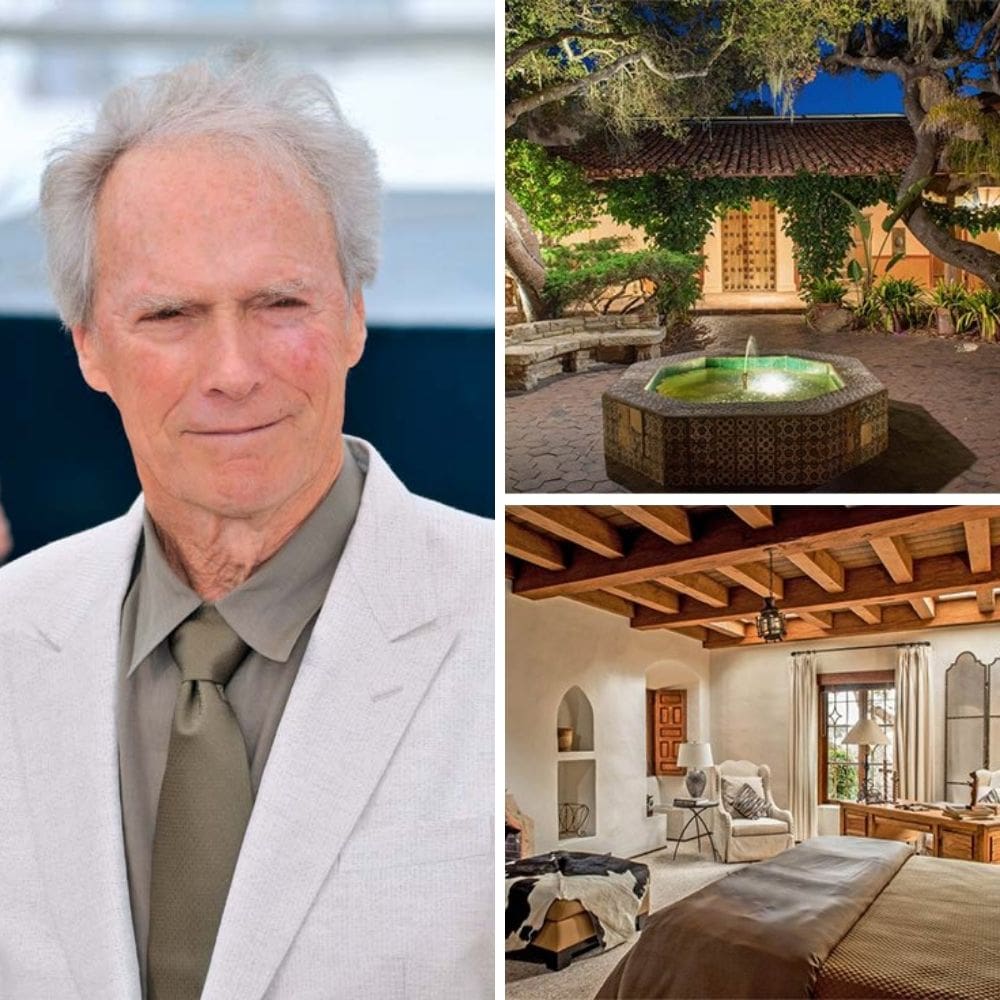 Denise Austin – $1.6 Million, Virginia
Denise Austin has made her fortune over the years by being a fitness guru. She's made it the work of her career to help anyone who is interested in her content get in shape and it has earned her an impressive net worth. When it was time to find a new place to settle down, Austin opted for a home in Alexandria, Virginia at a cost of nearly $2 million. The house is spacious and even has features such as a spa to enjoy.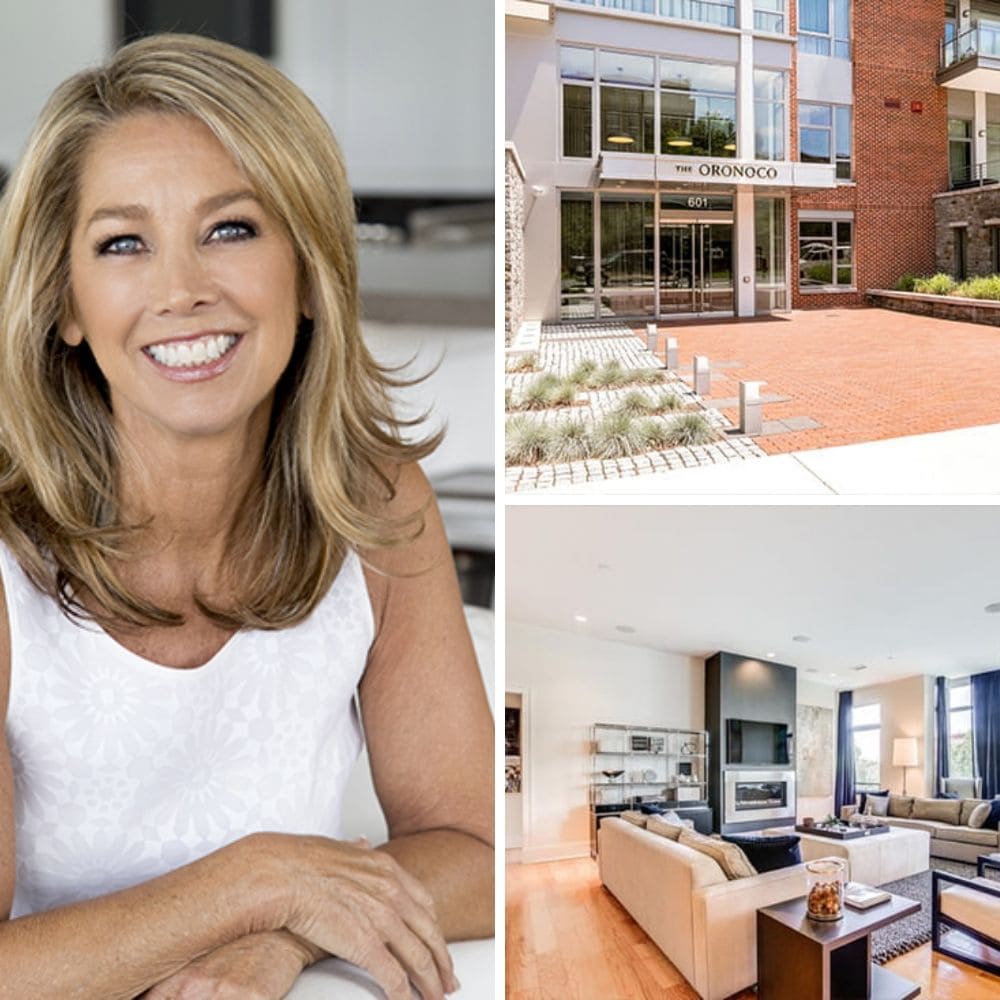 Matt LeBlanc – $8.75 Million, California
Matt LeBlanc has plenty of acting roles under his belt, but to many TV fans, he'll always be Joey from Friends. However, in recent years, he's re-emerged on the small screen with a main role in Man with a Plan. He bought his California home in 2012 for $7.4 after his divorce. The Spanish-style home has a half-acre of lawn space and approximately 4,000 square feet of living space. He relisted the home for an asking price of $8.75 million recently.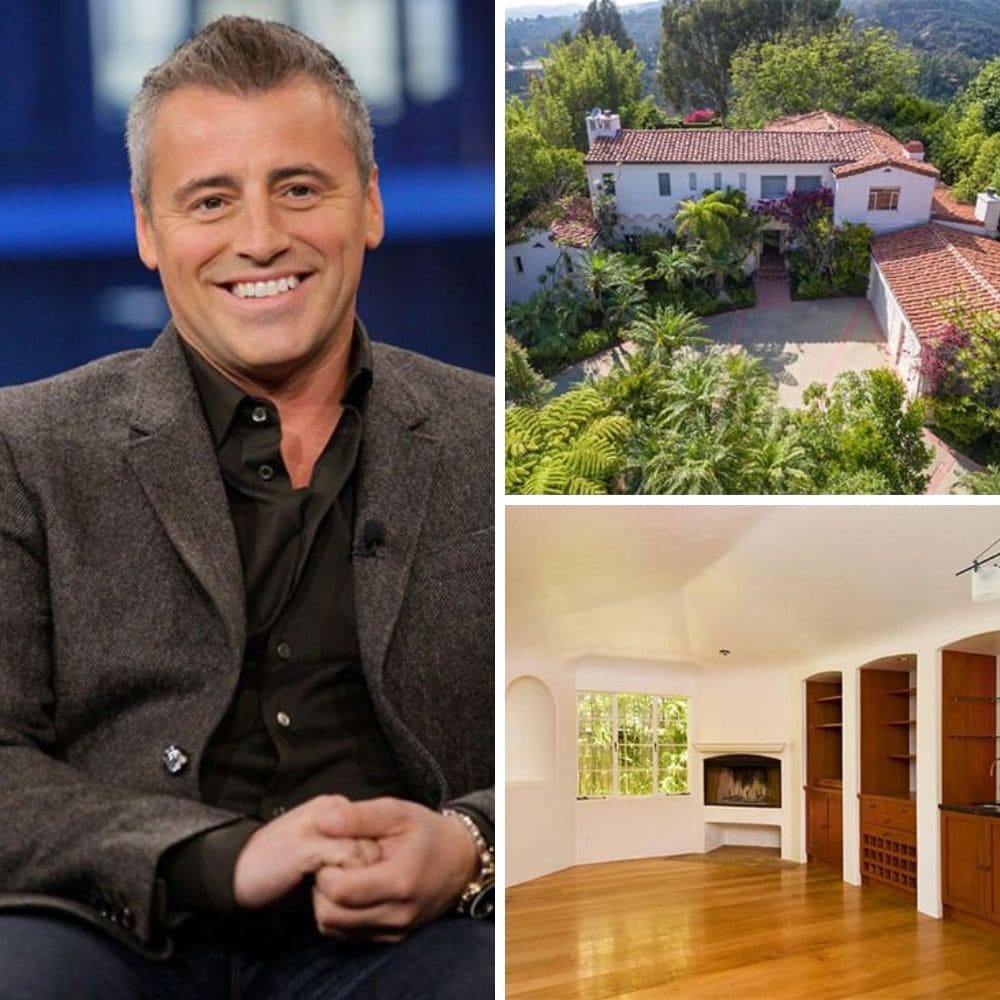 Raquel Welch – $5.695 Million, Beverly Hills
Raquel Welch was born in 1940 and started her career in 1959. She fully came into the public eye in 1966, though, when she starred on Fantastic Voyage. Since then, she's had notable roles in One Million Years B.C. and 100 Rifles, among other accolades. She also used to be the owner of a Beverly Hills Mansion that measured out to 6,217 square feet and sat on a half-acre of land. She listed the home for sale in 2017 and it was valued at $5.695 million.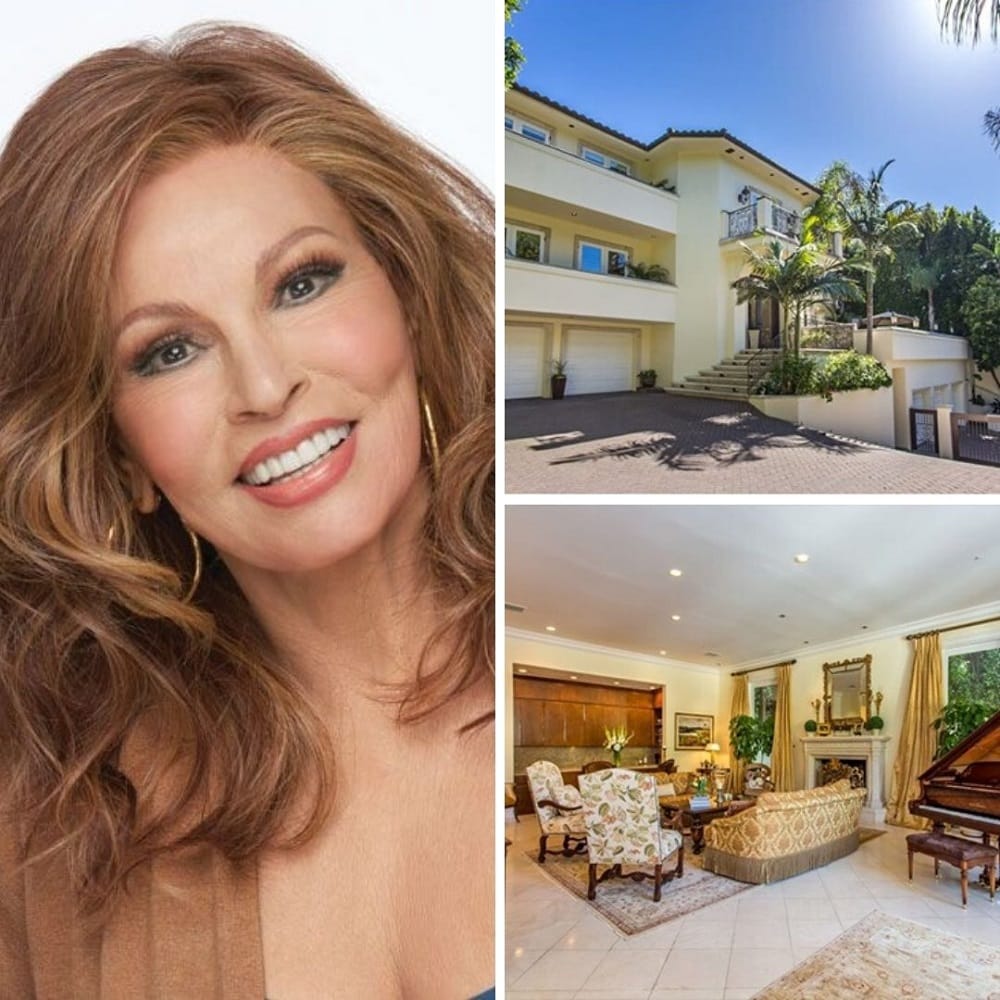 Warren Beatty – $7 Million, Beverly Hills
Warren Beatty has become a legend both on and behind the silver screen. To date, he has been nominated for 14 Academy Awards and even won Best Director for directing Reds. He actually shares his huge home with his wife Annette Beatty, who he met on the set of Bugsy. The home he owns covers 10,594 square feet of space. This includes not only the main home itself but a pool and detached guest house as well. It's also brand new – it was built in 1992, the year the Hollywood couple was wed.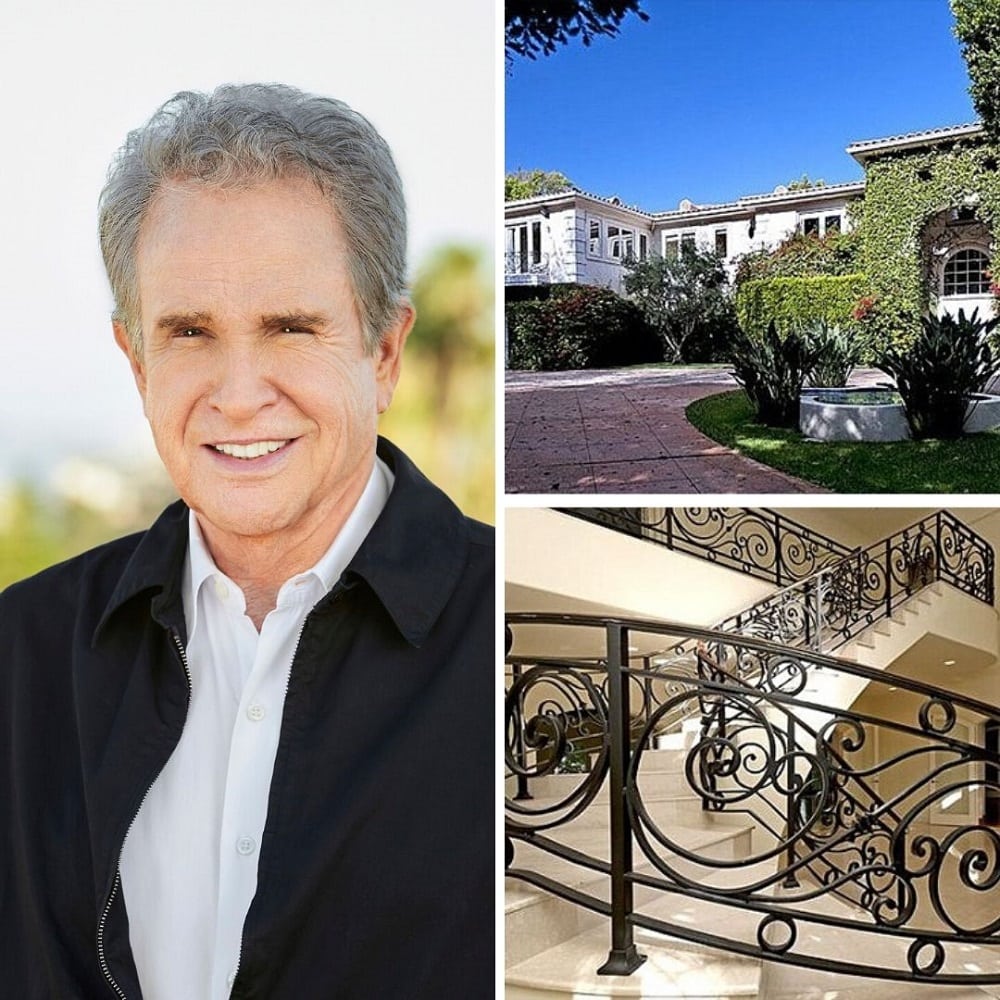 Drew Carey – Value Unknown, LA
Drew Carey is known as Hollywood's funnyman with accolades such as hosting Whose Line Is It Anyway and starring in The Drew Carrey Show under his belt. He's also earned some of his fortune as a gameshow host. The house is a four-bedroom, four-bathroom sprawling home with a rustic design., The backyard also features a huge pool to enjoy LA's warm weather. Unfortunately, as the house isn't on the market, the value is undisclosed.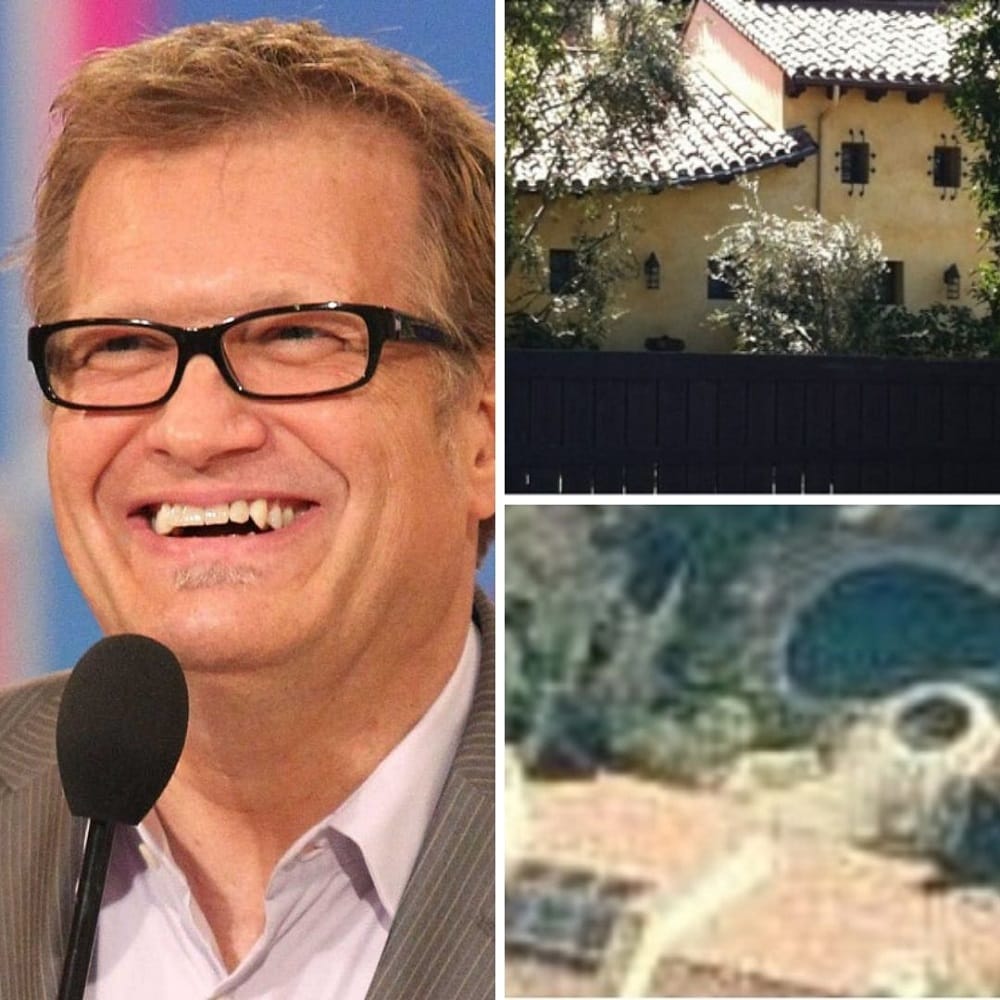 Kareem Abdul Jabbar – $5.9 Million, Hawaii
Kareem Abdul Jabbar is a legendary basketball player who has since retired. During his time on the court, he served as the leading player for the Los Angeles Lakers, and those 20 seasons earned him enough fortune to buy this 5,912-square-foot home in Hawaii. The mansion features a fireplace, a pool, a waterfall, and high ceilings to account for a basketball player's height. Even more mysterious, the now-for-sale home has a hidden passage leading to a private beach.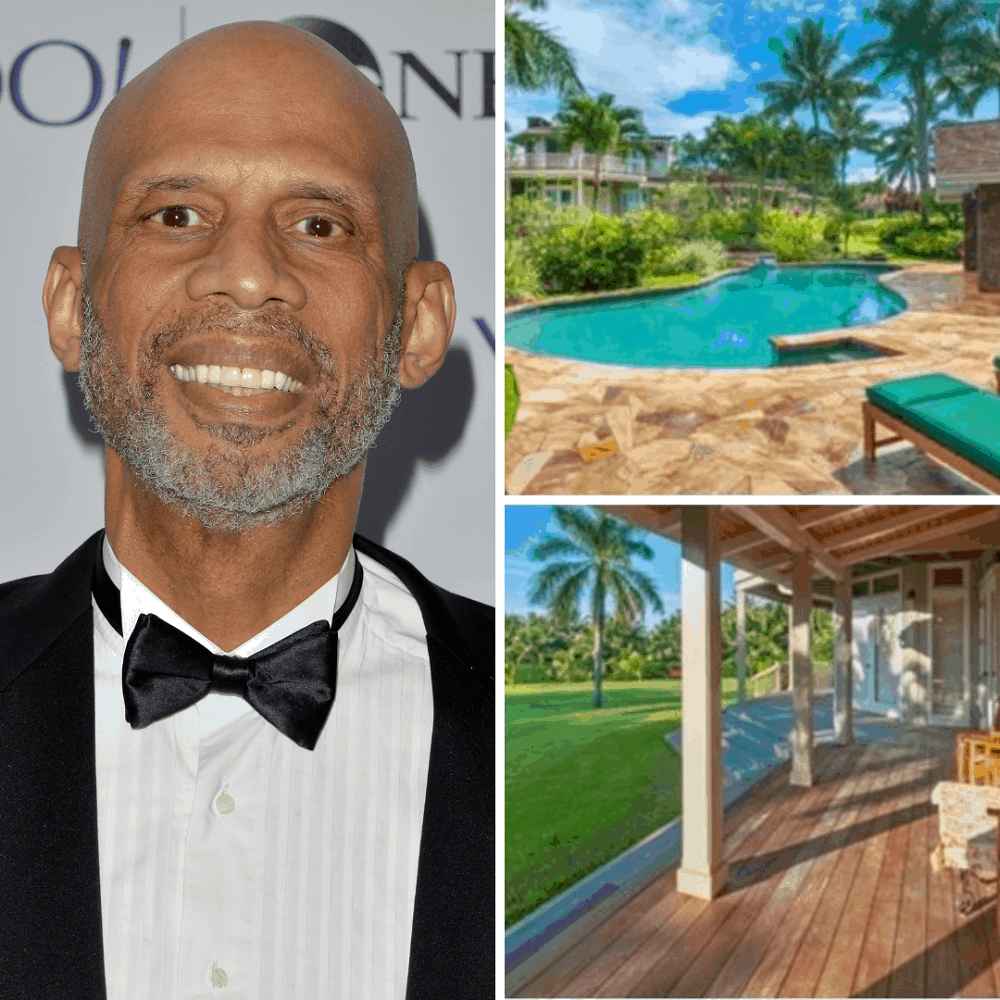 Tony Danza – $8 Million, Malibu
Tony Danza is an experienced actor with roles in shows like Who's the Boss? and Taxi as well as movies including Angels In the Outfield. He's also known for his skill as a tap dancer and boxer. He owned this beautiful home for 15 years before he put it on the market during his 2011 divorce from his second wife, Tracy Robinson. He originally listed the home for a grand total of $9 million but eventually closed the deal for $8 million instead.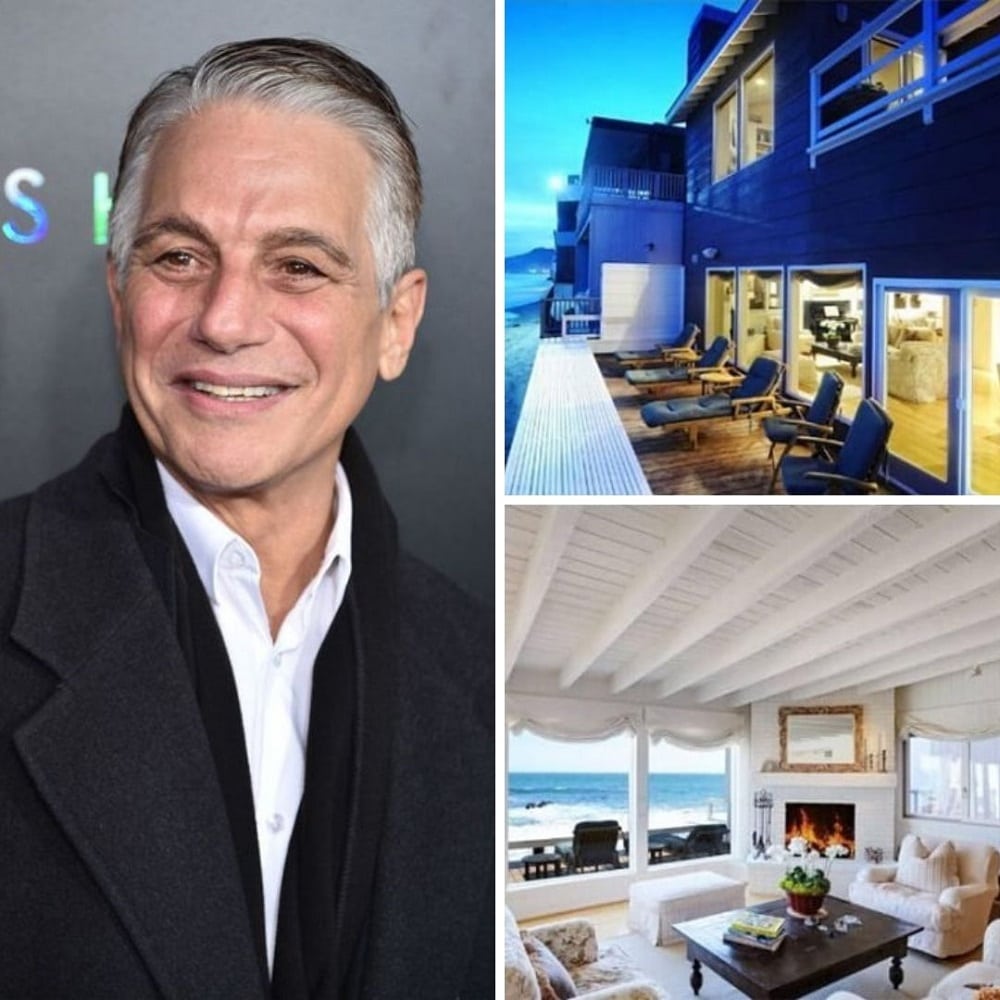 Alex Trebek – $1.4 Million, Lake Nacimiento
Alex Trebek is best known as the long-running host of Jeopardy! He also has a gorgeous home in Lake Nacimiento, California thanks to the $50 million fortune he's amassed since he started hosting the game show in 1984. His estate is reportedly worth $1.4 million and features three bedrooms, two bathrooms, and a separate wing with another bathroom. The host revealed a fight with stage IV cancer in 2019 but stated he'd continue to fight and host the show as long as he could, and so far he's still hosting!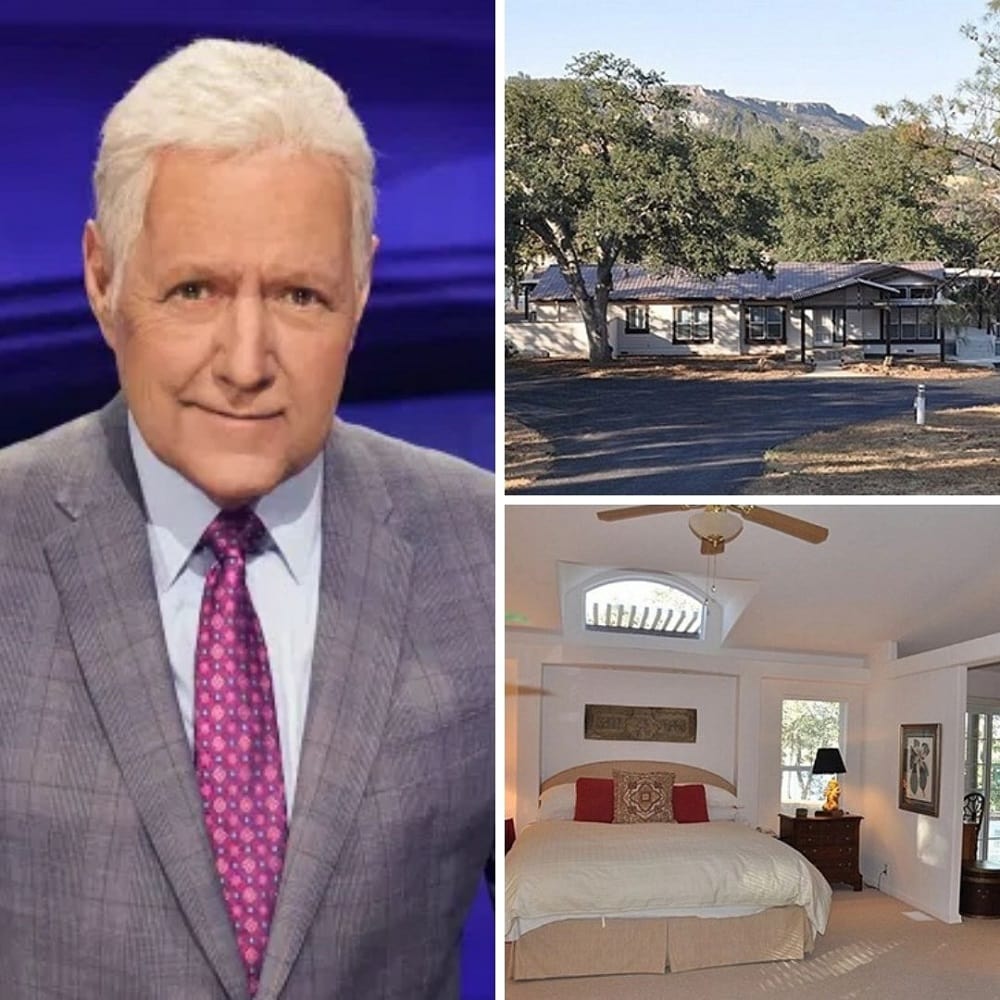 Jane Fonda – $8.5 Million, Beverly Hills
Many people today know Jane Fonda from her role in Grace & Frankie and her outspoken part in climate change protests. However, this only shows a snapshot in the 65-year career of a dual Oscar award wielding actress. She's starred in movies such as Klute, Coming Home, Julia, and They Shoot Horses, Don't They? She's also the daughter of another famous Hollywood actor, Henry Fonda. Fonda originally listed her house on the market in 2017 for $13 million but in January 2018 it sold for a lowered price of $8.5 million.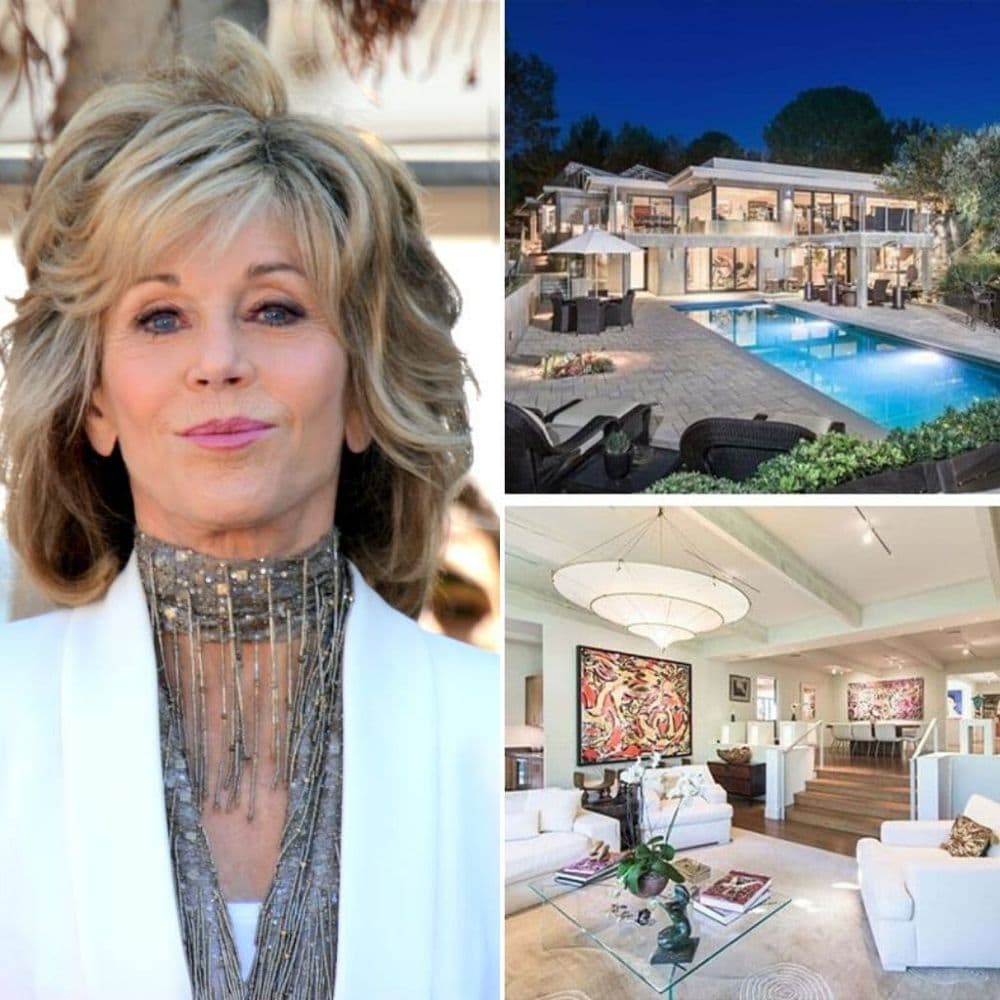 Olivia Newton-John – $7.5 Million, Malibu
Olivia Newton-John has made her career as a singer-songwriter and has a list of accolades behind her name. This includes five #1 hits, ten songs on the Billboard Top 10, and four Grammys. She's released 14 solo albums with more than 100 million sales and four of those albums are double-platinum. She's also earned acting credits in Grease as Sandy. She owned this gorgeous, five-bedroom, 6,802-square-foot Malibu home until 2016 when it sold for $7.5 million.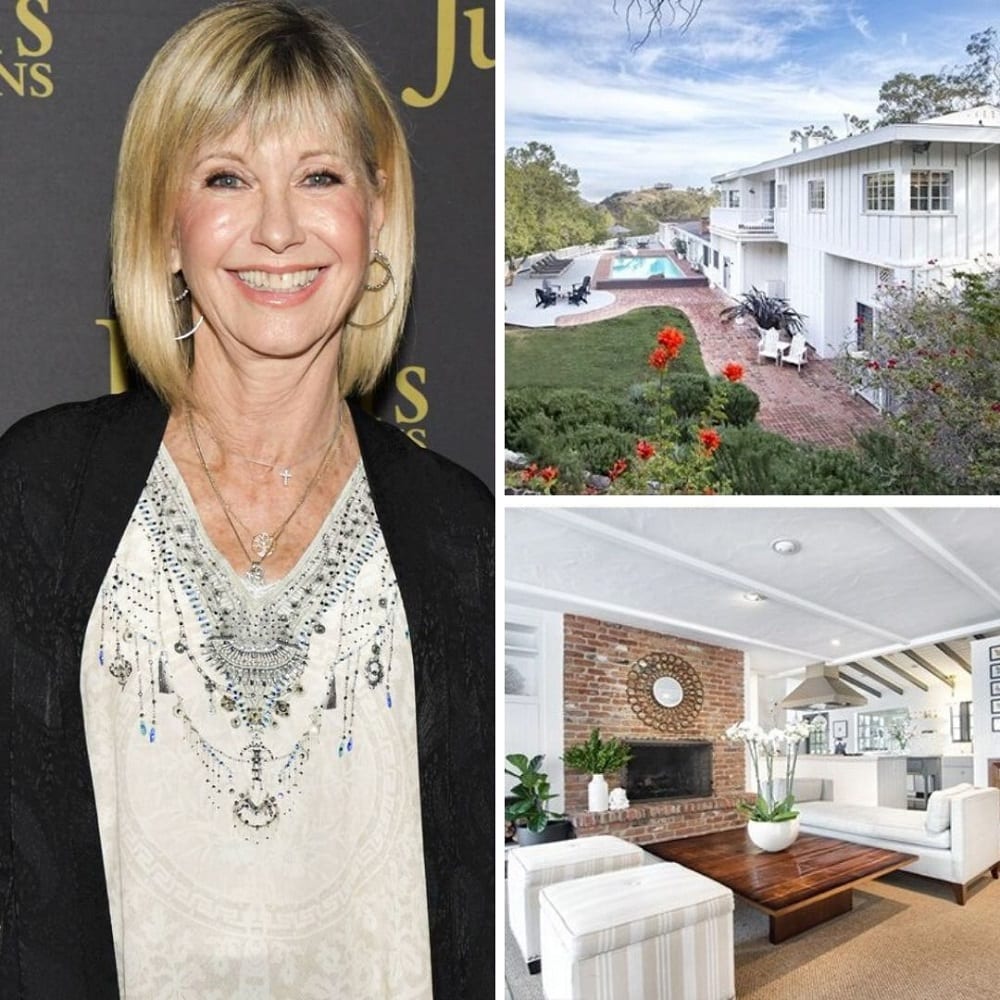 Kevin Costner – $60 Million, California
Keven Costner bought his California coastal estate in 2006 for $28.5 million. The mansion itself sits on 10.25 acres and has views of both the Pacific coast and the Santa Barbara Mountains, with both a beach and horseback riding path. Interestingly, the Yellowstone actor found the property when he saw a "For Sale" sign on a morning jog. He listed the home again in 2017 for $60 million. He also bought the neighboring property and sold off seven out of 17.25 acres.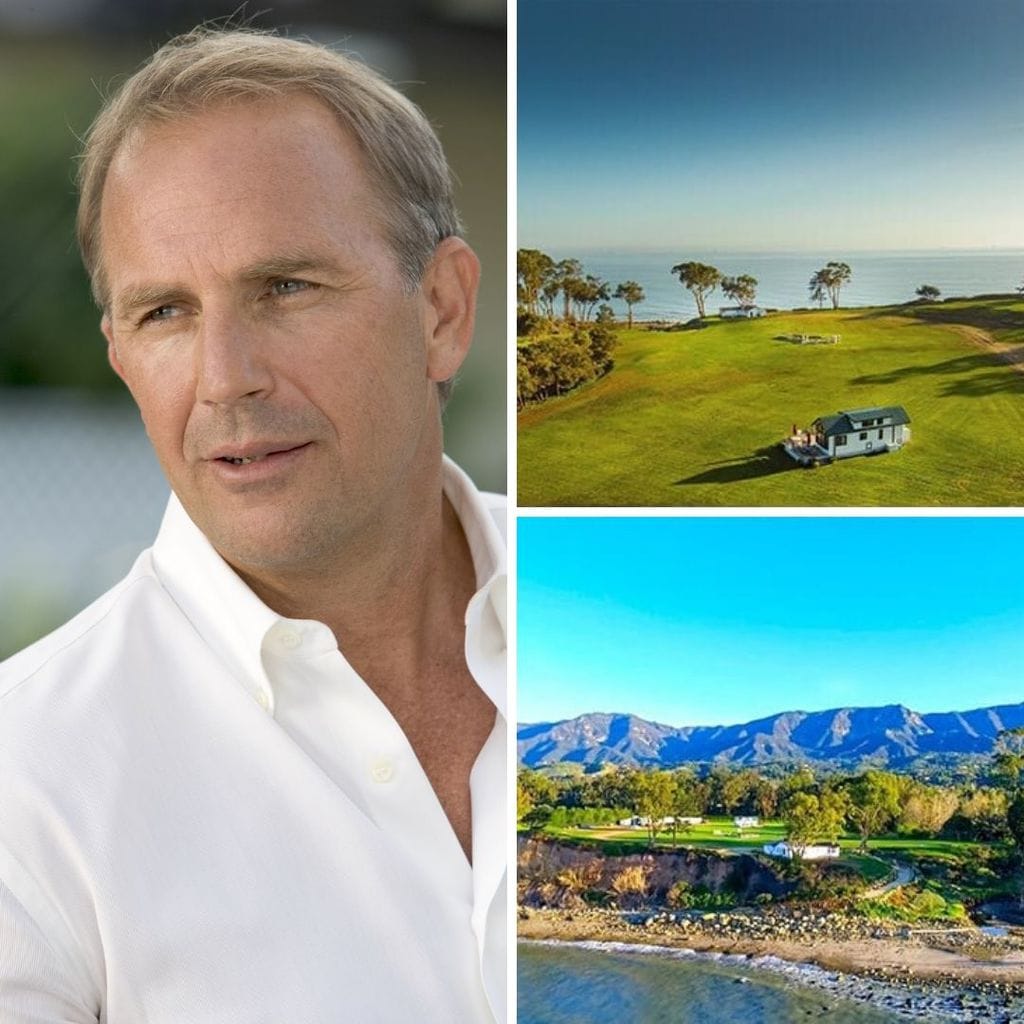 Sophia Loren – $22 Million, Rome
Sophia Loren is an actress that isn't shy to large, beautiful, and expensive homes. In 1966, when she married Carlo Ponti for the second time, his wedding gift to her was a sprawling mansion with 50 rooms. However, before that, there was another home, according to Lionard Luxury Real Estate. It was a 13,000-square-foot Roman villa. Only 10 minutes away from the historic Colosseum. It's on the market now – all you need is a spare $22 million.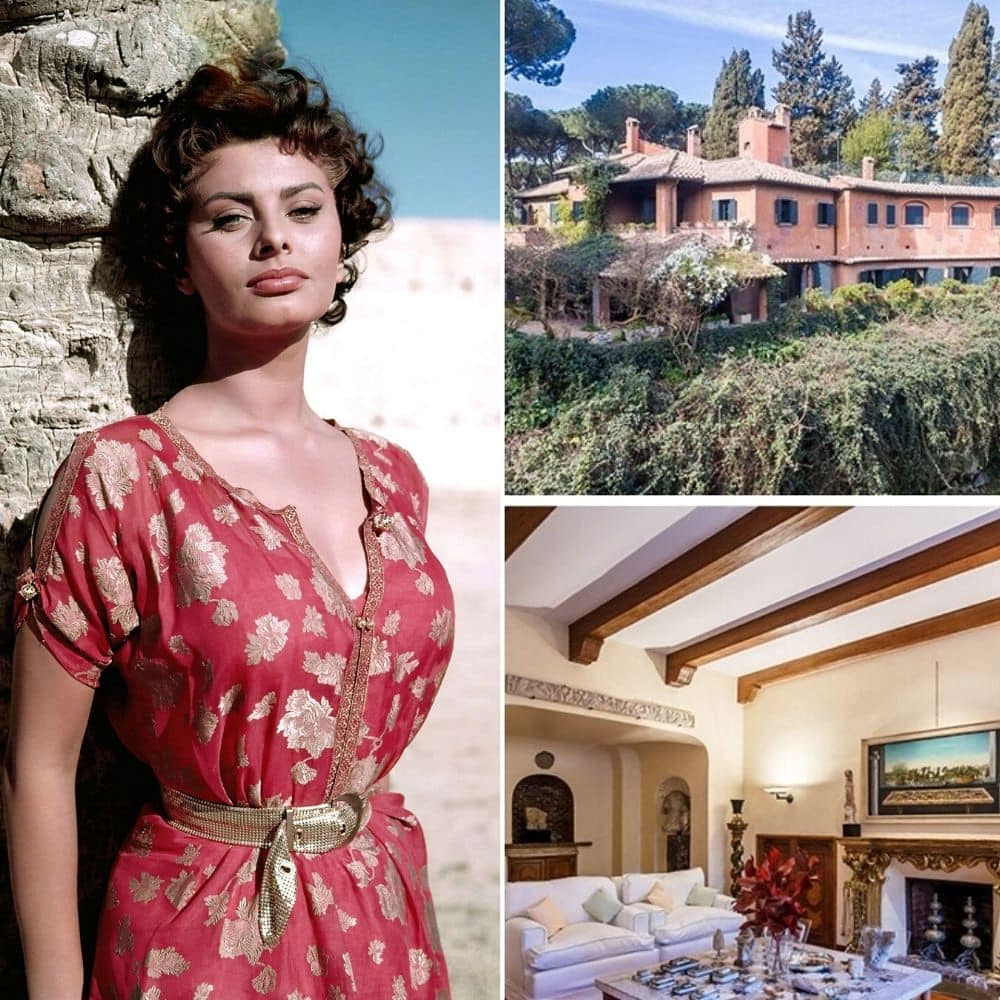 mitzi
Adele – $20K Per Month, West Sussex
Adele took the world by storm when she started releasing pop music. Her almost jazz-like flair and powerful lyrics and voice made her hard not to love. That's why after the release of her album 21, she was able to move into a 13-room mansion in West Sussex. Rather than buying it outright, she rented it on a monthly basis for a grand total of $20K a month or £15,000 in her home currency.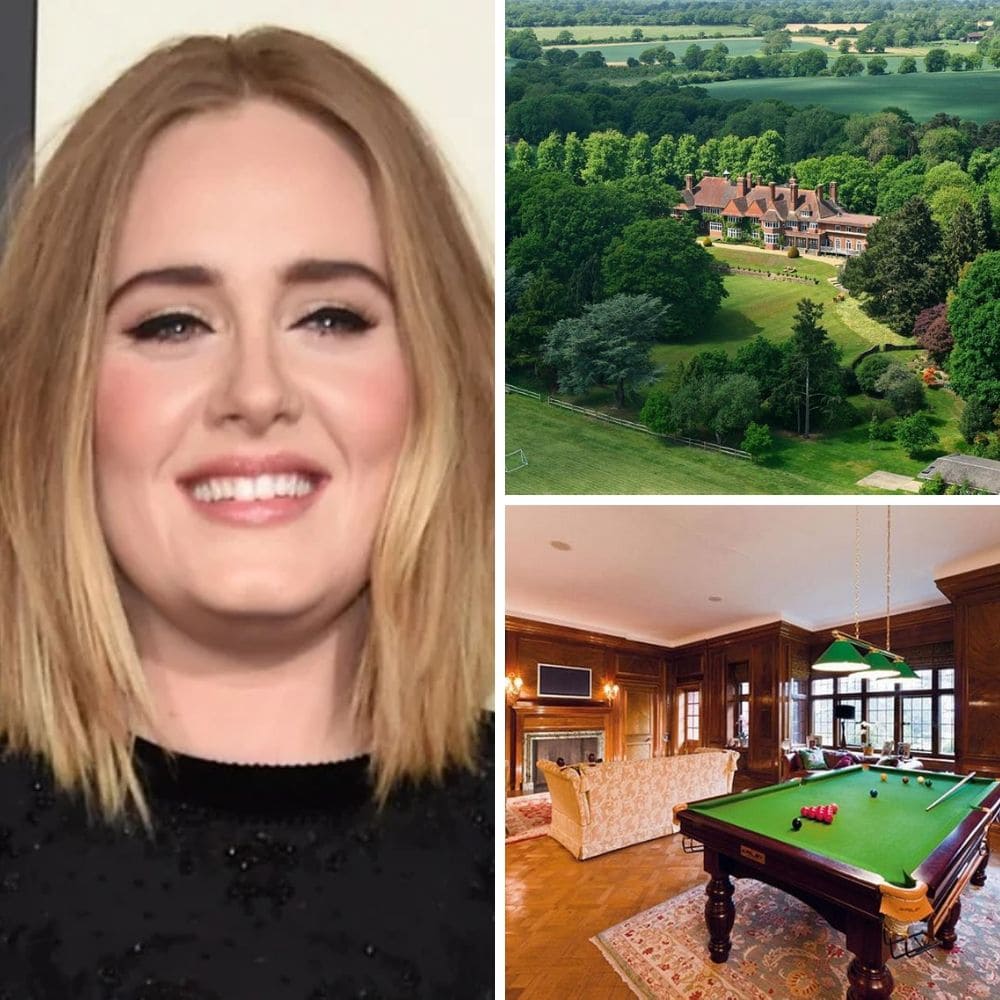 Dwayne "The Rock" Johnson – $3.4 Million, Florida
When Dwayne Johnson earned the nickname "The Rock" early on in his career, he was wrestling for the WWE which, at the time, was known as the WWF. In 1999, the wrestler switched career paths and dipped his toe into acting. Now, he's well-known for his career on the screen almost as much – if not more than – for his career in the ring. He moved into this Florida mansion in 2014, reportedly paying $3.4 million. It has six bedrooms, seven bathrooms, and, of course, a gym.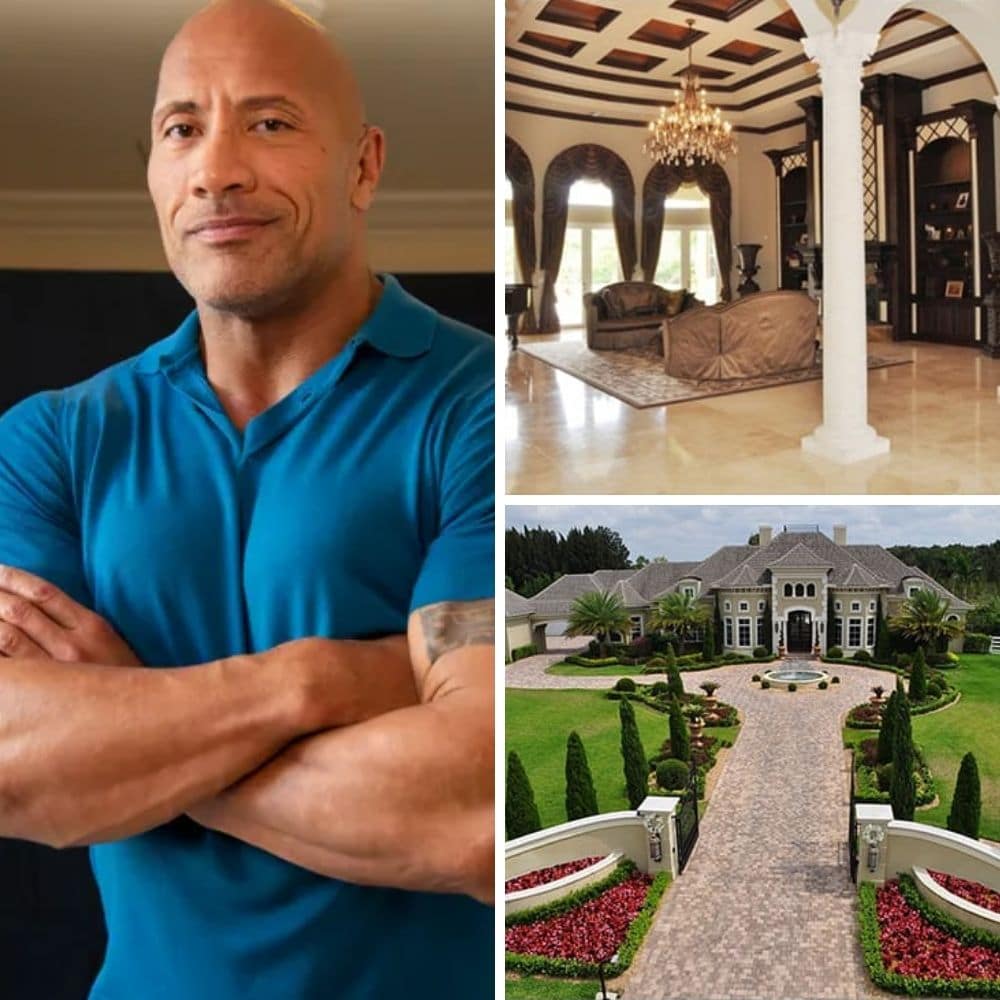 Nancy Sinatra – $5.3 Million, Beverly Hills
Nancy Sinatra, daughter of Frank Sinatra, seems to have inherited some of her father's star power. She's earned attention for work as a musician with songs like "These Boots Are Made for Walkin" in 1966. On-screen, she's appeared in films such as The Wild Angels and Speedway. In 1998, she bought this home for $2.2 million and sold it again for $5.3 million in 2011. It featured 8,085 square feet in the home including five bedrooms.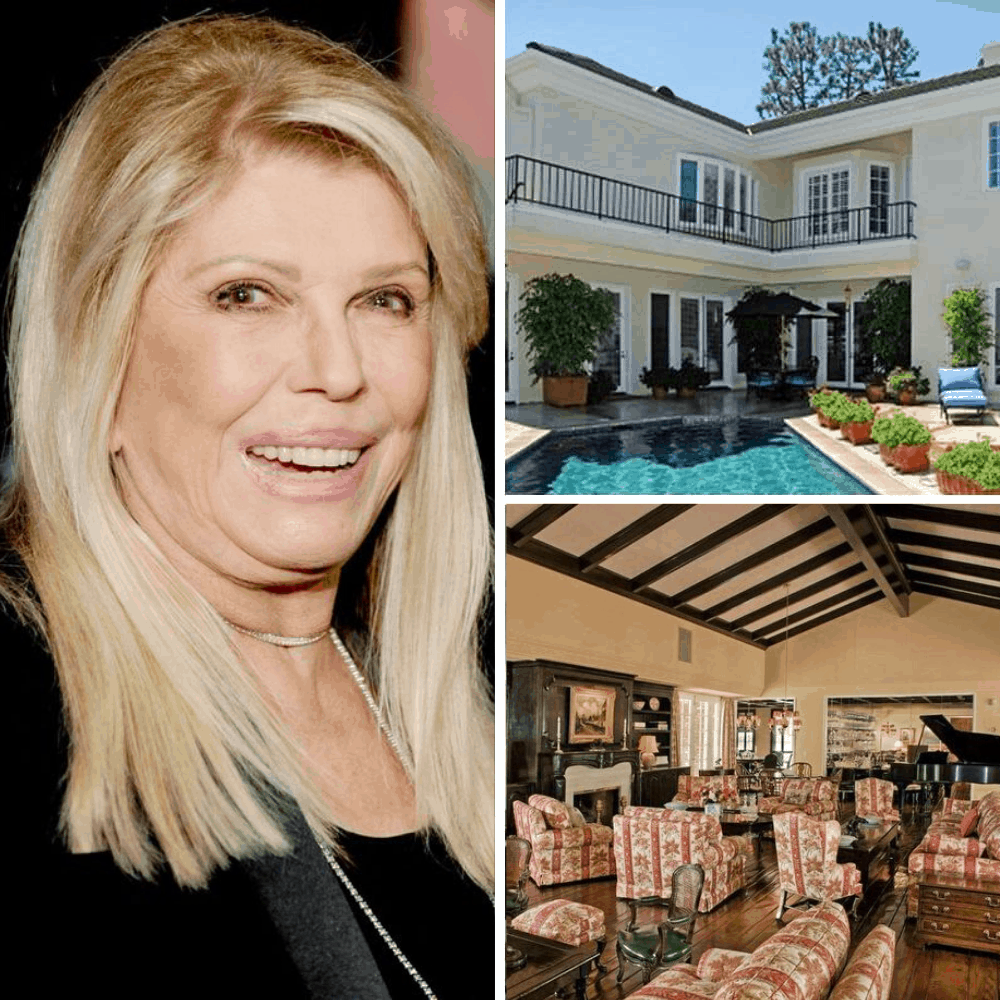 Cher – $2.5 Million, Beverly Hills
Cher is an internationally recognized performer both for her acting roles and her extensive career in the music industry. She got her start in the 60s, largely thanks to the Sonny & Cher music duo she had with her husband at the time. She's since moved on to become one of the most famous female solo artists of all time. With part of her wealth, she purchased her Beverly Hills home which she listed for sale in 2018 with an asking price of $2.5 million.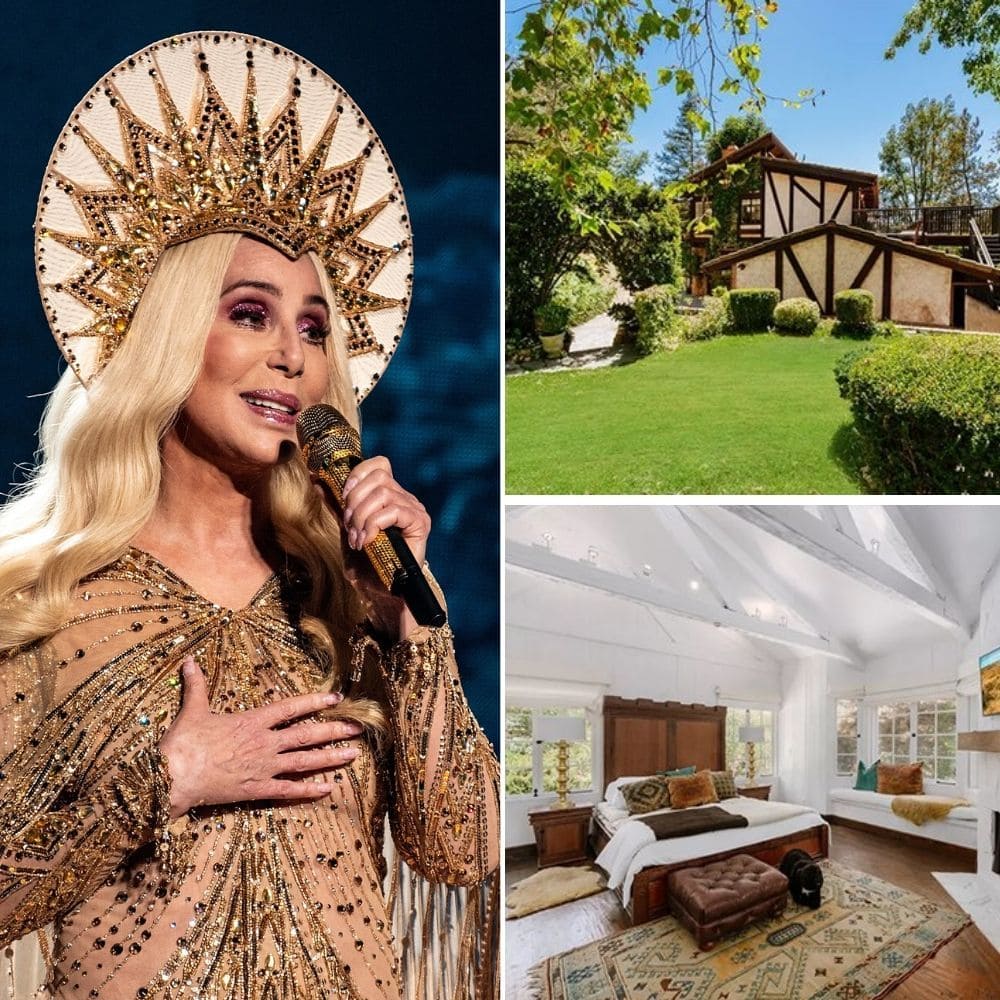 Mitzi Gaynor – $10.3 Million, Beverly Hills
Mitzi Gaynor gained notability in Hollywood with her leading lady role in the movie South Pacific. With this fame, she bought a Spanish villa in Beverly Hills built in 1929. Alongside a master bedroom suite, the home features five bedchambers, six bathrooms, a maid's room, and a pool. She listed the home for $5.495 million in 2013 and finally found a buyer named Nick Sinatra in January 2014. After extensive renovations, he relisted the home in 2016 for $11.5 million and it was bought for $10.3 million later that year.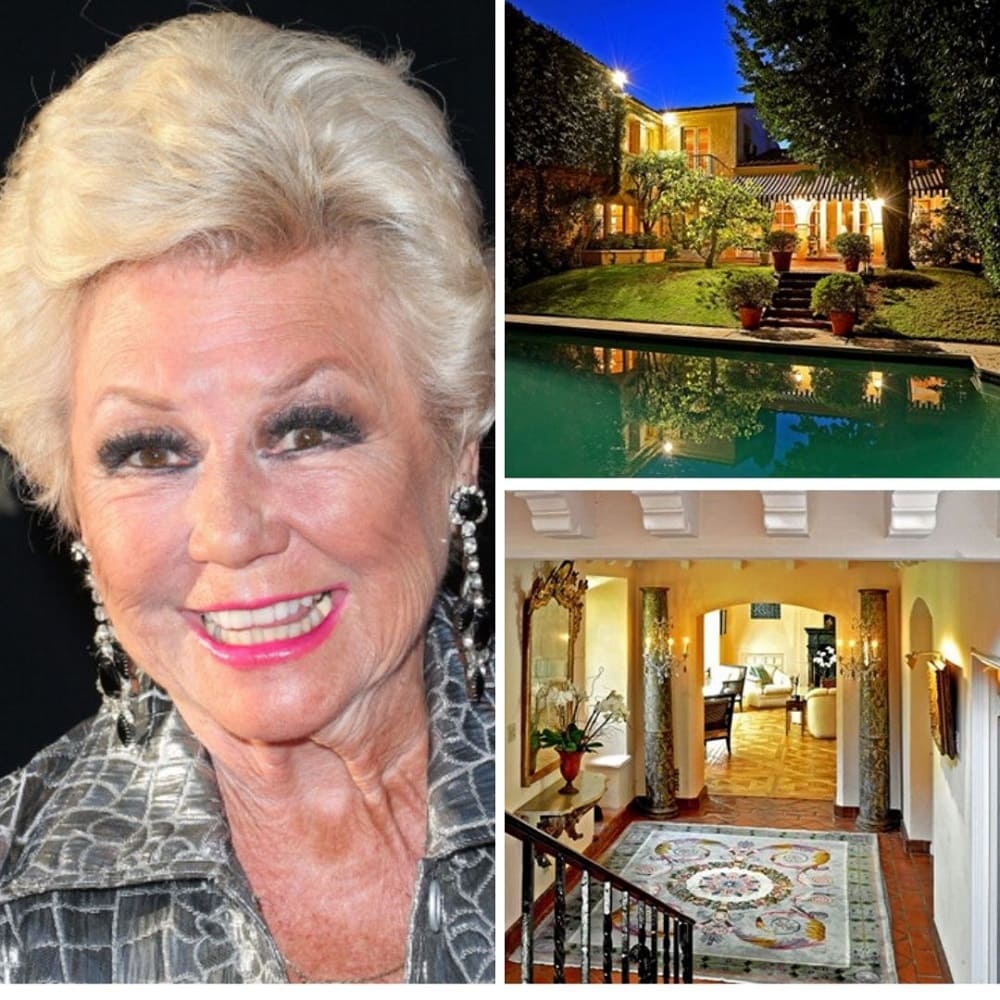 Kurt Russell & Goldie Hawn – $6.9 Million, California
Kurt Russell and Goldie Hawn are easily one of Hollywood's most established power couples with a relationship dating back to 1983, so it only makes sense that they'd have a gorgeous home to seal the deal. They bought this 1951 Georgian-inspired mansion in 2004 for a $4 million price tag. It was renovated during their decade there and features five bedrooms, a gym, a media room, and five bathrooms. They listed it for $7.25 million, but it eventually sold for $6.9 million.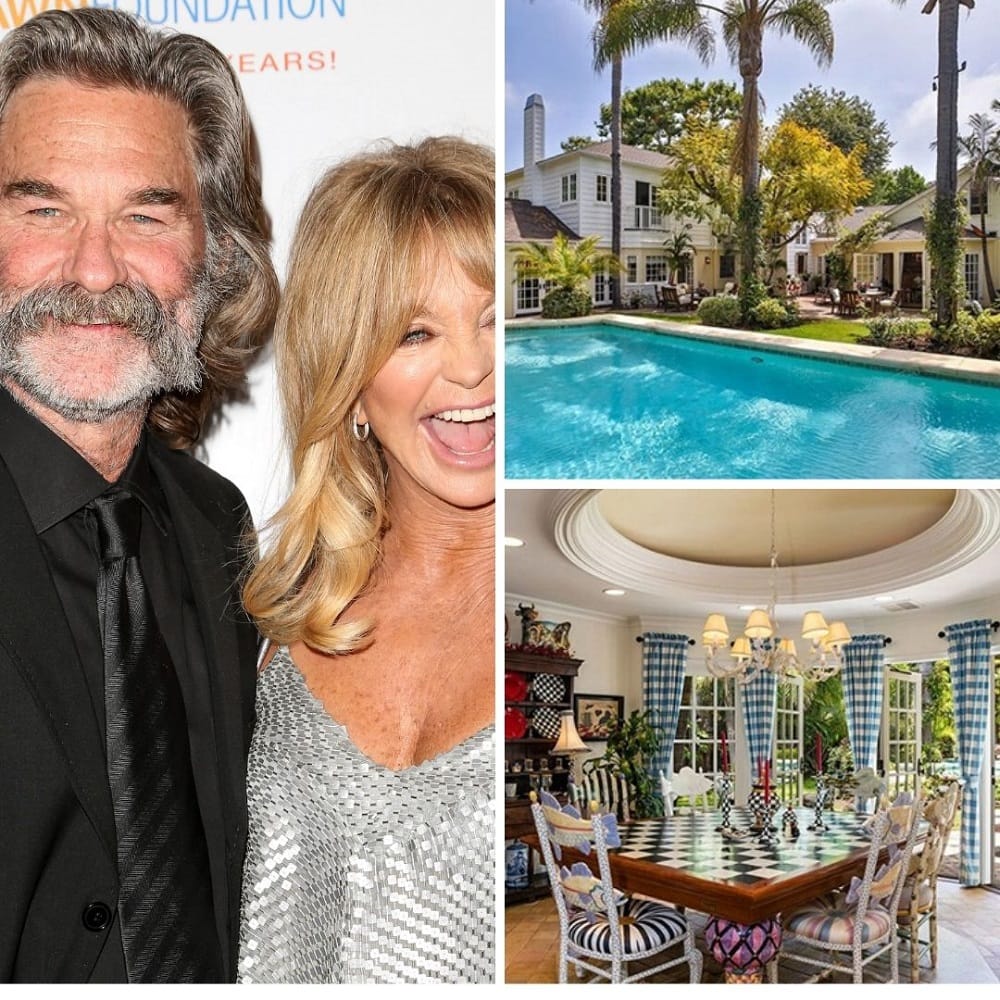 Michael Caine – $7.45 Million, South Beach
Michael Caine is a recognizable actor to a fan of almost any genre with 130 movies under his belt. In December 2017, the actor and his wife, Shakira Caine, sold their Miami Beach home at the end of 2017. Alongside the condo, Caine also sold his flat on South Pointe Drive for a total of $7.45 million. It's a 4,154-square-foot flat with a total of four bedrooms, a summer kitchen, a media room, and striking views of the water.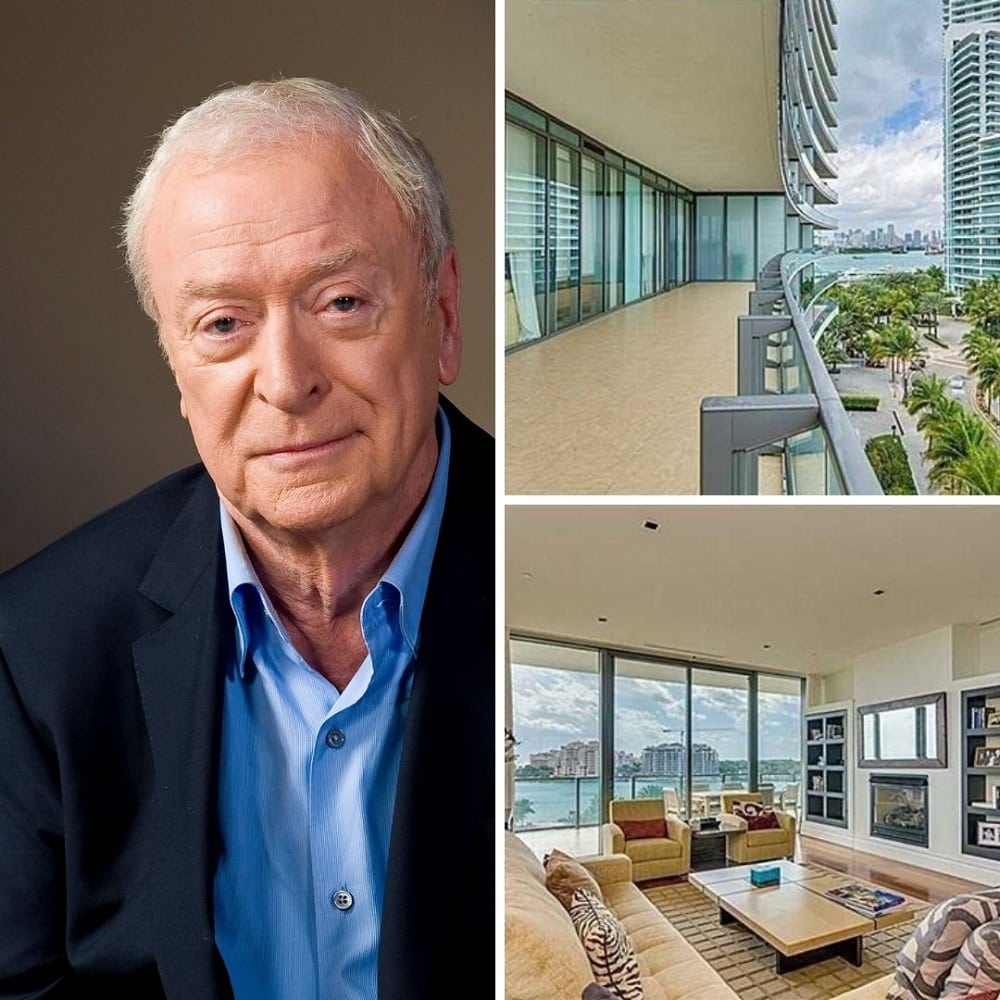 Tommy Lee Jones – $26.75 Million, Florida
Tommy Lee Jones has crossed genres in his acting career starring in everything from the crime thriller Double Jeopardy, Batman, and even sci-fi's Men In Black. Rather than buying a home, Jones started from scratch and bought two lots in 2002. Since then, he's built a polo farm that cost him approximately $4.62 million with barns, horse trails, and a full polo court. The home within the estate is 11,000 square feet with four bedrooms and two bathrooms. Now, it's valued at approximately $26.75 million.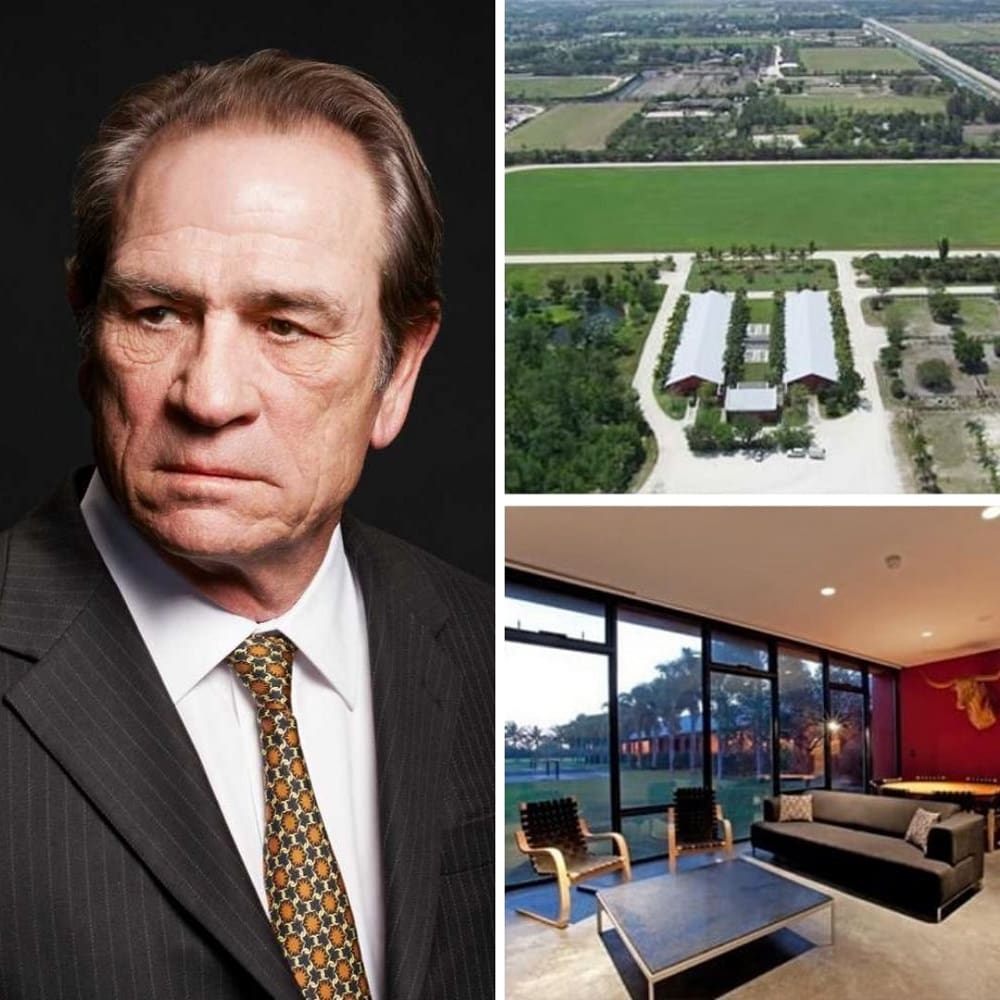 Dick Cavett – $33.95 Million, Montauk, NY
Dick Cavett is a well-established talk show host and TV personality that has since retired from his career in the public eye. His home, which has earned the affectionate title of Cavett's Cove, had an initial price of $62 million. In recent years, the price has dropped three times, first shifting to $48 million and eventually landing at a $33.95 million listing price in early 2019. The original home was actually burnt down, leaving only the chimney, but Cavett and his wife, Carrie Nye, rebuilt it in 1997.